Last Updated on September 8, 2021 by Kaden
Before we start our hunt for the perfect wedding dress I must share with you my thoughts and feelings. So go ahead and read the introduction, it will help you better understand how to buy any wedding dress, new or second-hand.
You might also like:
Who Buys Used Wedding Dresses?
Not all brides are alike, but for sure, more and more are choosing to purchase a second-hand wedding dress, attracted by various reasons.

1. Luxurious designer dress – Some brides are attracted to the fact that they can fulfill their dream and walk down the aisle wearing a famous bridal salon dress, designed by a well-known designer.

2. Eco-friendly bride – Let's face it, there's no way you'll wear your wedding dress ever again. And to tell the truth, I'm not sure your daughter would want to wear a dress that went out of fashion more than two decades ago. This is why many brides stick to the ethical option and extend wedding dresses' lifecycle.

3. Save on wedding expenses – Straight-forward approach, If you do the math, and I'm sure you will, the cost of the dress can take up a significant portion of your wedding expenses. Therefore, many brides find that this expense is the right place to cut.

4. Unique vintage dress – If it's a real vintage, some bride has worn it before, it's what makes the dress so special and hard to find (hack below). The fact that it's old and used does not mean it's going to be cheap. On the contrary, unique designs from the '50s and earlier can cost more.
I hope you like these products! Just so you know, i may receive commissions on purchases made from the links on this page. Thank you if you use our links, i really appreciate it!
How Does Wedding Dress Shopping Work?
When purchasing a new dress in a bridal salon you have the opportunity to check out different designs. Once the model is chosen, the dress will be sewn according to your specific measurements, or at the very least, alterations and adjustments will be made to the dress to achieve a perfect fit.
Useful Tip:
* If you haven't chosen yet the right wedding shoes, it is important that the heel of the heel takes into account the length of the dress.

Where To Buy A Second Hand Wedding Dress – Pros and Cons
Brides, I did my research, and to make it easier for you I have formulated the four best options for shoping a second-hand wedding dress, yes, I have also included pros and cons of each in the below.
1. Charity shops – One of the most beautiful and inspiring options out there and the cheapest way to purchase a used wedding dress. Brides actually donate them, and you can get them at a token price that will help further the operation of this amazing project. After use, get the chance to donate the dress back to the charity and help another bride.
Pros – Try-On for free.
Cons – Out of fashion designs.
* Give it a shot, You may find vintage wedding dress (;
2. Facebook groups –  There are many groups for second-hand wedding dresses but they are not always reliable. Find a local group so you try on and inspect for dameges, and also pay at the time of purchase.
Look for groups that have a strong foundation, such as a subsidiary of a large blog that has oversight of the sellers and thus helps you dodge fraud.
Prons – Endless selection + Real brides are willing to help with discounted prices.
Cons – Endless selection makes it difficult to find the one.
Beware of fraud.
3. Online stores – You can find designer dresses, the kind you only dreamed of at a discounted price. Sites like Stillwhite which match between sellers and buyers allow you to target keywords, model, designer name, price range, or Silhouettes Thus making the search efficient and easy. Nearly newlywed offers guarantee that the dress is authentic and in good condition before it is shipped and known for convenient return policy.
Prons – Refund, Resale, Secure pay.
Cons – Try-On possibilities are limited.
4. Local Stores / Bridal Salon – A great option for those who manage to find a local bridal salon for preowned wedding dresses, It is possible! And most importantly, you can measure the dress, buy at a discount, and even make alterations with the help of an in-house seamstress.
Prons – Tray On
Cones – Price
 
Tips for Buying A Pre-Owned Wedding Dress
1. Refine your search – Do your homework, get to know the types of fabrics, cuts, styles, names of designers and your budget.
2. Search locally – Whether you are looking for, a bridal salon for pre-owned dresses or directly from brides, local shopping allows you to inspect, measure and examine the condition of the dress and the necessary adjustments to fit you.
3. Ask questions – When shopping online, don't be shy, ask the seller or the bride who wore the dress, about the original dress size, and what alterations have been made. Also ask for as many photos as possible, especially those taken recently, after the wedding day. This way you will be able to identify any stains and damage that may be caused.
4. Size up – It's much easier to make changes and narrow down the dress than to stretch it. Consult your seamstress before purchasing.
5. Use a secure payment method – You found the dress of your dreams in an online store, congratulations! Make sure that the site offers a secure payment that can be canceled if necessary.
---
I hope I was able to help you better understand how to buy a second-hand wedding dress. If you have any questions feel free to comment or contact me directly and I will be happy to answer.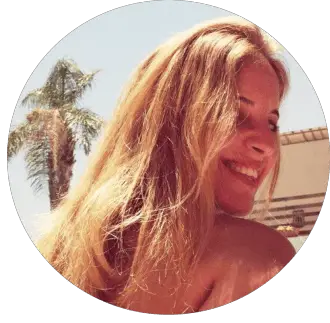 Kaden is an interior designer in her education who fell in love in designing weddings. Along with her husband, the wedding planner, Kaden specializes in creating content for weddings aim to fulfill brides dreams.