Last Updated on March 2, 2022 by Kaden
Are you looking for Jewish wedding favor ideas that are different from the norm? Whether your wedding theme is distinctly Jewish or has a hint of Jewish culture, these Jewish wedding favors will wow your guests. From words in Hebrew to hamsas, Star of David shapes, and more, you can find unique wedding favors here. 
You May Also Interested In:
 I may receive commissions on purchases made from the links on this page at no cost to you.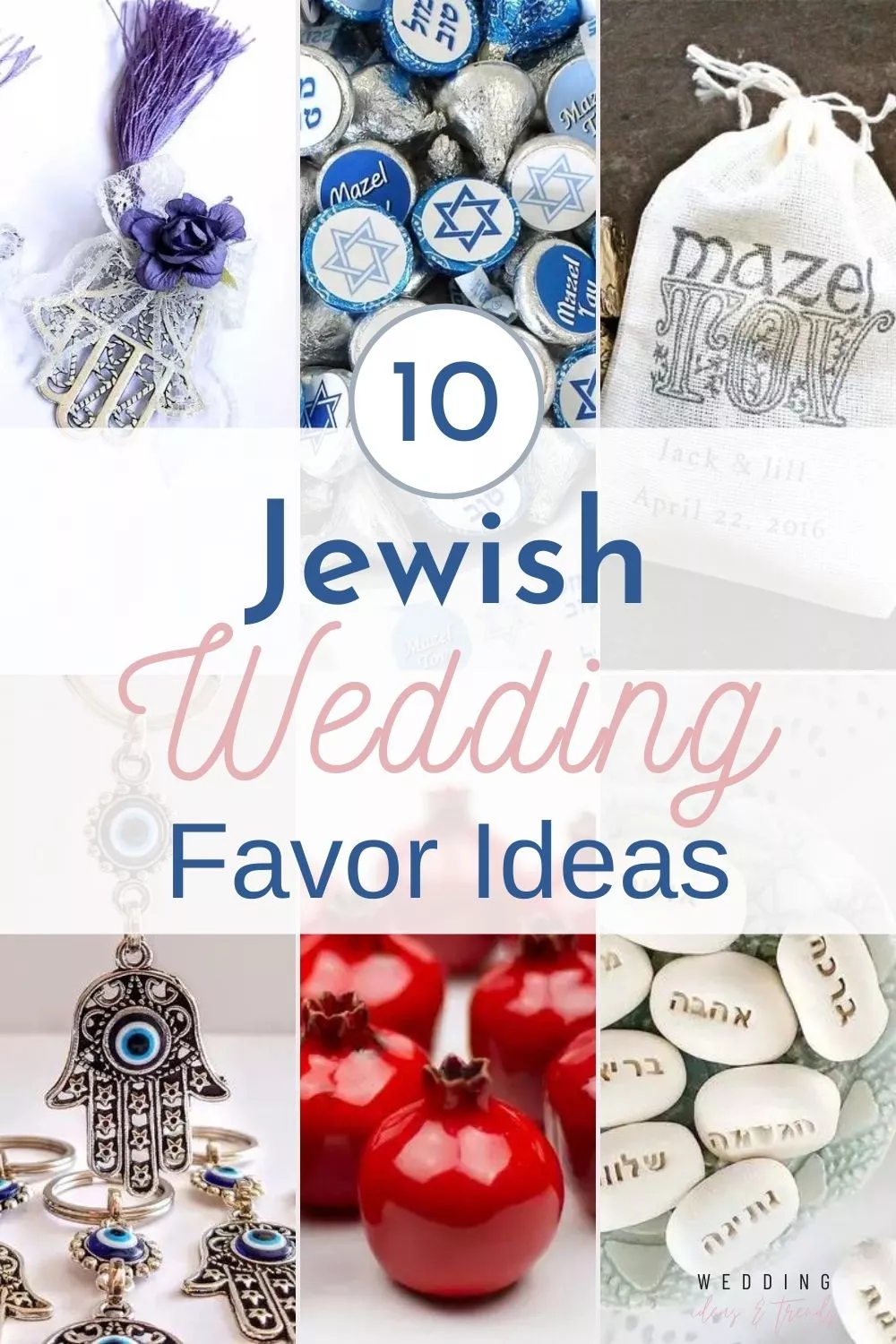 Here are ten Jewish wedding favor ideas in different styles and budgets to help you make your day extra special: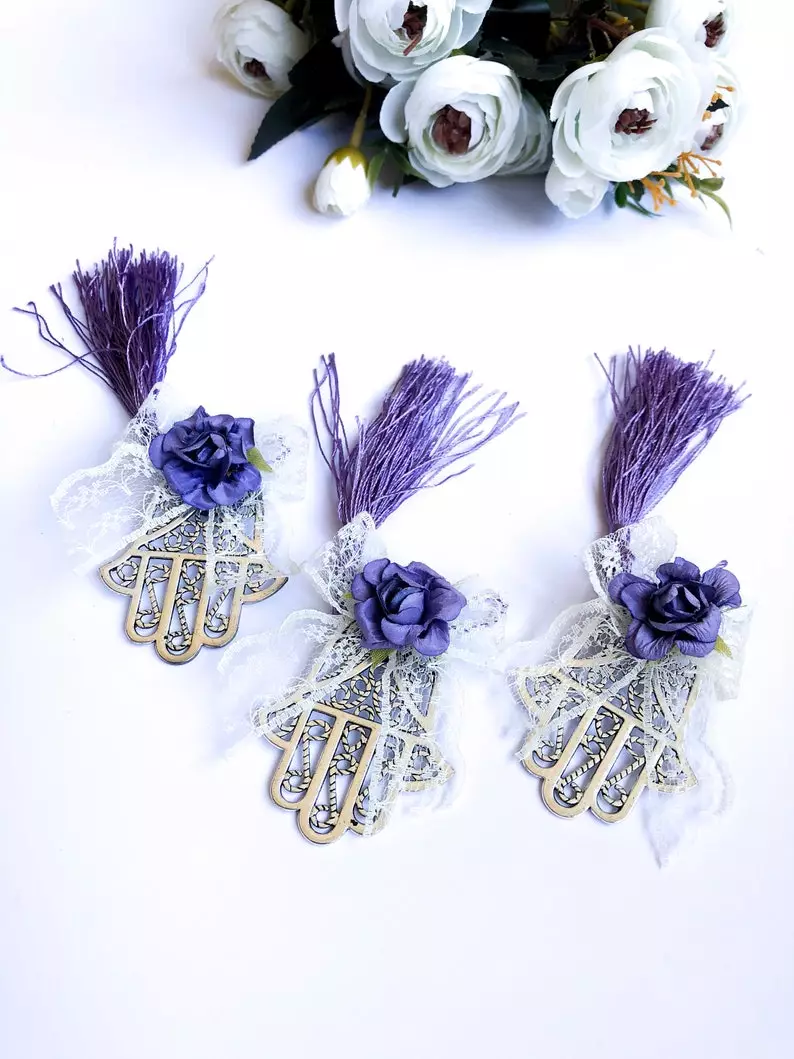 Evil Eye Grand Store, silver hamsa hand magnets with tassel, $2, Etsy.com
Decorated silver hamsa hand magnets make beautiful and meaningful additions to any wedding! Guests will love to hang them on the fridge long after the big event.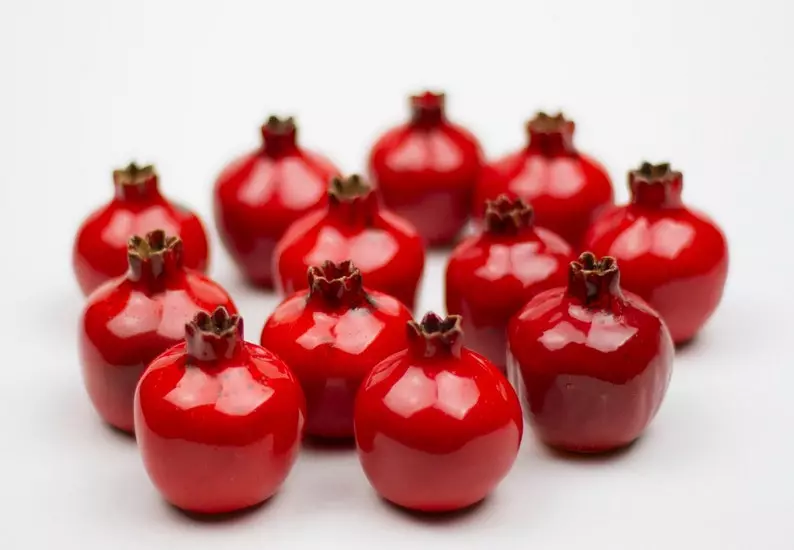 Potter Ash, handmade ceramic pomegranate, $4, Etsy.com
Lovely and exquisitely detailed, these ceramic pomegranates are amazing. You'll enjoy looking at them yourself and your guests will simply love them!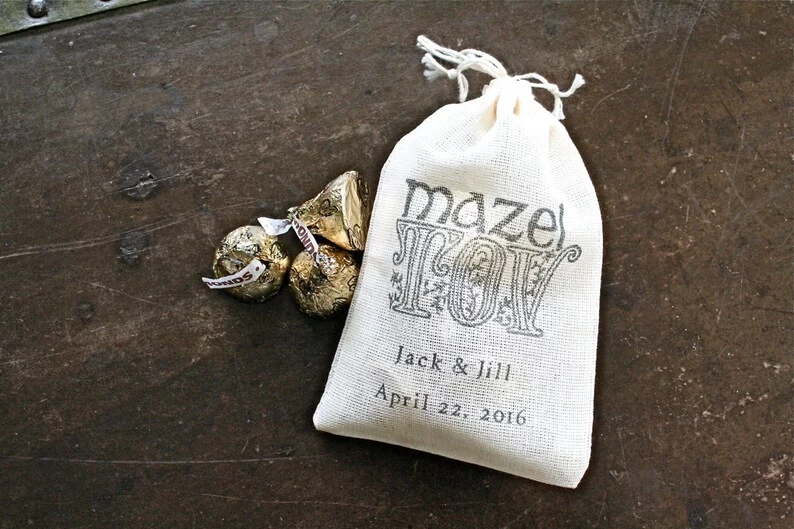 Clementine Weddings, personalized cotton mazel tov favor bags, $1.5, Etsy.com
Adding an extra touch of fun, these little favor bags are perfect for your Jewish wedding theme. Fill them with candy, rice, or lavender buds to match your wedding colors.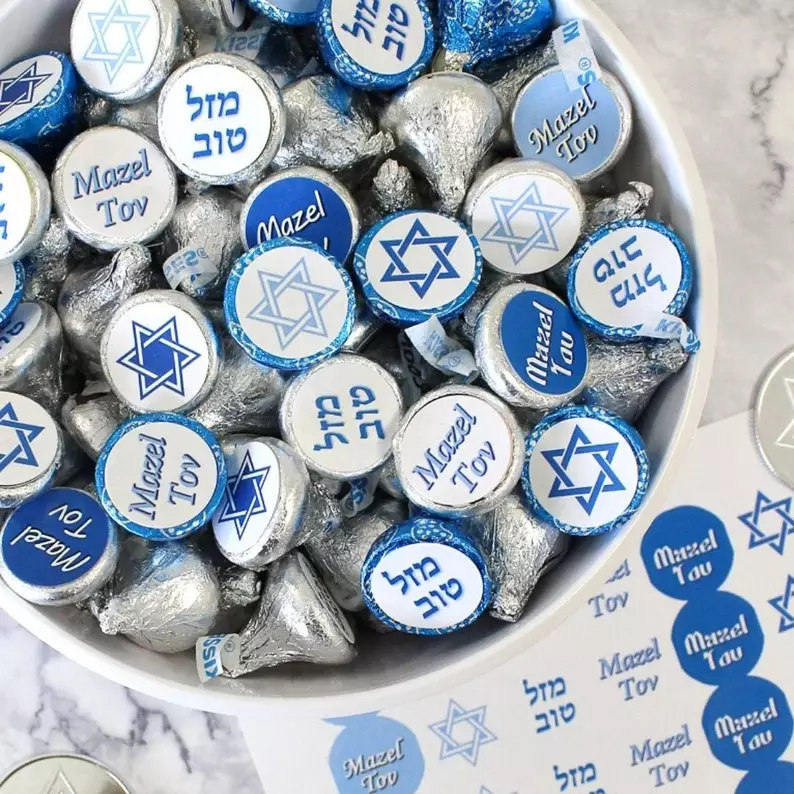 Distinctivs, labels for Hershey kisses, $9.49 for 180 labels, Etsy.com
These stickers are fun and easy to use. They would look great on the bottom of 'Hershey Kisses' and put them inside favor bags to give your guests or as decoration at your wedding.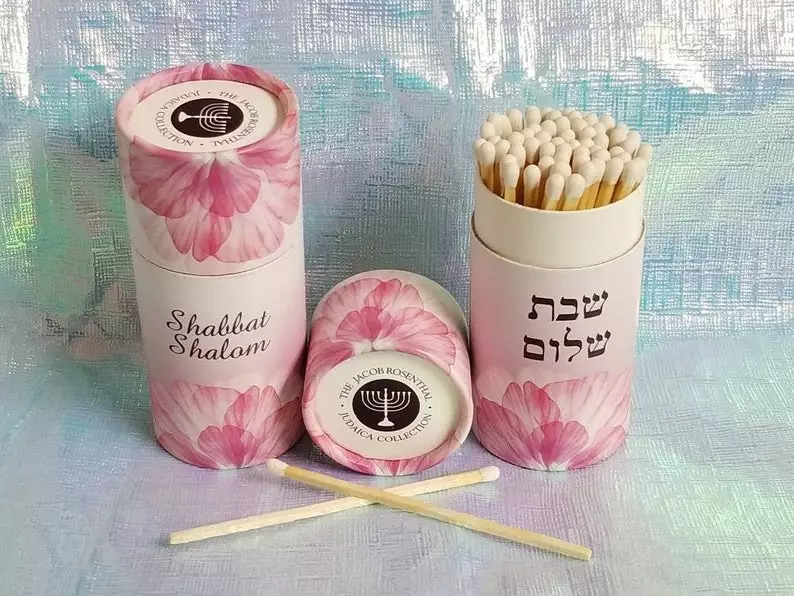 Iowa Essentials, Shabbat matches in a decorative tube, $5, Etsy.com
Brighten up your wedding guests' Shabbat with these matches for Sabbath candles in a decorative tube. Each matchbox contains sixty, 4 inches long, wooden matches. "Shabbat Shalom" is printed in English on one side and in Hebrew on the other.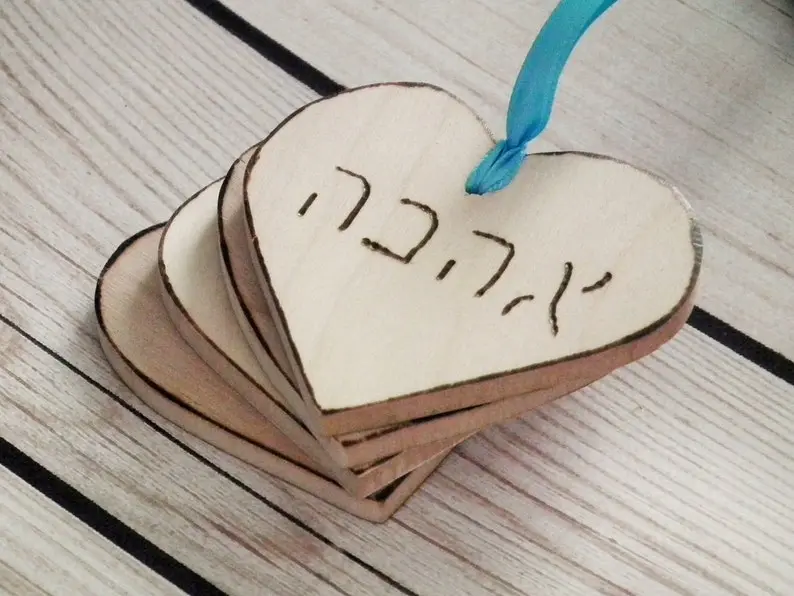 Forever Sweethearts, wooden heart tags with the Hebrew word 'love', $2.70, Etsy.com
These beautiful wedding favor tags are perfect for a Jewish or Israeli-style wedding or celebration. Each tag has the Hebrew word for love burned into it – אהבה (Ahava).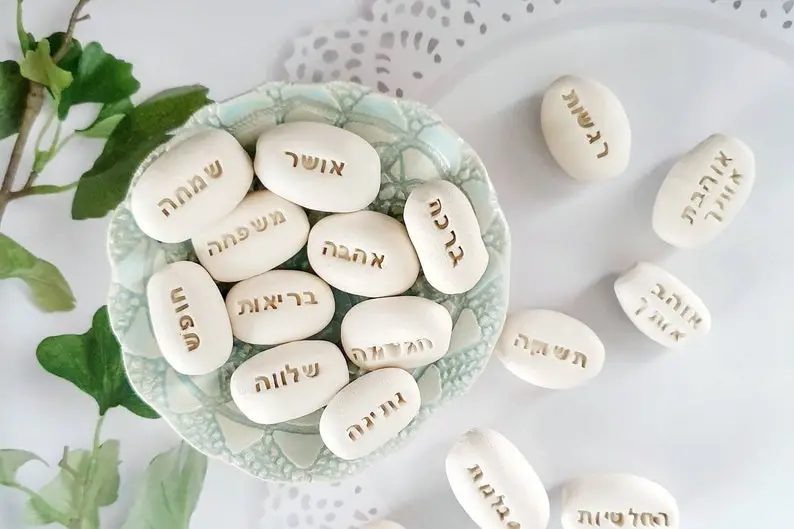 Ceramics By Orly, handmade ceramic Hebrew message stone, $7.20, Etsy.com
Create a heartwarming memento they will cherish forever. These beautiful stones are reminders of your special day and a truly meaningful way to thank your guest.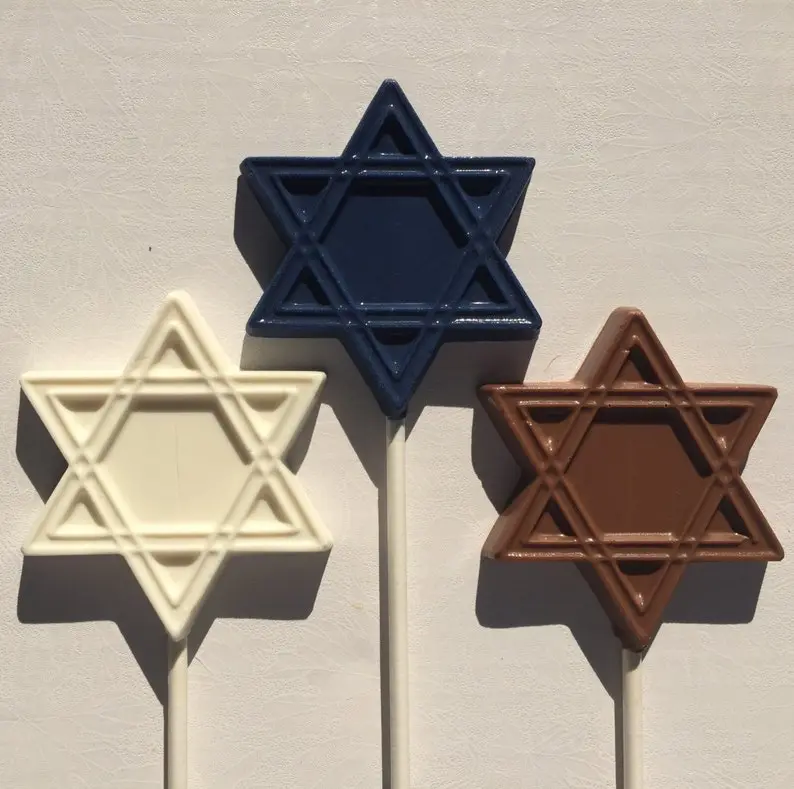 XOXO Chocolates Shoppe, 'Star of David' chocolate lollipops, $1.50, Etsy.com
For the bride and groom these beautiful, symbolic lollipops are a delightful way to thank your guests for sharing your special day. Each one is individually wrapped and tied with a ribbon. Available in milk, dark or white chocolate.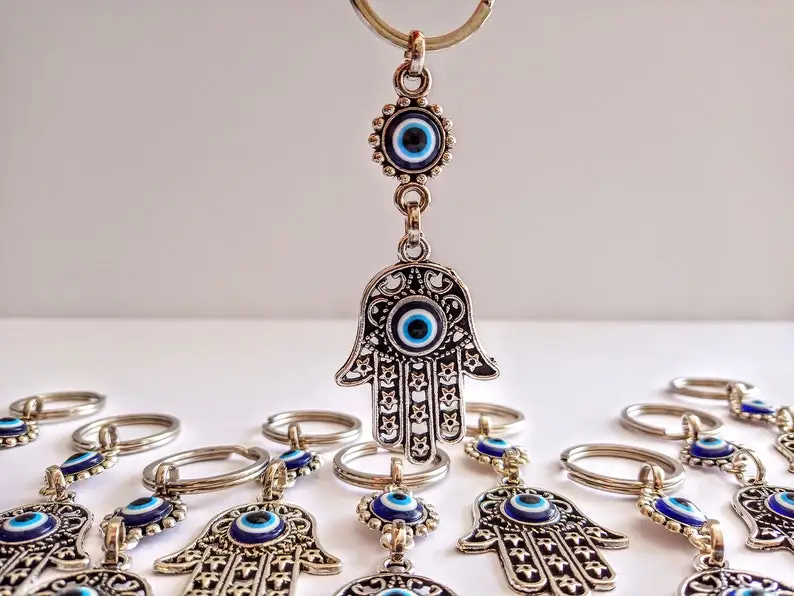 Shiny Wedding Boutique, silver hamsa evil eye key chain, $1.80, Etsy.com
These silver hamsa key chains are beautiful favors for wedding guests to carry with them to protect them from the evil eye. The hamsa key chains have beautiful details and stars of David decorations.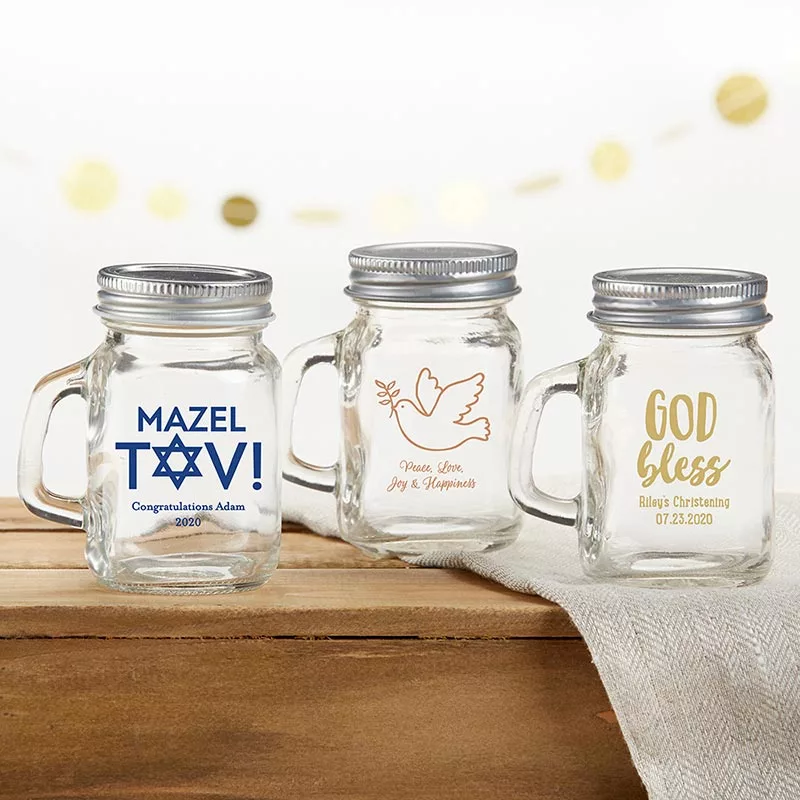 Personalized religious 4 oz. mini mason mug, $2, myweddingfavors.com
If you've got an Israeli-themed wedding coming up, the personalized mini mason mug shot glass with Israeli prints is a great way to tastefully add some flair to your table settings. It can be filled with sand, candies, a votive candle, or it can be left empty.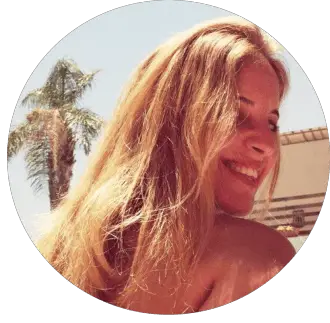 Kaden is an interior designer in her education who fell in love in designing weddings. Along with her husband, the wedding planner, Kaden specializes in creating content for weddings aim to fulfill brides dreams.