Last Updated on March 4, 2023 by Kaden
The whole purpose of wedding favors is to pamper your guests, thank them for taking part in your wedding celebration, and send them on their way satisfied and happy. This list of edible wedding favors is the most affordable and will leave your guests with a taste for more.
How cool are those family traditional homemade goodies such as jam, liquor, sauces, and cookies as a gift for wedding guests? Whether as a wedding DIY mini-project of craft boxes, bags, and wishing cards, filled with store-bought treats, or just to show off your incredible baking skills.
Wedding Favors Related Posts:
 I may receive commissions on purchases made from the links on this page at no cost to you.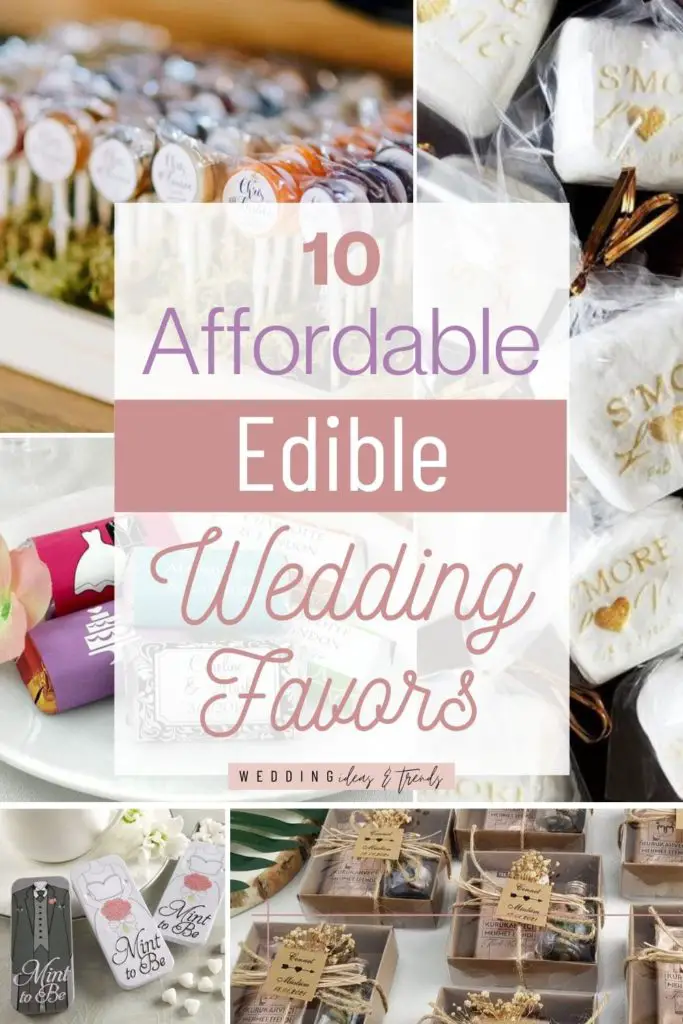 Thanks to the huge variety of affordable cheap edible wedding favors, you can spread your love and while saving on your wedding expenses.
10 Top picks for affordable edible wedding post-party favors that your guests will be thrilled for: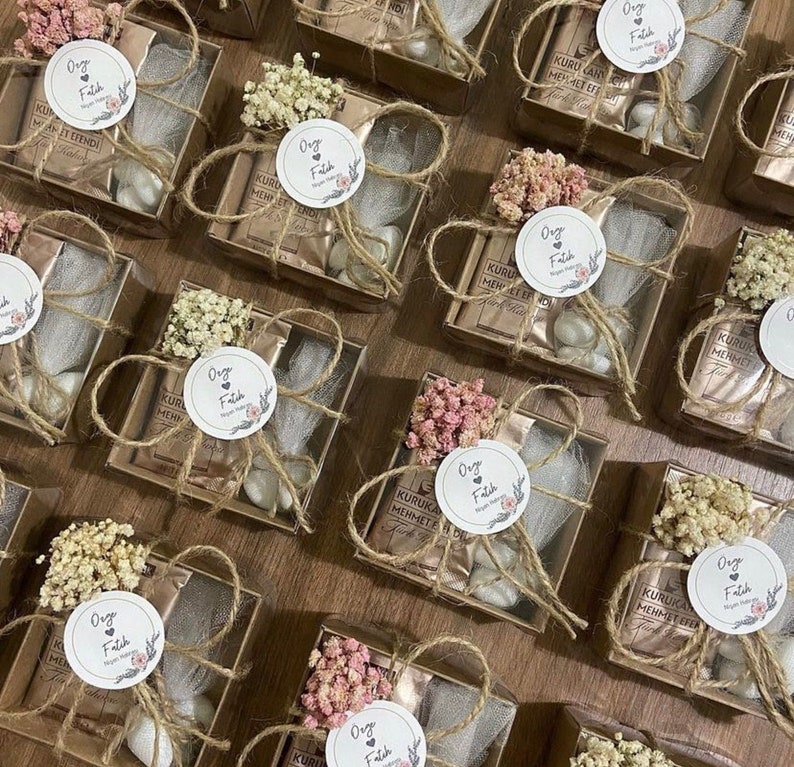 By OVEDESIGNGIFT on Etsy.com
Decorated with customizable bouquets of flowers to choose from to match your wedding color palette. These rustic-themed Turkish coffee boxes and Chocolate Pebbles are the most cost-efficient edible wedding favors on this list and are undoubtedly beautifully displayed.
RELATED: Best Inexpensive Spring Wedding Favors Under 2$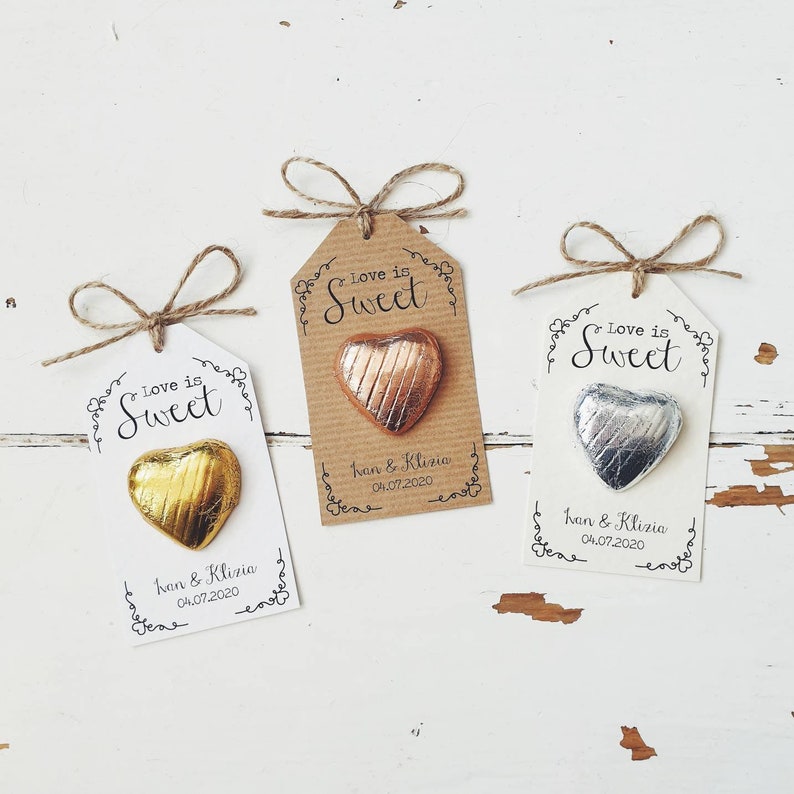 By LittleIndieStudio on Etsy.com
Heart-shaped chocolate wedding favors come with a personalized tag feature the 'Love is Sweet' note along with the couple's names and wedding date in a paint brush modern font. Match text colors, ribbon, and chocolate wrap, with your wedding theme and color palette.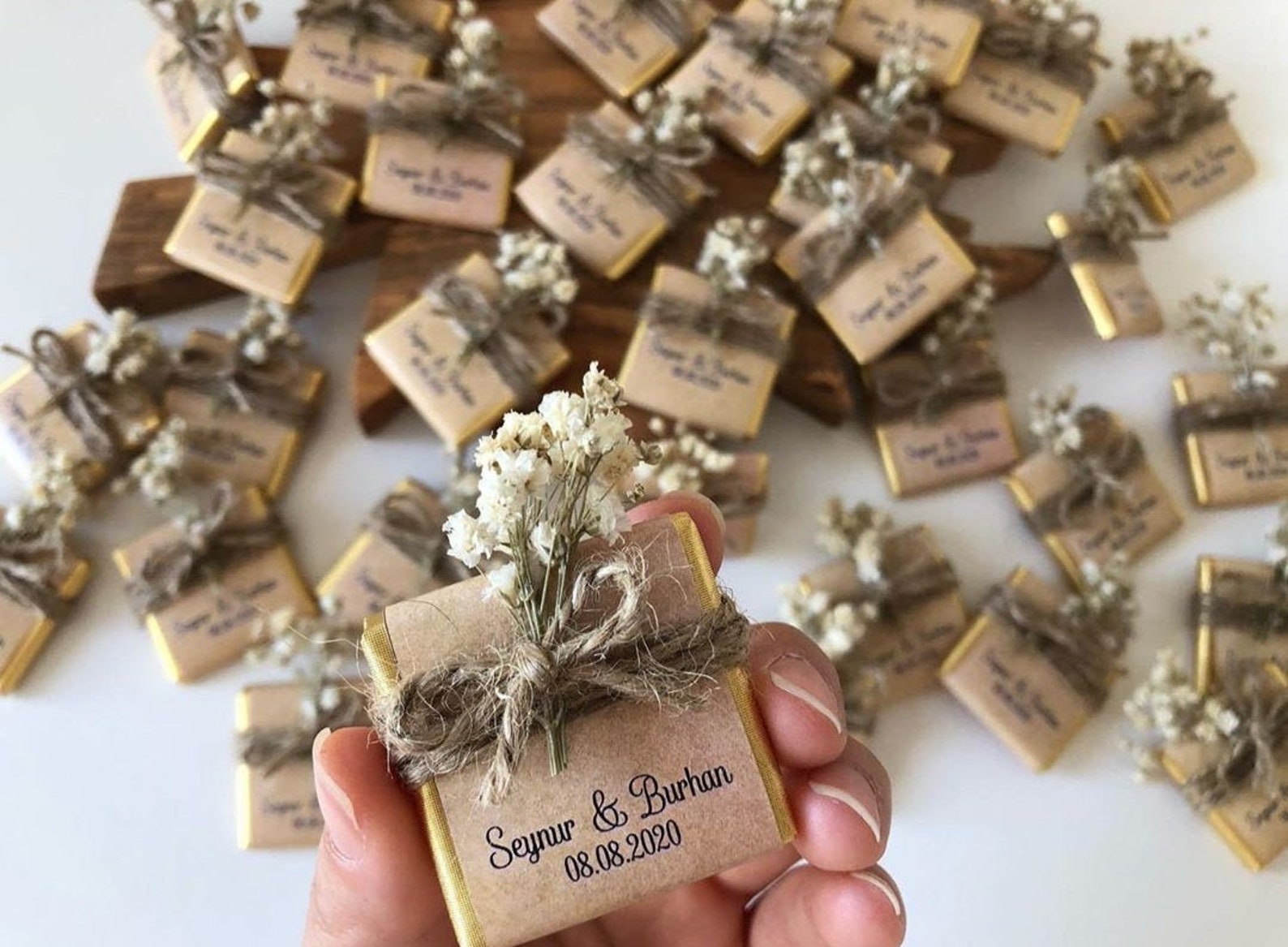 By fanus home on Etsy.com
These are so cute! Small chocolate favor packaged nicely with a lovely little flower bouquet in your color of choice and a craft paper wrap with your wedding date and the couples' names.
RELATED: 14 Rustic Country Wedding Favors Your Guests Will Love!
By Exceptional Event 365 on Etsy.com
This treat is fun and delicious for all ages but will surely evoke childhood memories in many of your wedding guests. Espeasily for winter weddings, design your own personalized smore marshmallow favors with either text and graphics and create a costume edible favor for your guests to take with them.
RELATED: 15 Winter Wedding Favors Your Guests Will Love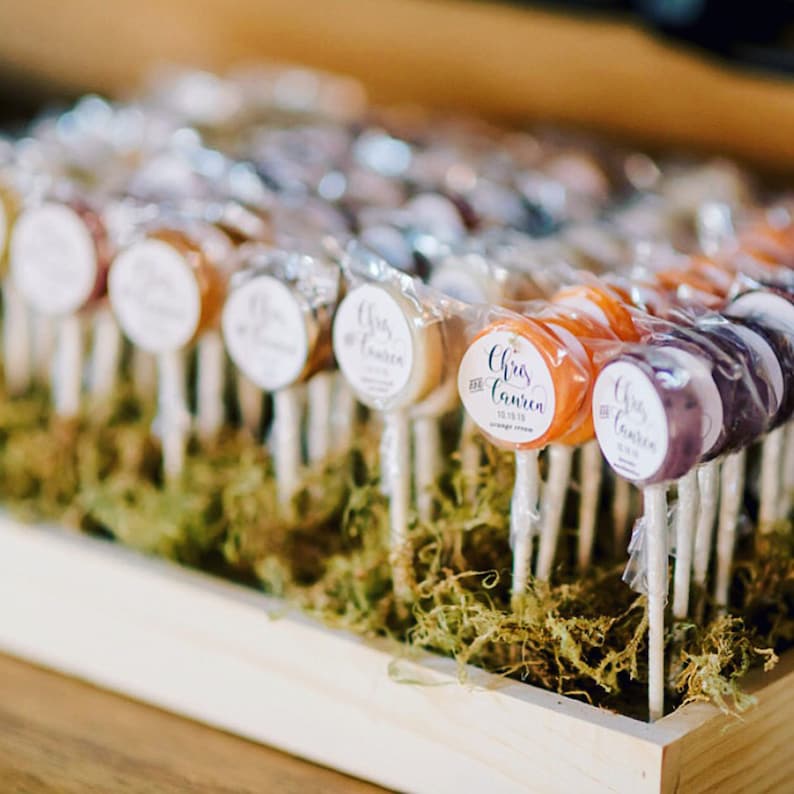 By Leccare Lollipops on Etsy.com
With so many choices of great flavors, it will be hard not to be tempted and finish all the supplies long before your wedding day. Suitable for spring and summer weddings, individually wrapped and feature a watercolor label design that matches with the lollipops' flavor.
RELATED: 10 Awesome Summer Wedding Favors Under 2$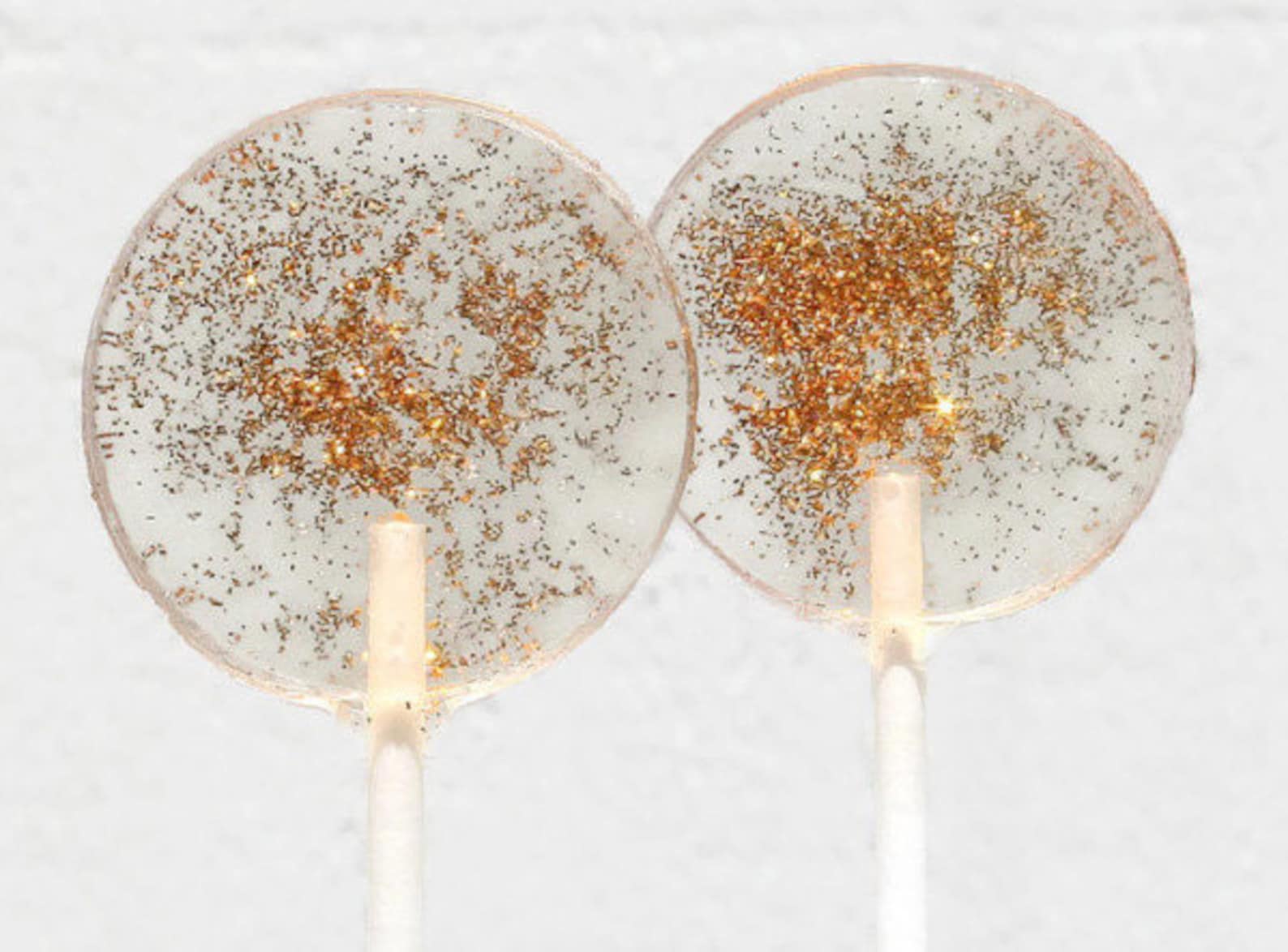 By Smash Candies on Etsy.com
The perfect favor for your Gold Themed wedding! Those champagne flavored lollipops are beautiful decorations for any wedding cake, lollipop centerpiece, or candy bar.
RELATED: 10 Most Beautiful Gold Winter Wedding Table Decorations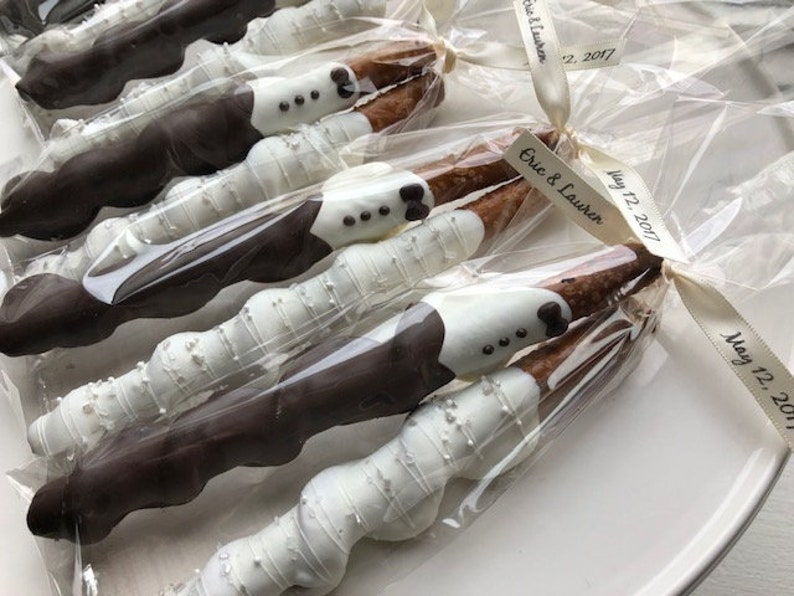 By ThePretzeeCompany on Etsy
Caramel and Chocolate bride and groom pretzels are a tasty token of appreciation for your guests. These bride & groom pretzel stick favors include the names of the couple and the date of the wedding.
---
Affordable Edible Wedding Favors DIY mini-project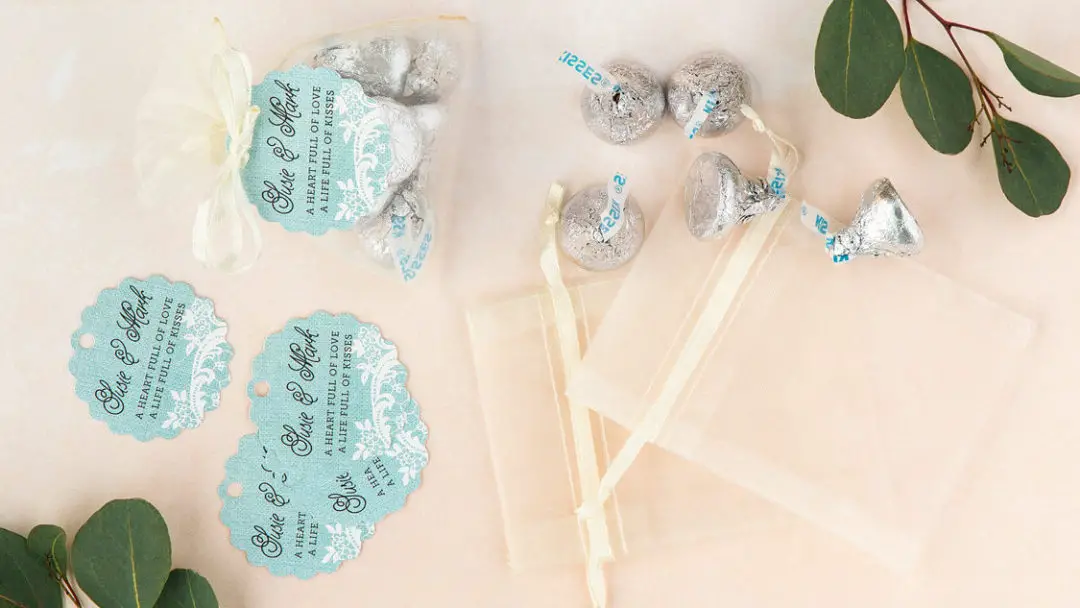 Adopted by Evermine
So you have decided to do it yourself, make family tradition treats for your guests, or just use your craft skills to design and personalize favors packaging and personalized labels for your store-bought candies, I've got you covered. Below is a simple DIY project, courtesy of Evermine, that won't break your budget.
DIY Kisses Wedding Favors Bags Items
– Tiny organza bag
On Amazon
– Personalize favor tag
On Evernine
– Hershey's kisses
On Amazon
Total cost per favor: $1.75
---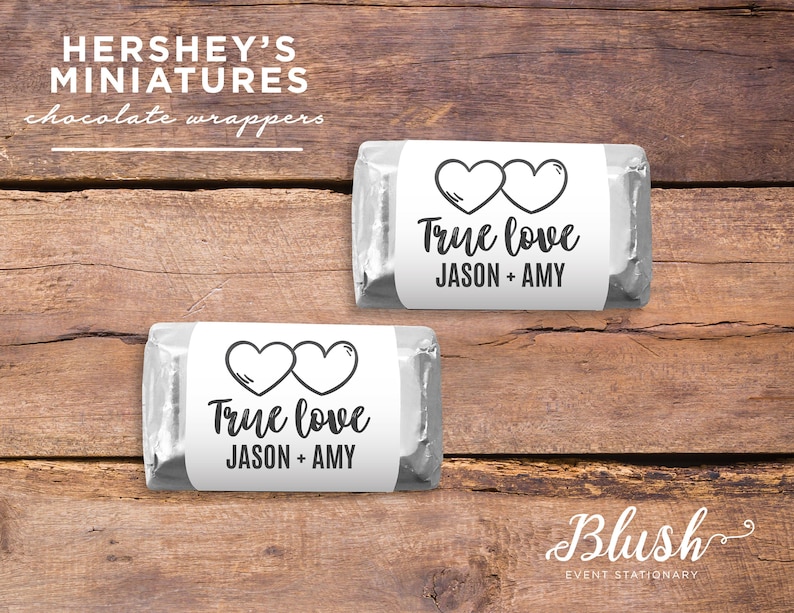 By BespokeByBlush on Etsy
For many of us, Miniatures Chocolate is a must-have treat alongside any 'on the go' cup of coffee, and when it comes to Hershey's it's definitely a treat! These edible favors can be designed with a selection of colors and themes and customized with your wedding details.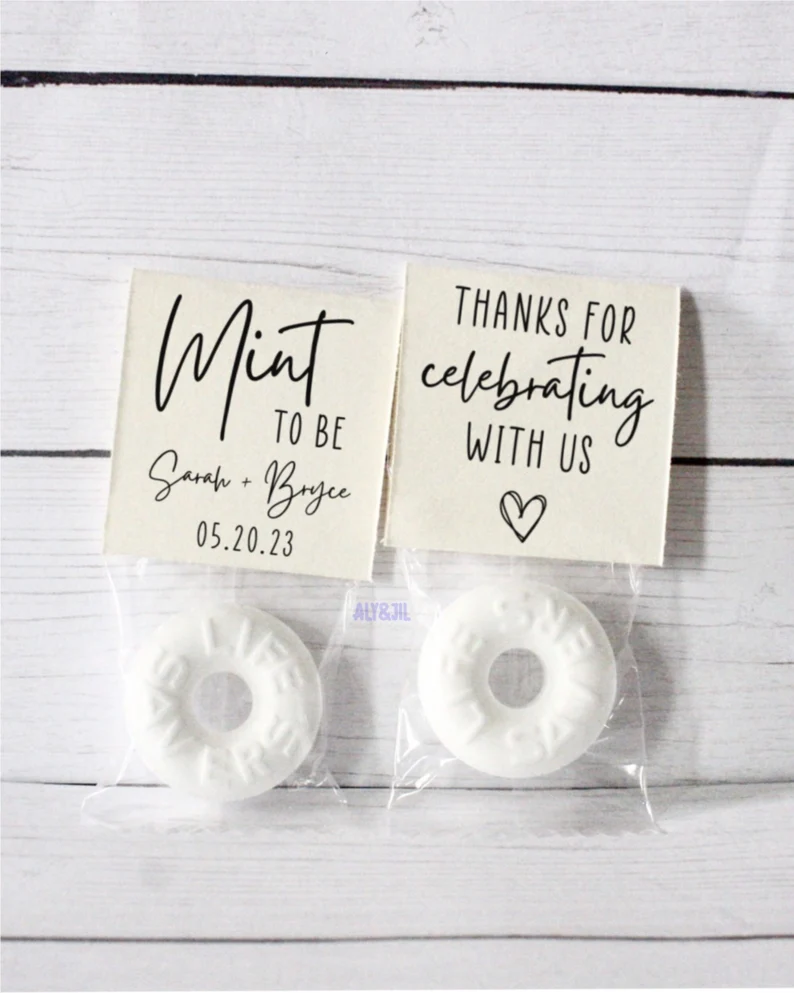 By Alyandjil on Etsy.com
These 'Mint To Be' edible cheap wedding favors are perfect for rustic-themed weddings! comes with a kraft brown tag and modern font that you can personalize with bride and groom's names and wedding dates for a minty freshness favor guests will love!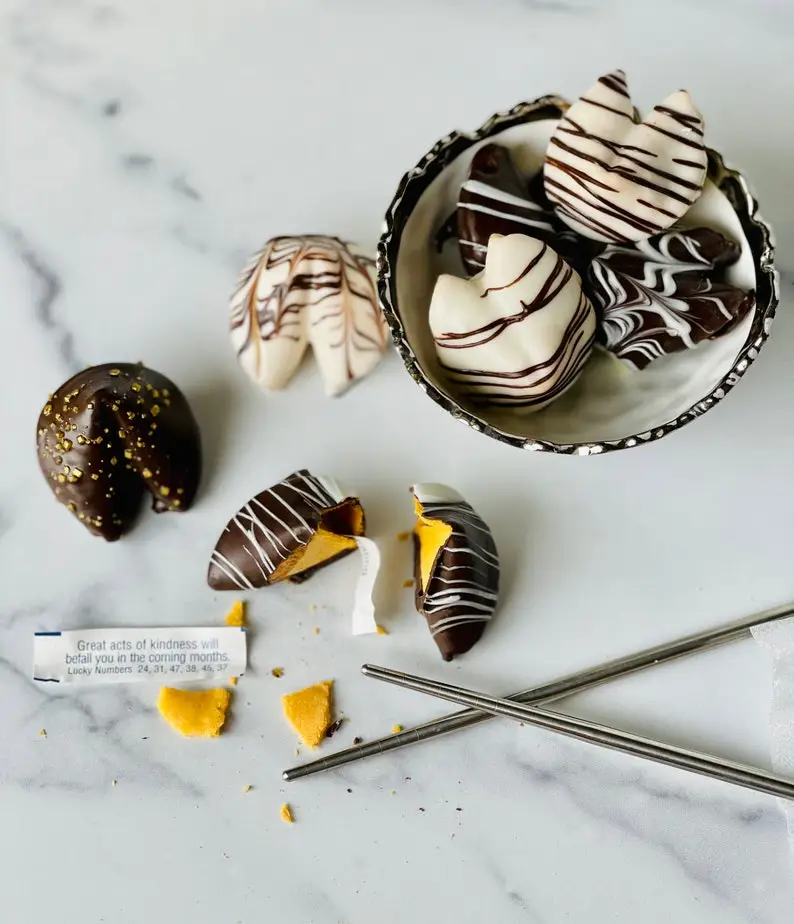 By Chocolates Unlimited on Etsy.com
Surprise and delight wedding guests with favors that are as sweet as your love. Each cookie is hand-dipped with milk, dark or white chocolate of your choice. And the best part is those adorable love messages that guests will cherish.
We hope you've enjoyed reading about our top 10 affordable edible wedding favors from our blog, as well as some fun ideas for how you can incorporate them into your own wedding day.
NEXT UP: Best Navy Blue November Fall Wedding Color Schemes
Keep Planning With Us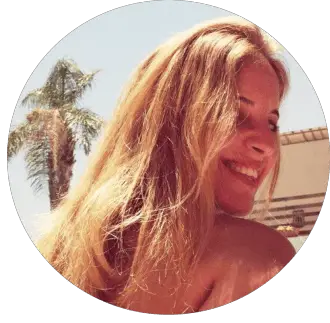 Kaden is an interior designer in her education who fell in love in designing weddings. Along with her husband, the wedding planner, Kaden specializes in creating content for weddings aim to fulfill brides dreams.