Last Updated on August 6, 2022 by Kaden
Friends, we all know the importance of a good time. There are few things on this planet better than a day at the pool with your best girls, enjoying the sun, and getting your drink on. Bachelorette parties are the ultimate excuse to dress up, drink fancy cocktails and create fun memories with your friends. Check out these Instagram-worthy Bachelorette pool party outfits and accessories ideas for the bride tribe!
You might also like:
 I may receive commissions on purchases made from the links on this page at no cost to you.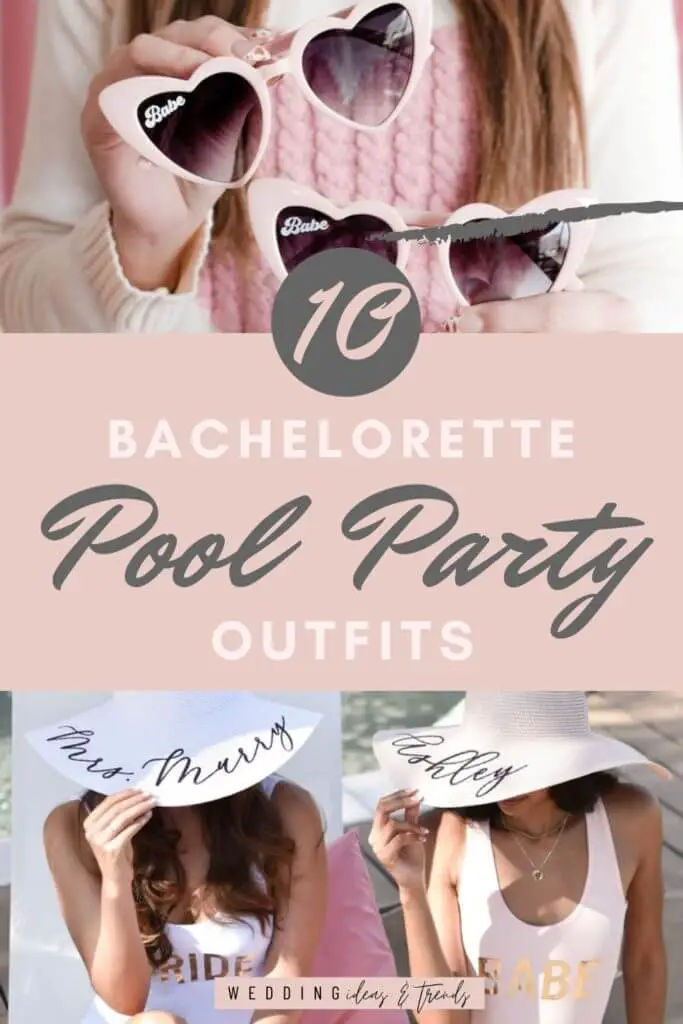 Read on for the best bachelorette pool party outfits and accessories that will make the bride and her tribe look gorgeous in photos: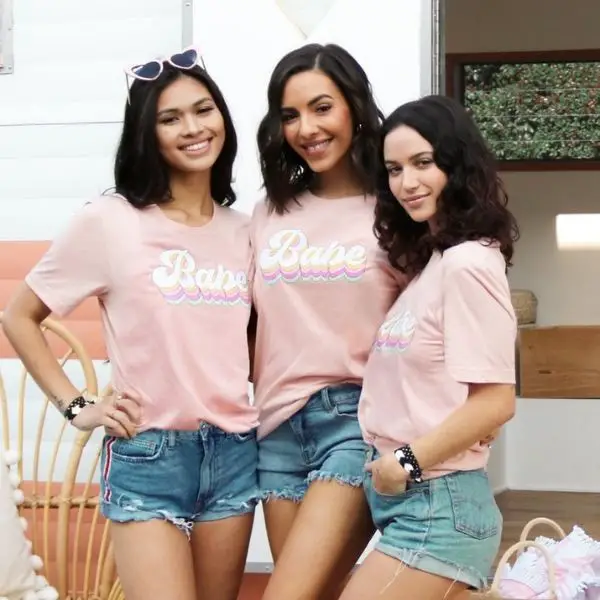 Bride & Babe Shirt By Mod Party on Etsy
A super cute vintage-style shirt for the bride or her babe to wear during the bridal shower or bachelorette party! The comfortable cotton feel, and snug but stretchy fit make this shirt perfect for a day spent doing girly activities at the pool.
Mermaid tank tops By Bachette on Etsy
These women's mermaid tank tops are gorgeous! The saying on the tops "Trading My Tail for a Veil" & "Time to Party Our Tails Off" go perfectly with the pool party theme.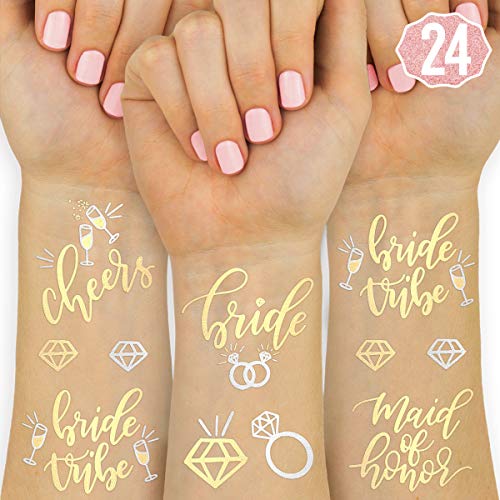 Shop on Amazon
Any bachelorette party will be complete with these 24-piece bachelorette party tattoos. Perfectly sized to fit your arm, these metallic tattoos feature a unique design for the bride, maid of honor and her entire bride tribe with super cute additional "diamond," "engagement ring" and "champagne glass".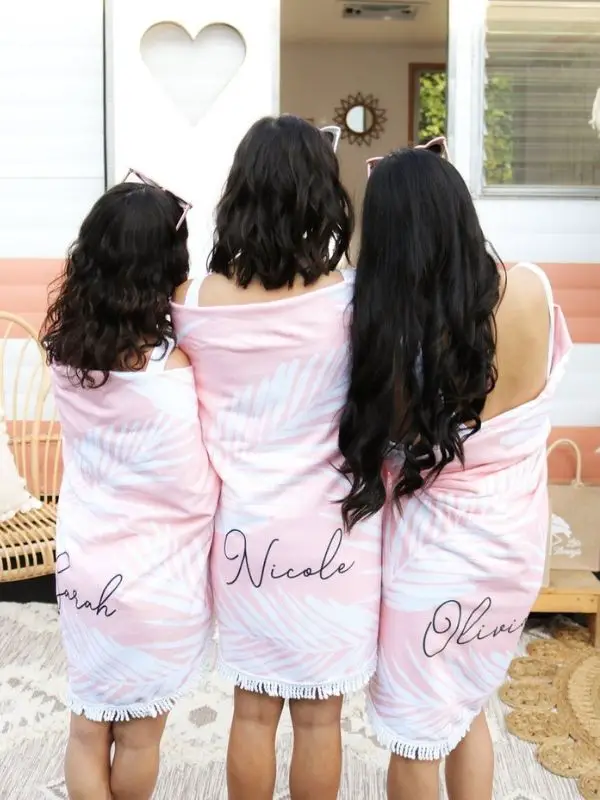 Round Beach Towel By Mod Party on Etsy
Make your bachelorette party extra memorable with our tropical leaf print personalized round towel. Perfect for the bride to be, her guests, or anyone who just loves to look at palm trees, this lightweight microfiber beach towel is perfect for adding some tropical flair to any poolside get together.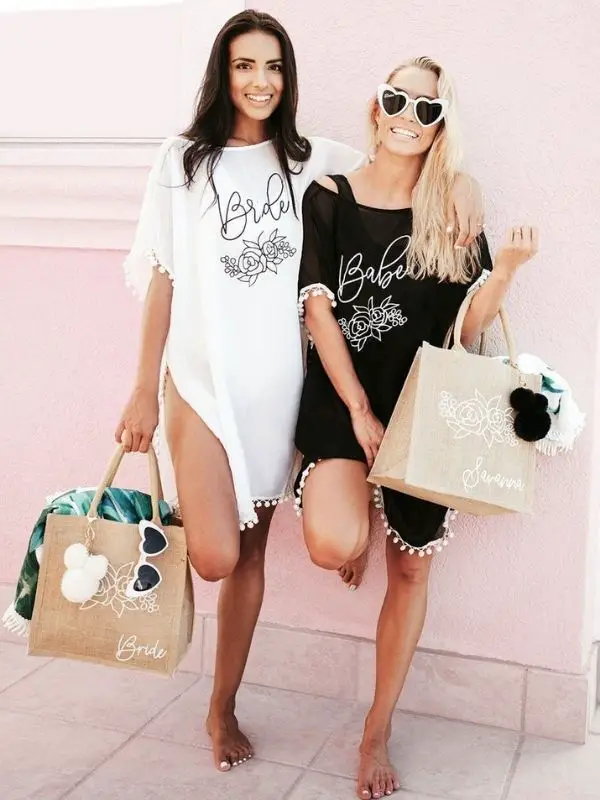 Swim Cover Up By Mod Party on Etsy
Show off your sassy side at the bachelorette party with these adorable swim cover-ups! get a white one for the bride and a black one for her "babes" to wear over your bikini while hanging out by the pool.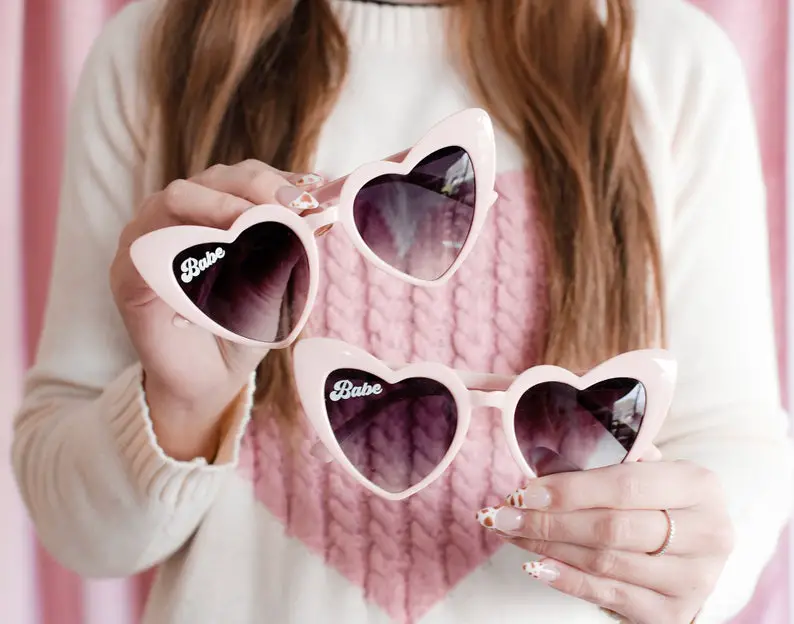 Shop on: Etsy, or on the paisley box
Add some fun to your look with these hilarious heart-shaped Bachelorette party sunglasses. They make the perfect accessory for photos at bachelorette parties! Pair them with a cute outfit and match them with besties for a laugh-filled photoshoot!
RELATED: 18 Amazing Will You Be My Bridesmaid Box Contents Ideas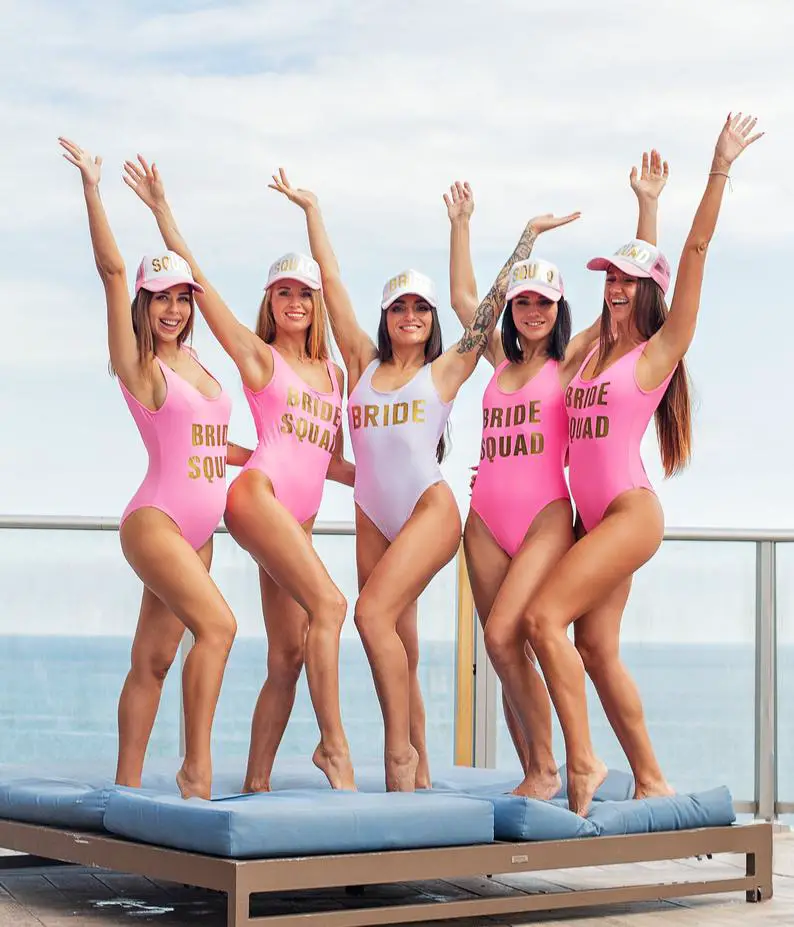 One Piece Swimsuits By YourlovelyshopDesign on Etsy
The bride-to-be will feel like the ultimate BACHELORETTE with this customized Bachelorette swimsuit. It's not only fashionable, but it's comfortable enough for any activity you have planned for your big girls' trip.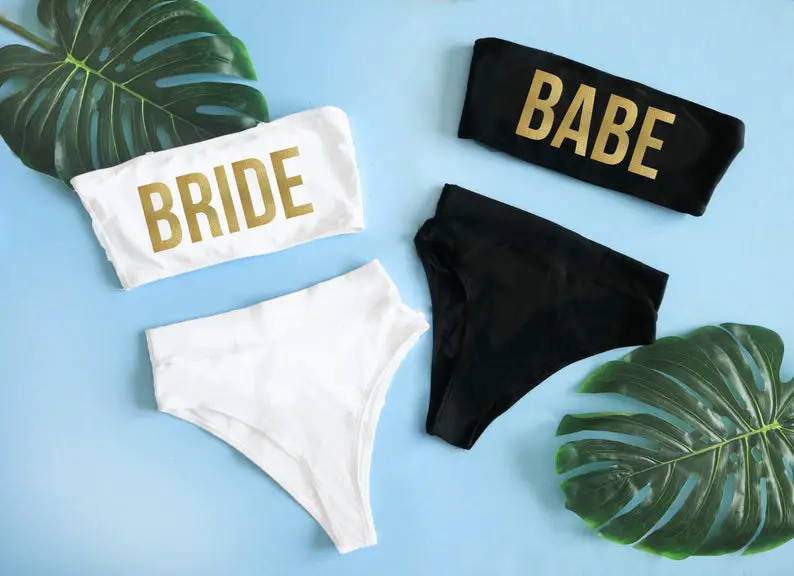 Bikini Swim Set By Be Everthine on Etsy
Double up the fun in these cheeky high wasted bikinis. Show up to your bachelorette party in style and ready for a perfect summer day by the pool or beach in this set. Its flirty co-ord design is flattering on all body types.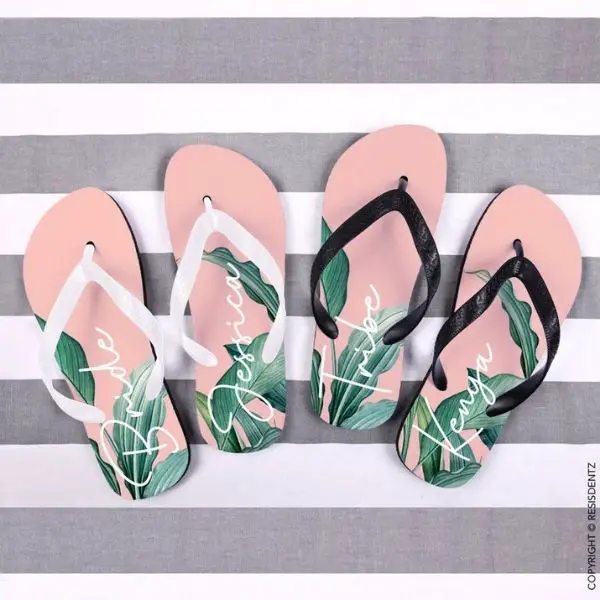 Palm Leaf Flip Flops By Resis Dentz Design on Etsy
Add some vacation mood to the bachelorette party with these casual yet stylish palm leaf flip flops! Add your own custom text to add a personal touch.
RELATED: 23 Gorgeous Boho Beach Wedding Shoes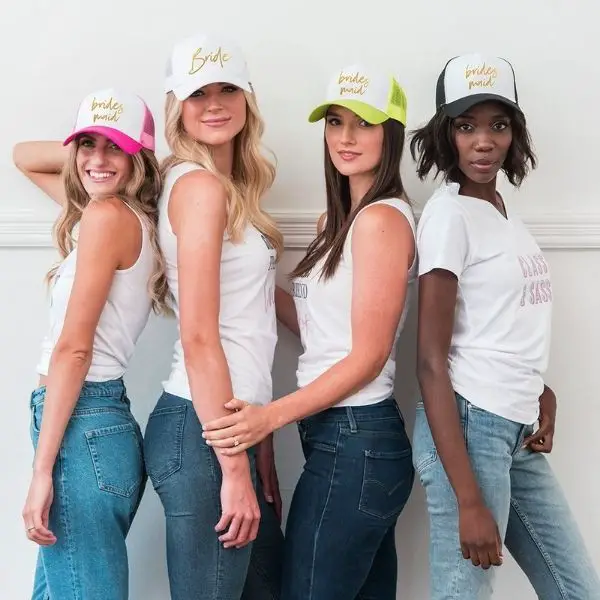 Shop on weddingstar.com
Put on your trucker hat and get ready for the party! The hat features a array of neon colors that will help you stand out at the pool party or beach outing during the summer season. Your bridal party will keep this hat as a souvenir of your last night as a single lady!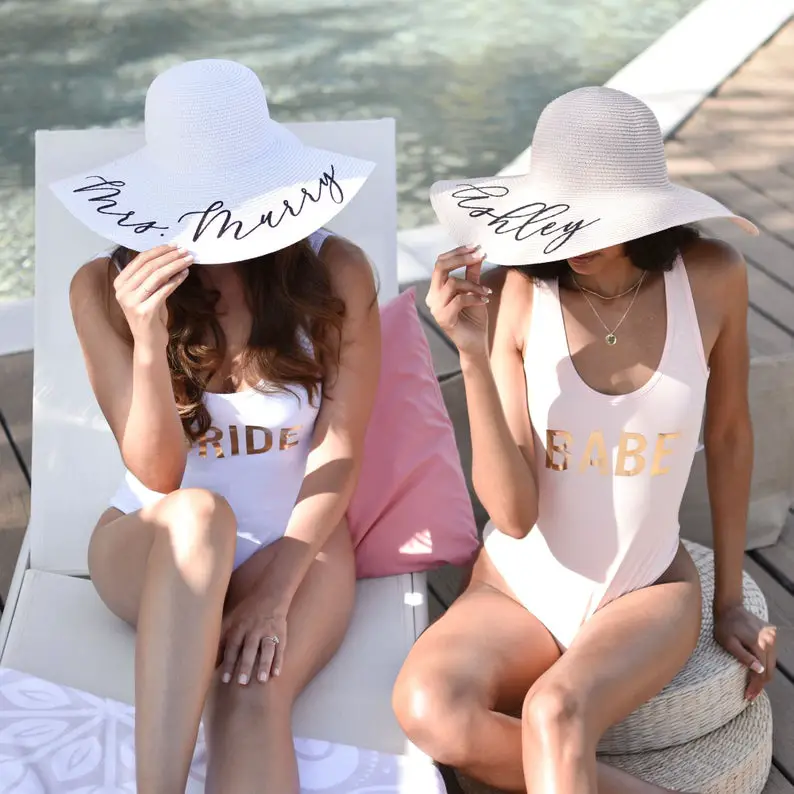 Sun Hats By Mod Party on Etsy
Personalized sun hats are the ideal fun gift for your Bachelorette party! They add a whimsical touch to photos for an extra memorable celebration. Choose from tan, white or blush colors, and personalize with the text of your choice along the brim in a handwritten font.
Shop on Zazzle
A personalized tote Bag makes all the difference when packing for the pool party! Printed with a stylish greenery design with a gold circle frame.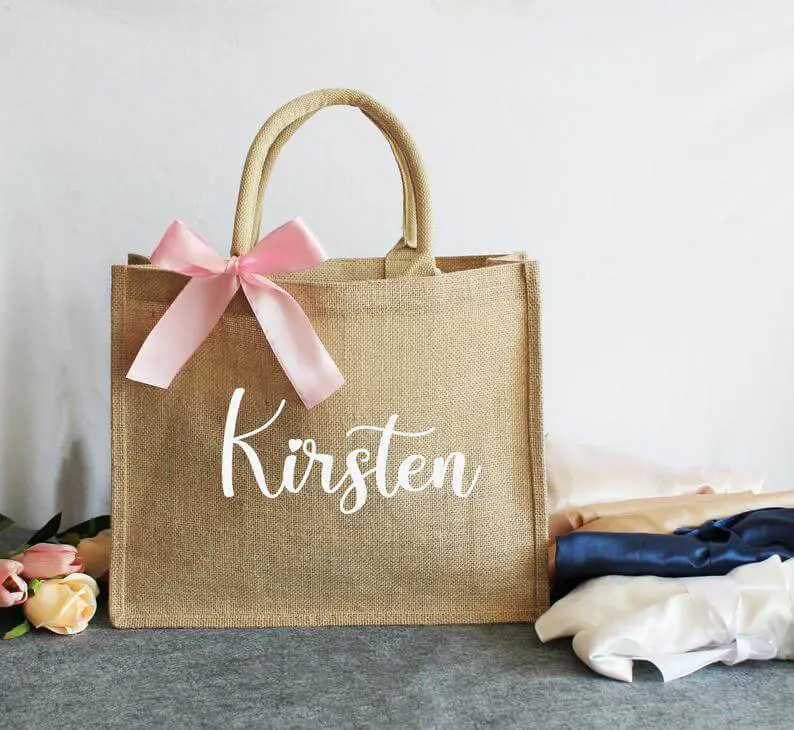 Tote Bag By DerekBryantDB on Etsy
These adorable tote bags make a great accessory for your bridesmaids at your bachelorette pool party. Not only they are cute they are also made with extra sturdy handles and plenty of room for everything they need for the big day or weekend getaway.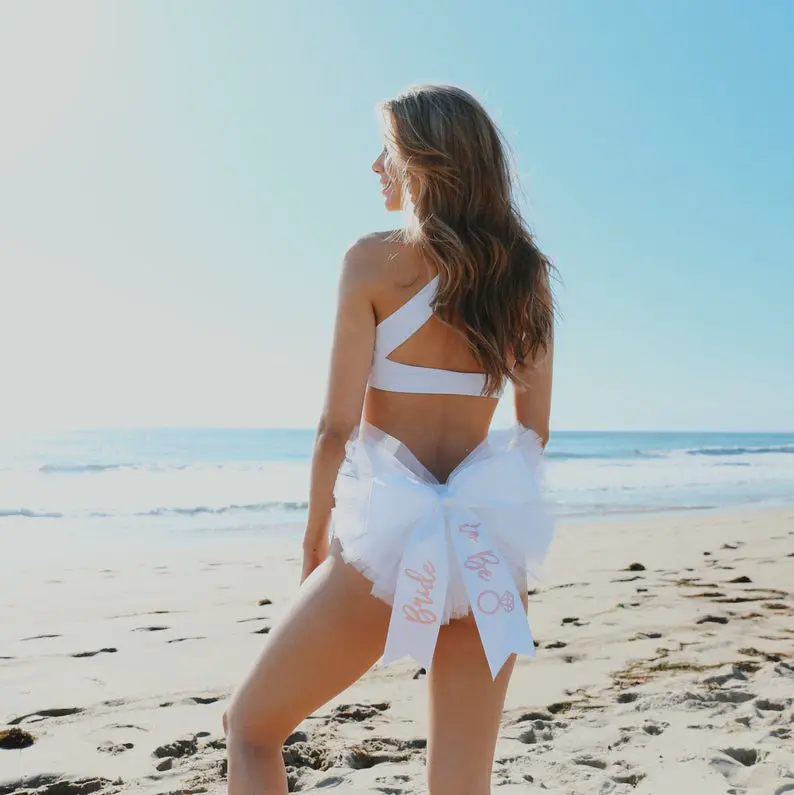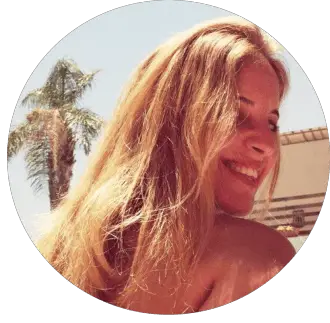 Kaden is an interior designer in her education who fell in love in designing weddings. Along with her husband, the wedding planner, Kaden specializes in creating content for weddings aim to fulfill brides dreams.