Last Updated on April 22, 2022 by Kaden
If you're like me, then I'm sure you can't imagine yourself getting married without your best friends by your side. I've collected a list of will you be my bridesmaid box contents with the most adorable items to fill in the proposal box that your bridesmaid will cherish.
Our top 15 unique 'will you be my bridesmaid' box contents ideas will help you find the perfect way to ask each of your girls to be at your wedding!
You May Also Interested In:
 I may receive commissions on purchases made from the links on this page at no cost to you.
18 Amazing Will You Be My Bridesmaid Box Contents Ideas That Your Besties Will Absolutely Adore 
Stemless wine glasses are perfect bridesmaid gifts for bridal showers and bachelorettes. Cheers to your wedding and make a beautiful picture holding this personalized wine glass.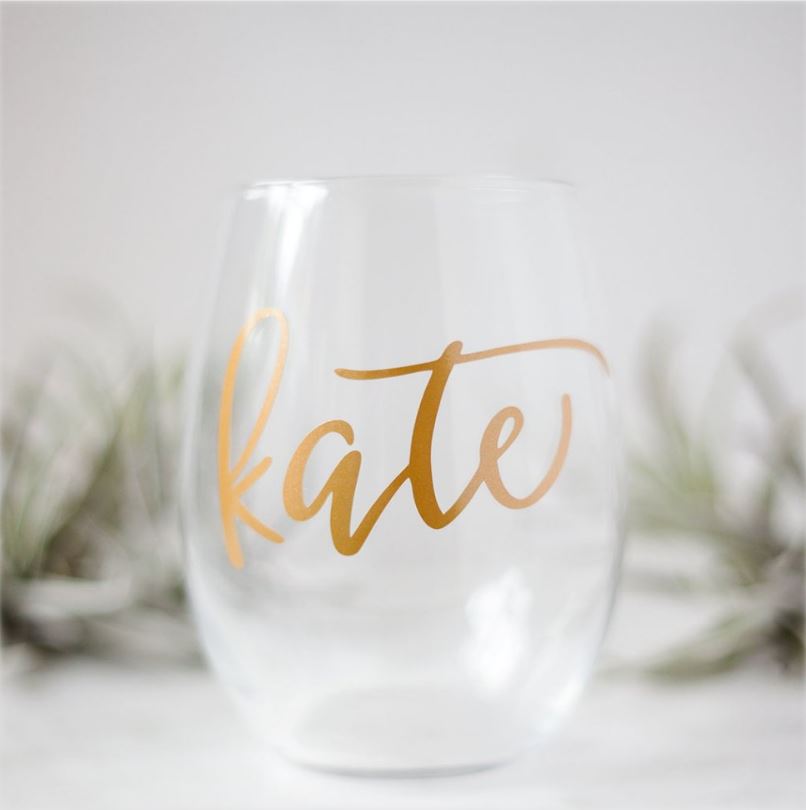 From Zazzle
This adorable stainless-steel tumbler has many personalized features. Your text or graphics are etched directly into the stainless steel with a laser engraver, keeping it from peeling or fading. Choose from a variety of fonts and colors to make each tumbler a personal gift for your bridesmaids.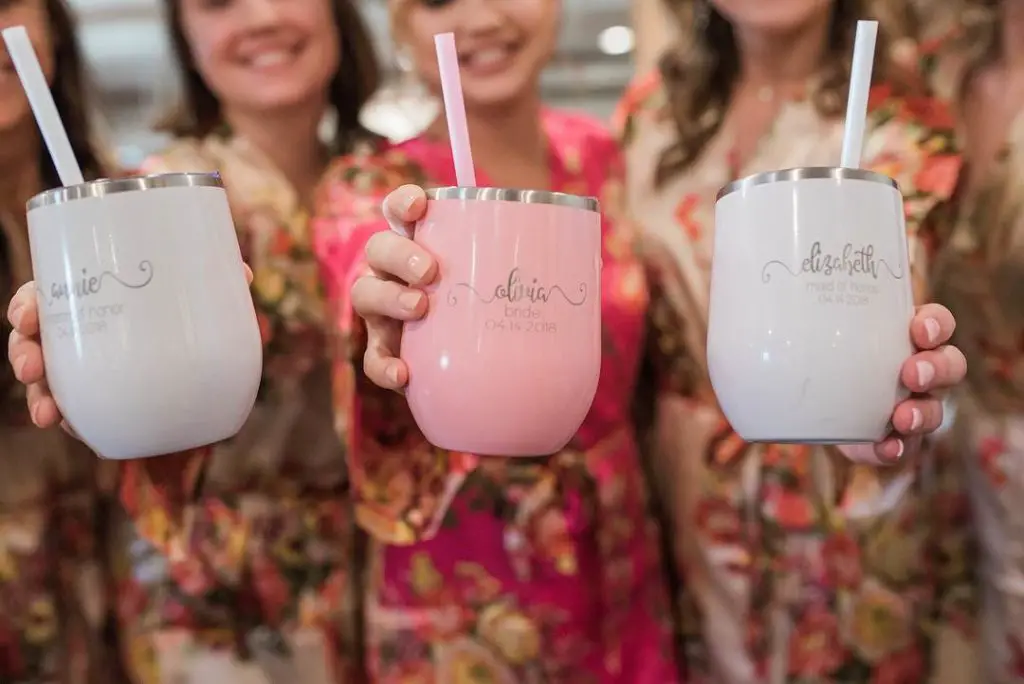 From Amazon
Love this personalized Waiter's Corkscrew, a great gift idea for your Bridesmaid box, simple, elegant, and personal, So Let's Drink up!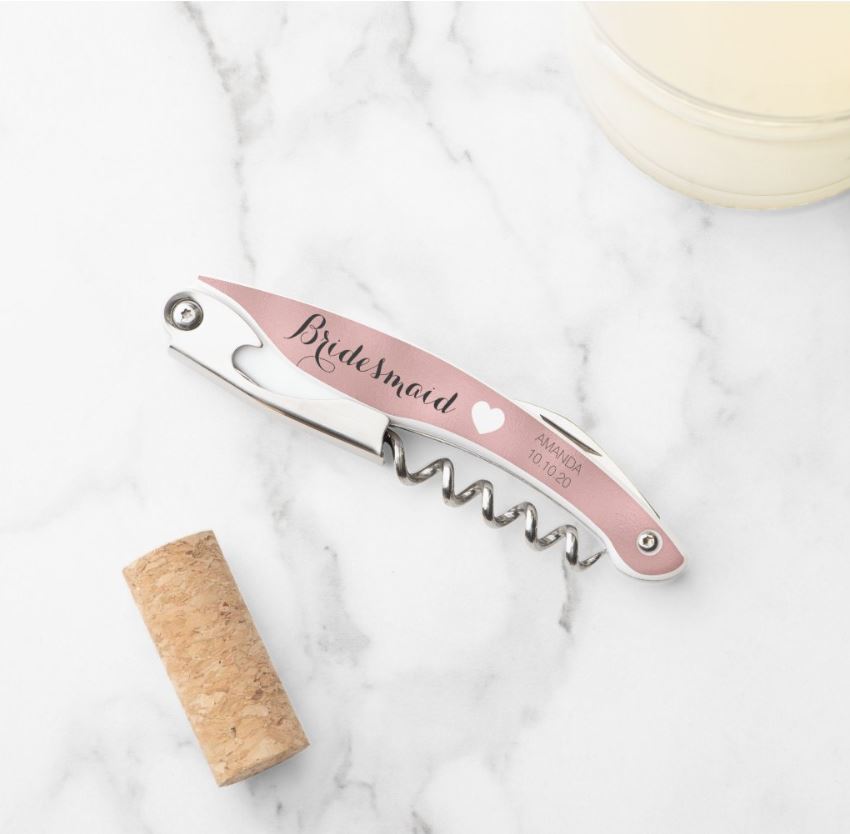 From Zazzle
This small teardrop slide bracelet adds just the right amount of sparkle for a wedding or every day! A delicate and dainty piece, Is adjustable and can be worn stacked with other bracelets. This will surely become a favorite accessory for you or your bridesmaids!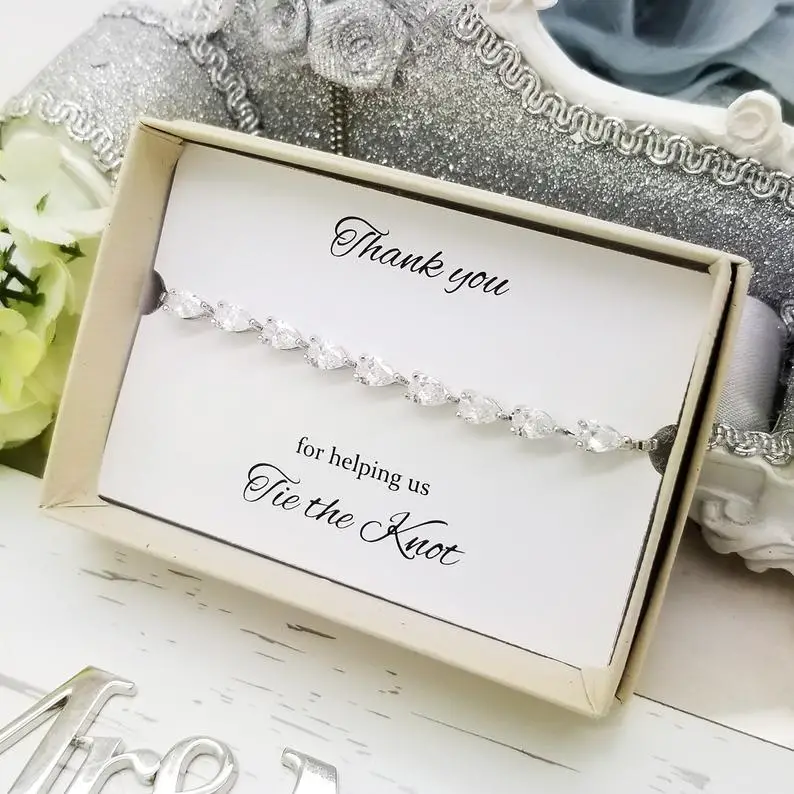 By JJBridalCollection on Etsy
These are the perfect bath bombs to put in bridesmaids' proposal boxes. Make your bridesmaid proposal extra special with this cute 'Will You Be My Bridesmaid' bath bomb. The coolest thing is when the bath bomb melts away a small piece of diamond-shaped vellum is revealed to pop the big question! So adorable!
*You can also look at this amazing bath bomb on Amazon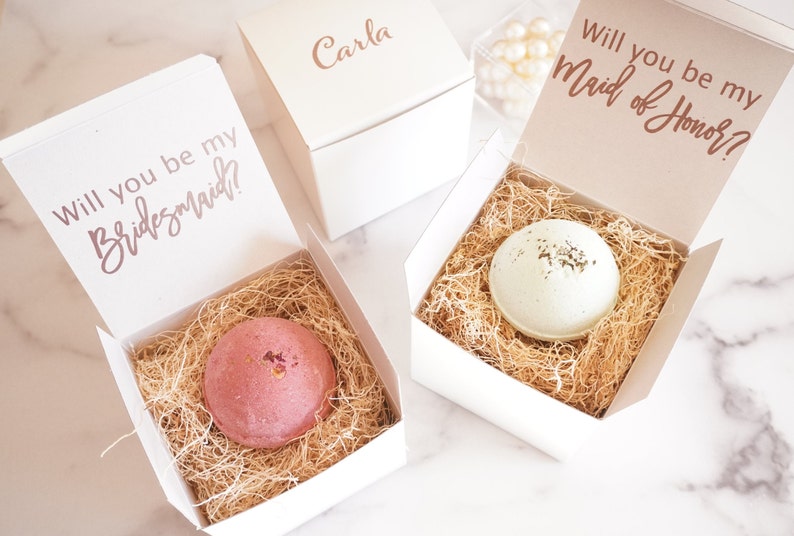 By DearlyBeelovedLLC on Etsy
A pack of 7 satin rose gold hair ties for your bridesmaids and 1 satin white hair tie for you. Each scrunchie hair tie comes with a diamond head card, just another great item to add to your proposal box, especially for a tribe favor.
From Amazon
This knotted bar necklace comes in gold or silver color of your choice. Including a lovely gift box with a message that says: "I Couldn't Tie the Knot Without You". The pretty box including the message and of course this beautiful necklace makes it 'a ready to gift' to your bridal party.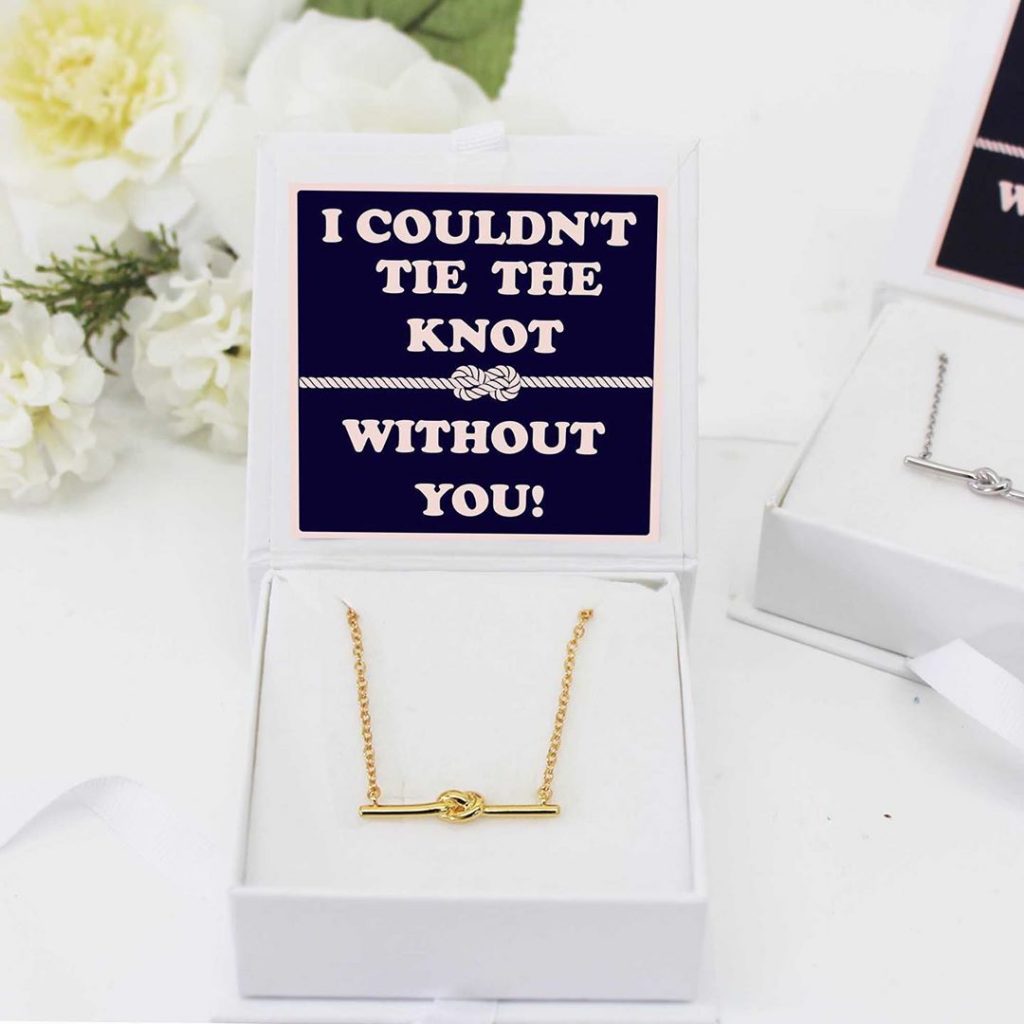 From The-Paisley-Box
Impress your besties with this stunning Geometric Triangle Hair Clip and a unique Proposal Card. This Gorgeous Hairpin has Boho Minimalist and elegant Hairpin chic that your bridesmaids will cherish.
From Amazon
One of the cutest gifts on this list! Required in every bridesmaid's box. The perfect attire for the perfect pictures.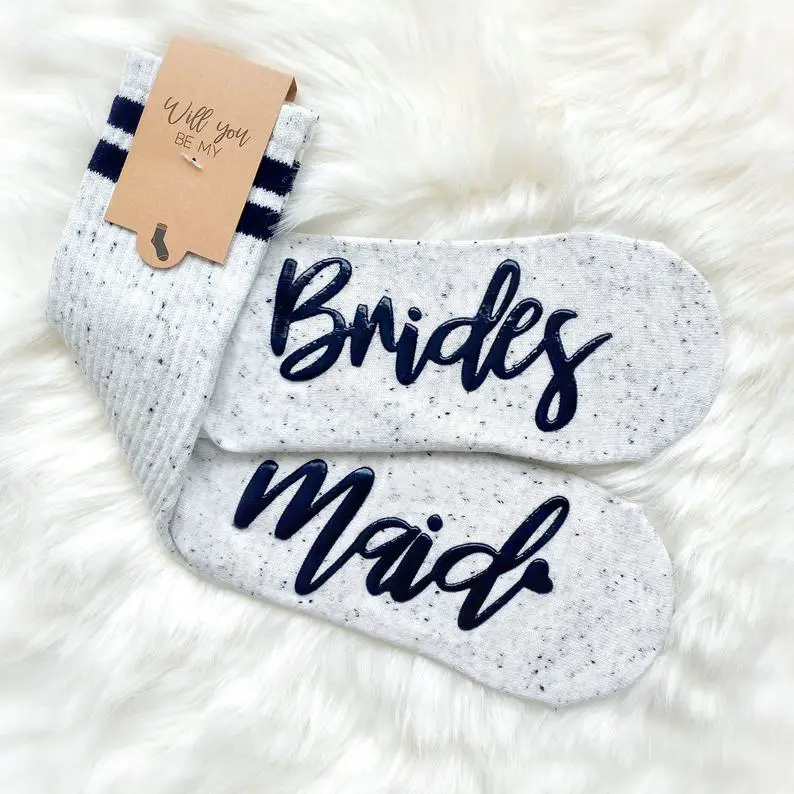 By BlissfulSocks on Etsy
Each small mirror is printed with a beautiful design and can even be personalized with each bridesmaid's name. The ideal gift to be kept as a keepsake for years to come or used as a hand mirror.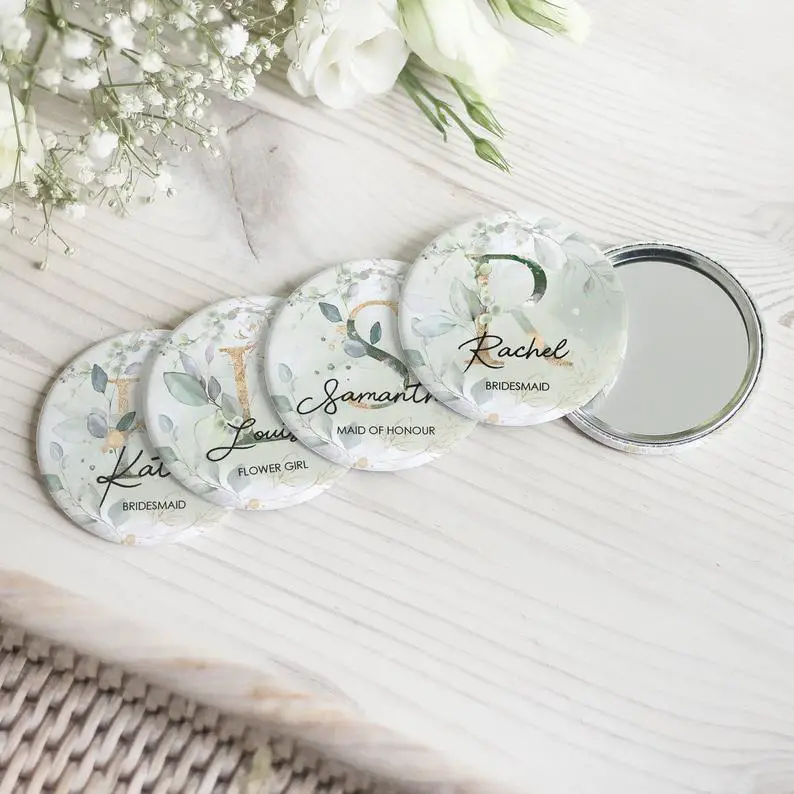 By fromwillow on Etsy
This is truly a stunning bridesmaid canvas makeup bag, featuring a natural canvas bag with a cream gold zipper.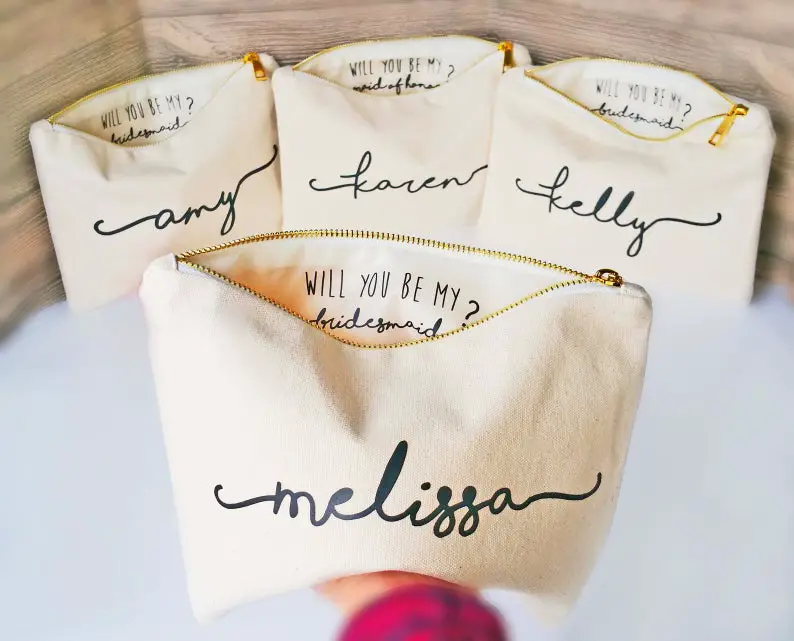 By CraftingHandsNY on Etsy
One white for the bride, and five Pink for the tribe! A lovely themed set of sunglasses features one pair of pure white and 5 pairs of cotton-candy pink adorned with golden letters stating bride, maid of honor, and bridesmaid.
From Amazon
Add a special touch to your bridesmaid proposal box. Succulents are one of the easiest types of plants to grow indoors, even when you're an inexperienced gardener. Exquisitely packaged in a beautiful ceramic pot. This gift is perfect to add a pop of color to the proposal box.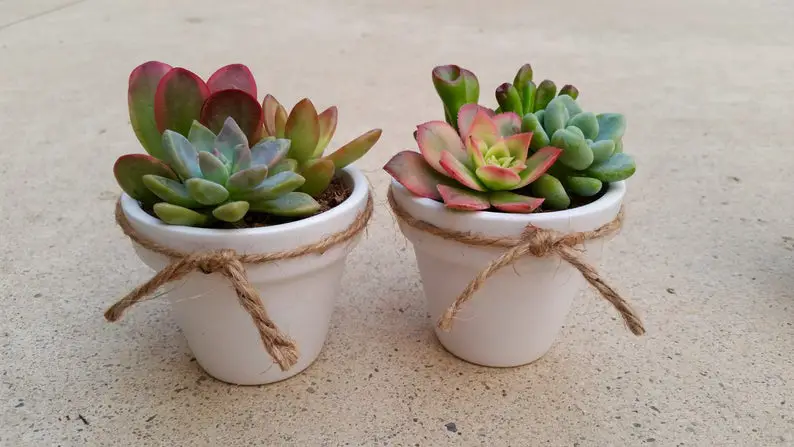 By 5starsucculents on Etsy
Your bridesmaids will love these cute kimono robes. Comes in a set of five colors, each robe is handcrafted with fine silky polyester. This silk bridesmaid robe set is perfect for sleepovers or relaxing together after the big event!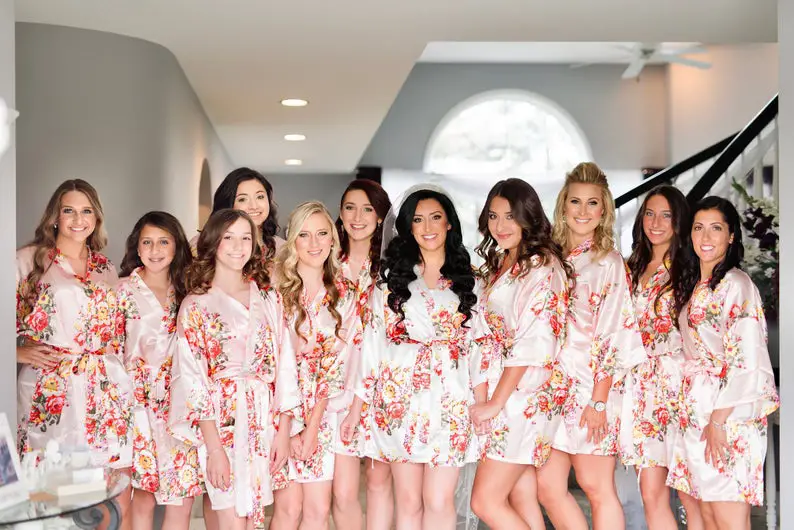 By LavishRobes on Etsy
Be funny and creative with this card! If you are going to ask someone to be a part of your most important day, you want that person to feel special. These funny bridal proposal cards give you the opportunity to express your love for your friends, family members, and even co-workers in an extra special way.
By tagooey on Etsy
Find out more amazing ideas for Will You Be My Bridesmaid Box Contents
on my Pinterest page.
Keep Planning With Us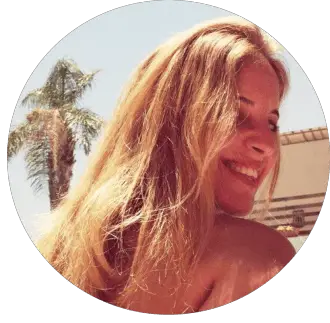 Kaden is an interior designer in her education who fell in love in designing weddings. Along with her husband, the wedding planner, Kaden specializes in creating content for weddings aim to fulfill brides dreams.