Last Updated on May 27, 2022 by Kaden
The best thing about an engagement gift basket is the opportunity to create a couples gift opening experience. The thrill of discovering all those little gifts, and the story you, as the gift-giver, want to tell.
From a romantic date night to celebrate their engagement, new exciting decorations items for their shared life together, to helpful gifts for organizing their wedding. Keep scrolling and find the ideal gift basket the newlyweds will be thrilled to get.
RELATED ENGAGEMENT GIFT IDEAS YOU MAY ALSO BE INTERESTED IN: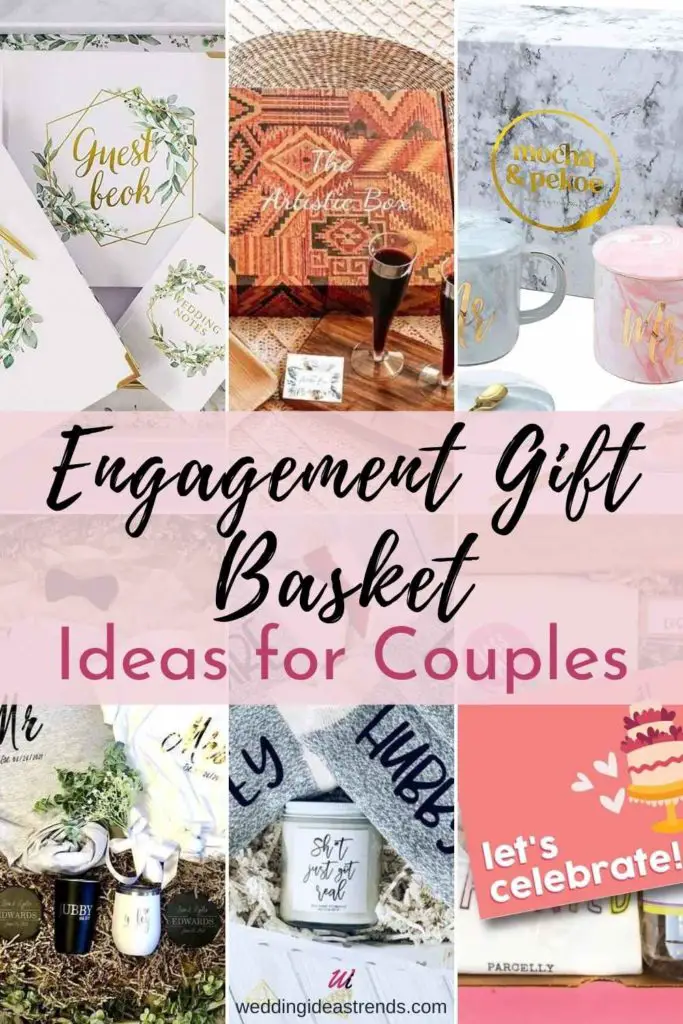 I hope you like these products! Just so you know, I may receive commissions on purchases made from the links on this page. Thank you if you use our links, I really appreciate it!
15 Best Engagement Gift Basket Ideas – Newly Engaged Couples will Cherish
Here are my picks for engagement gift basket ideas for couples. In different styles and budgets, you'll be sure the newlywed will use and love.
This gift set was made for laughs! Filled with some (strangely) relevant advice and packed with comic relief including, Wheel of Burden – Household Chores, Decision Making Dice Set, Bottle Opener, Couples Coupons, His and Hers Chocolate, A Customize postcard, and your choice of beverage items.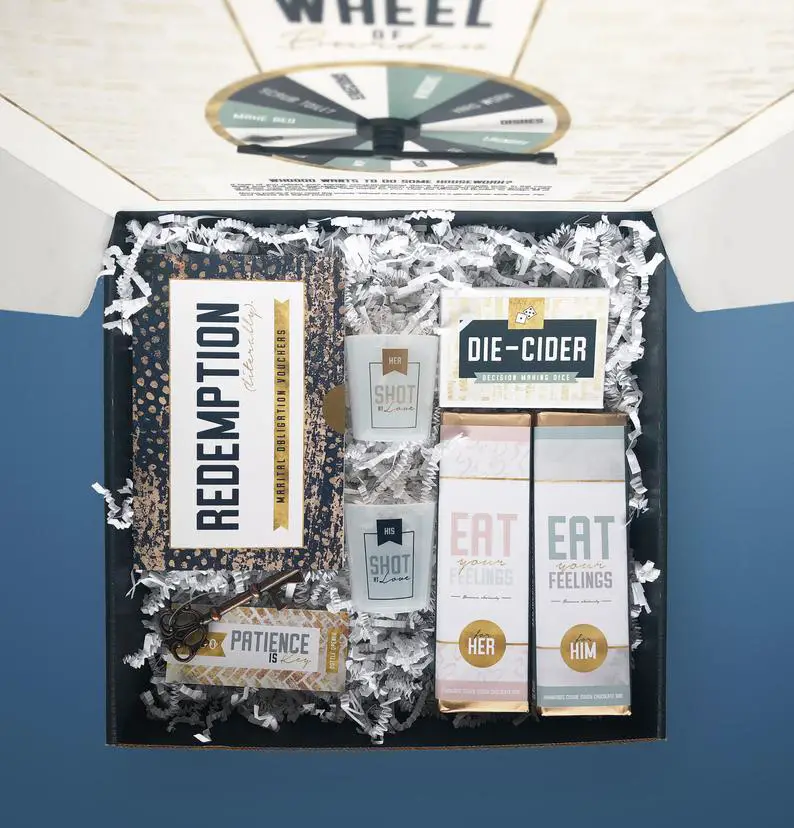 Funny gift box by Sincerely-Me-Gift
Check current price on: Etsy
The most EPIC date night ever, perfect for Quarantine time.
An adventure date gift basket includes two wine glasses, two canvases, two palette knives, five assorted acrylic paints, two plates, and one instruction card with a simple step-by-step video tutorial.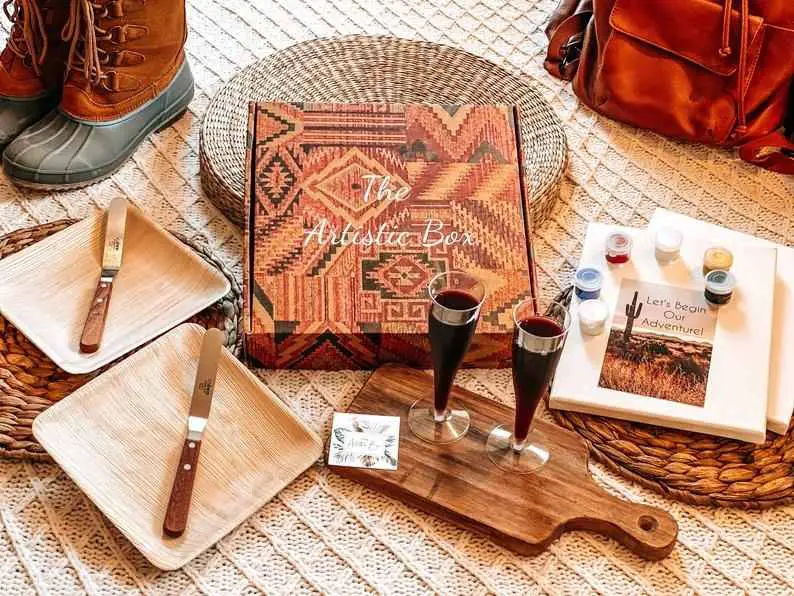 Art box by The-Artistic-Box
Check current price on: Etsy
Her & Him Spa basket is a couples gift that will delight both of them!
Filled with organic and all-natural spa products including goat's milk and glycerin lavender bar soap, PET jar with all-natural lavender-lemon bath salts, plus a pretty and fragrant lavender sachet, Foot Rub tin Muscle Salve tin, and Organic Face and Beard Oil.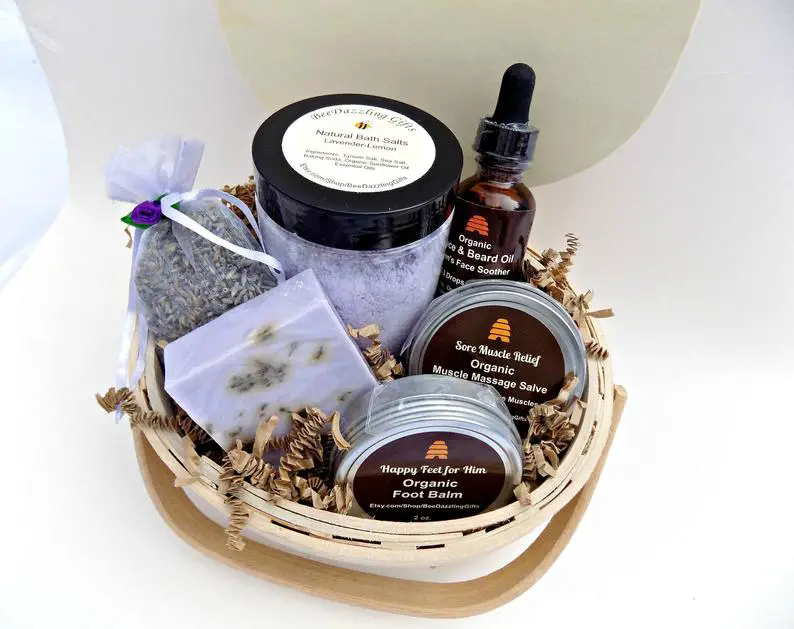 Spa basket by Bee-Dazzling-Gifts
Check current price on: Etsy
RELATED: Best Pampering Spa Themed Bridal Shower Favors
The YOU'RE ENGAGED is a fun package filled with fun goodies, such as, "Totes Getting Married" Tote Bag, "Honeymoon Fund" Savings Jar, "I Said Yes" Celebratory Engagement Balloon, "Put a Ring On It" Scented, Organic Olive Oil Glycerin Soap, "Toss Me" Confetti, and a Parcelly's Exclusive "Let's Celebrate" Greeting Card.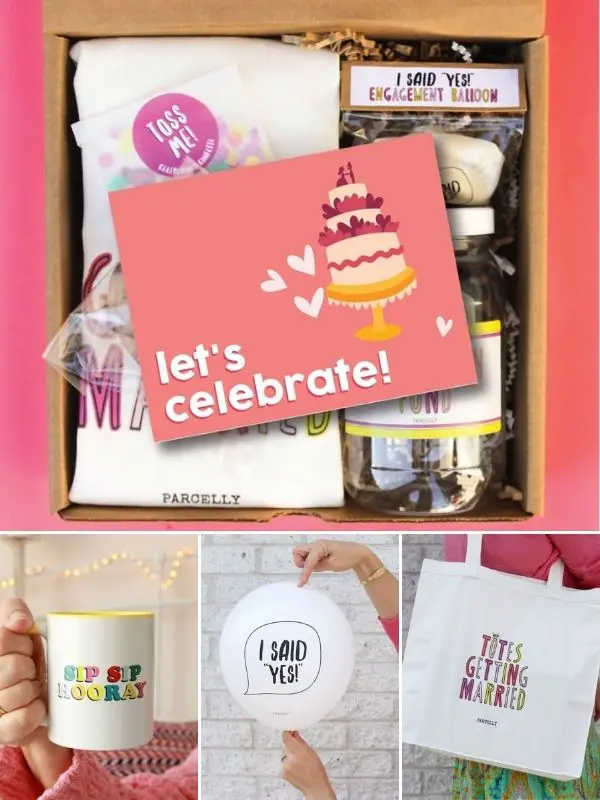 Gift package by Parcelly
Check current price on: Etsy
This one is my favorite so far! Spa romance-in-a-box is how you pumper the newly engaged couple. Including, His and Hers Bath Towels, extendable bamboo caddy, Two sleek champagne flutes, aromatherapy diffuser plus essential oil, silk bag with 300 floating silk rose petals, Adrienne Vittadini 5-piece honey almond spa gift set featuring shower gel, bubble bath, body lotion, body scrub plus a loofah and assorted fragrant red and white tea lights.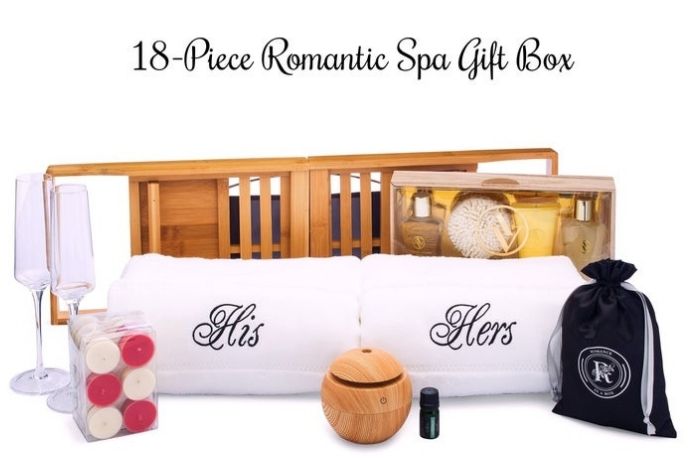 Spa basket by Romance-Helpers-SP
Check current price on: Etsy
Mr. and Mrs. Travel gift Luggage Tags, Passport holders, custom engraved pen in a luxurious gift box/ All made using the highest quality cruelty-free Vegan leather.
Gift by DELUXY
Check current price on: Amazon
RELATED: 10 Best Engagement Gifts for Couples on Amazon
This stylish wedding planner set is everything the couple needs for the big day. Create lists of guests, seating plans and vision boards, a list of useful questions to ask each of your vendors. The organizer is packed with handy tips, honeymoon ideas, and a packing list plus lots of blank 'notes' and 'to do' pages and a range of inline templates.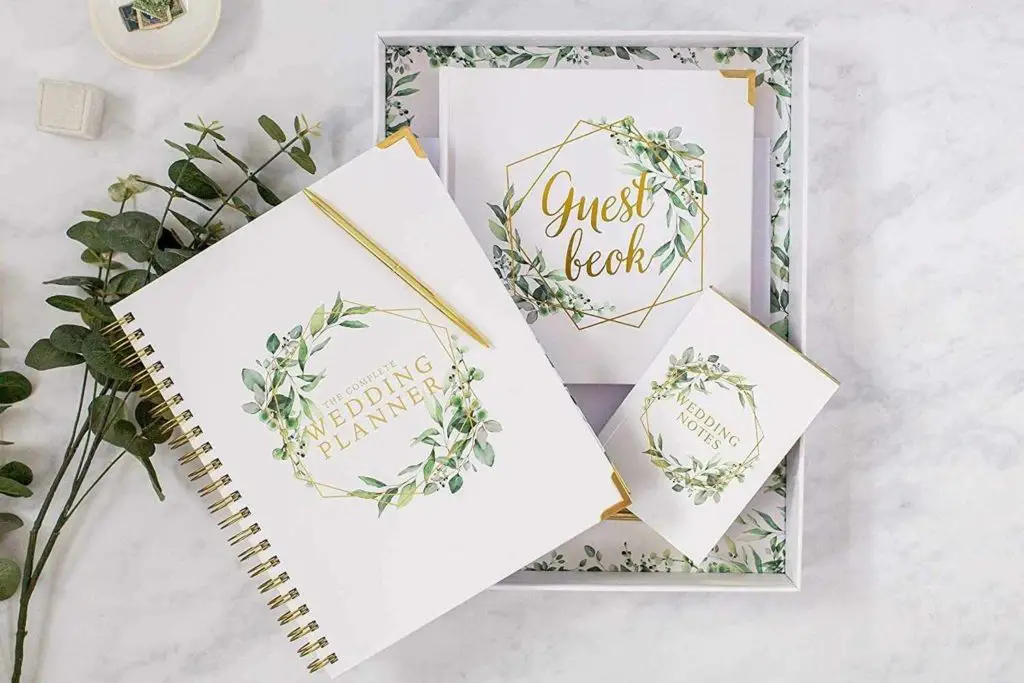 Check current price on: Amazon
This Newlywed Gift includes a sign with your choice of a custom message and design, set of Mr. & Mrs. Drinking glasses plus coasters, 1 candle, Metal Or Wood letter sign or comparable with the couple first letter of their last name and a picture frame for their first photo as a married couple!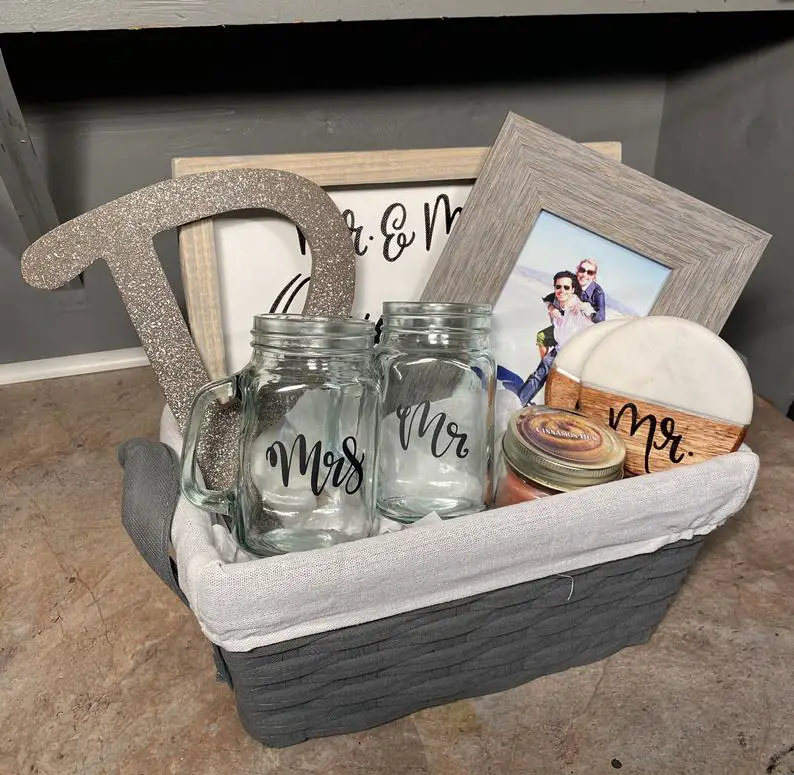 Gift basket by Whoos-Art-Kirkland
Check current price on: Etsy
This cute Mr. and Mrs. Mugs Set brings a reminder of everlasting love with every sip. Includes 2 sturdy, durable ceramic marble "his and hers" mugs with gold print, 2 matching coasters, and 2 gold spoons.
Mugs Set by Maustic
Check current price on Amazon
Beautiful matching set of, Ultra-soft "MR" and "MRS" T-SHIRT with personalized "Est." date, Personalized engraved "MR." & "MRS"  stainless steel flask, Engraved "Hubby" & "Wifey" stainless steel CUP, and an engraved natural-cut slate COASTER. Coms in a white gift box with "Congratulations" inscription on the inside of the box lid, white decorative crinkle-cut paper, wrapped in black satin ribbon.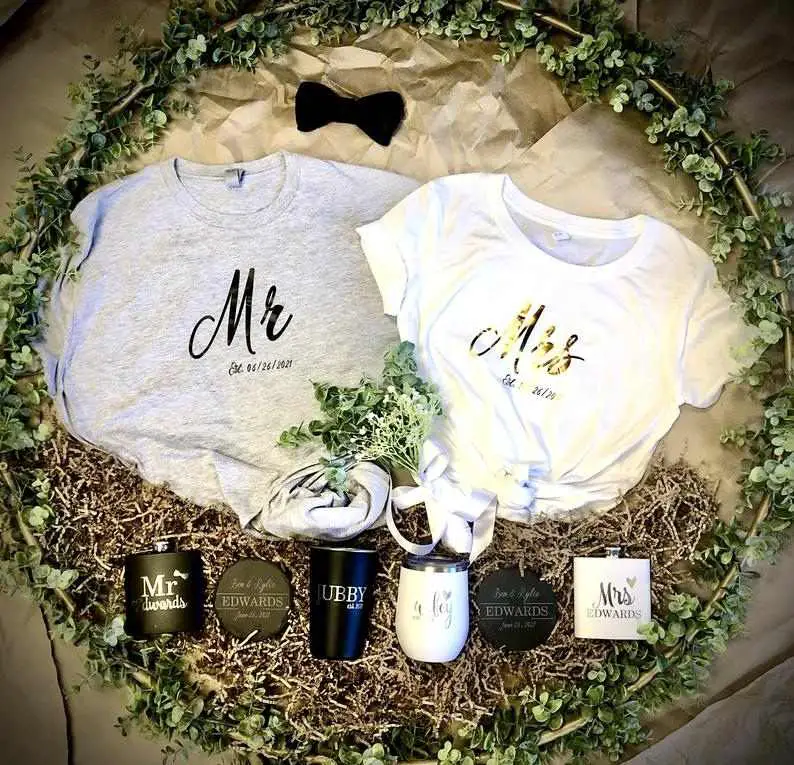 Matching Set by Wedding-Gifts-N-Beyond
Check current price on: Etsy
The perfect couples engagement gift for wintertime. An adorable cozy matching socks future wifey & future hubby and an "Sh*t just got real" hand-poured candle.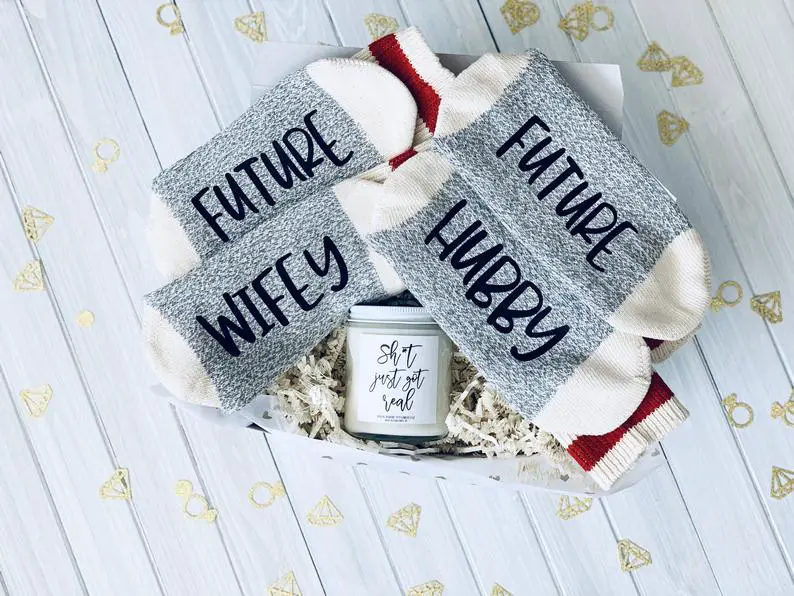 Gift by My-Handmade-Wedding-CO
Check current price on: Etsy
A Funny Marriage Survival Kit is loaded with items to enrich a married couple's life, like wine tumblers, a bottle opener, funny coasters, coupons for couples, decision-making dice, and a heart ring dish! This kit includes Heart Shaped Ring Dish, Key-Shaped Bottle Opener, Funny Coasters, Sexy Coupons, Fun Answer Dice, coms as a Gift Ready Package, and Cool Congratulations Card.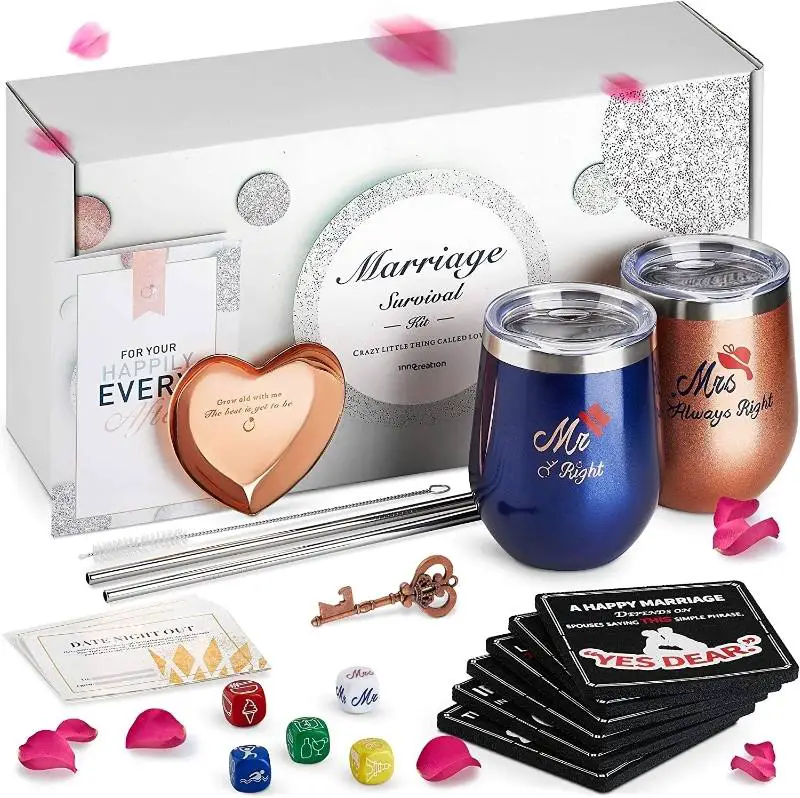 Gift by Inno-Creation
Check current price on: Amazon
This high-quality custom personalized laser engraved wine box set comes complete with the tools you see and is made from bamboo. A personal gift that couples will absolutely appreciate.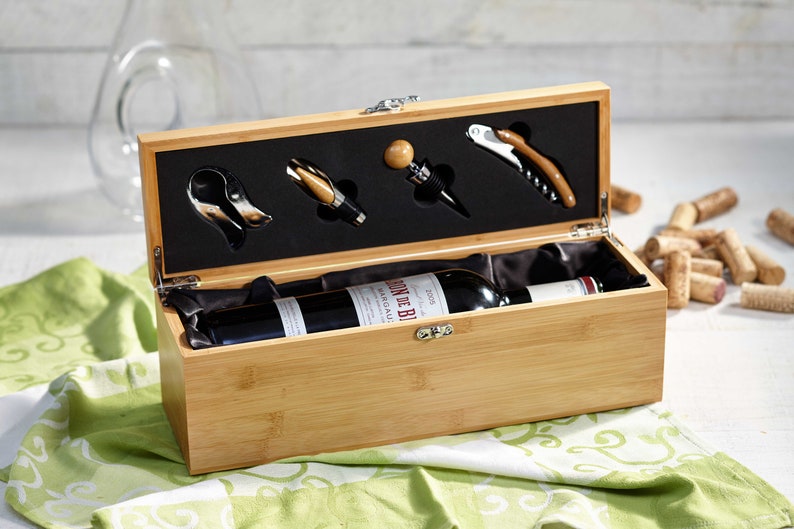 Wine box by JMlabonneimpression
Check current price on Etsy
Each gift box includes, Happily Ever After Frame, Ring Dish, Mr. & Mrs. Luggage Tag, Happily Ever After Candle & Matches, and a Personalized Congrats Card, which comes in a white gift box, with white filler, floral accents, and a ribbon.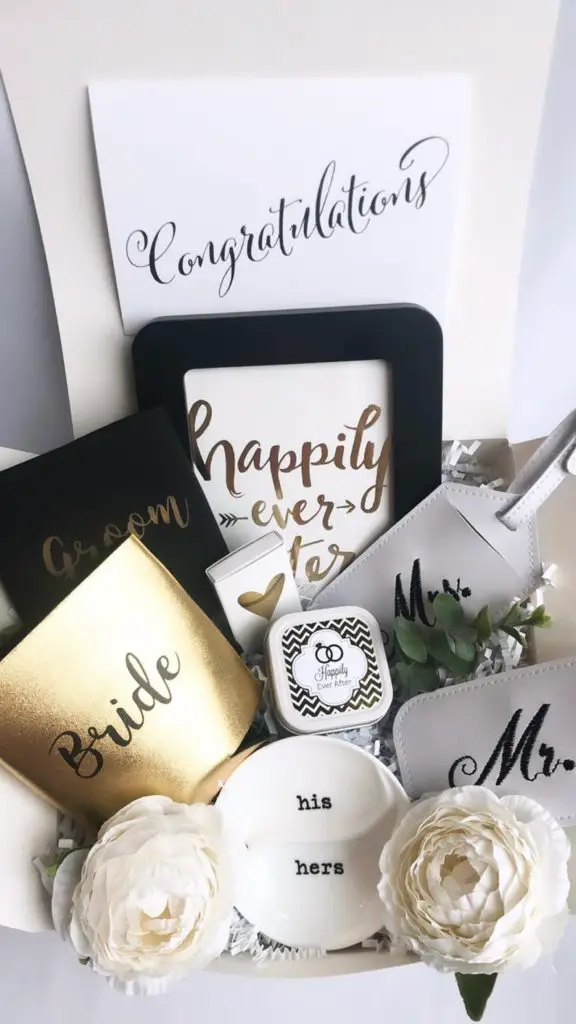 Gift box by confetti-sweet-hearts
Check current price on: Etsy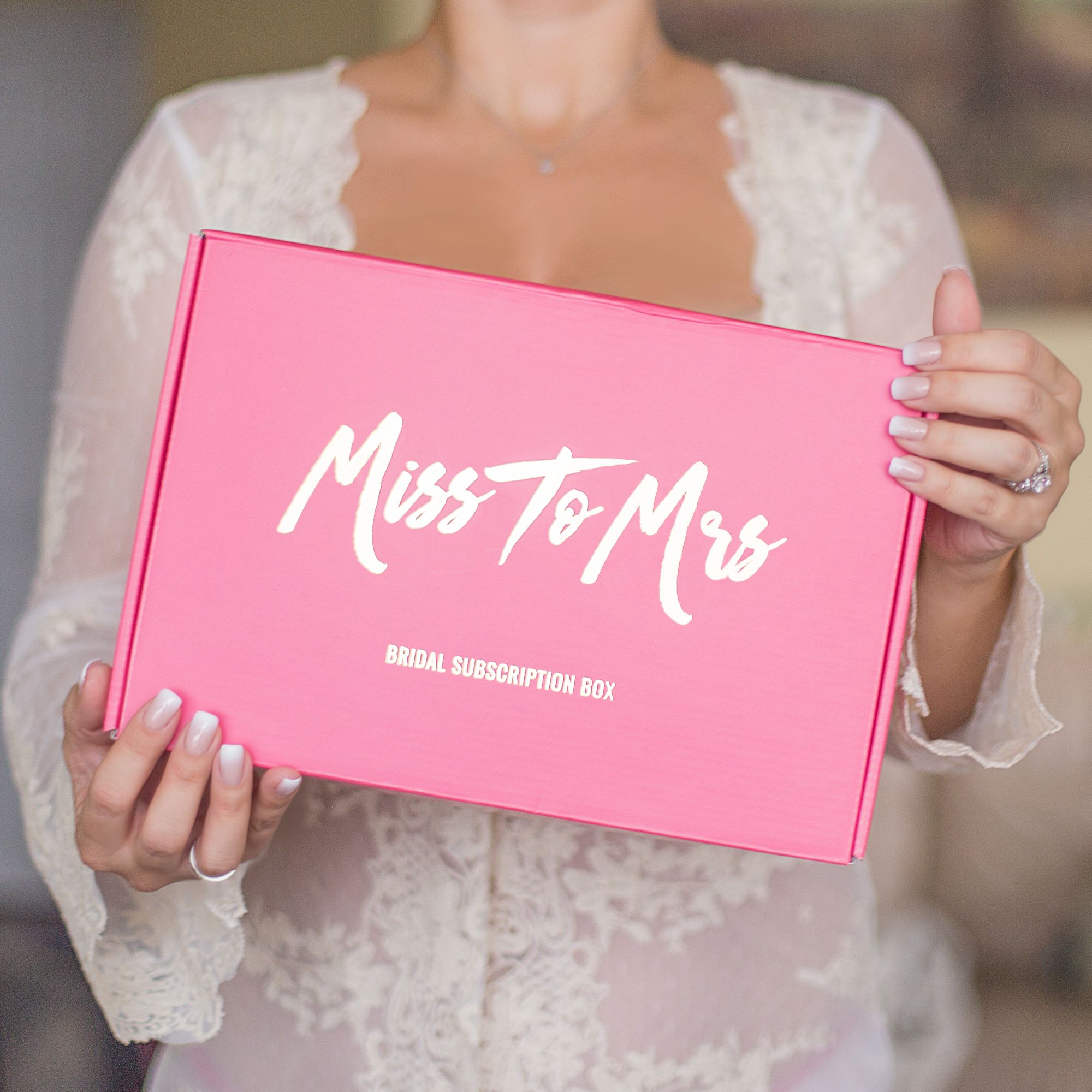 It is filled with beautiful content to help couples get started on their wedding planning journey together. From chair props to drink decorations, including Personalised Straw Flags, Thank you Cards & Envelopes, Advice & Wishes Cards, Vow Booklets, Ring Bag, and Mini Banners.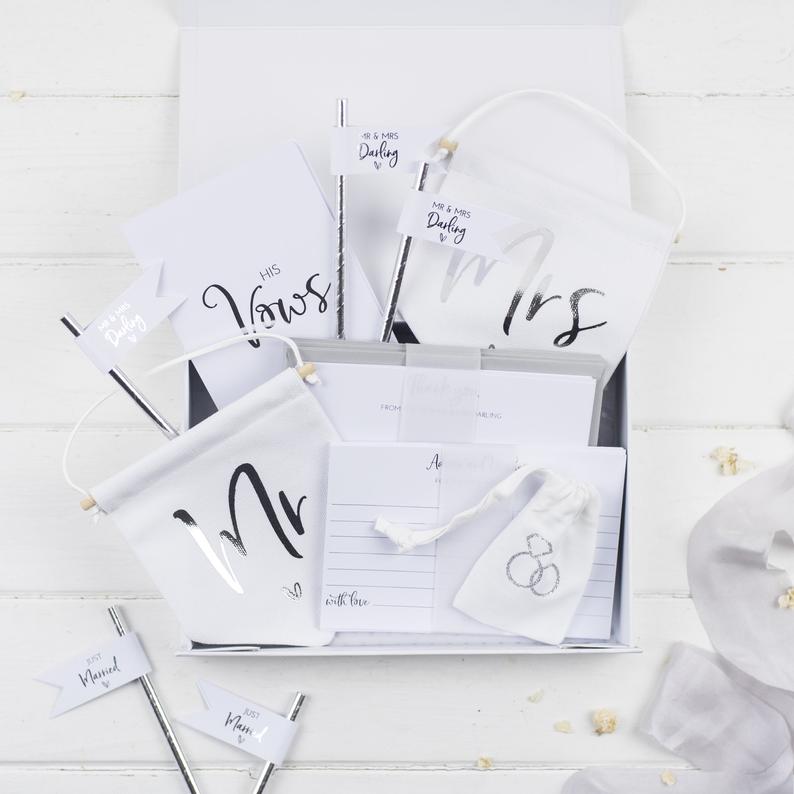 Planning box by confetti-sweet-hearts
Check current price on: Etsy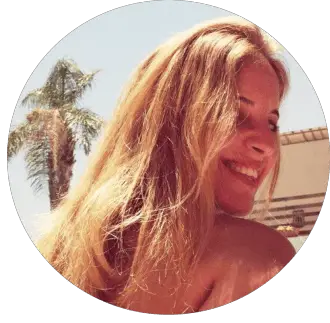 Kaden is an interior designer in her education who fell in love in designing weddings. Along with her husband, the wedding planner, Kaden specializes in creating content for weddings aim to fulfill brides dreams.