Last Updated on December 10, 2021 by Kaden
If your favorite couple is "Beauty and the Beast" fans, help the happy newlyweds celebrate their love by giving them a gift that they will never forget. I've curated this list of 10 stunning "Beauty and the Beast" wedding gift ideas from scrapbook and cutting board to the enchanted Aluma rose. Here you'll find the perfect gift idea for every couple out there that is in love with Disney's classic tale.
You might also like:
– Beautiful Engagement Gift Box Ideas for the Bride To Be
– 15 Best Engagement Gift Basket Ideas for Couples
– 10 Best Personalized Engagement Gifts for Groom From Bride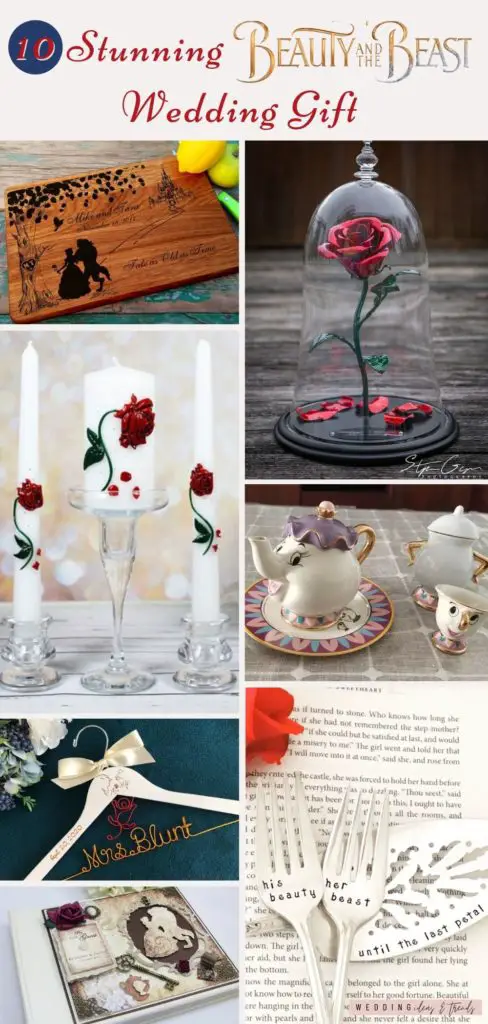 I may receive commissions on purchases made from the links on this page at no cost to you.
Read on for the best 10 "Beauty and the Beast" wedding gift ideas that will make the new couple remember this day forever: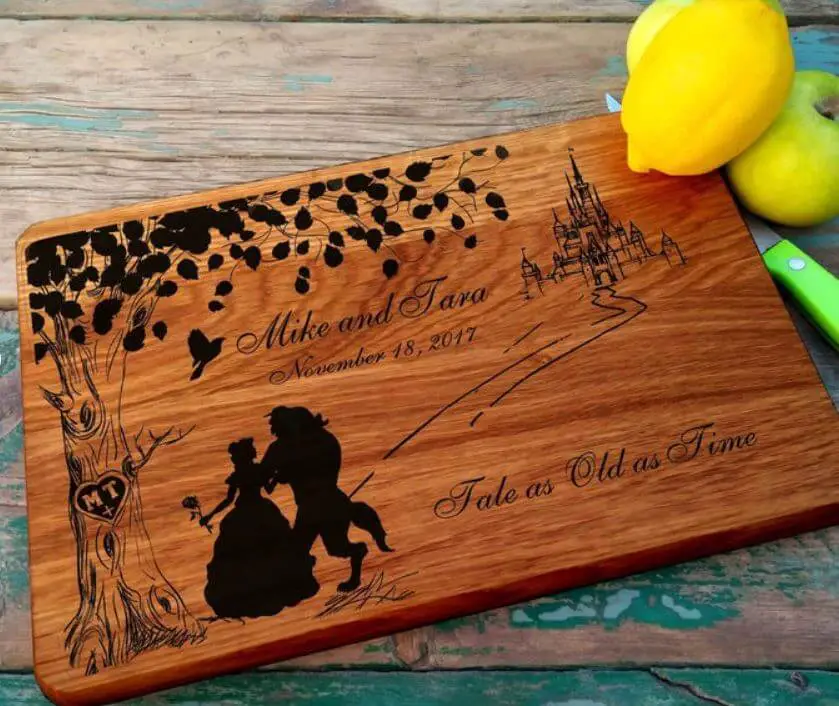 By: Best-Wedding-Decor
Shop on: Etsy
Beautifully engraved with Beauty and the Beast, this cutting board is handmade from natural hardwoods and is great for everyday use. Sure to please any Disney fan couple and look stunning in any kitchen.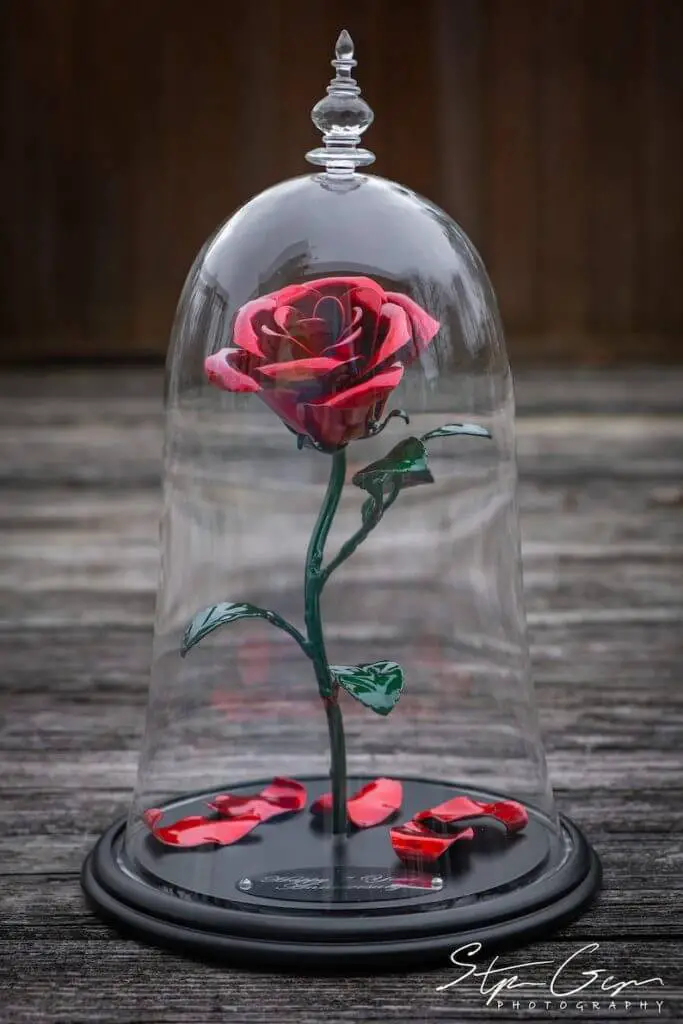 By: Aluma-Flowers
Shop on: Etsy
This Beauty and the Beast enchanted Aluma rose replica is an elegant piece that includes engravings and lights for extra gleam. Each petal is individually forged by hand for a realistic look and enchanting appearance. A treasured keepsake, it's the ideal wedding gift for any romance-loving couple.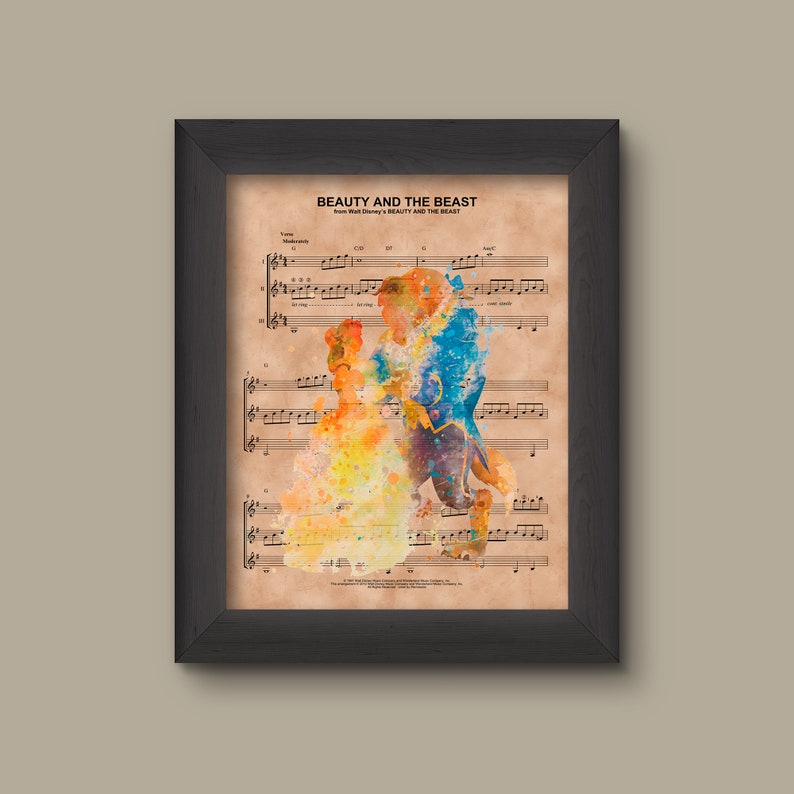 By: Prints-Charming-Art-Co
Shop on: Etsy
Celebrate your favorite couple with this treasured keepsake to commemorate their fairytale romance. This art print featuring sheet music in the background and beautiful custom watercolor art print of Belle and the Beast.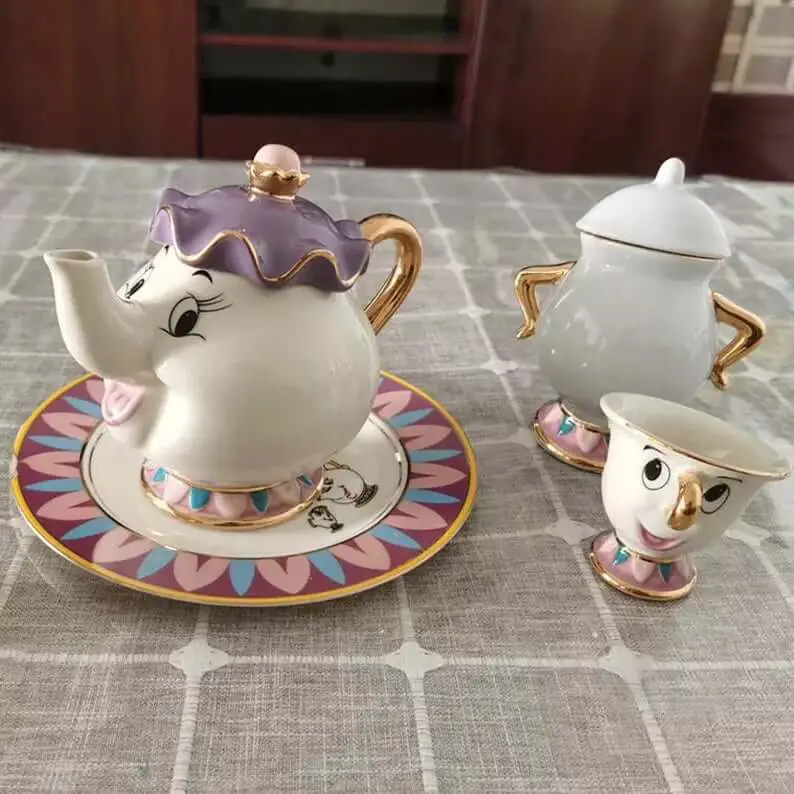 By: Piece-And-Peace-Studio
Shop on: Etsy
The Beauty and the Beast tea set makes an awesome wedding gift for any Beauty and the Beast fan. The set includes all the necessities for a nice cup of teaThe set: a teapot, sugar pot, and teacups. This sweet-looking ceramic cartoon set will either bring back memories from their childhood or it's a great way to start memorable moments of your own.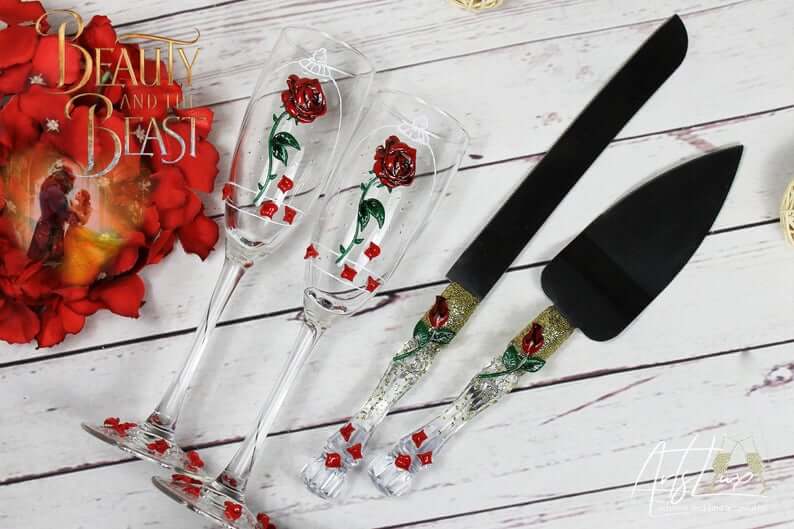 By: Arts-Lux
Shop on: Etsy
This elegant Beauty and the Beast gift set is just stunning. This magical design symbolizes love so true, it can withstand even the deepest of evils. Make their special day complete with this gift that they'll treasure forever.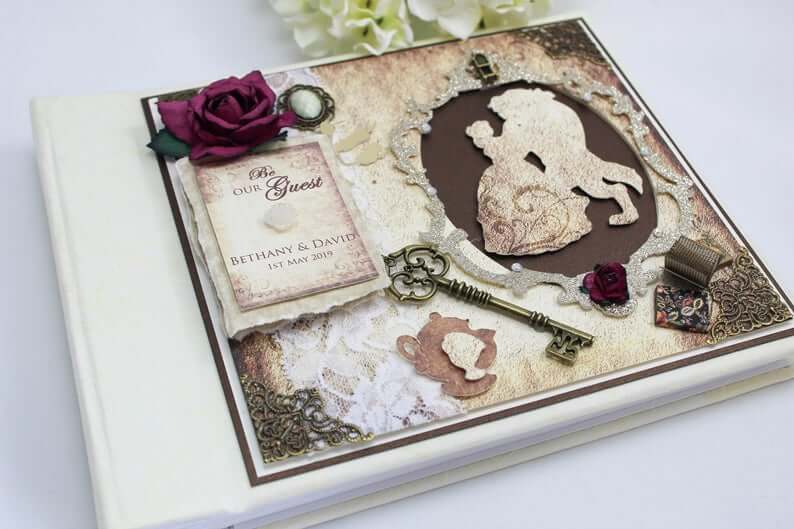 By: Paper-memories-Uk
Shop on: Etsy
Looking for that perfect gift for the bride and groom? Look no further. This one-of-a-kind Beauty and the Beast photo album lets you relive the magic of their fairytale wedding day. And the miniature books are to die for!!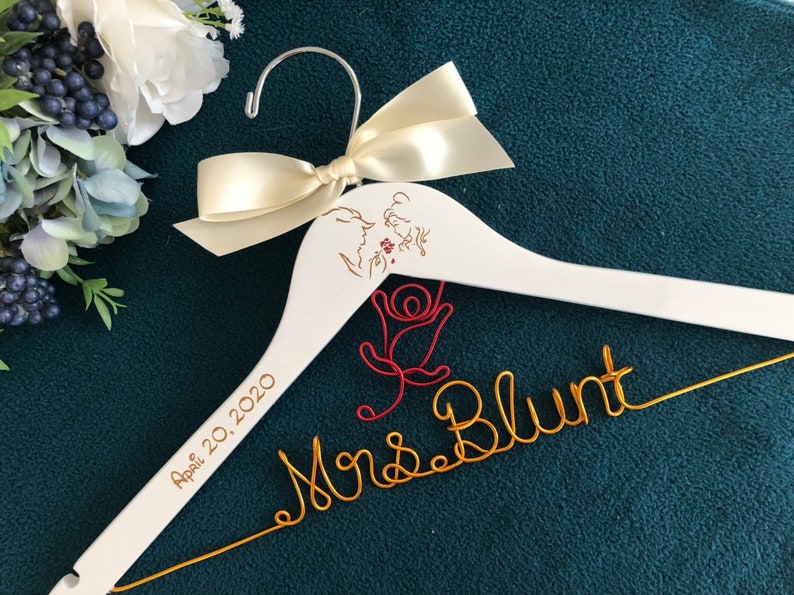 By: Flower-bridal-hanger
Shop on: Etsy
A stunning delicate and beautiful wedding gift that truly makes a keepsake. This elegant wooden hanger Decorated with a gorgeous, unique design and can be customized with your choice of color.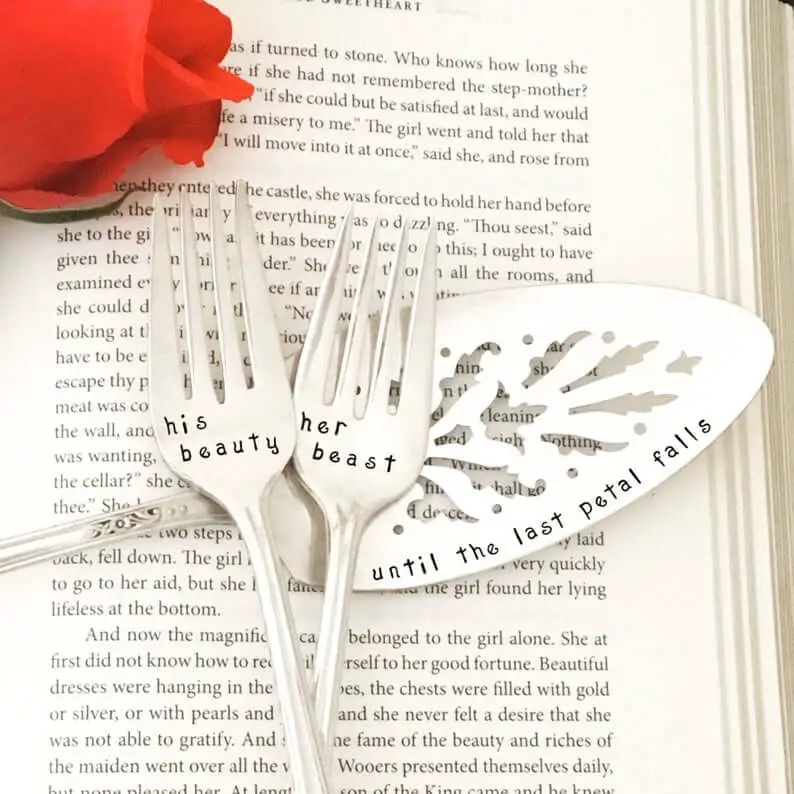 By: Prose-And-Polish
Shop on: Etsy
From the classic story of Beauty and the Beast to a vintage style graceful pair of dessert forks and a cake server, these silverware pieces are just as beautiful as they are functional and a perfect way to celebrate your favorite couple's love story.
Shop on: Amazon
In a twist on the classic love story, Beauty and the Beast have found they're happily ever after – and it all started in the kitchen. This couple's kitchen aprons are the perfect gift for the couple who likes to cook together.
RELATED: 10 Best Engagement Gifts for Couples on Amazon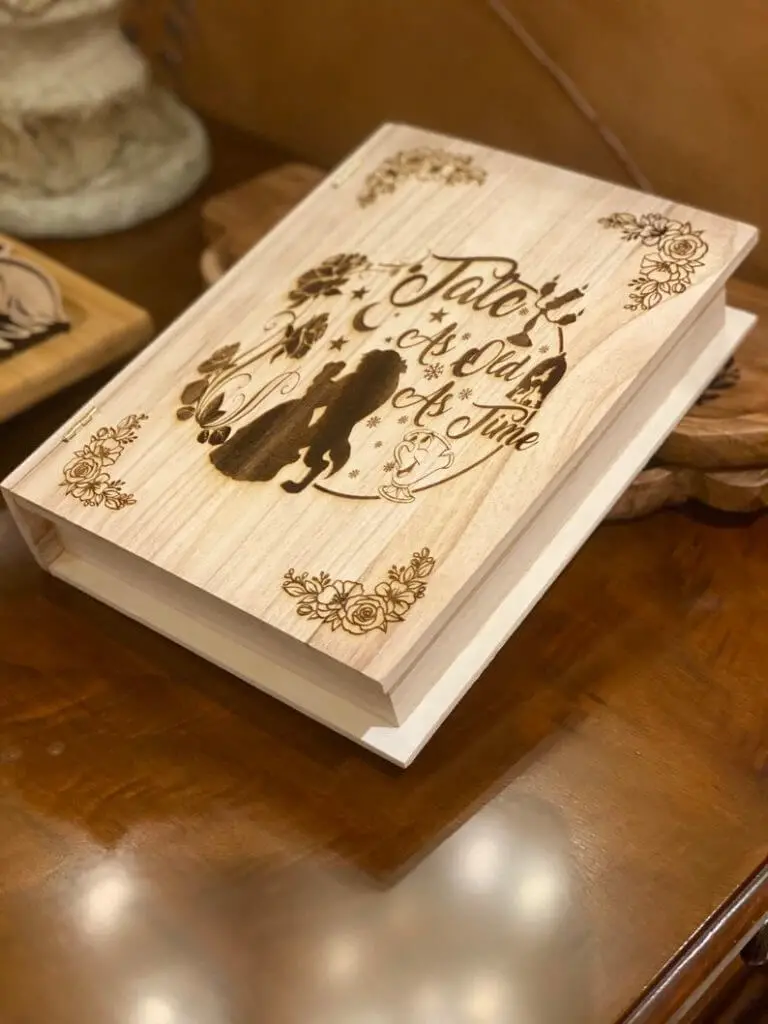 By: Beyond-Engravables
Shop on: Etsy
This Beauty and the Beast Inspired wood container box looks like a library book and is beautifully laser engraved of Disney's Beauty and the beast. This unique wedding gift can be used as a humidor, jewelry box, make-up case, or just a keepsake box to preserves this fairy tale for future generations.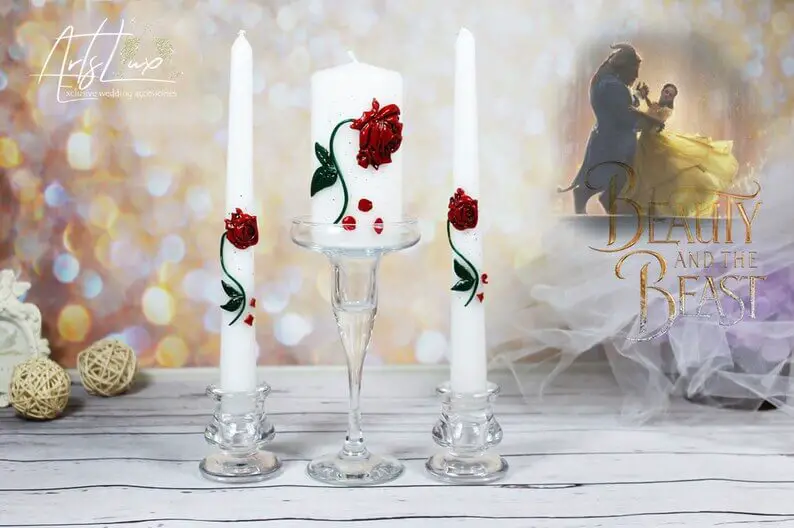 By: Arts-Lux
Shop on: Etsy
This refined Beauty and the Beast gift candle set is just magical. This romantic design symbolizes everlasting love, so true it can stand the test of time. Make their precious day complete with this gift that will be cherished forever.
NEXT UP: 10 of the Most Creative Wedding Table Number Alternatives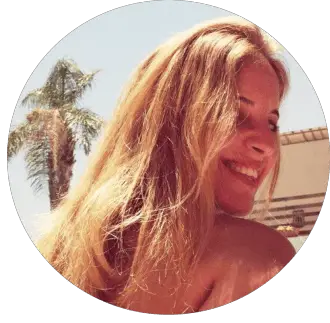 Kaden is an interior designer in her education who fell in love in designing weddings. Along with her husband, the wedding planner, Kaden specializes in creating content for weddings aim to fulfill brides dreams.