Last Updated on November 10, 2021 by Kaden
As the cold of winter settles in and the holiday season nears, we take a look at some gorgeous color combinations for the upcoming wedding season. From classic Christmas wedding theme red-green, and wood, to glamour gold winter style, and burgundy and navy blue for boho moody chic, these Christmas wedding color palettes will leave you with plenty of inspiration to create a festive wintry look that will wow your guests.
Christmas Wedding Ideas You May Also Interested In:
I hope you like these products! Just so you know, I may receive commissions on purchases made from the links on this page at no cost to you. Thank you if you use our links, I really appreciate it!
Read on for amazing Christmas wedding color palettes to make your guests feel cozy and festive while also being chic and stylish:
1} Classic Christmas – Red, Green & Wood
When it comes to choosing an ideal color scheme for your Christmas wedding the colors red, green, and wooden are the most classic match. This timeless color palette creates a rustic festive holiday spirit like nothing else.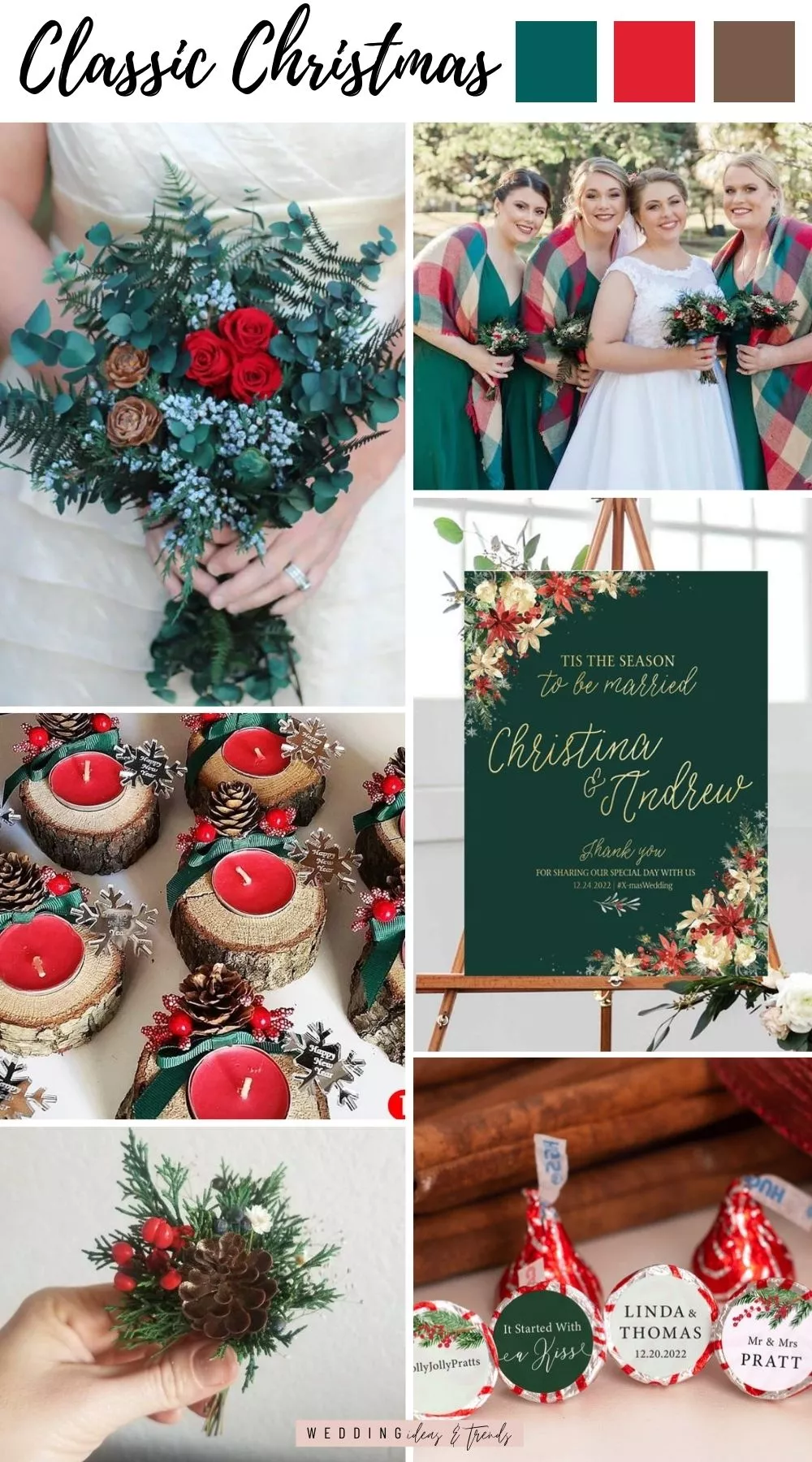 #1 Bridal Bouquet By Picka-Bloom-Flowers on Etsy
#2 Bridesmaid Bouquets By M-Kendra-Wedding on Etsy
#3 Tealight Favor By Wedding-Store-TR on Etsy
#4 Wedding Sign By Leo-Aries-Workart on Etsy
#5 Boutonniere By Stella-Designs-Shop on Etsy
#6 Hershey Kisses By Juissip on Etsy
2} Glamorous Christmas – Gold, Red & Green
Are you are ready to sparkle your wedding with this fabulous color palette idea? The gold, red, and green color palette captures the chicness of a glamorous Christmas wedding, it creates a stunning yet classic look that's timeless and glamorous, making it perfect for a festive winter wedding.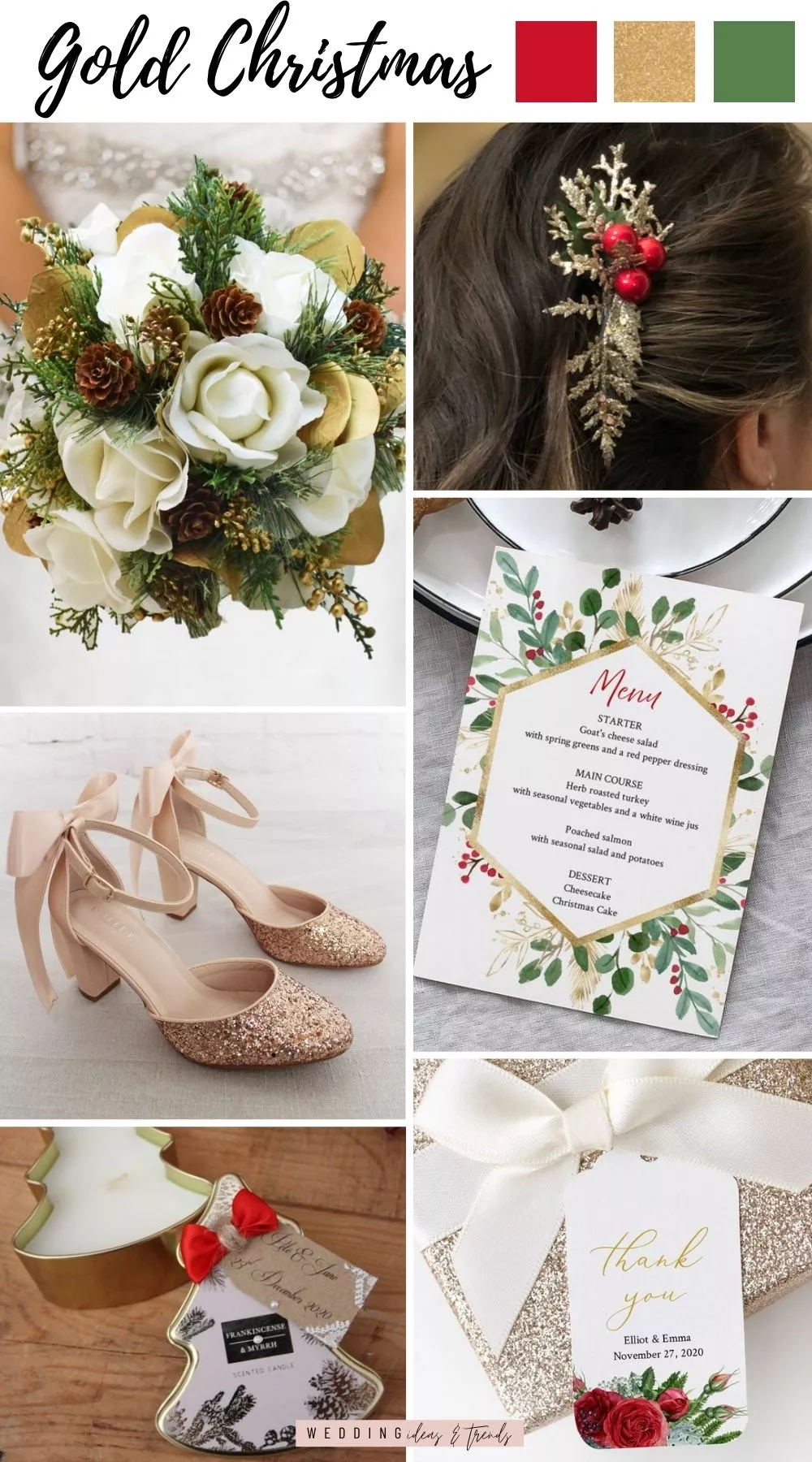 #1 Bridal Bouquet By Songs-From-The-Garden on Etsy
#2 Hair Comb By The-Virginia-Artisans on Etsy
#3 Bridal Heels By kaileep on Etsy
#4 Wedding Menu By simply-pstationery on Etsy
#5 wedding favors By Unique-Weding-Boutique on Etsy
#6 Favor Tag By simply-pretty-pieces on Etsy
3} Moody Christmas – Burgundy, Navy Blue & Dark Green
A color palette of navy blue, burgundy, and dark green is a match made in heaven for a December winter wedding. This trending color palette creates a moody boho-chic vibe with a cozy and warm Christmas vibe that is perfect for the holiday season.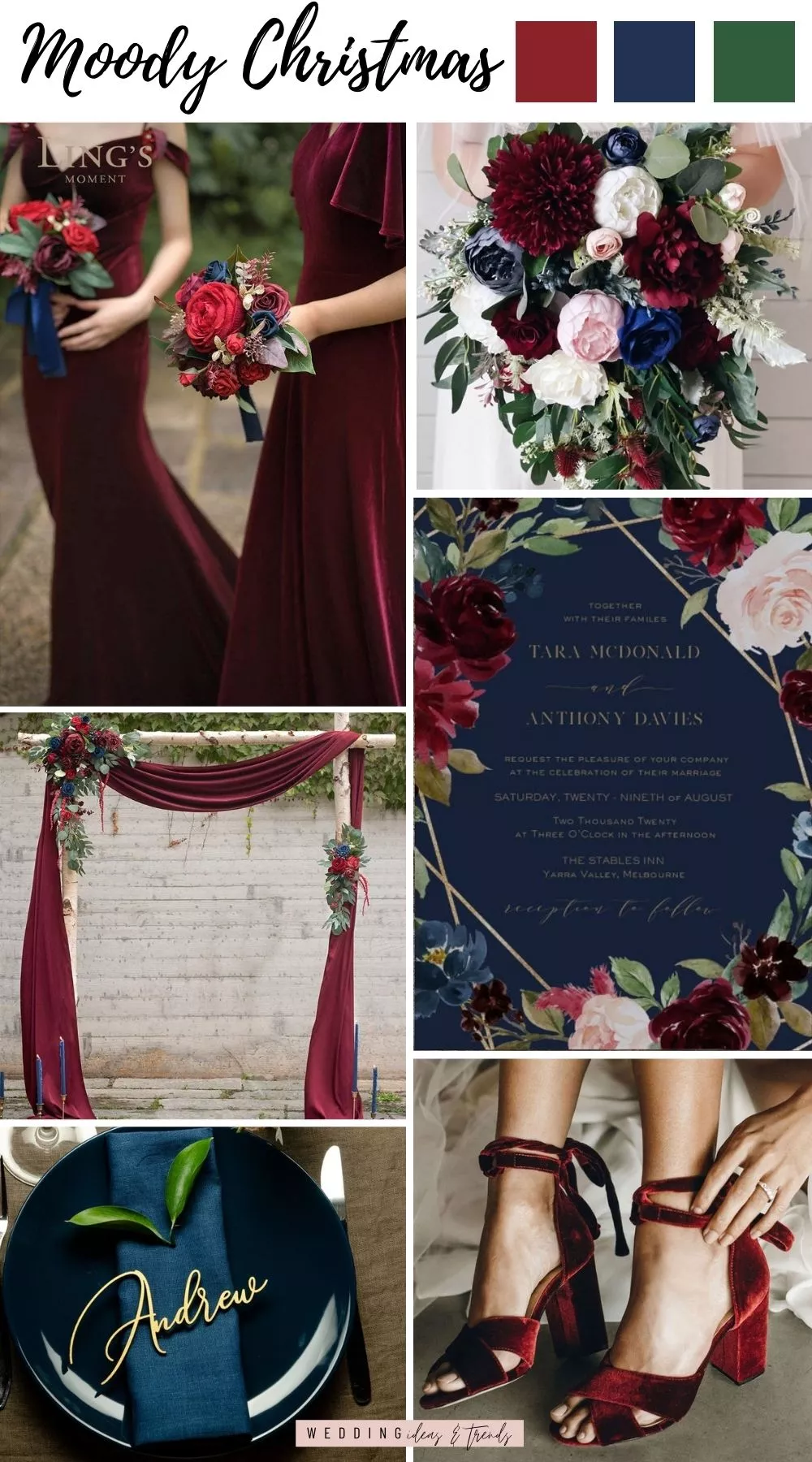 #1  Bridesmaid Bouquets on Amazon
#2 Bridal Bouquet By SERENlTY on Etsy
#3 Artificial Flowers on Amazon
#4 Wedding Invitation By Penelopes-Paper-Pantry on Etsy
#5 Place Card By Names-Wedding-Holiday on Etsy
#6 Red Velvet Shoes By Forever-Soles on Etsy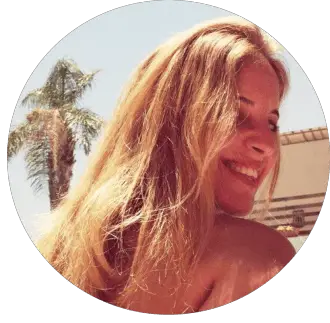 Kaden is an interior designer in her education who fell in love in designing weddings. Along with her husband, the wedding planner, Kaden specializes in creating content for weddings aim to fulfill brides dreams.