Last Updated on October 10, 2022 by Kaden
There's no season more romantic and magical than winter, and to have a wedding in the winter is pure magic. In addition to been beautiful clothing, colors, holiday music, and glimmering details it is also a great opportunity to offer your guests the ultimate hospitality experience. Follow along with my 11 simple tips for hosting a cozy winter wedding.
From creative ideas to keep your guests warm, tips for winter wedding hospitality, choosing the right winter color palette, bridal style, and surprising winter menu for a sweet and warm wedding. Here's everything you need to know for a cozy winter wedding without a hitch.
Winter Wedding Related Posts
#1 Choose A Magical Winter Color Palette And Theme
Planning an interesting and stylish winter wedding begins with choosing the right color scheme. you should focus and match a theme for the wedding and stick to those in every design decision. Here are the 3 most trendy winter colors that will make every wedding stand out: winter wonderland, Christmas wedding, and moody boho chic wedding.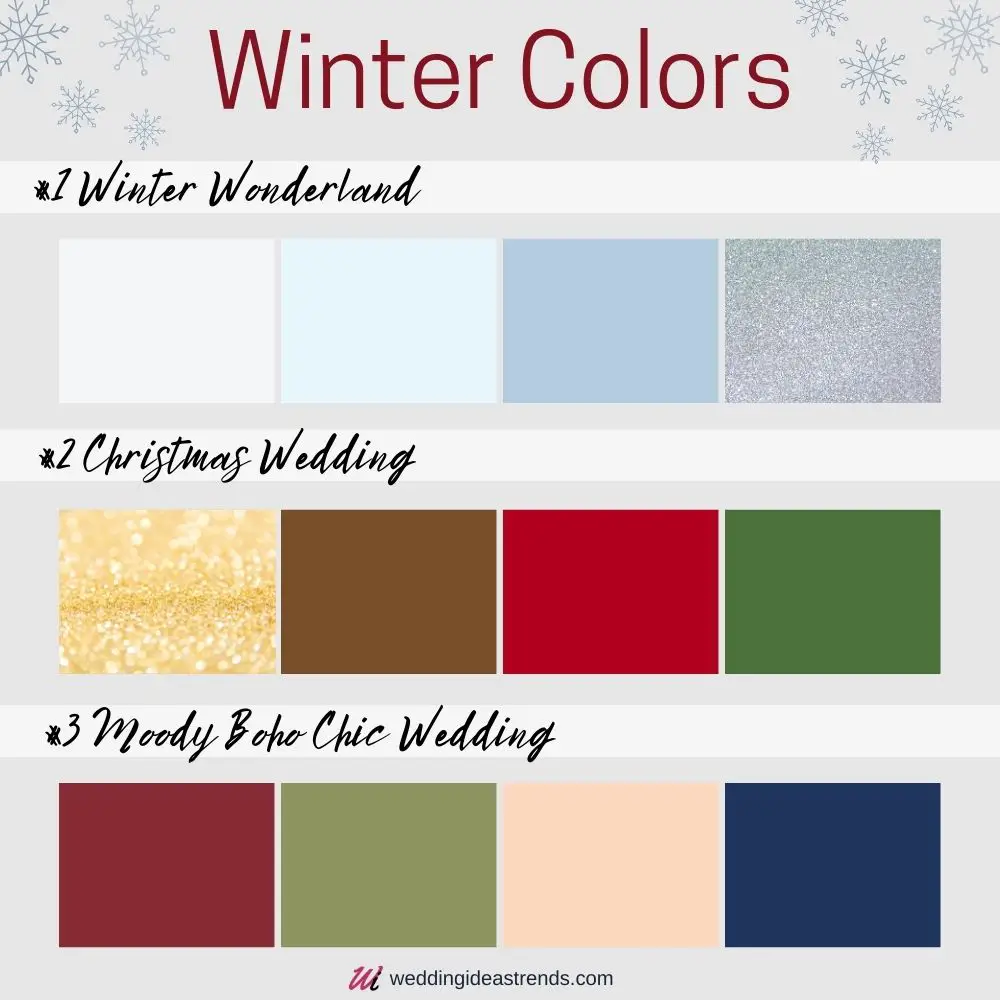 RELATED: Best 3 Magical Winter Wedding Color Schemes and Theme
#2 Get A Hostess
Hosting a cozy winter wedding is just like going to a good restaurant, the experience of hospitality, and the treatment that guests receive is an important part of the celebration. Make sure you have a hostess to welcome the guests, help them get rid of their umbrellas and coats (have a coat check), and direct them to the guests' seating chart.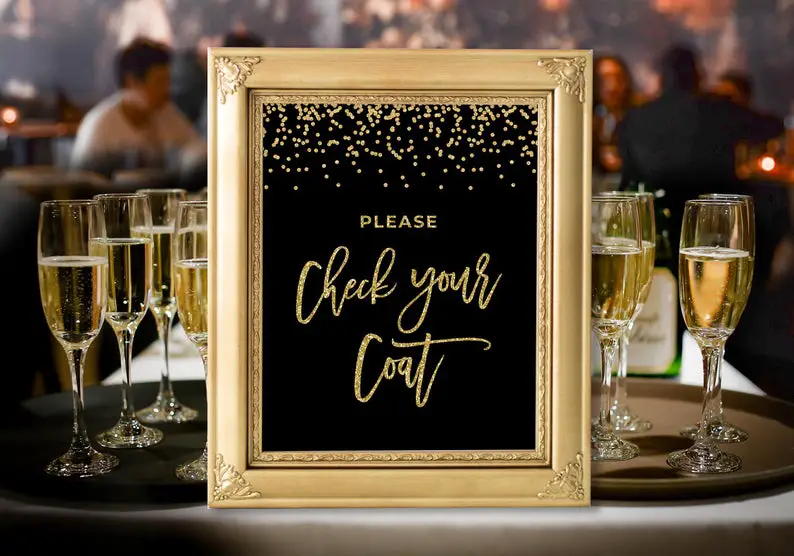 Coat Check Sign by Bestie-Printables on Etsy
#3 Adopt A Winter Menu
Place a "Christmas Sangria" bar right at the entrance of the venue or wedding hall. It's a wonderful winter wedding hosting idea to pamper guests with a warm welcome drink just when they arrive from a not-so-easy ride in wintry weather. the perfect way to create a cozy atmosphere.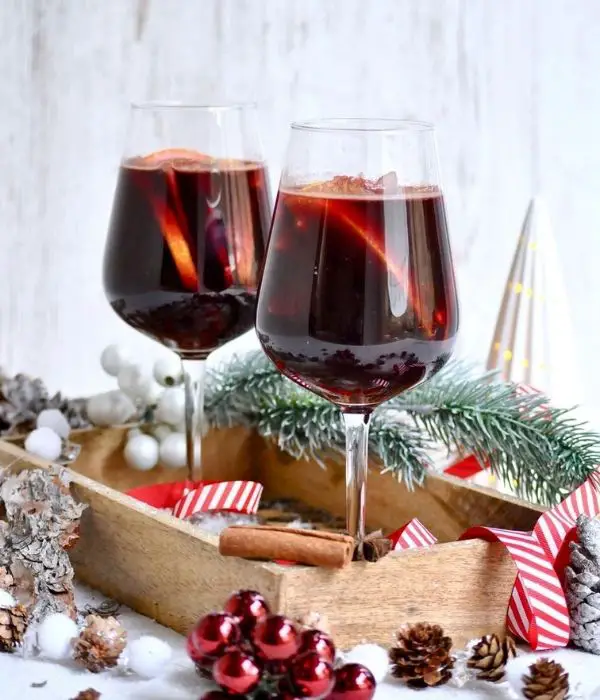 Elodie's Bakery Via Instagram
#4 (Don't) Play with Food – Marshmallow S'more Bar
A wedding is a great time to evoke childhood memories and playing with fire and food are two childish things that adults will love to remember. This endearing dessert bar is a perfect idea for a winter wedding, very simple to make and incredibly delicious. All you need is a fire source, wooden skewers, a selection of fondue-style chocolates, and colorful candies. Let guests, children, and adults alike gather around the "campfire" and enjoy a sweet and warm treat.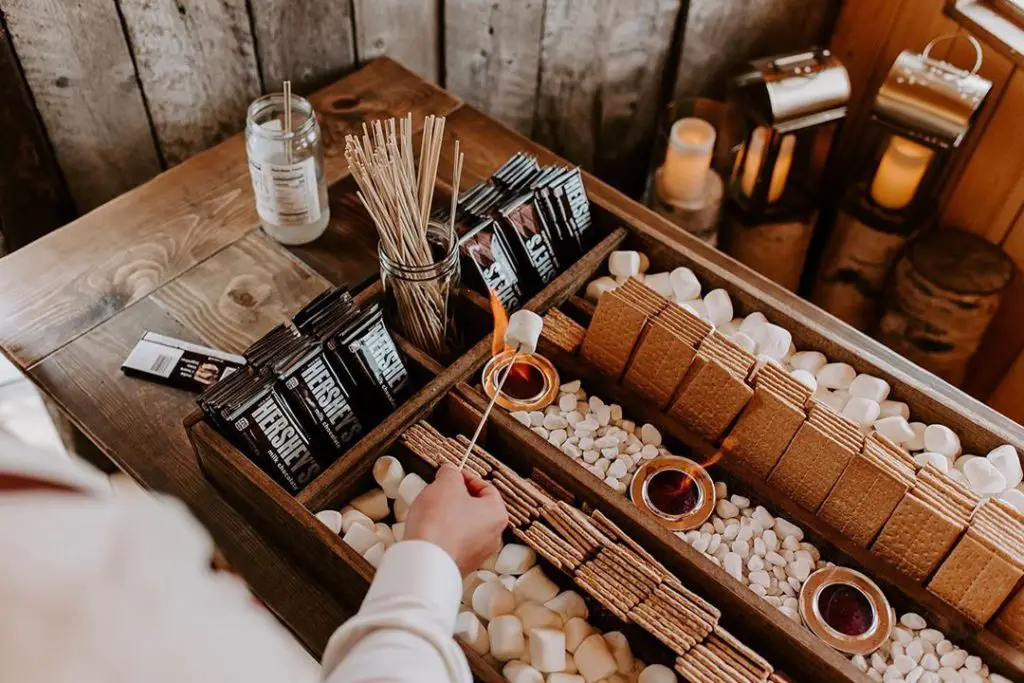 S'mores Bar by Reclaim-and-Refurbish on Etsy
Photo by akhappenings Via Instagram
#5 Warm Salep – the Perfect Winter Dessert
I don't know if you ever tasted Salep, but it's a winter hit at weddings in the Mediterranean. Usually made from powdered orchid roots this hot creamy drink that is served with cinnamon powder and ground pistachios on, warms you up in body and heart.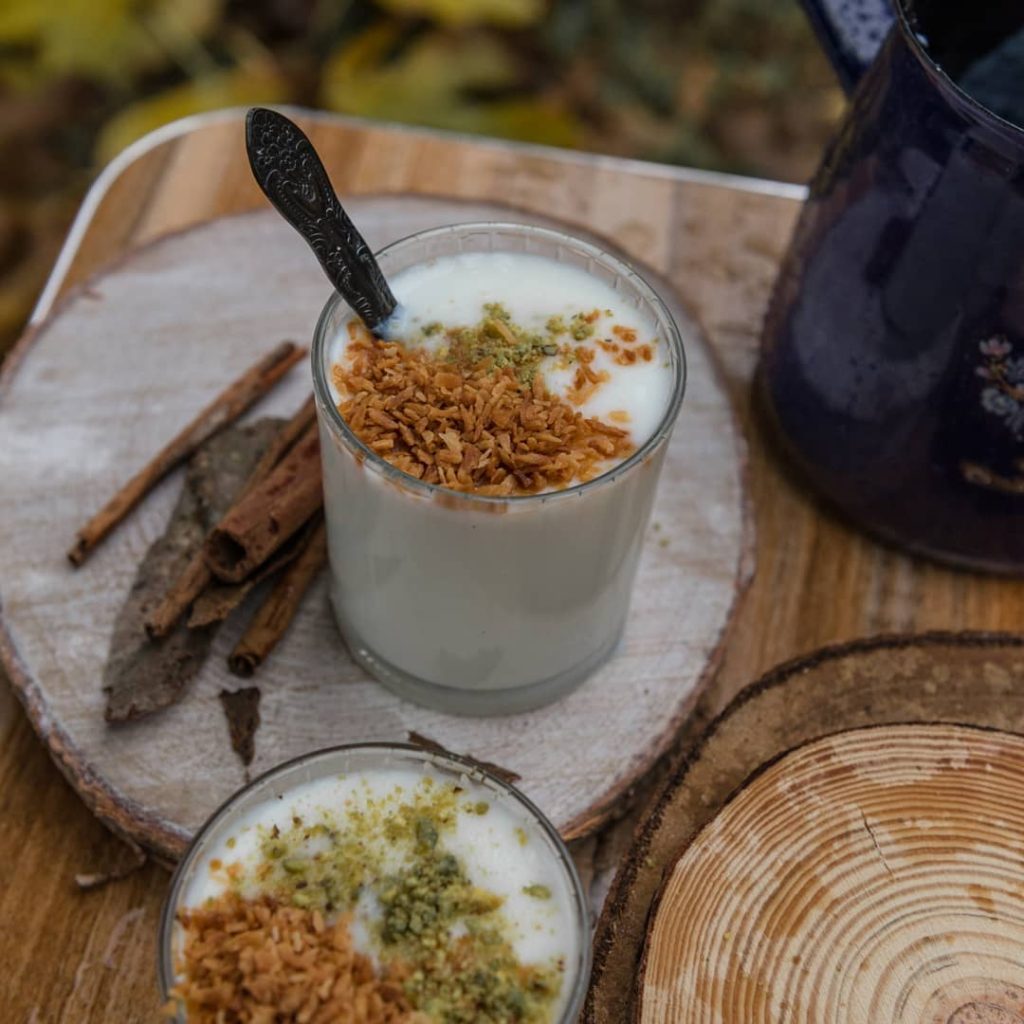 efratmosko Via Instagram
#6 Keep Your Guests Cozy
Pamper your guests with a cozy blanket or pashmina that will help them warm up and make them feel at home. It can also be a gorgeous wedding favor that your guests will definitely appreciate.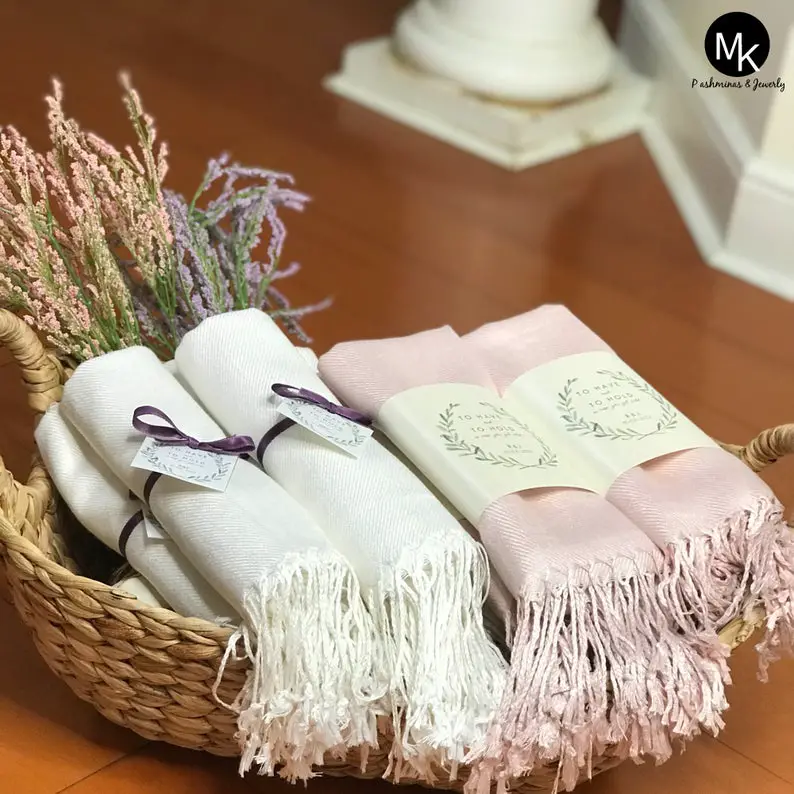 Pashmina by Mia-Krafts-Shop on Etsy
#7 Turn Up The Heat With Outdoor Heater Rentals
Don't freeze your guests! sitting around the fire may not be so feasible for a wedding but being pampered by the heat of an outdoor heater can make staying outside much more bearable and even enjoyable for your guests.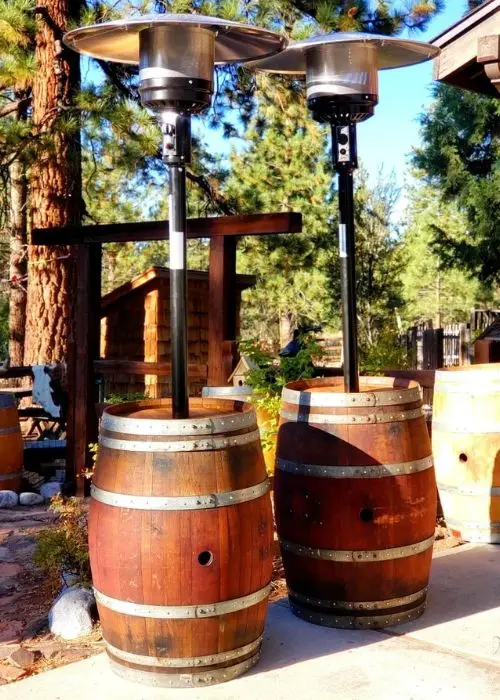 Patio Heater by Barrel-Thirty-Three on Etsy
#8 Dress for the Cold
Think about comfortable, cozy, and stylish winter bridal looks. Find one that fits your dress and your style. From classic Bolero, faux fur, or a leather biker jacket there are some gorgeous ideas.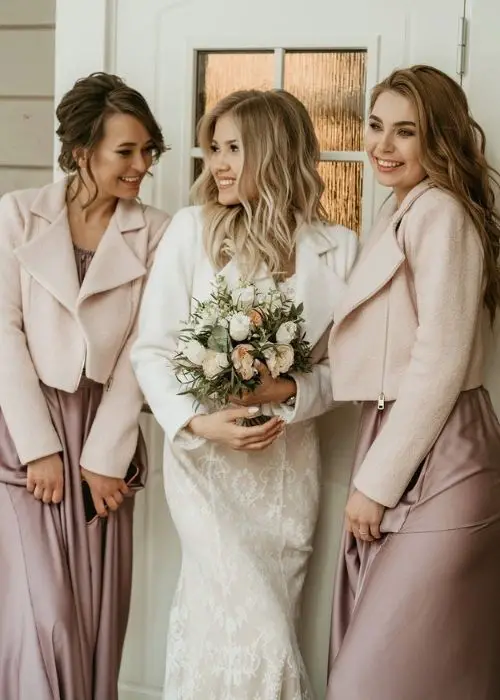 Bridal Jacket by ANLace-Studio-Shop on Etsy
RELATED: 10 Stunning Bridal Faux Fur Wrap for the Winter Bride
#9 Don't Be Afraid of the Rain
Provide your guests with personalized wedding umbrellas for an outdoor rainy ceremony. They're a useful solution, a great accessory for amazing wedding photos, and a lovely idea for winter wedding favors.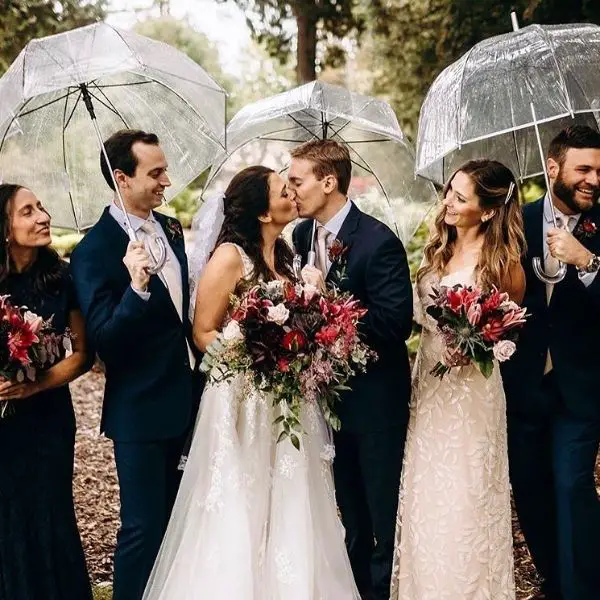 Door County Makeup Barbara Via Instagram
#10 Window View
This is a decoration tip – the winter season has such a unique vibe that is just so romantic and suitable for weddings. Even though the wedding is usually indoor you can still embrace the outside and merge between your wedding hall space decor and the outside environment.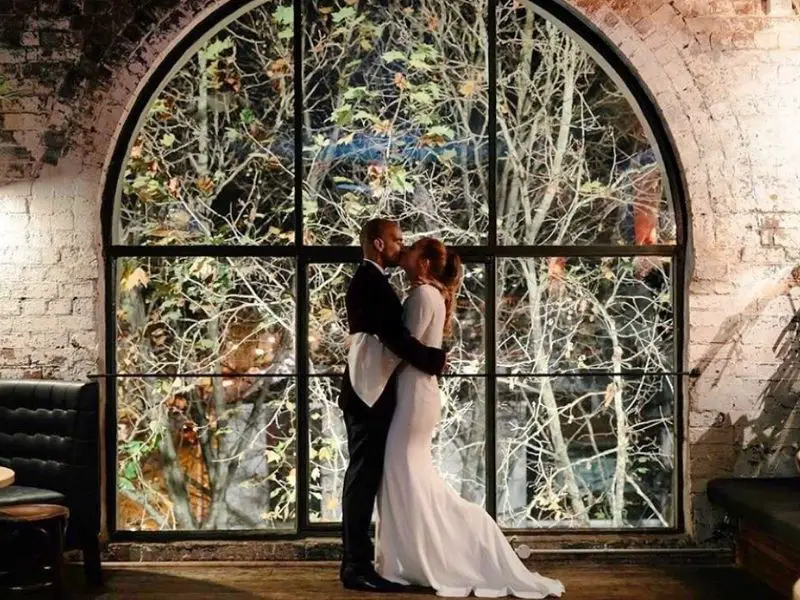 The Panama Dining Room Via Instagram
#11 Moisturize
Winter is an extremely dry season, you don't want to go through the whole wedding with dry and sore lips and a red nose. Make sure to have some dry skin products facial moisturizer, hand cream, and chapstick.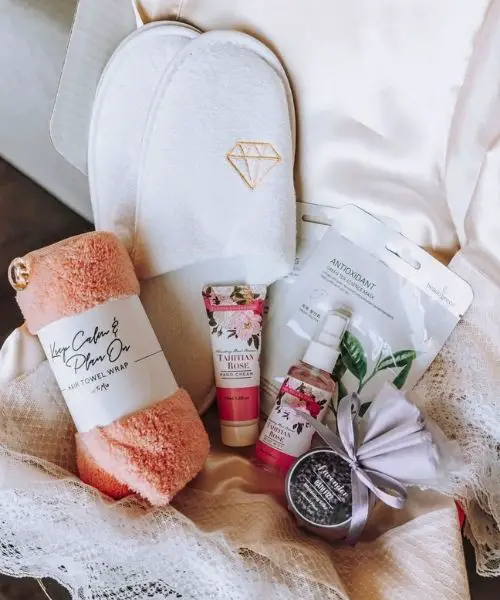 Bridal Box by misstomrsbox.com
---
One thing is for sure, a winter wedding ceremony is the pinnacle of romance, which allows us to design it in different styles like rustic, on the one hand, dreamy wonderland on the other. And of course, you can embrace the theme of Christmas, its colors, and create a warm family atmosphere.
Keep Planning With Us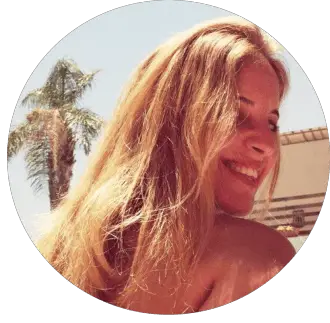 Kaden is an interior designer in her education who fell in love in designing weddings. Along with her husband, the wedding planner, Kaden specializes in creating content for weddings aim to fulfill brides dreams.