Last Updated on October 13, 2021 by Kaden
A Christmas bridal party is as cozy as can get, It feels like an adult slumber party. Everyone is warming up in PJs, drinking hot chocolate, and eating cookies, and the best part is opening the presents! What a wonderful way to pop the question and ask your girlfriend "Will you be my bridesmaid?"
with a Christmas-themed bridesmaid proposal gift.
Keep this winter spirit going and check out these posts you might also like:
– 15 Winter Wedding Favors Your Guests Will Love
– 11 Simple Tips for Hosting a Cozy Winter Wedding
– Best 3 Magical Winter Wedding Color Schemes and Theme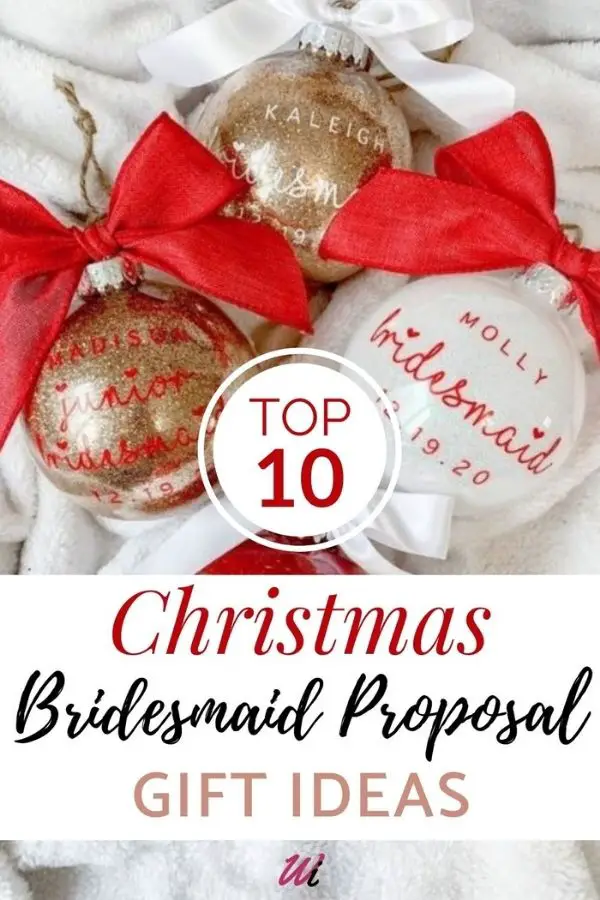 I hope you like these products! Just so you know, I may receive commissions on purchases made from the links on this page. Thank you if you use our links, I really appreciate it!
Christmas-Inspired Bridesmaid Proposal Gifts for the Winter
For a merry Christmas and a magical besties party, here are my favorite Christmas bridesmaid Proposal gifts ideas your bridesmaids will cherish.
RELATED: 10 Best Christmas Wedding Favors – Unique and Personalized

The ultimate Christmas gift! And with these color options and sparkles, this personalized ornament will add glam to your bridesmaids' Christmas tree every year.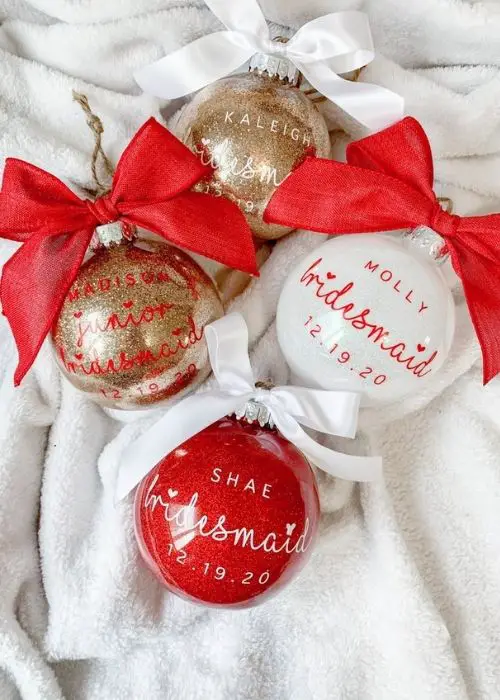 By: Bounita
Shop on: Etsy
* Feeling creative? Make your own Christmas ornament with this step by step guide – Click here
RELATED: Christmas Wedding Color Palettes that will Wow Your Guests
Isn't this picture screams festive Christmas spirit? the bird in red and the bridesmaids in green. These satin pajamas are the perfect gift for the upcoming holiday season every girl will be happy to get.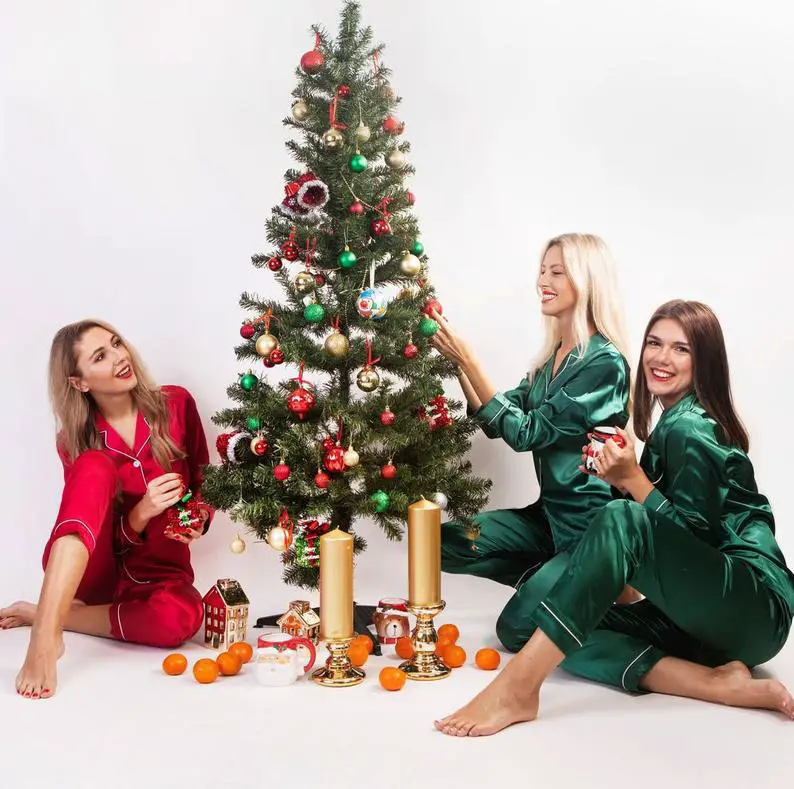 By: Your-lovely-shop-Design
Shop on: Etsy
Winter is upon us and with it this adorable and useful bridesmaid proposal gift box. Cute and soft scrunchie, cozy bridesmaid socks, gold diamond pen, beautiful ornament, and artisan handmade Christmas tree soap that will make the entire box smells amazing!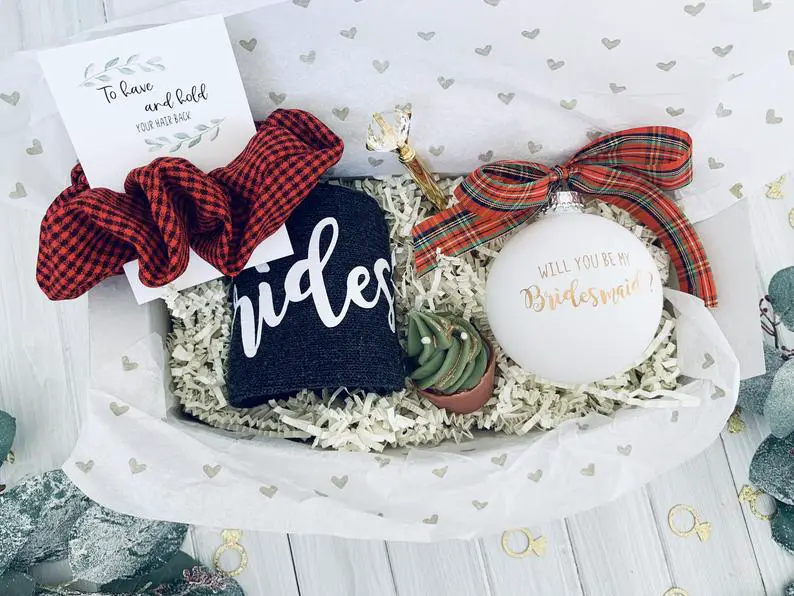 By: My-Hand-made-Wedding-CO
Shop on: Etsy
RELATED POST: Bridesmaids Proposal Boxes – Empty Boxes Ideas

An affordable beautiful winter-themed bridesmaid gift. Will look amazing as a part of your bridesmaid proposal box or on its own.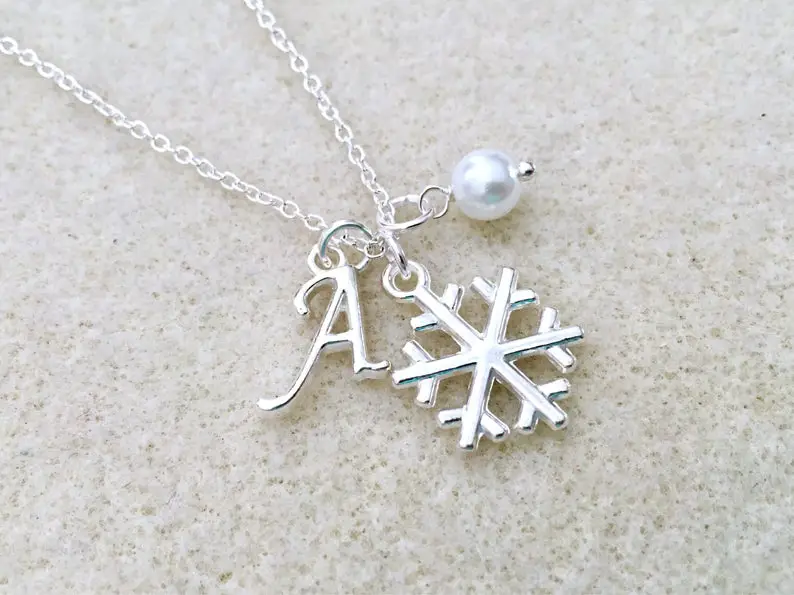 By: Summer-Jewelry-LA
Shop on: Etsy
RELATED POST: Will You Be My Bridesmaid Box Contents Ideas

Keep your bridesmaid's hands toasty warm. An extremely cozy and useful gift for the cold weather. With these fashionable monogrammed gloves you can still use electronic devices, and the inside is covered with super soft fleece fabric.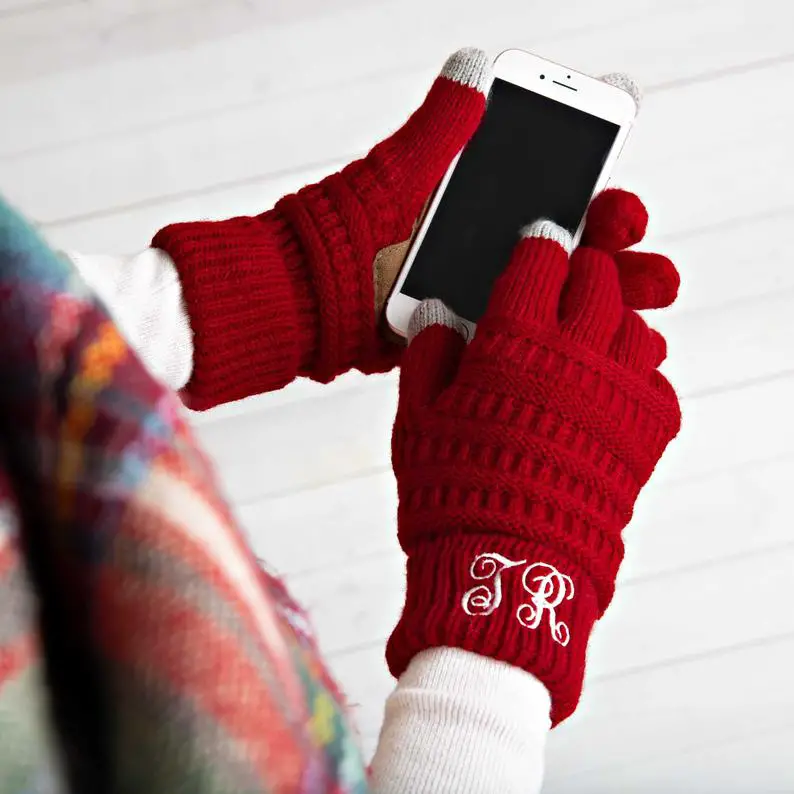 By: visionary-creation-co
Shop on: Etsy

Gift yourself and your bridesmaids these cute flannel PJs.
You can't go wrong here. Your besties will love them and definitely wear them all winter.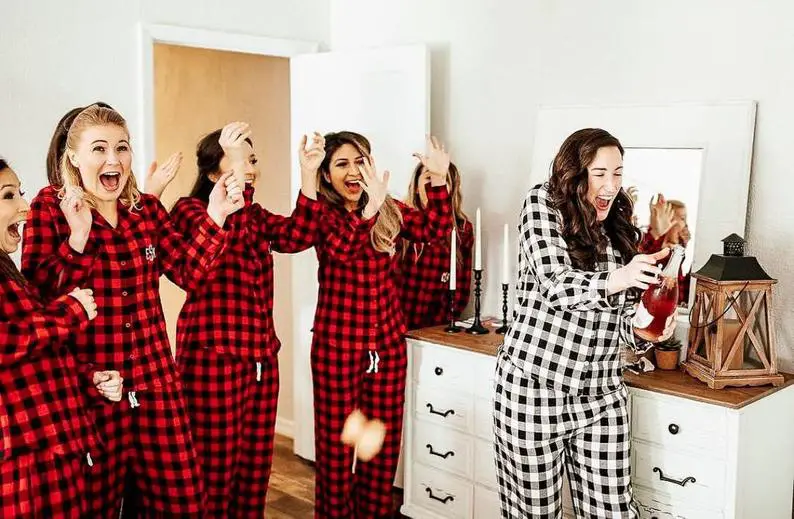 By: Seline-Lounge
Shop on: Etsy
Winter is the best time for a pamper spa day at home.
Give your bridesmaids the ultimate spa experience with these amazing products. 'glow' sea salt facial spray, gold glitter bath bomb, gold tin candle, detoxifying charcoal soap bar, cotton candy, body butter, and sugar scrub with a mini bamboo spoon. Comes in an adorable Christmas-themed round gift box with a custom label.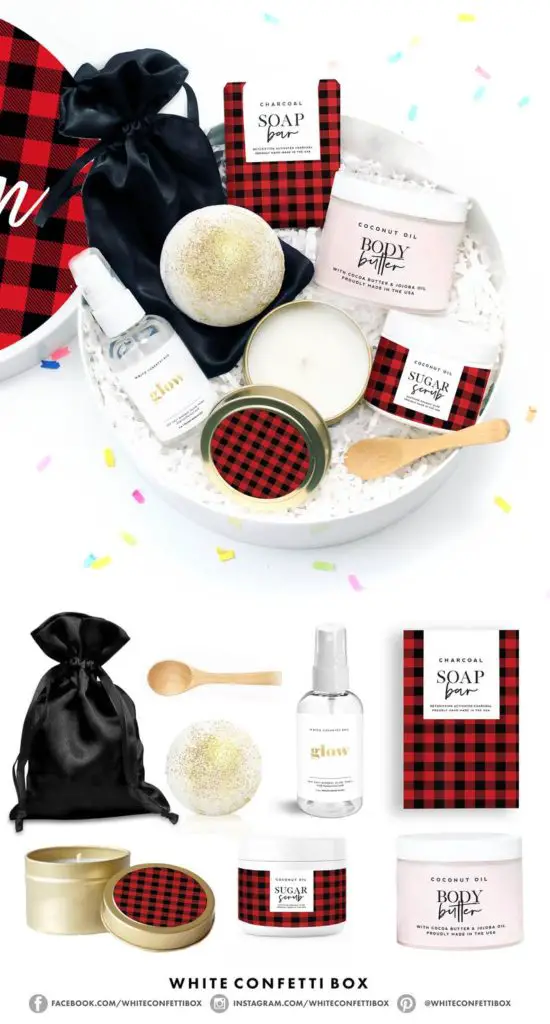 By: White-Confetti-Box
Shop on: Etsy

RELATED: Bridesmaids Proposal Boxes – Empty Boxes Ideas
Bride and bridesmaid super cute and soft faux fur slippers. The perfect gift for you and for your bridesmaid for getting ready on a winter wedding day!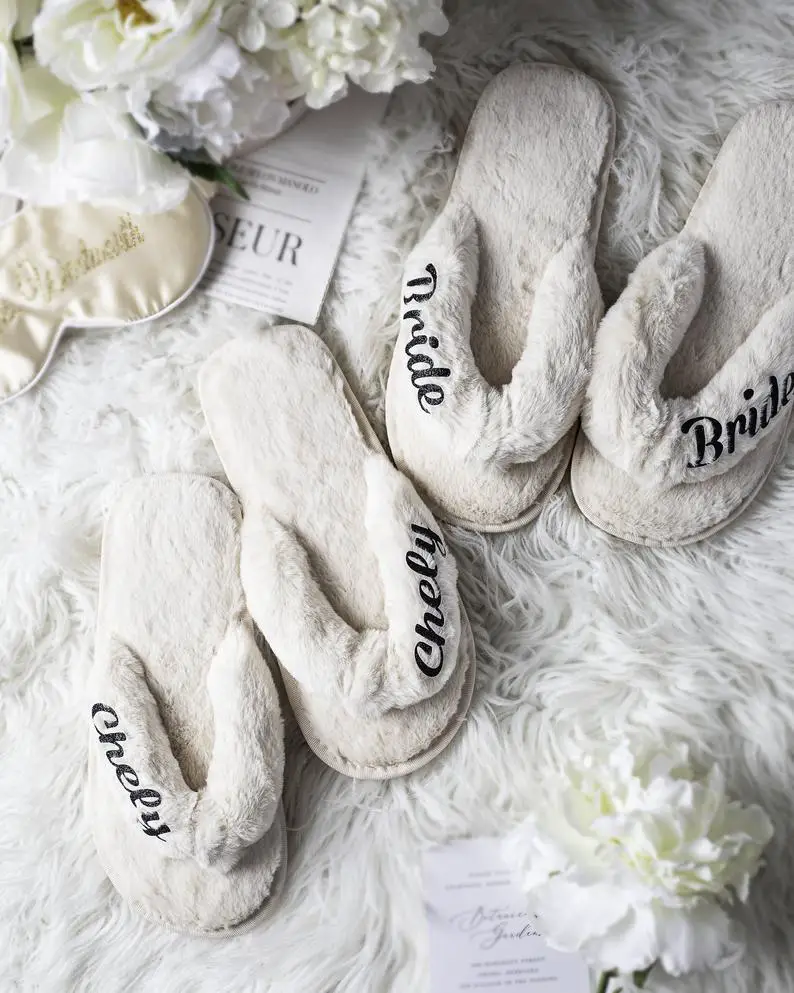 By: Totally-brides
Shop on: Etsy

RELATED: 11 Best Pampering Spa Themed Bridal Shower Favors
Delightful winter bridesmaid proposal box set. Including a gorgeous ceramic enamel-look campfire mug with your bestie name on the front and "will you be my bridesmaid?" on the bottom. Also includes beeswax and soy candle with a custom label, ceramic teaspoon, "ground coffee breath" handmade lip balm, mini tube of ground coffee, and muslin bag of matches.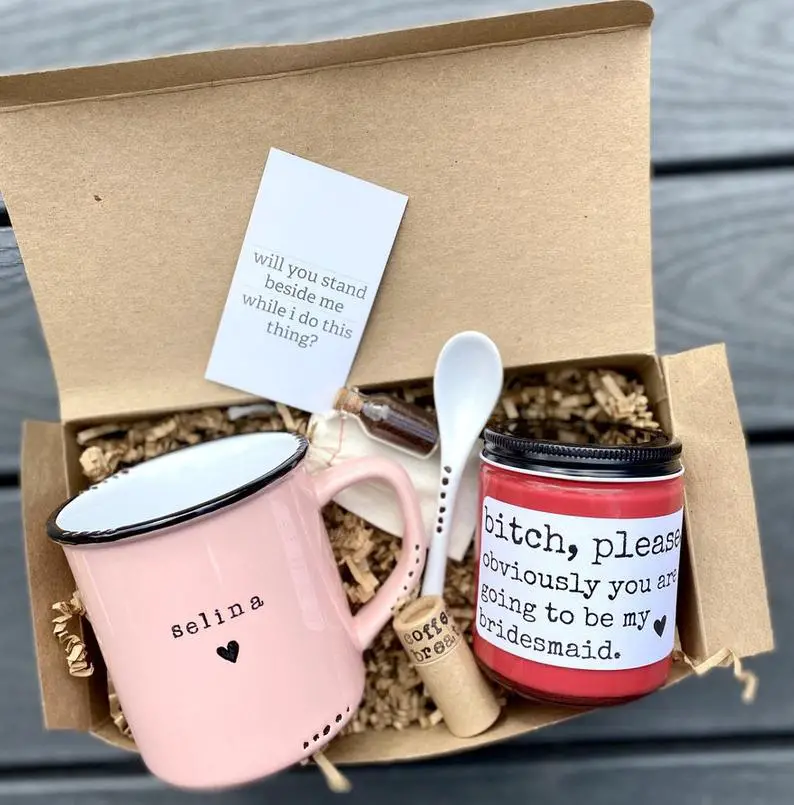 By: Campfire-gifts-and-co
Shop on: Etsy

If soft and comfy is what you are looking for, these fluffy socks will definitely give you what you want. They are fun, cozy, and will be an amazing addition to a bridesmaid proposal box.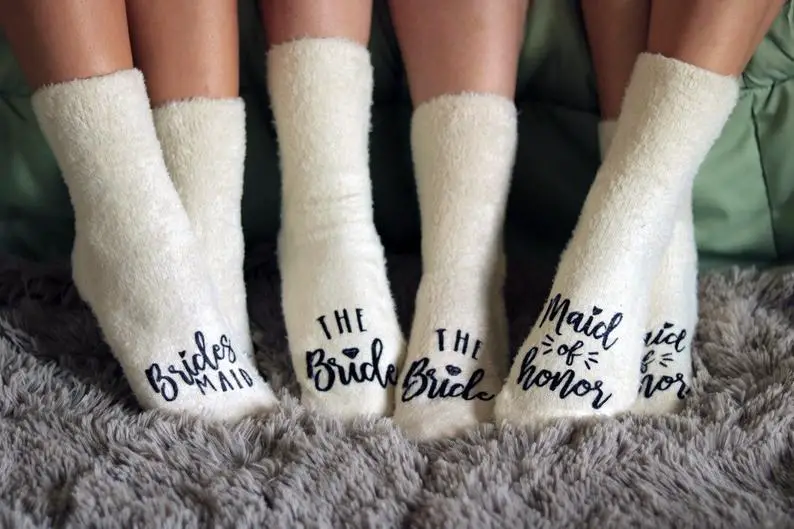 By: Desipah-Shop
Shop on: Etsy

Check out these posts for more bridesmaid proposal ideas: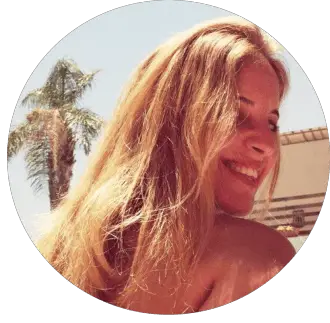 Kaden is an interior designer in her education who fell in love in designing weddings. Along with her husband, the wedding planner, Kaden specializes in creating content for weddings aim to fulfill brides dreams.