Last Updated on November 17, 2021 by Kaden
The holiday season is finally upon us! And nothing screams "festive" like a rustic winter wedding. If you haven't started to put together your holiday wedding invitations yet, it's time to do so. No matter if you're having a cozy winter wedding or a festive holiday theme, these ten rustic Christmas wedding invitations will help get you inspired.
Christmas Wedding Ideas You May Also Interested In: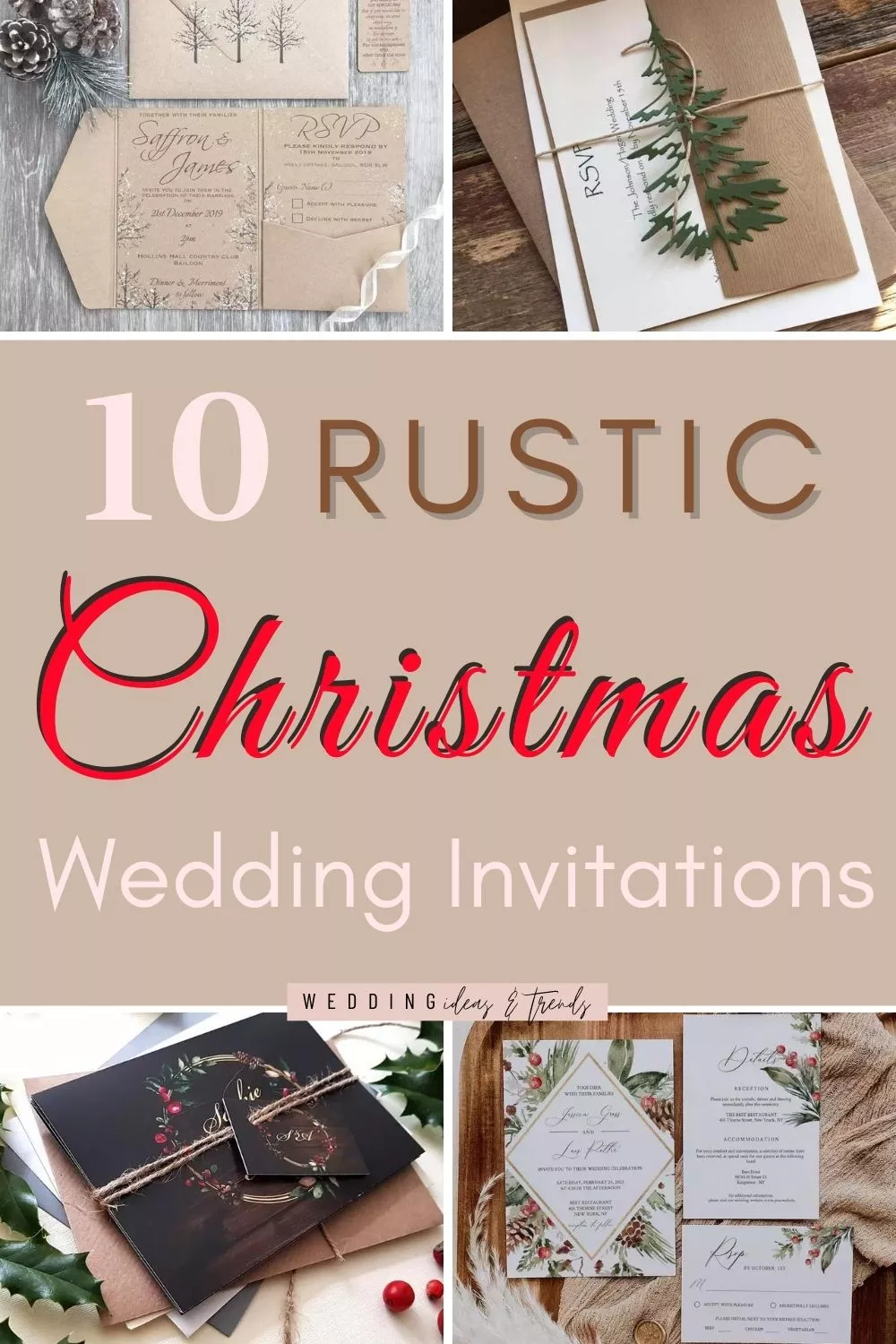 I may receive commissions on purchases made from the links on this page at no cost to you.
Just in time for the holidays, here are 10 beautiful rustic Christmas wedding invitations: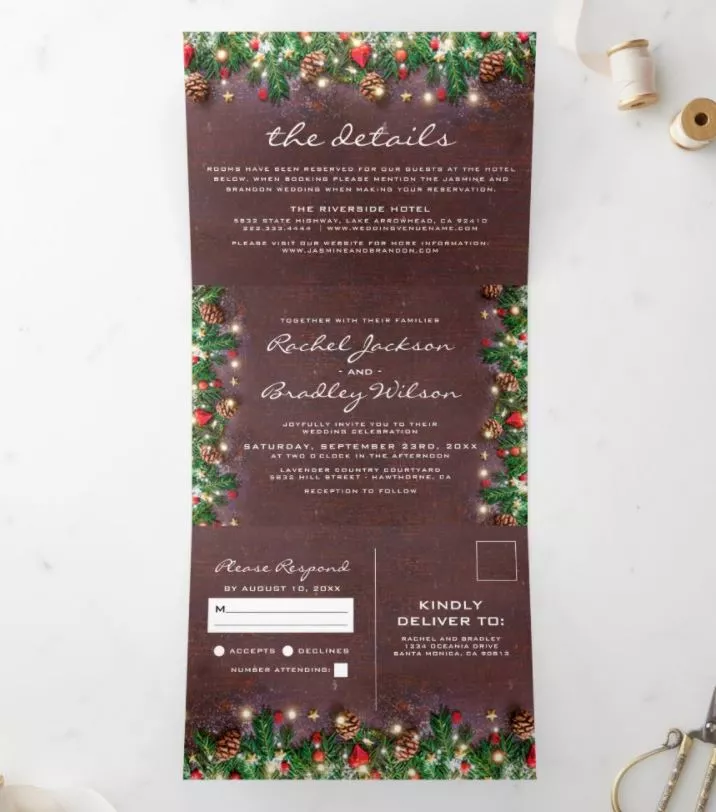 Shop on: Zazzle
This rustic Christmas wedding invitation is the perfect way to spread the holiday cheer (and invite) to your guests. Featuring a dark wooden background and festive Christmas tree branches. It includes a wedding invite, details, and rsvp postcard for your guests to cut off and send back.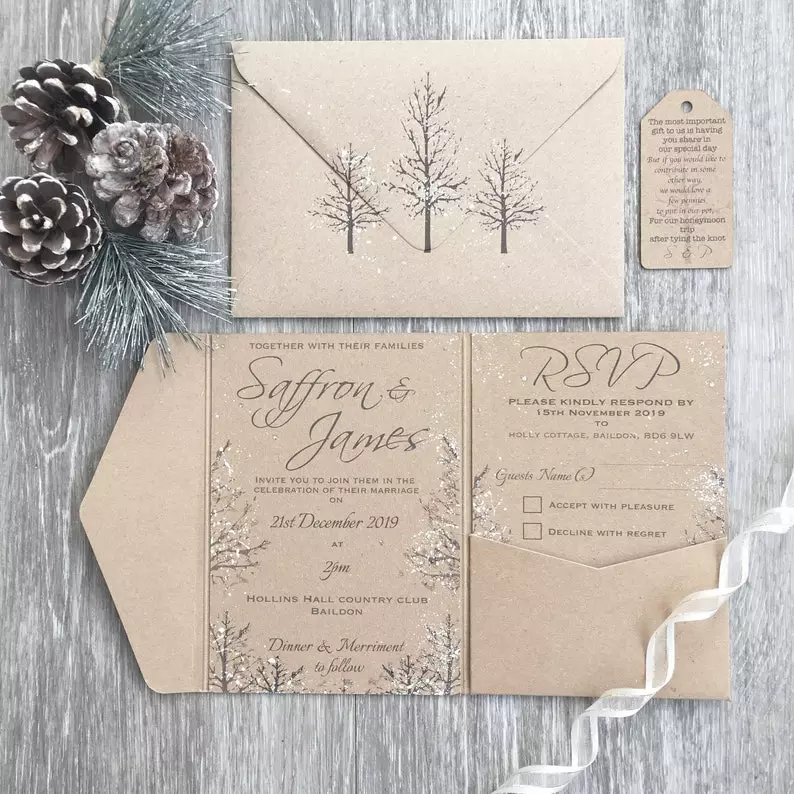 Designed by: Quaintly-Kate
Shop on: Etsy
Rustic Christmas wedding invites that are ohh so gorgeous. The unique design is hand-painted and delicately glittered onto a premium kraft card for a touch of elegance to your rustic-themed wedding.
RELATED: Rustic Winter Wedding Invitations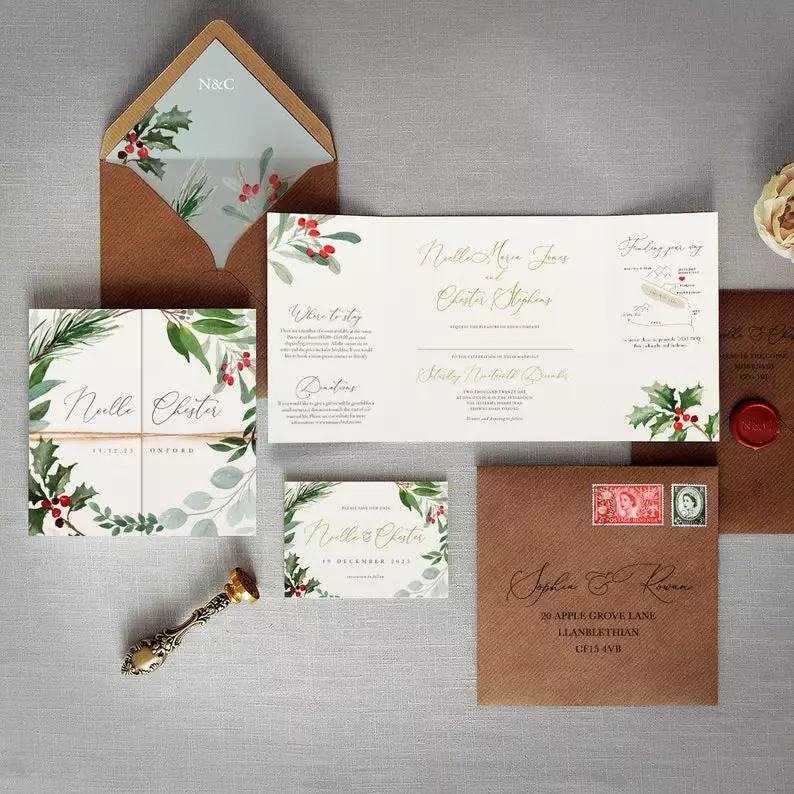 Designed by: Feel-Good-Invites
Shop on: Etsy
For a stunning and elegant invitation that fits your rustic theme, choose Noelle! This botanical invitation features handpainted pine branches, eucalyptus leaves, and berries with beautiful calligraphy.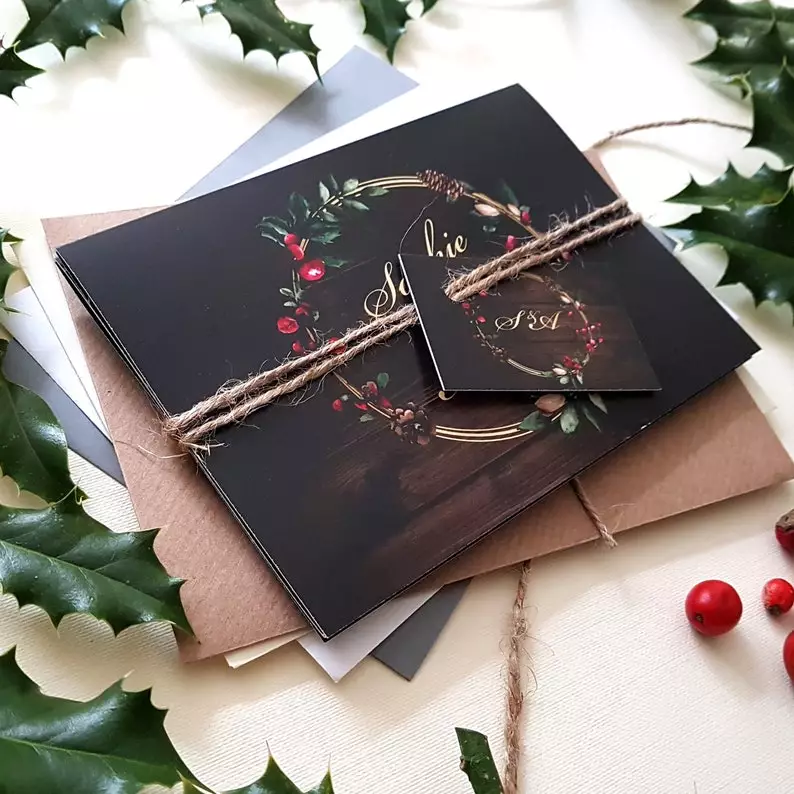 Designed by: Sienna-Mai-Invitations
Shop on: Etsy
This gorgeous holiday winter wedding invitation features a faux gold Round frame with beautifully painted Christmas greenery and red holly berries on modern dark wood background.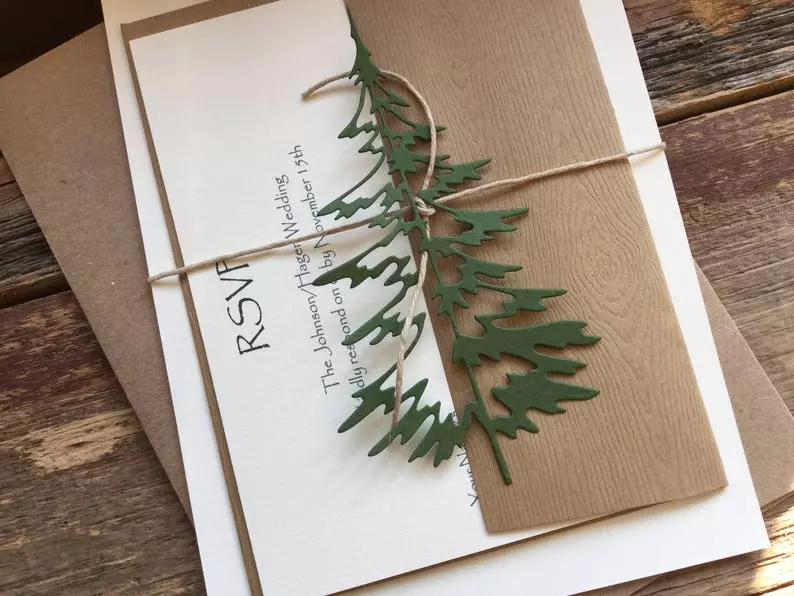 Designed by: alittle-morerosie
Shop on: Etsy
These simple Christmas wedding invitations give you a classic style with a modern flair. The elegant handwritten script goes perfectly with the minimalist white background. Clear and simple, this design is perfect for any winter wedding!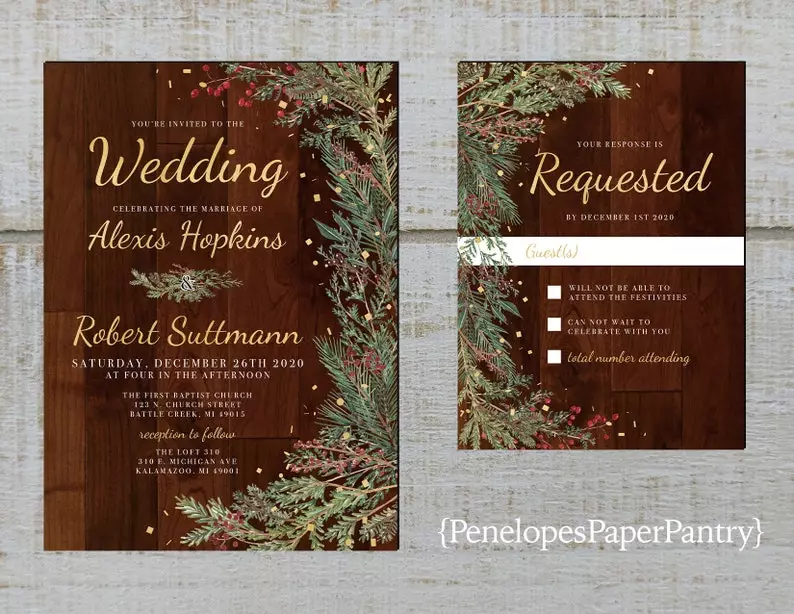 Designed by: Penelopes-Paper-Pantry
Shop on: Etsy
A modern gold calligraphy Christmas winter wedding invitation with a chic and elegant design. Features evergreen branches, red berries, a rustic barn wood background with shimmery gold snowflakes.
Designed by: Happy-Paper-Moments
Shop on: Etsy
This elegant and stylish features painted watercolor red berries, pinecones, and green leaves, with a modern geometric gold frame on a simple white background and stunning calligraphy.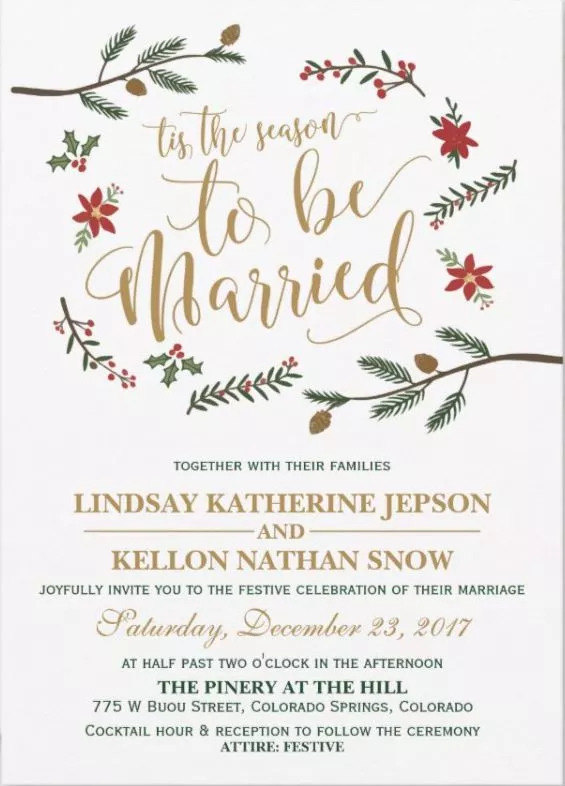 Shop on: Zazzle
This festive holiday invitation is perfect for a Christmas wedding! The festive greenery, red and gold colors will set the mood for your big day.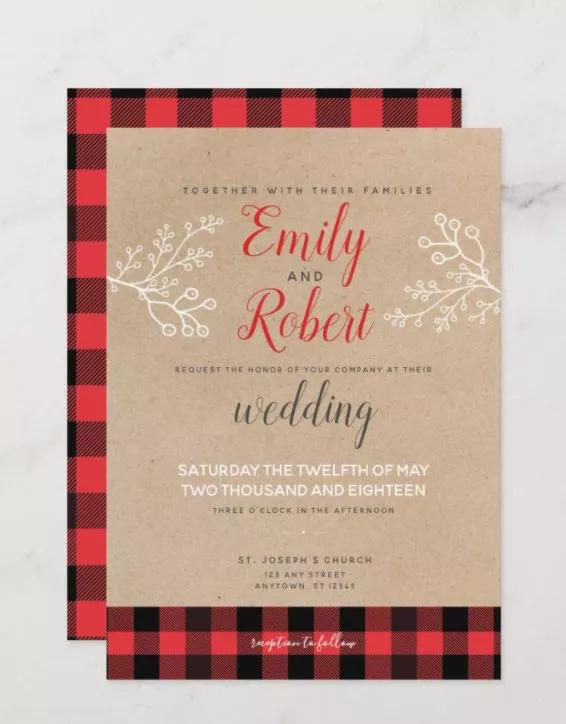 Shop on: Zazzle
A warm holiday invite reflects the true spirit of the season. This one features festive red and black flannel with rustic kraft background, making it perfect for a cozy Christmas wedding.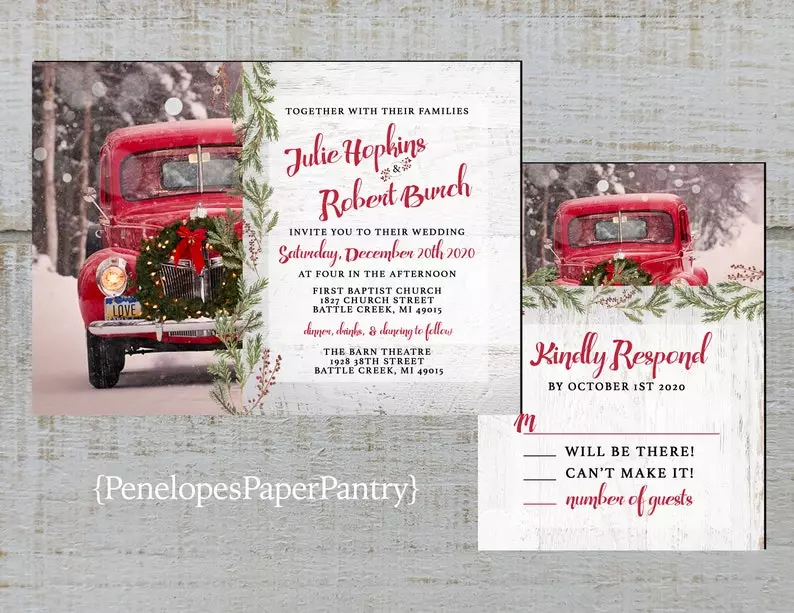 Designed by: Penelopes-Paper-Pantry
Shop on: Etsy
The perfect retro-Christmas rustic wedding invitation is a classic choice. A simple style with a vintage feel is perfect for a country setting and a holiday mood.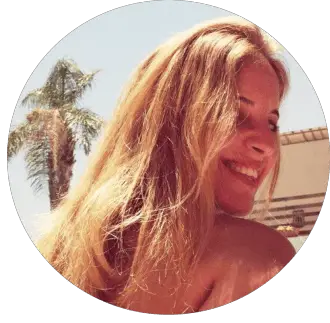 Kaden is an interior designer in her education who fell in love in designing weddings. Along with her husband, the wedding planner, Kaden specializes in creating content for weddings aim to fulfill brides dreams.