Last Updated on October 1, 2022 by Kaden
During the heart of winter, what could be more magical than a small wedding in the backyard with family and friends?
Winter weddings carry their own set of unique challenges and planning a small winter backyard wedding on a budget can feel pretty overwhelming. There may not be a lot of guests, but don't assume it means that there won't be a lot of expenses.
Read on for these great ideas to pull off a stunning winter wedding without breaking the bank. From how to keep guests warm to wintry details to create a festive and cozy atmosphere.
You May Also Interested In 11 Simple Tips for Hosting a Cozy Winter Wedding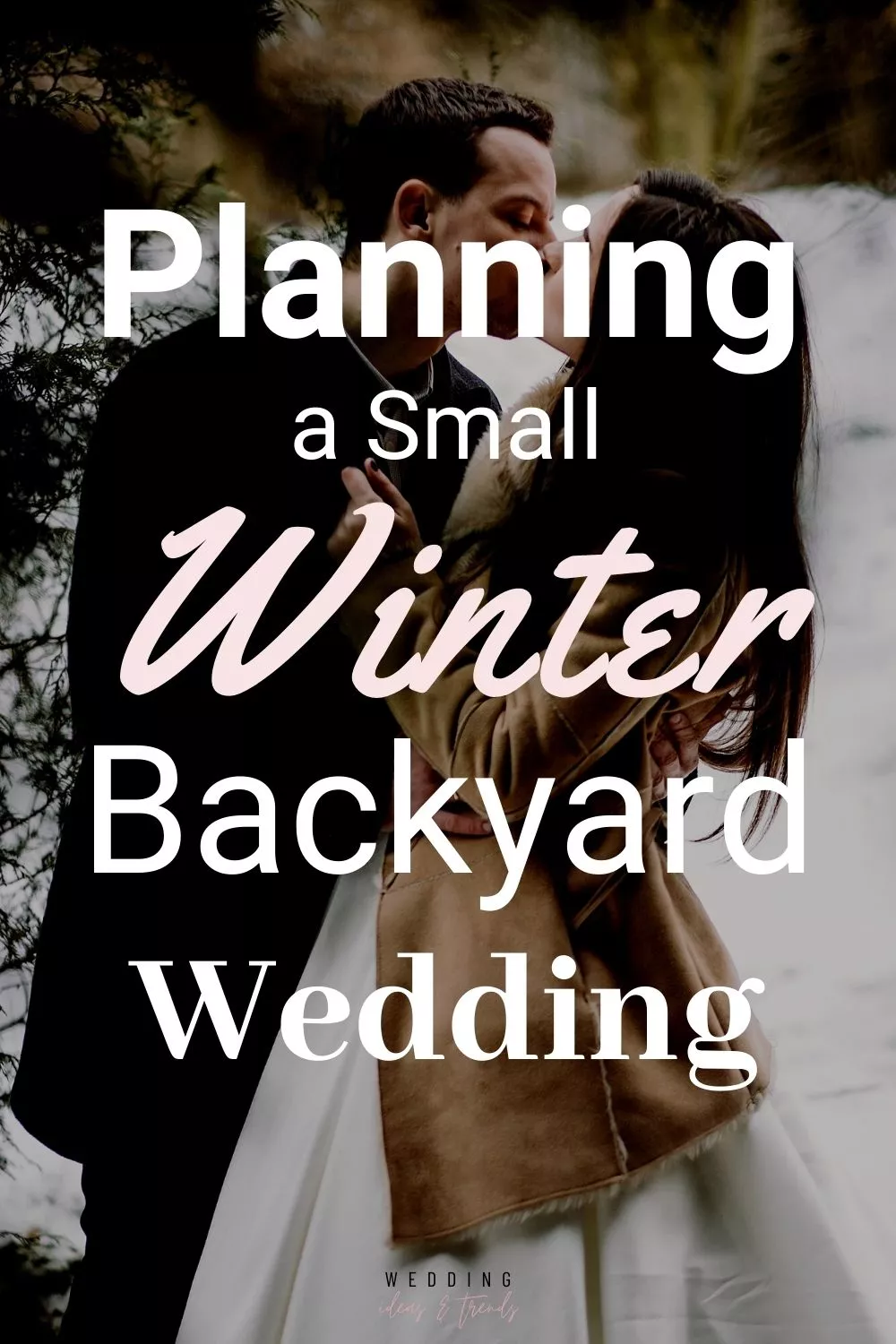 I may receive commissions on purchases made from the links on this page at no cost to you.
There's a reason why backyard weddings are so popular. They're intimate, fun, and can save you money! These seasonal wedding ideas will help you plan the perfect small winter backyard wedding on a budget:
1} Create a Cozy Hangout Areas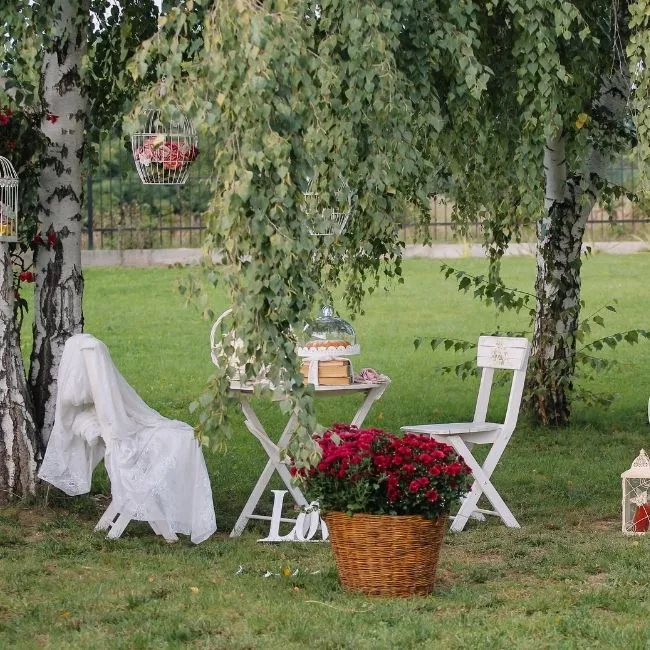 No heavy sofas, no big tables. Instead, try putting little sections with comfy chairs, blankets, and pillows to create cozy areas for your guests to gather around and enjoy the party even if it gets chilly.
2} Rent A Tent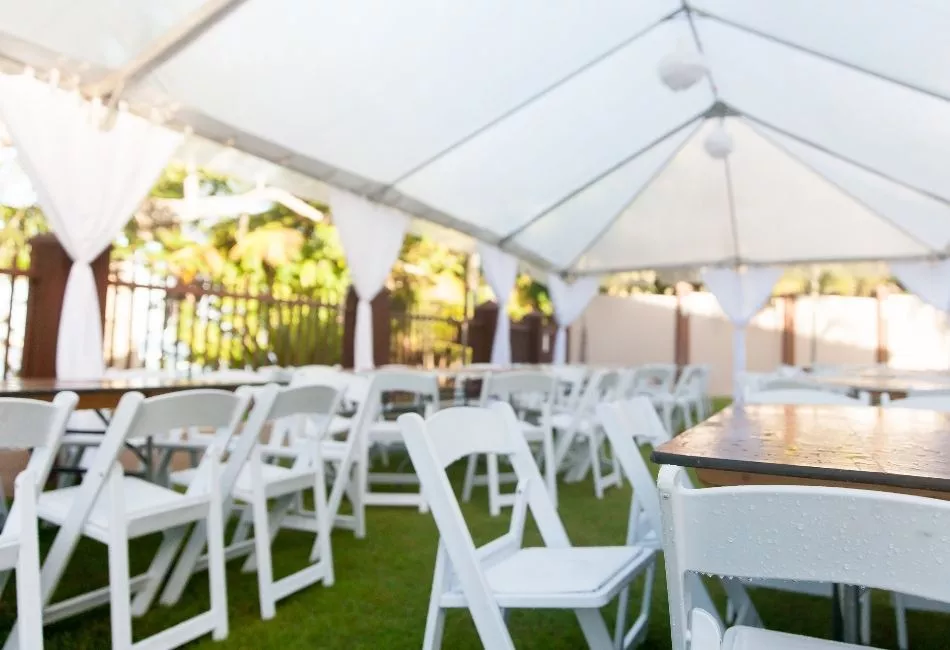 Renting a tent is a must-have in an outdoor wedding even as a backup plan. You might not control the weather, but you can make sure that your guests are dry. There are two things you'll need to keep in mind:
1- Instead of an open-sided tent to hold the wedding, enclose each side with fabric to help keep the warmth inside.
2- Tents can be very expensive. It all depends on your wedding tent's style and size. Therefore you can cut costs by inviting fewer guests and then renting a smaller cheaper tent.
3} Plan Out the Wedding Pictures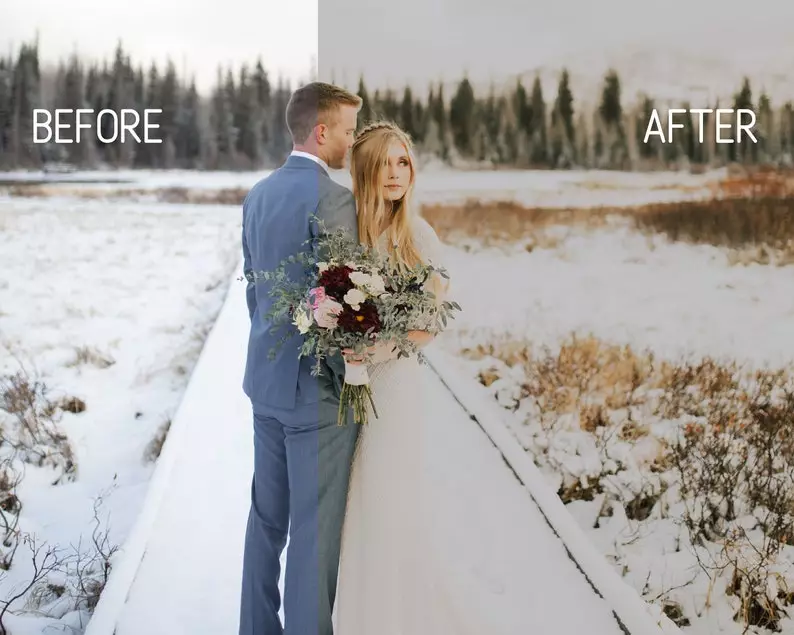 Although the winter months offer the perfect balance of romantic warmth and good lighting, the sun sets so early! Ensure you have plenty of natural light to take wedding pictures.
4} Decorate with String Fairy Lights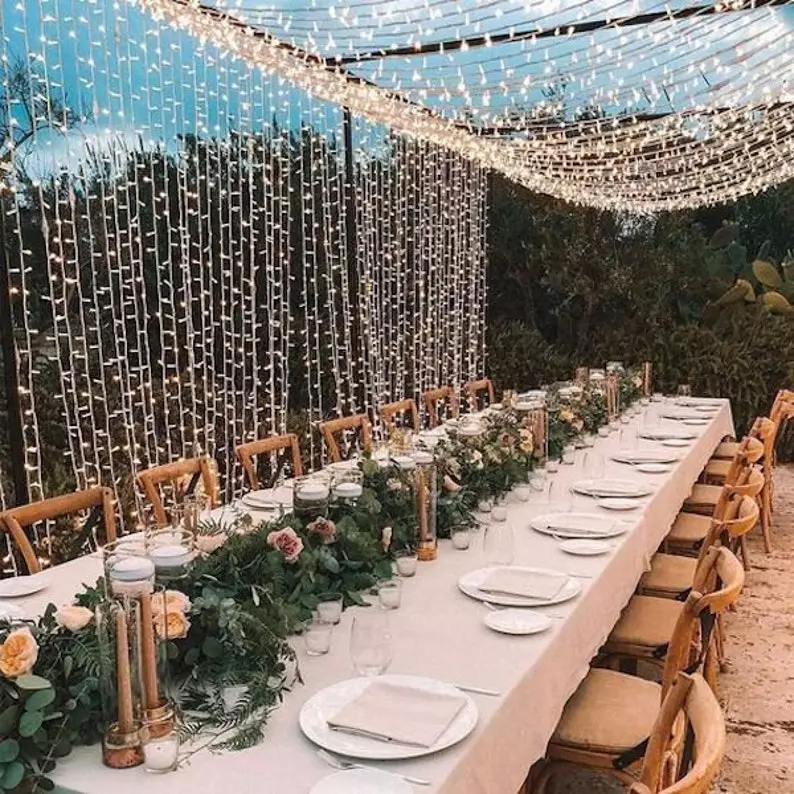 String lights are the perfect solution for outdoor lighting that easily transforms your outdoor wedding space and make it look and feel elegant and romantic. Plus, you don't need to spend a lot of money to make your small wedding look like a million bucks.
5} Pamper Your Guests with a Cozy Blanket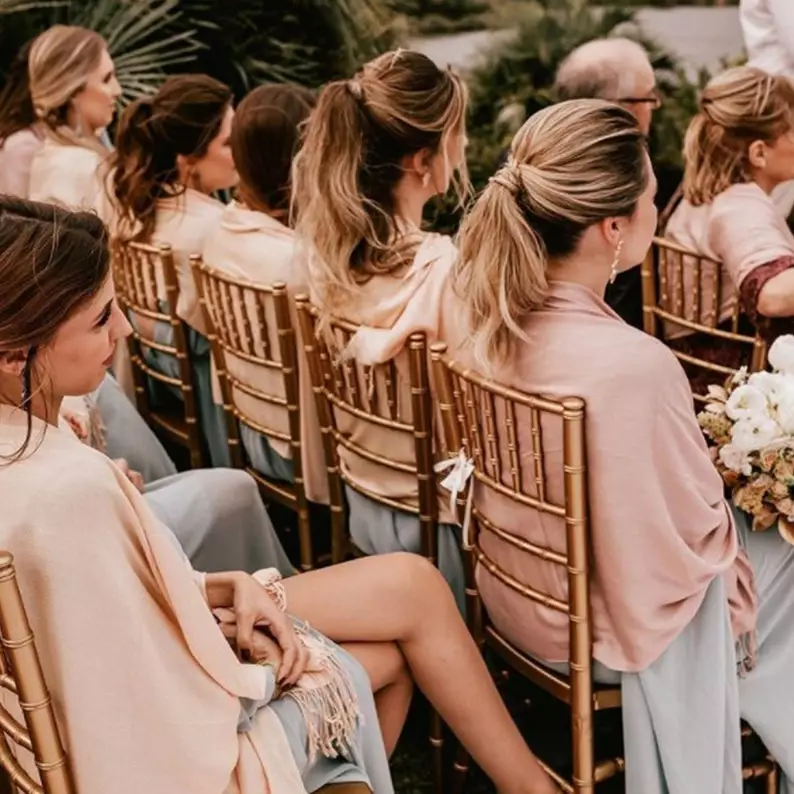 Throw blankets or pashmina over the back of each guest's seat or have a blankets basket. Not only will the blankets help your guests relax and feel more comfortable, but it will also be an amazing wedding favor they'll actually want to use! No doubt this will do wonders for the atmosphere you're trying to create for your ceremony.
RELATED: Winter Wedding Favors Your Guests Will Love
6} DIY Wedding Arch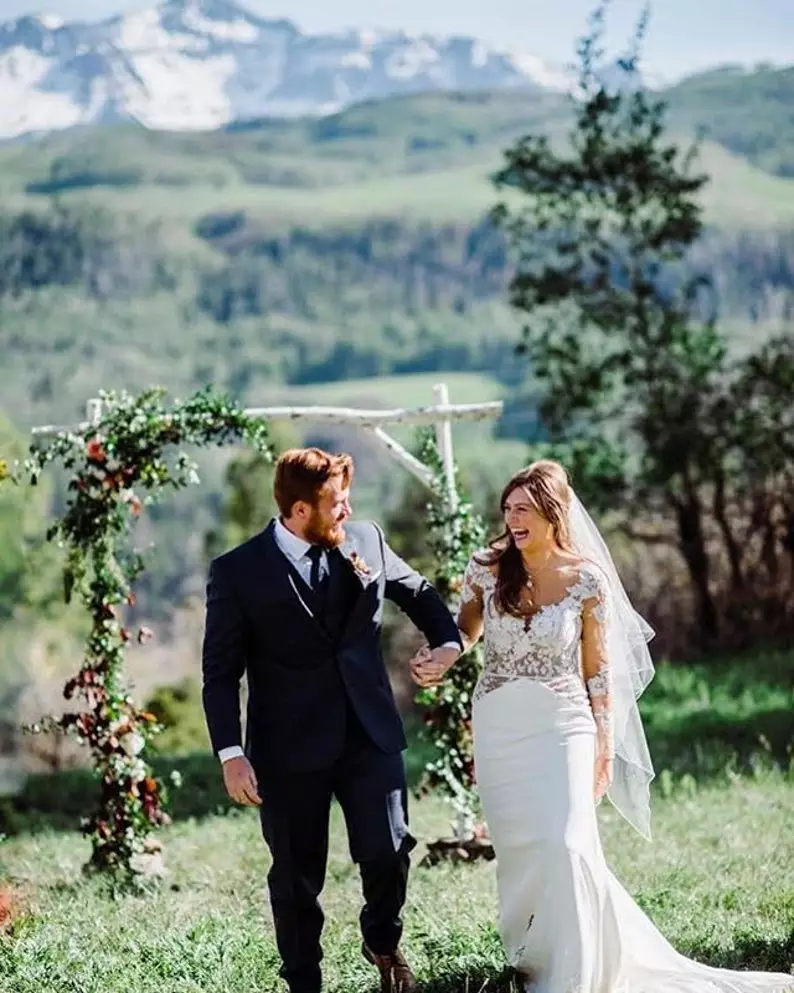 An arch creates a beautiful focal point in your wedding photos. Making an arch from branches and decorating it with flowers not only complements the setting of a small wedding but is also easy and inexpensive.
7} Choose Seasonal Flowers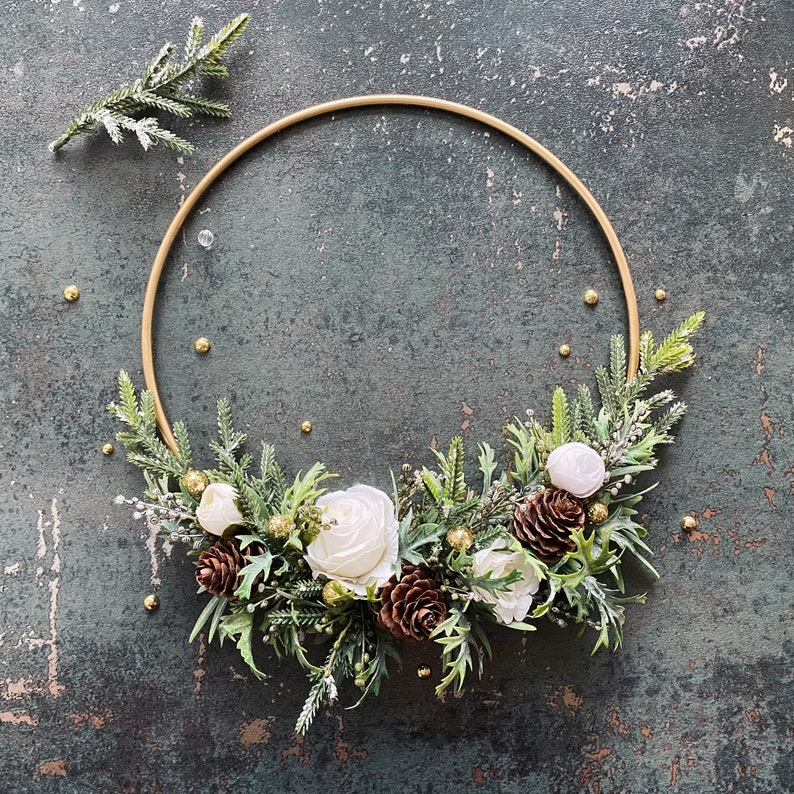 Choosing locally grown seasonal flowers is always the best option since they're fresh, and will also be cheaper than imported flowers. From amaryllis, winterberry, sweet peas, camellias, and more amazing options for any wedding theme.
RELATED: How to Choose Wedding Flowers
8} Use Home Plants as Centerpiece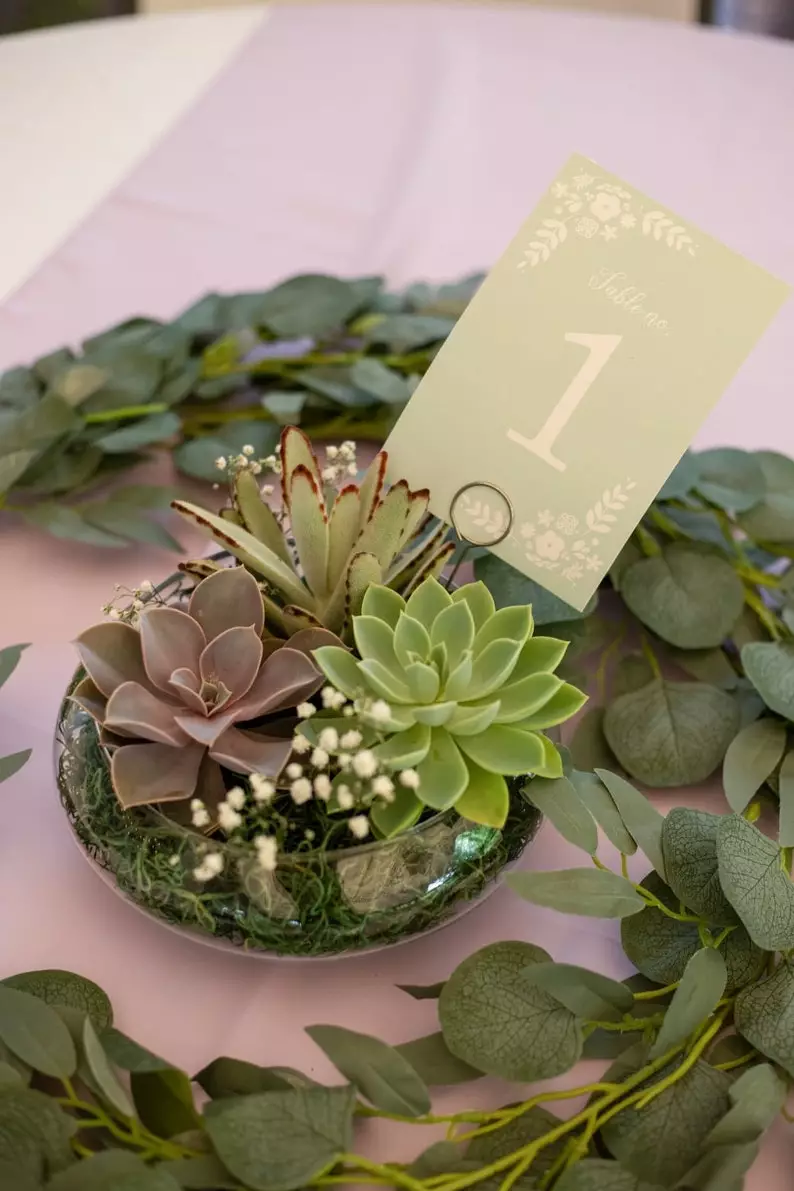 Flowers can be expensive, but you can use plants from the yard such as herbs, fruit-bearing trees, and succulents to create a garden-style wedding without costing too much money.
9} Use Umbrellas for Photos and Favors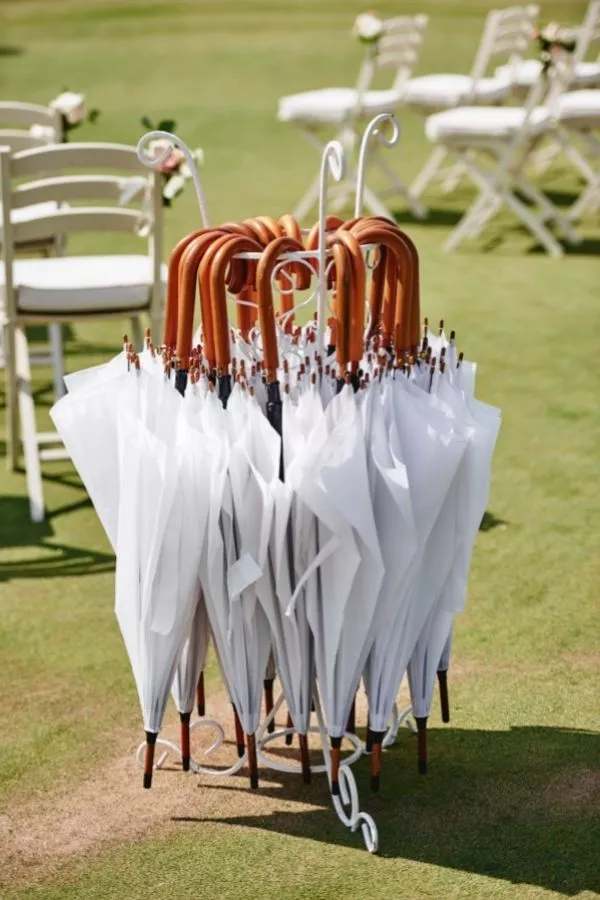 To keep your wedding party dry, umbrellas can be the perfect prop for cute photos or as a winter-themed wedding favor. They're easy to find and relatively inexpensive.
10} Dress for the Weather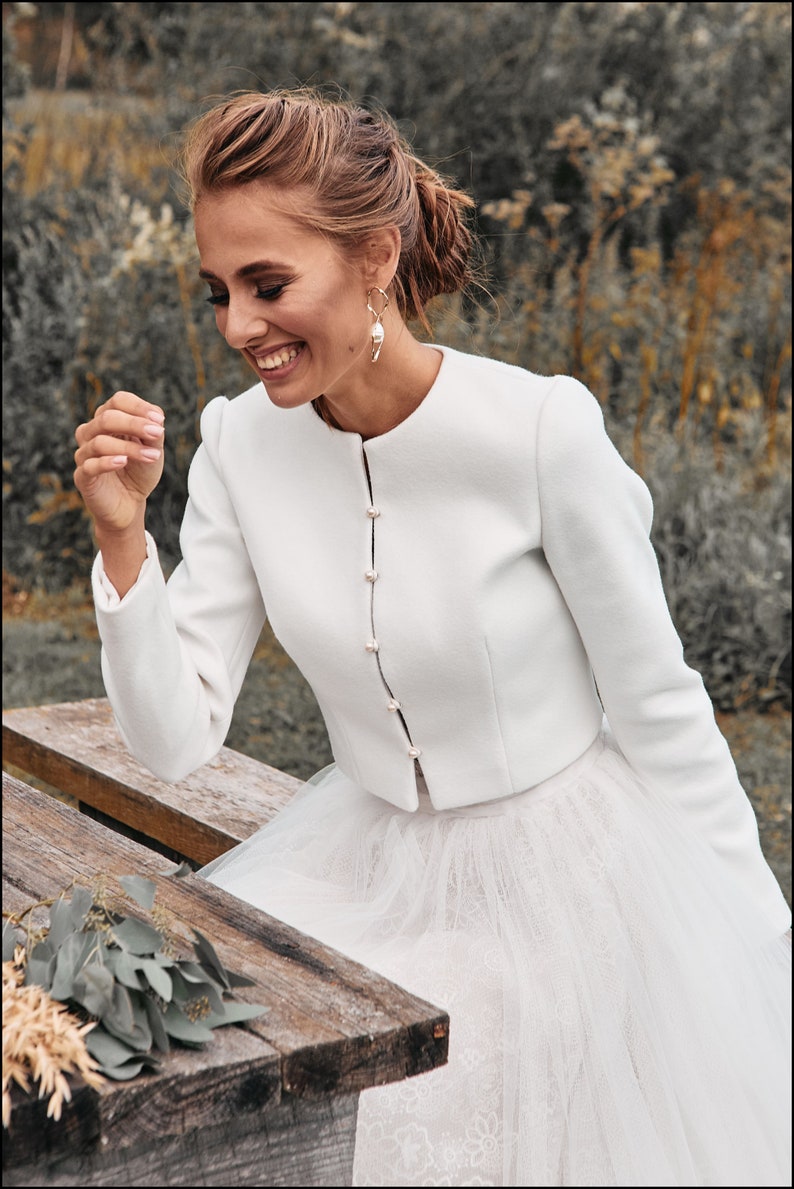 Why not take advantage of the cold weather by dress up in a long-sleeve wedding dress, winter coat, wear some fashionable boots, and a stylish hat.
RELATED: Stunning Bridal Faux Fur Wrap for the Winter Bride
11} Choose a Winter Color Scheme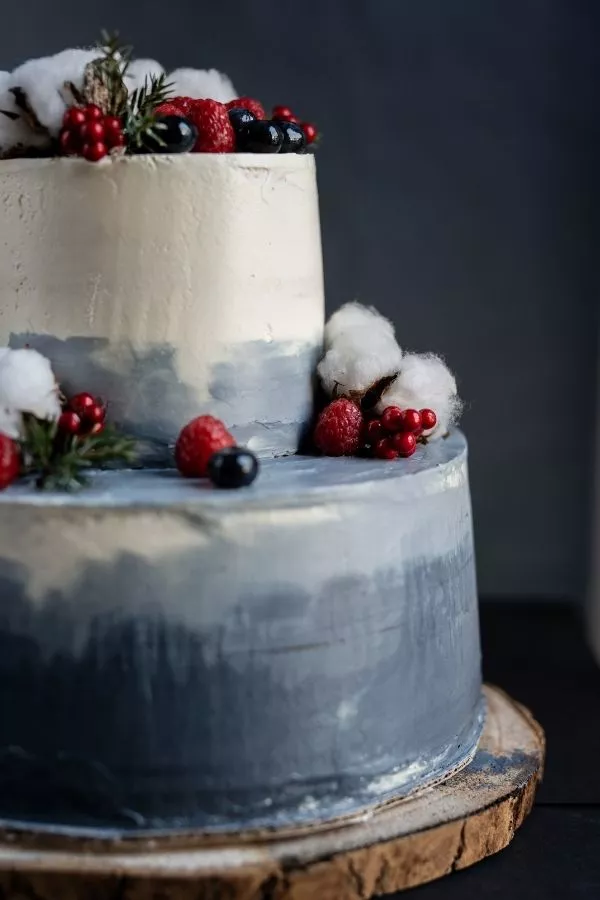 Choosing a color scheme will not only transform your backyard into a magical wedding spot but also will make your life easier and will save you money by avoiding unnecessary purchases. Winter colors, such as burgundy, emerald green, and navy blue are some of the most traditional seasonal colors. Also, muted palette, gold, silver, and holiday colors such as green and red.
12} Set Up a Hot Beverage Bar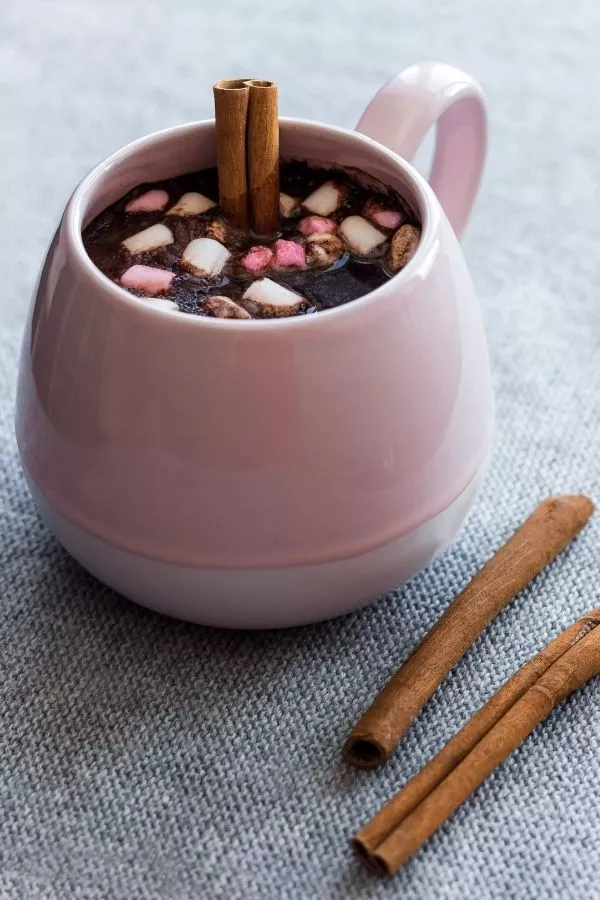 Fluffy marshmallows in a mug of hot chocolate, a warm apple cider with a dash of cinnamon in a cup that smells like holiday baking – these are the little things that make a winter wedding fun and inviting.
13} Set up Warming Stations
To keep everyone warm provide seating around space heaters, or set out portable fire pits so guests can stay toasty.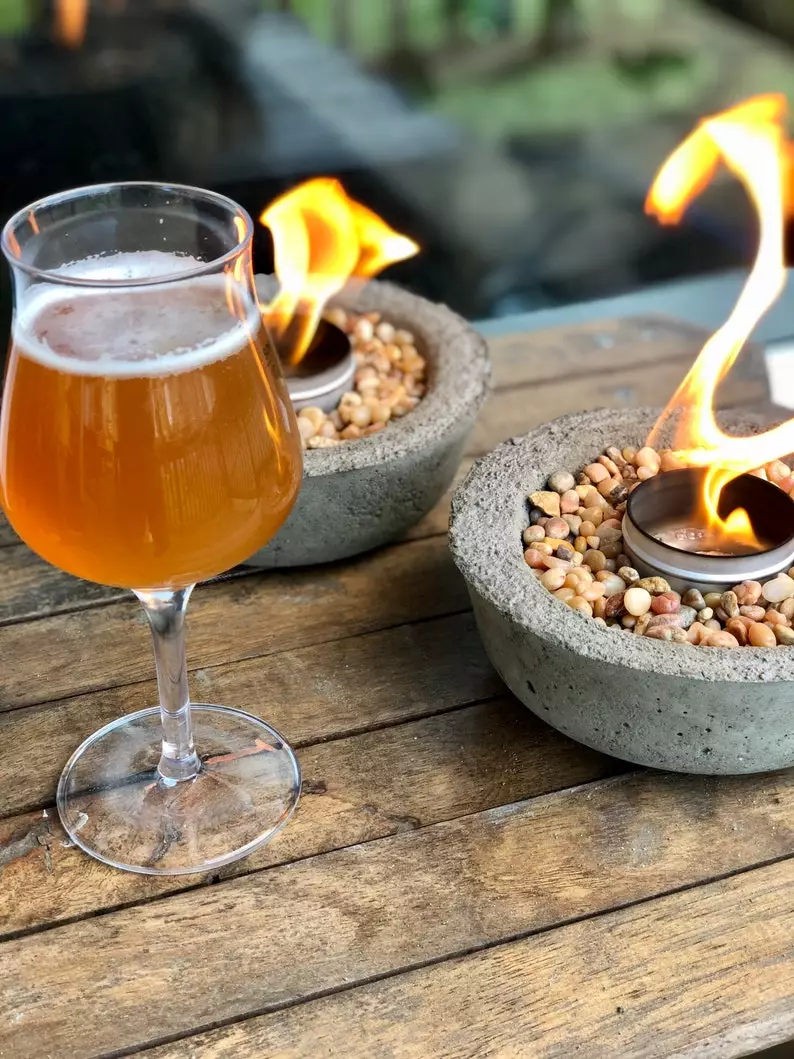 14} Include Wintry Details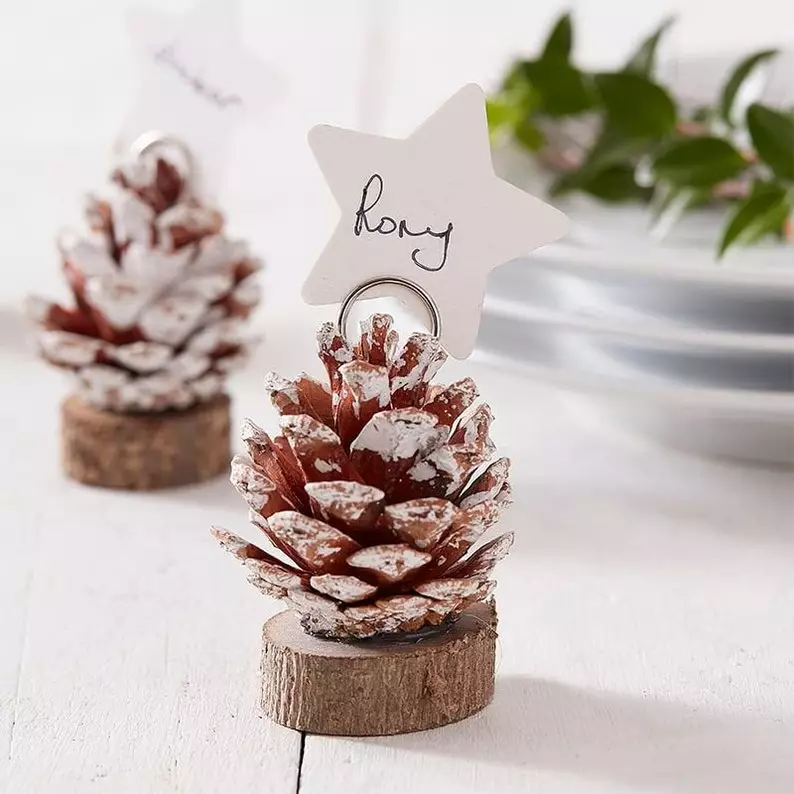 Include DIY wintry details to add seasonal flair to your wedding decoration, and even to the favors and signature drinks. Something as simple as red berries on the tablecloth, pine cone place cards, branches in the flowers arrangement, leaf escort cards, or greenery backdrop can help to create a magical winter look within your budget.
RELATED: DIY Backyard Wedding Decorations On a Budget
15} Plan a Simple Menu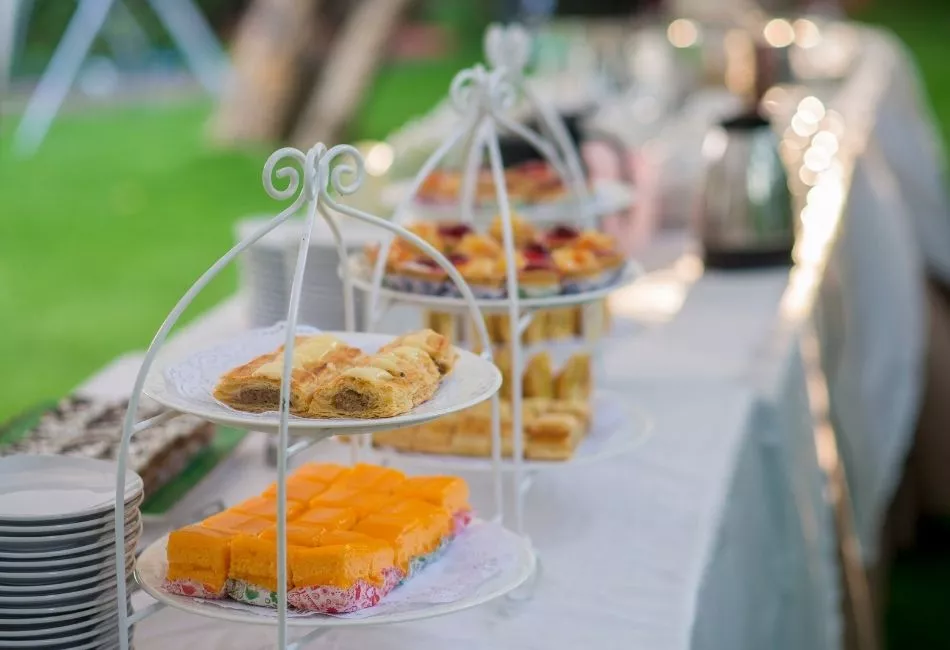 Keep the food simple, but elegant. For a small winter backyard wedding on a budget, it might be a good idea to plan a brunch buffet menu with appetizers and salad options instead of having a heavy dinner to keep food costs down.
Including a baked goods bar along with fresh fruits, s'mores, baked pie, delicious cookies, and other festive desserts.
NEXT UP: Best Christmas Wedding Favors – Unique and Personalized
Keep Planning With Us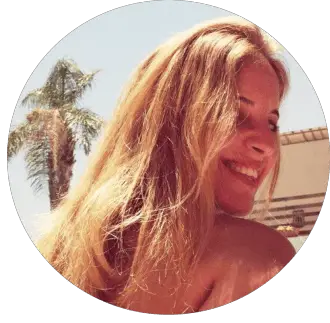 Kaden is an interior designer in her education who fell in love in designing weddings. Along with her husband, the wedding planner, Kaden specializes in creating content for weddings aim to fulfill brides dreams.