Last Updated on October 14, 2021 by Kaden
A wedding is the outward expression of your love, share it intimately with your loved ones. This post is dedicated to couples who are planning an intimate backyard wedding, without any stress, just love.
You've probably already been a guest at mass events, big weddings where the couple only has 2 seconds for each guest and even that's not always possible. All this while the bride & groom are under constant pressure, hoping that everything will go as planned.
Small and intimate backyard weddings are a big trend these days.
Not only they're easier to create and plan, but also can be budget-friendly.
Related Budget-Friendly Posts:
Here are some guidelines for planning a backyard wedding. What to pay attention to and how to properly plan your wedding ceremony, dinner, party time, and decoration. Let's get started!!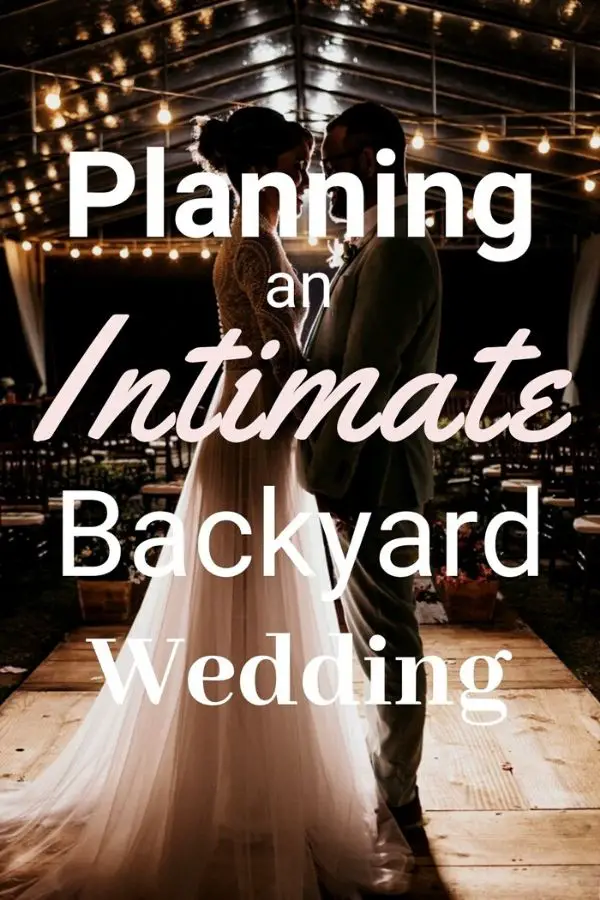 We may receive commissions on purchases made from links on this page at no cost to you.
Intimate Backyard Wedding Ideas
Impressive Entrance
True, this intimate group of people you invite to your wedding, probably visited your house In the past. For that reason, you should make an effort in your porch decorations. On this special day, your yard isn't just another backyard but an intimate wedding venue.
At this point, the first impression of your wedding guests begins at the "Venue" entrance, so create elements that match your wedding theme and color palette – decorate the area with attractive welcome signs add flowers, candles, or balloons. This will put your guests in the right mode, Celebration.
Related Post: Amazing Wedding Welcome Signs – Wood, Acrylic, Printed, and Mirror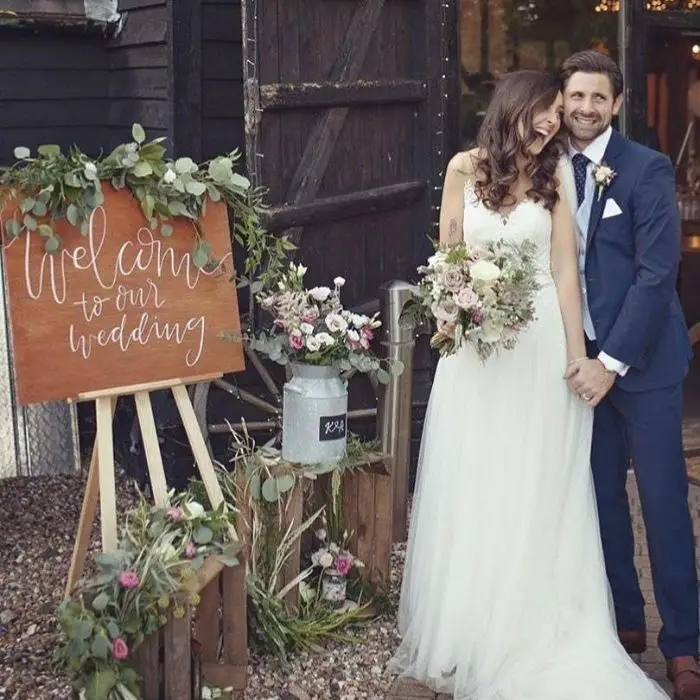 Devoted-Dreams via Instagram
The Backyard Ceremony
Locate the ceremony in a shaded area, preferably, a cool place like the corner of the yard or under tall trees. You can easily create a designed Wedding Arch or a canopy with natural or architectural greenery with a floral backdrop for the perfect photoshoot scene.
If it is a really intimate wedding it will be nice and even heartfelt if guests stand close during the ceremony. You can always add a few chairs and decorate the aisle.
Tip: Man's best friend, a furry friend – of course! Part of the celebration no doubt! Consider dress your pet in a cute tuxedo, Bowtie, or attach flowers to his or her Collar.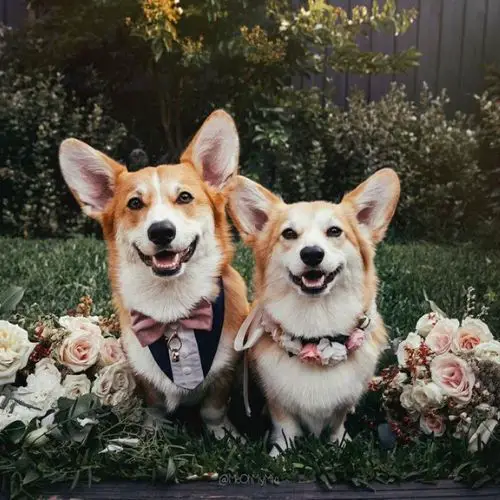 meohmymia via Instagram
Related Post: Most Adorable Bridesmaids Dresses for Your Dog
Foods & Drinks for a Backyard Reception
It's not mandatory to stick to the style and schedule of traditional weddings, Just as you have the right to choose any date you want because you do not depend on any venue. I also encourage you to be creative in choosing the food and vendors at this backyard wedding.
Choose a dish, not a vendor – My intention is that you can order several different food vendors, each one is specialized in one thing only. From experience, I know it creates a festive vibe. You can order a chic food track that will definitely add tons of uniqueness, style, and decoration to your wedding.
As for drinks, there is no doubt that the options are endless, and with such a wedding, again, there are no restrictions. You can brand the beverages with bottle labels, choose a higher quality wine, and even order a tropical bar.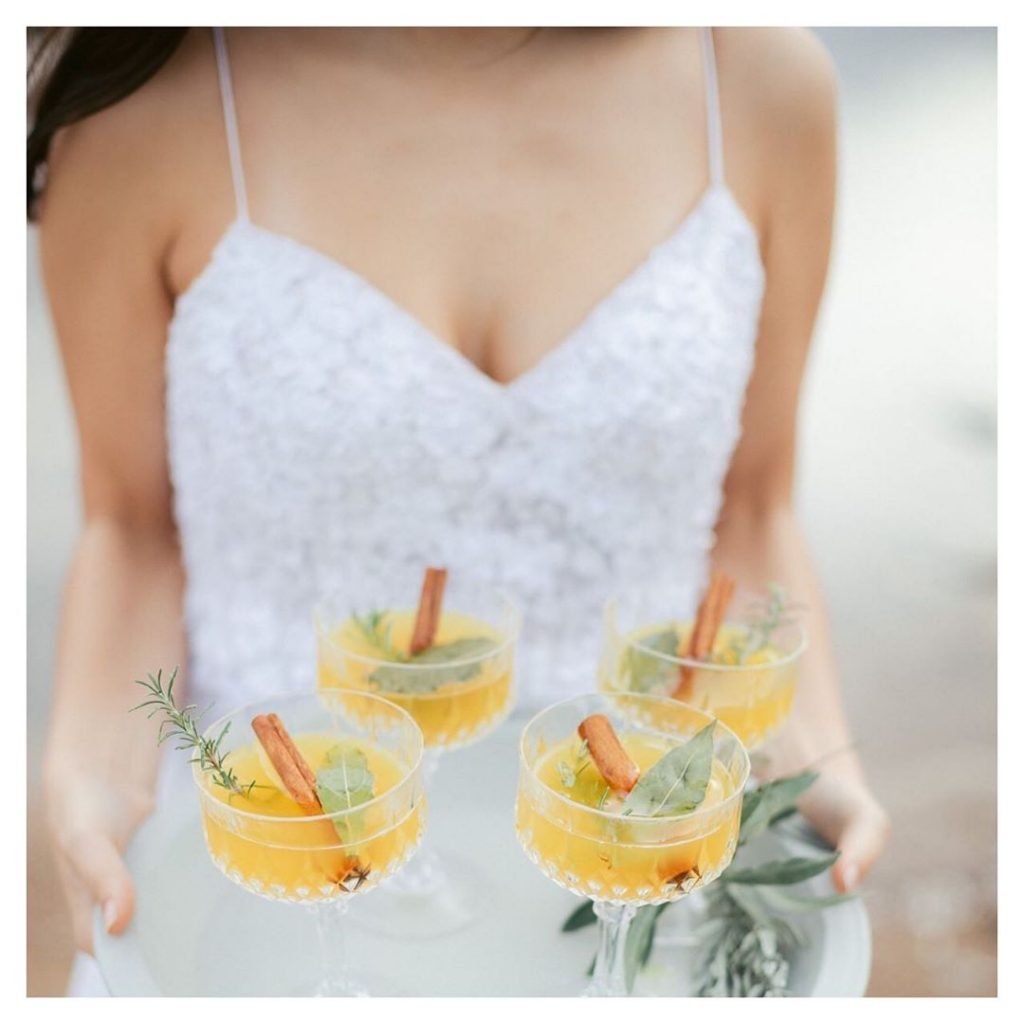 happyeventsgr via Instagram
Wedding Dinner
Further to my suggestions on food and drinks, where do the guests sit? Depending on the guest's quantity, and in any case, this is a great opportunity for numerous family dinners. A long table would be a wonderful idea for such a joyous gathering for a family-style meal. Since it is a buffet and there will be something to eat through most of the event, even if it is only appetizers. A good idea would be to place a number of seating areas such as garden furniture and small round tables to create the requested "mingling vibe" for an Intimate Backyard wedding.
*Tip – Place Citronella Scented Tiki Torch in the yard to keep mosquitoes away. This is a must-do and can also be a decorative item.
Related: Tips and Examples for Beautiful Wedding Table Decorations
Backyard Wedding Decoration
Don't try to emulate a hotel banquet hall design. Use a suitable design for an outdoor wedding. Greenery-themed is the most dominant backyard wedding theme. It fits perfectly with what's already in your home garden. You can add some rustic or boho chic decoration and the results are just perfect.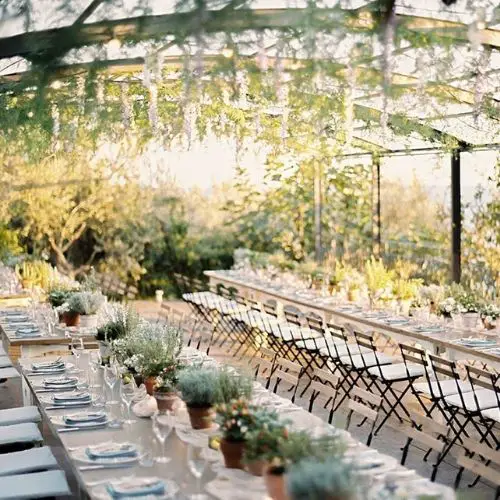 matthew_oliver_weddings via Instagram
Related Post: 15 DIY Backyard Wedding Decorations On a Budget
Provide Shade
One of the things that are important to consider at backyard weddings is shading. We all want our guests to stay cool and happy. Also, you will thank me when your makeup and hairstyle will hold on throughout the day.
Depending on the terrain conditions, the arrangement of the tables and seating areas should provide adequate shading. From gazebos and white umbrellas to decorating the space above with ceiling draping sheer voile. There are many gorgeous possibilities that provide shade, romantic style and can fit perfectly with your wedding theme and colors.
Related: How to Provide Shade At Outdoor Wedding Using Parasols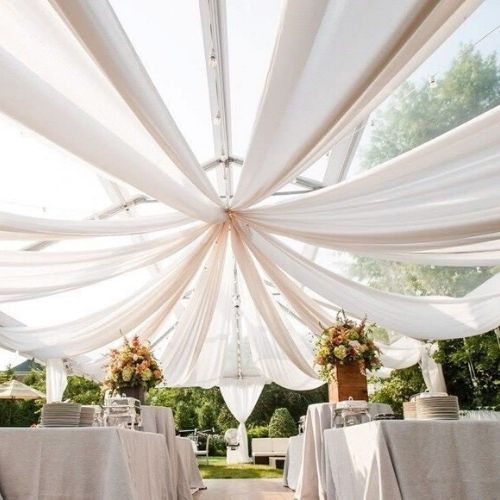 By: SedonaDesignz
Intimate Backyard Wedding Lighting
Your intimate wedding requires proper lighting. Luckily such lighting is simple to make and inexpensive, and more than anything, it gives a beautiful and romantic mode. In other words –  LED Fairy lighting. Hang a long fairy light in the center of the yard, scatter decorative mosquito tiki torches, and add some candles. It will give your intimate backyard wedding chic and romantic lighting for an outdoor wedding.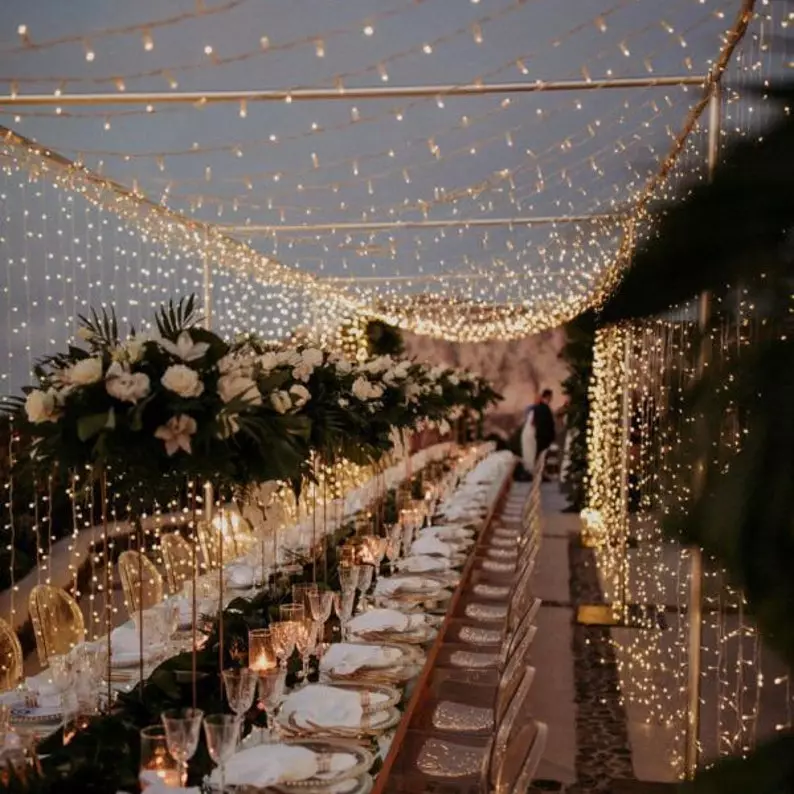 Party On
In an intimate backyard wedding, the ceremony can be held at the same venue as well as dinner and party. The schedule really asks for the dancing to start right after the ceremony. Run with the guests, to the designated area and start the party.
Make sure to place the bar or the liquor table right next to the Dance Floor.
Don't worry, your yard doesn't have to be huge, on the contrary, the smaller the dance floor is, it will look fuller and more alive so guests will be happy to dance and remove their defenses.
Tip: After you've danced, ate, and drank – It's time to fool around. This is how you can make your outdoor wedding fun: Turn the dance floor into a playground with party games like oversized Jenga set, Limbo, cake-shaped Piñata, Beer Pong, and other interactive experiences for all guests to enjoy together.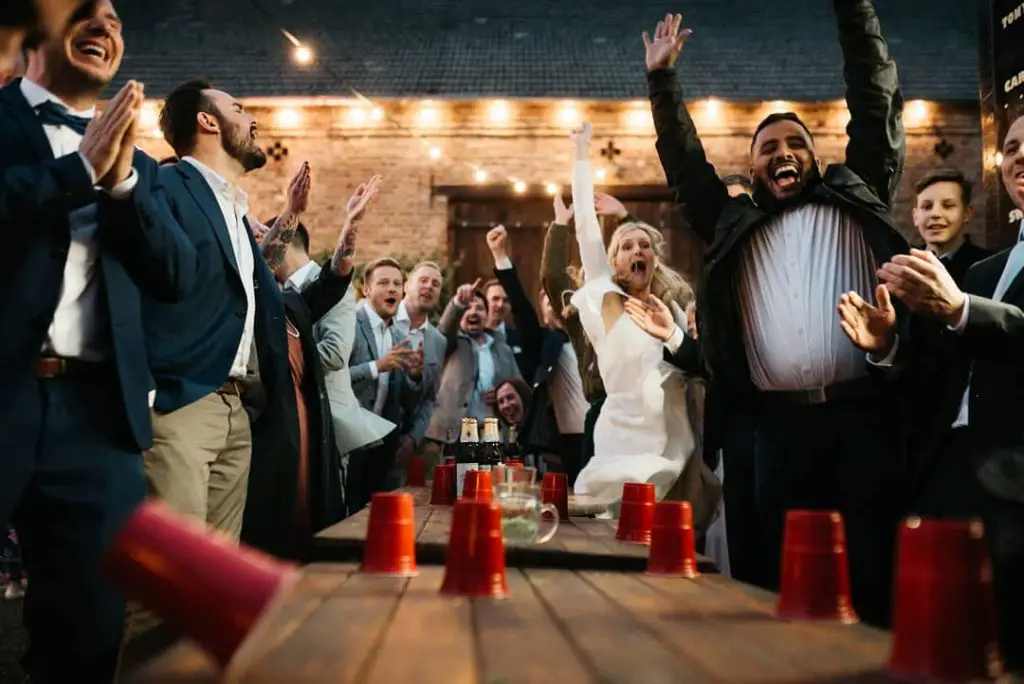 waltsmedia_weddingstorys via Instagram
Conclusion
Undoubtedly, an intimate backyard wedding is a great way to fulfill all your dreams. An opportunity to get creative within budget and most importantly, celebrate with those you love❤️️.
NEXT UP: 15 Best Adorable Wedding Favors Under $1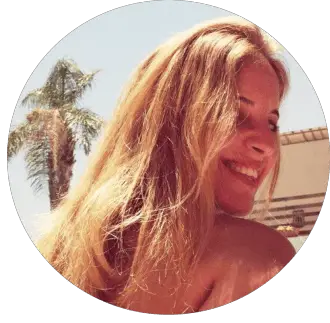 Kaden is an interior designer in her education who fell in love in designing weddings. Along with her husband, the wedding planner, Kaden specializes in creating content for weddings aim to fulfill brides dreams.