Last Updated on May 18, 2021 by Kaden
Hi, You brides!!! It's been a while since you started planning your elegant wedding, and the big day is coming. You must be asking, Do you need wedding menu cards? Why do we need them? And how do I know which menu cards are right for my wedding and how to display them on the wedding tables?

Let's start with, Yes! If you're having a formal dinner with guests sitting and serving by waiters, then, it's important and necessary for guests to know "what for dinner?" including, menu details such as Information for allergens, vegetarians, and religion.  
I'm sure that at this point in the wedding preparations you already have a theme and a color palette. So, depending on the wedding style, invitations, table decoration, indoor or outdoor reception and the season of the wedding, For all of these, the elegant wedding menu card must match perfectly.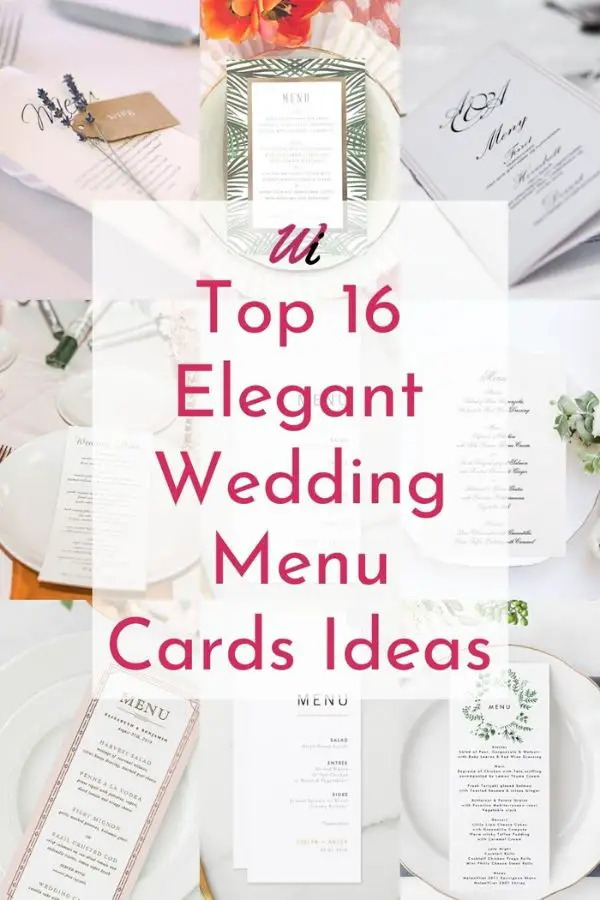 I hope you like these products! Just so you know, i may receive commissions on purchases made from the links on this page. Thank you if you use our links, i really appreciate it!
16 Elegant Wedding Menu Cards Ideas for Formal, Simple, Rustic and Greenery Wedding Themes
Formal and Classic Menu Cards for a Formal Wedding Dinner 
Sophistication, Elegance and luxurious are what we aimed in our chase for the right formal and classic wedding menu card, the one that defiantly will make the drama effect on your wedding guests and feet perfectly to an elegant table setting.
A Luxe paper, black or white background, a touch of gold or silver foil will make a sunning elegant look, for vintage and classic design, think about floral style, Peonies in pink or deep red will be it.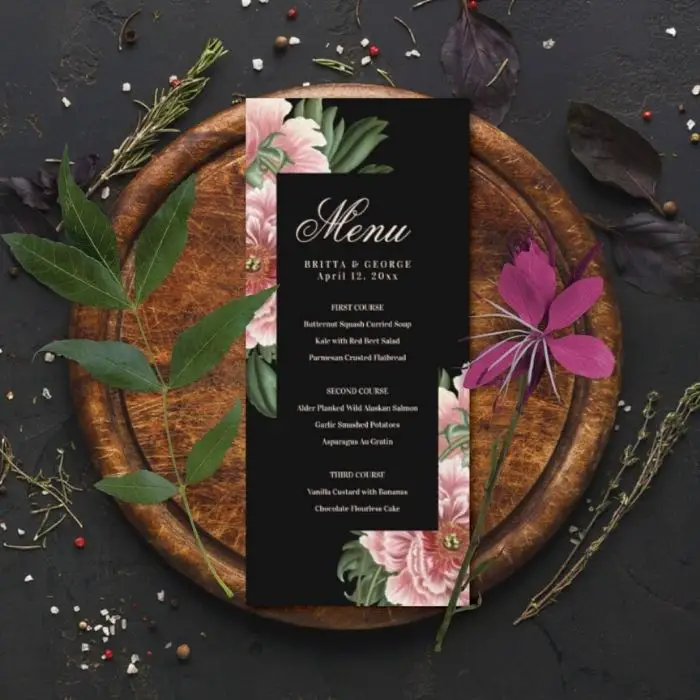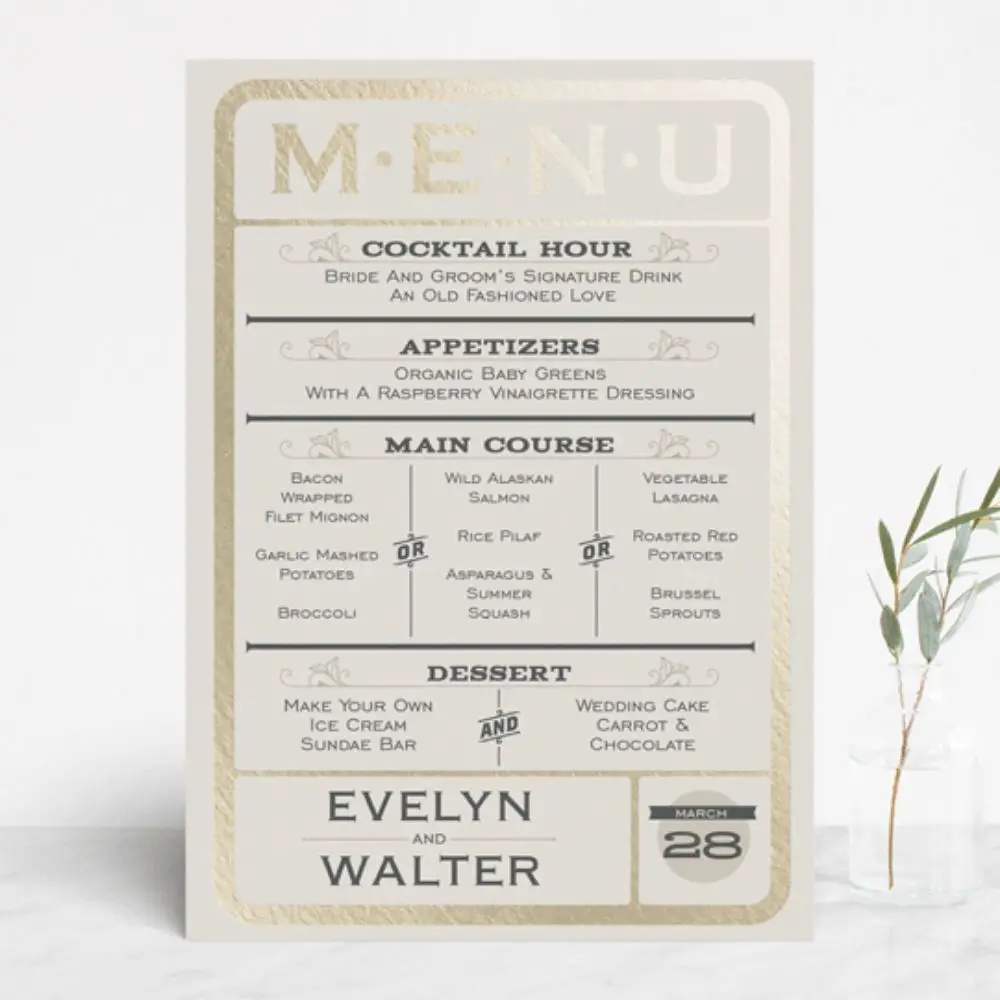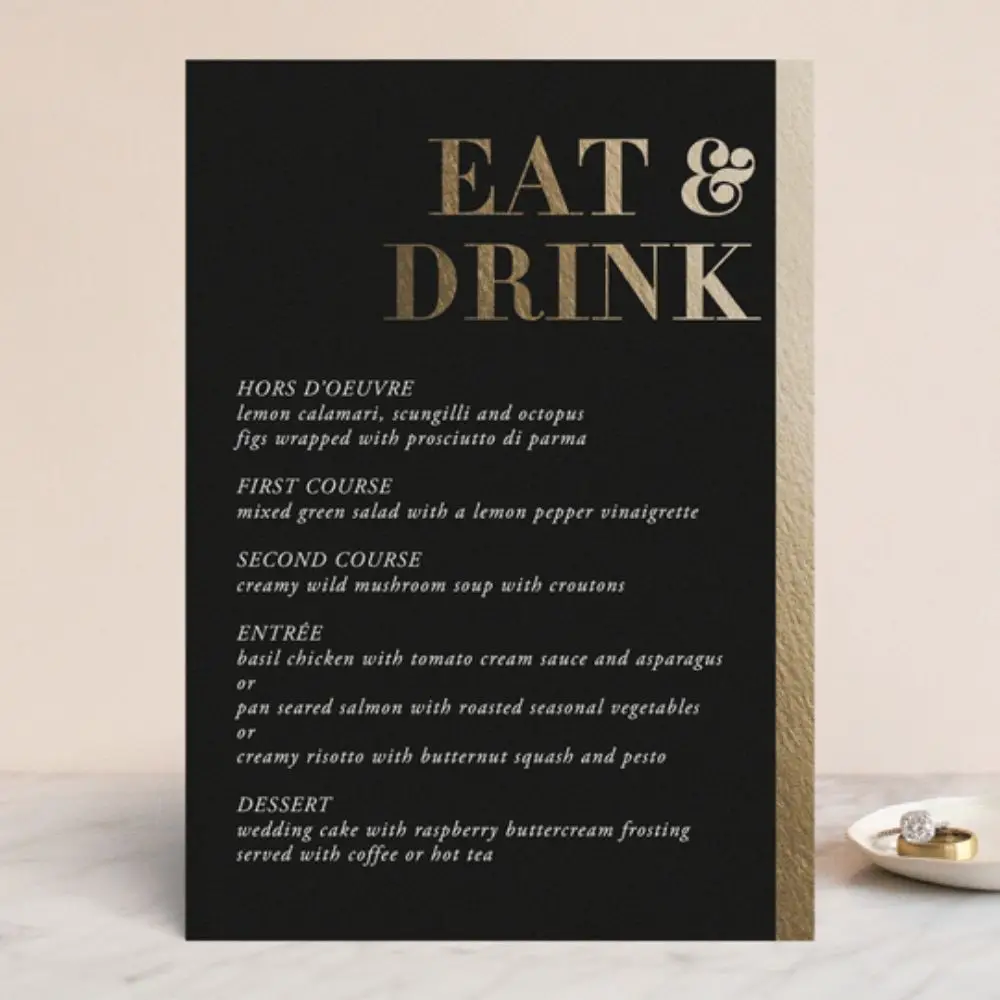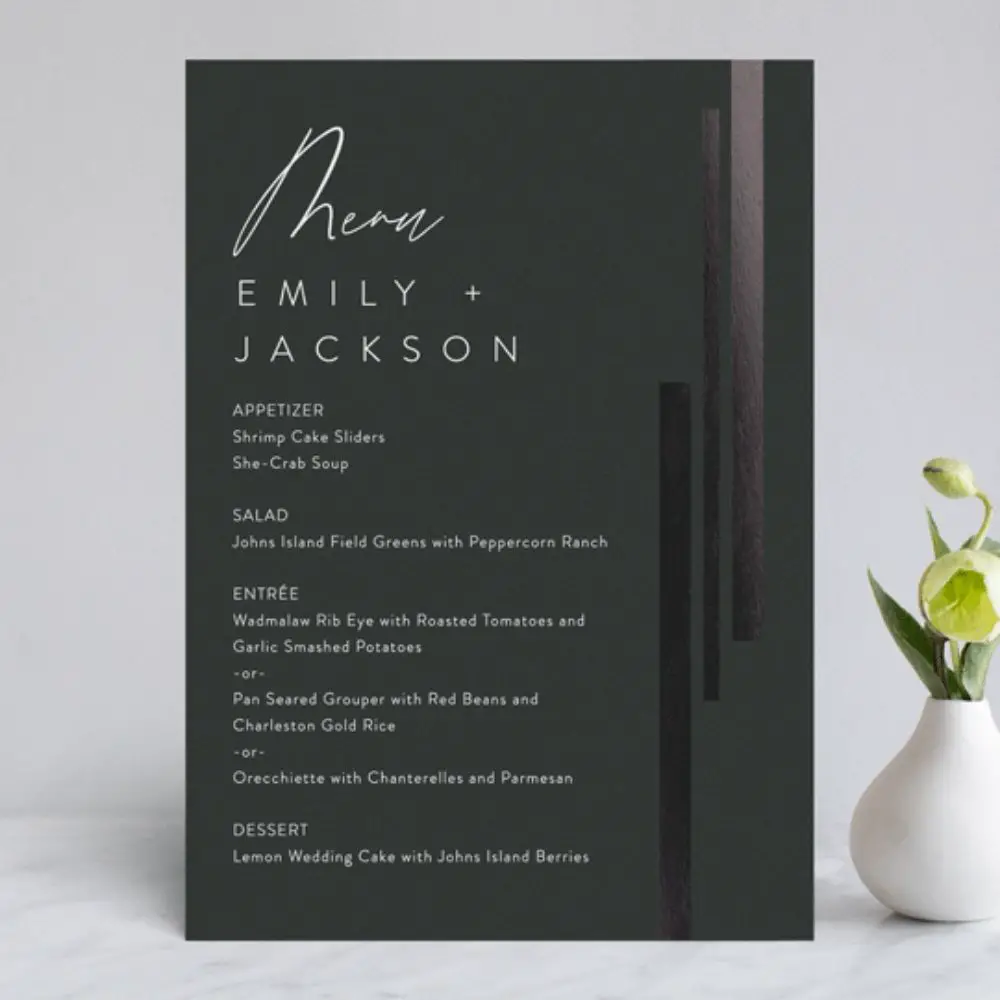 Simple, Elegant and Minimalist Menu Cards
Keep it simple! But yet, elegant. Minimalism is all about clean design that features Fluent and clear typography  In straight and modern lines on a black or white background, you can always add some color to the menu headlines to mache your wedding color palette and the table decoration for a perfect fit.
Simple menu cards can be also achieved with a modern vintage look, such as a Rose gold border against a blush pink background. Another traditional wedding menu uses elegant handwritten Monogram calligraphy in black text on white paper for an ignified and stately look.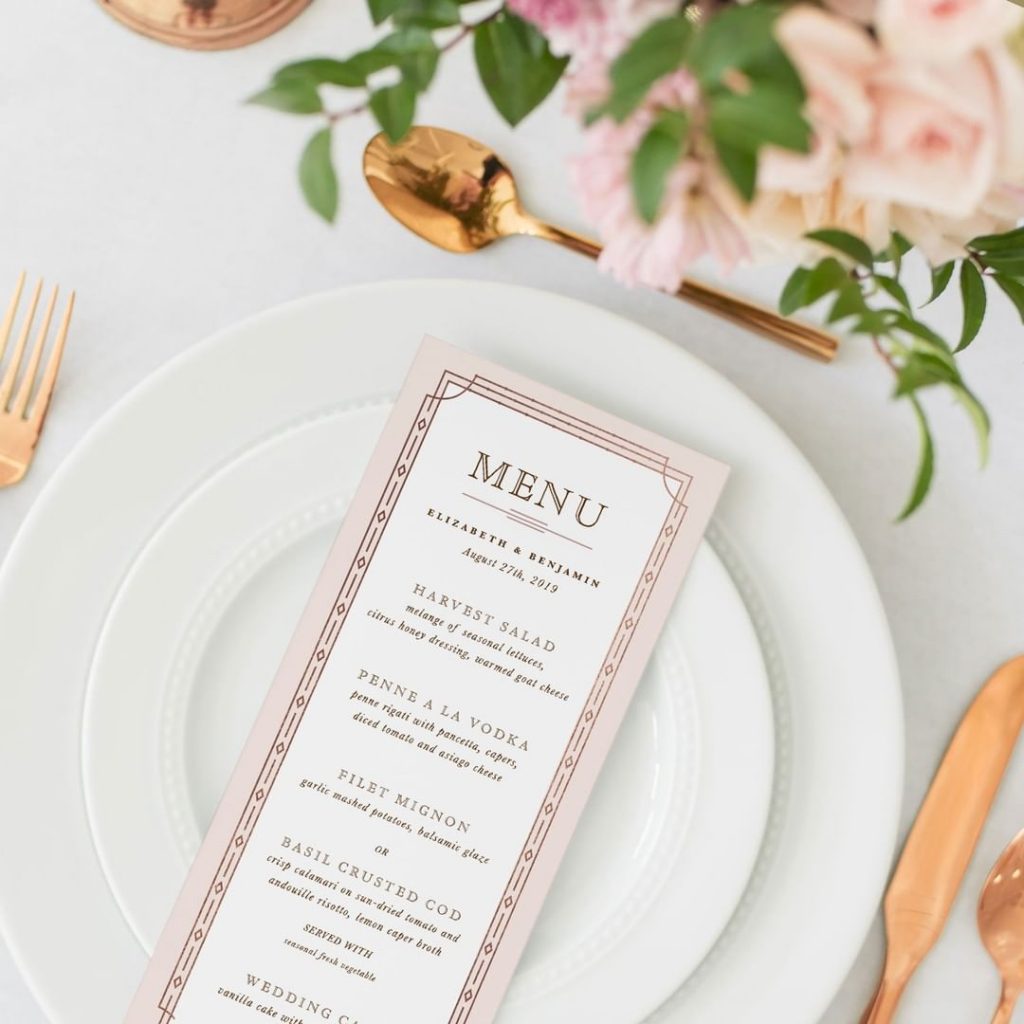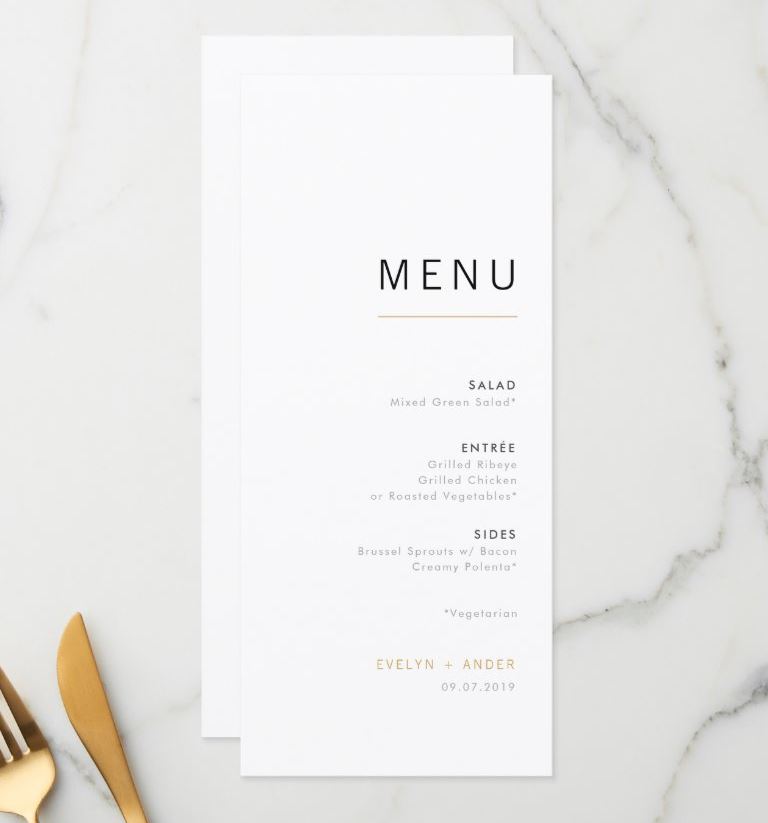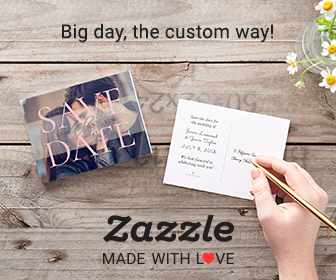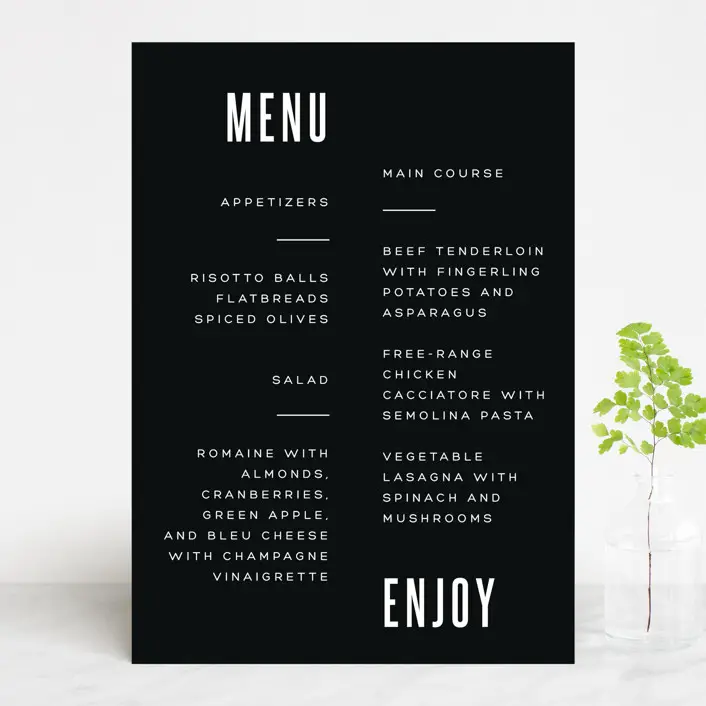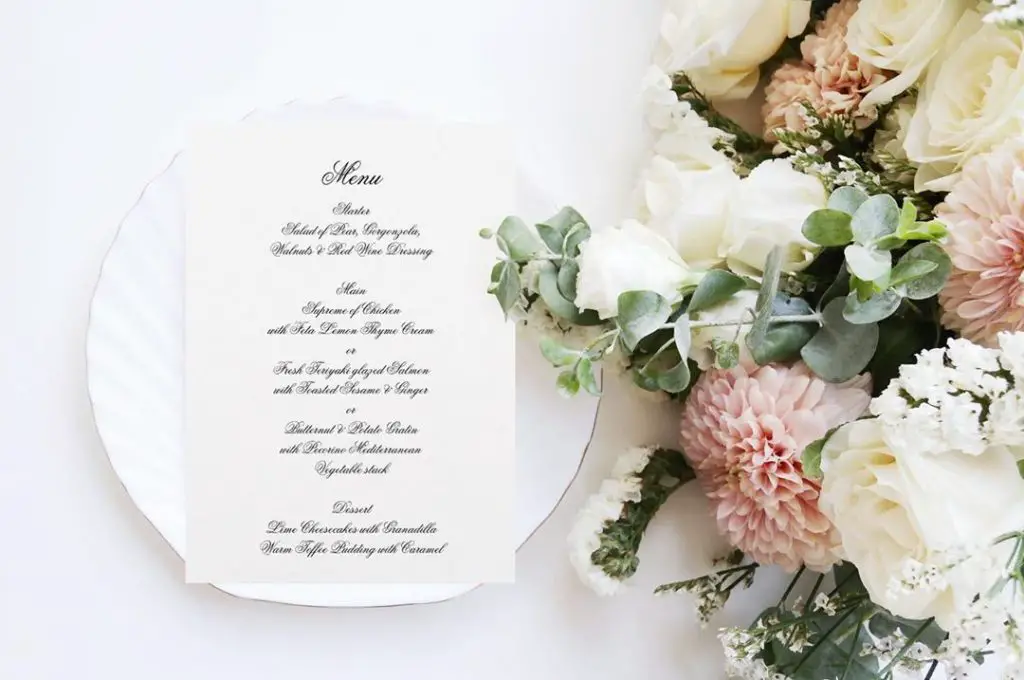 Rustic Wedding Menu Cards
Rustic it is! Especially for your Outdoor wedding Which occurs during the sunny summer season we encourage you to use colors that match this gorgeous rustic themed wedding in the menu cards.
The rustic color palette Communicate with the outdoor wedding location such as a barn or a farm. Combine these natural colors of romance –  Blush earthly brown and Champagne or Other wine shades. add some elegance and softness with dusty colors to match a kraft floral wreath or a gold foil leaves to make moor luxurious look.
* Having Rustic Themed Wedding? Check my post on Rustic Country Wedding Favors for Guests.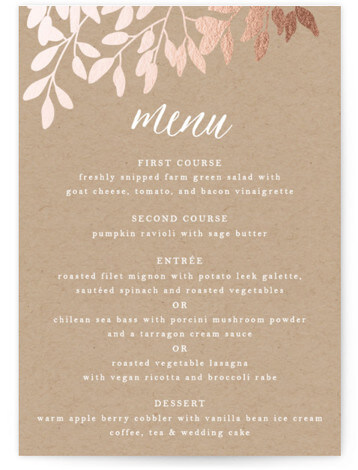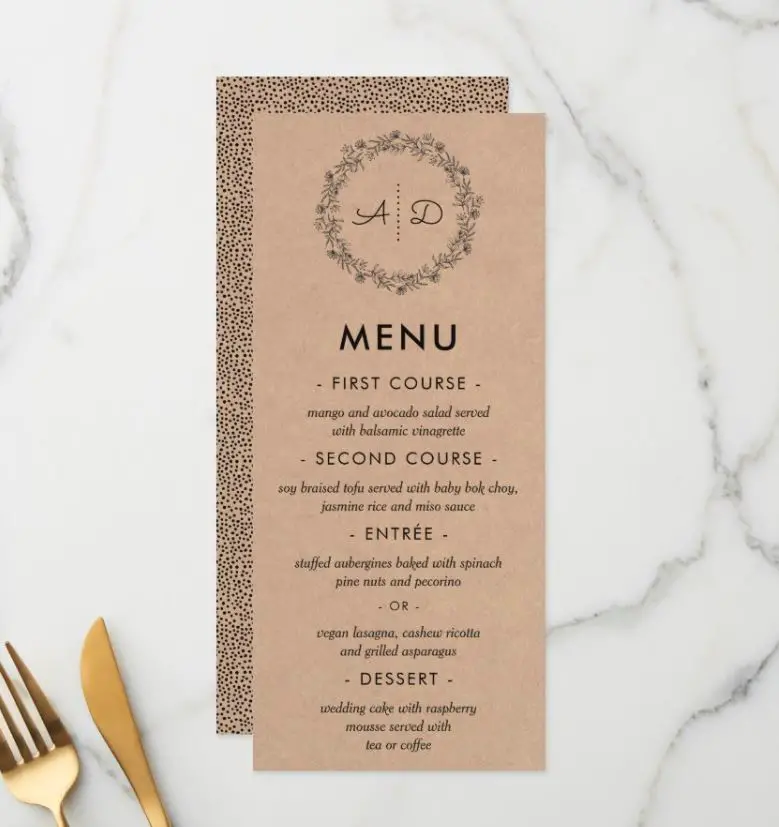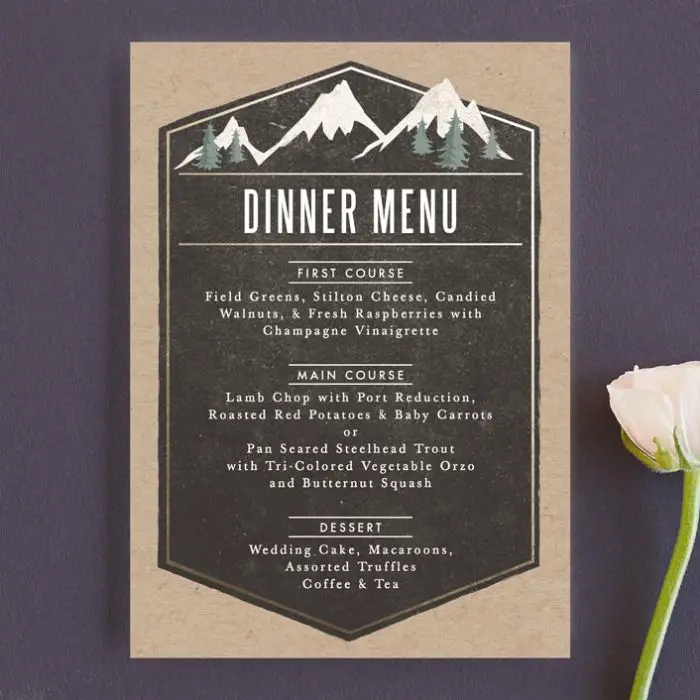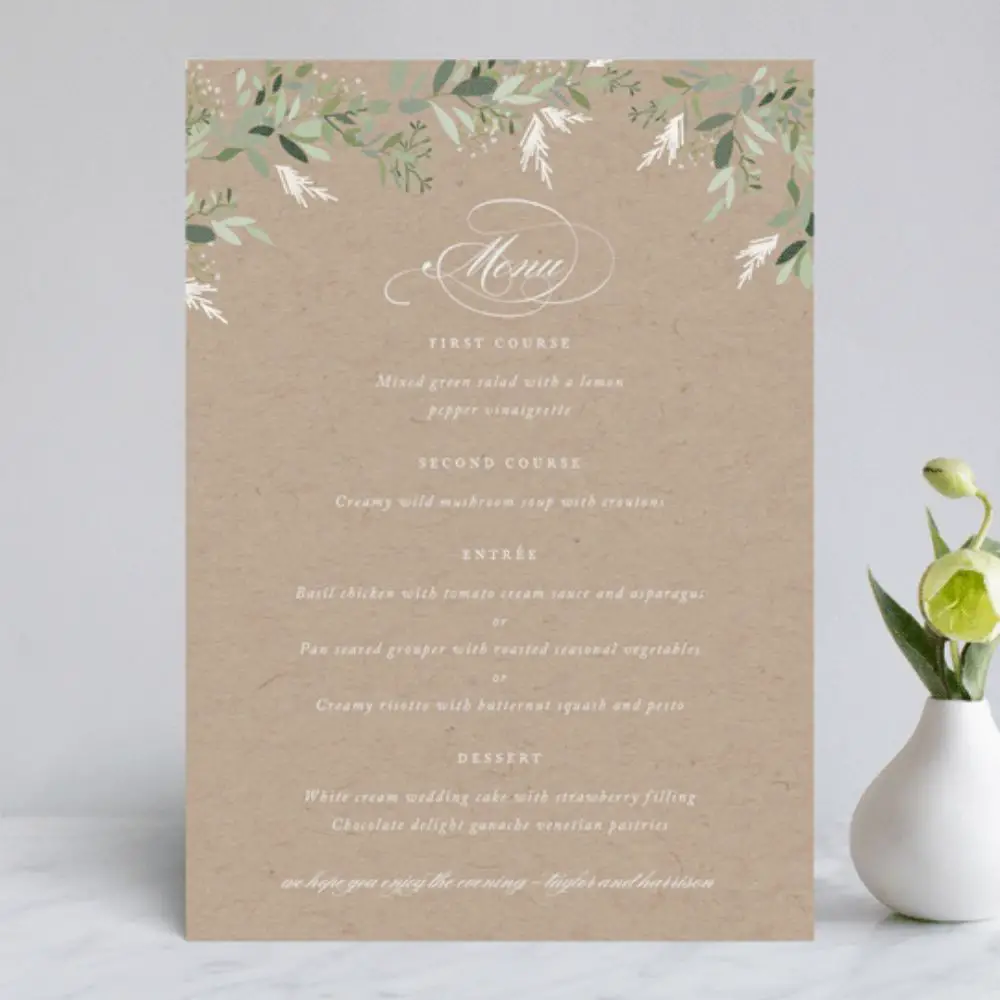 Greenery and Tropical Menu Cards
Greenery colors are a fresh modern Stylish alternative to the classic floral theme we use to see at weddings. In weddings dinner menu cards design, a greenery suit perfect for an elegant look and combined watercolor leafy embellish plants over a white background.
I personally go crazy over the tropical greenery. Tropical plants like Ferns, rubber fig trees, and areca palms fit perfectly with rusty gold, silver, or pitch and pup ups' the typography with elegant style.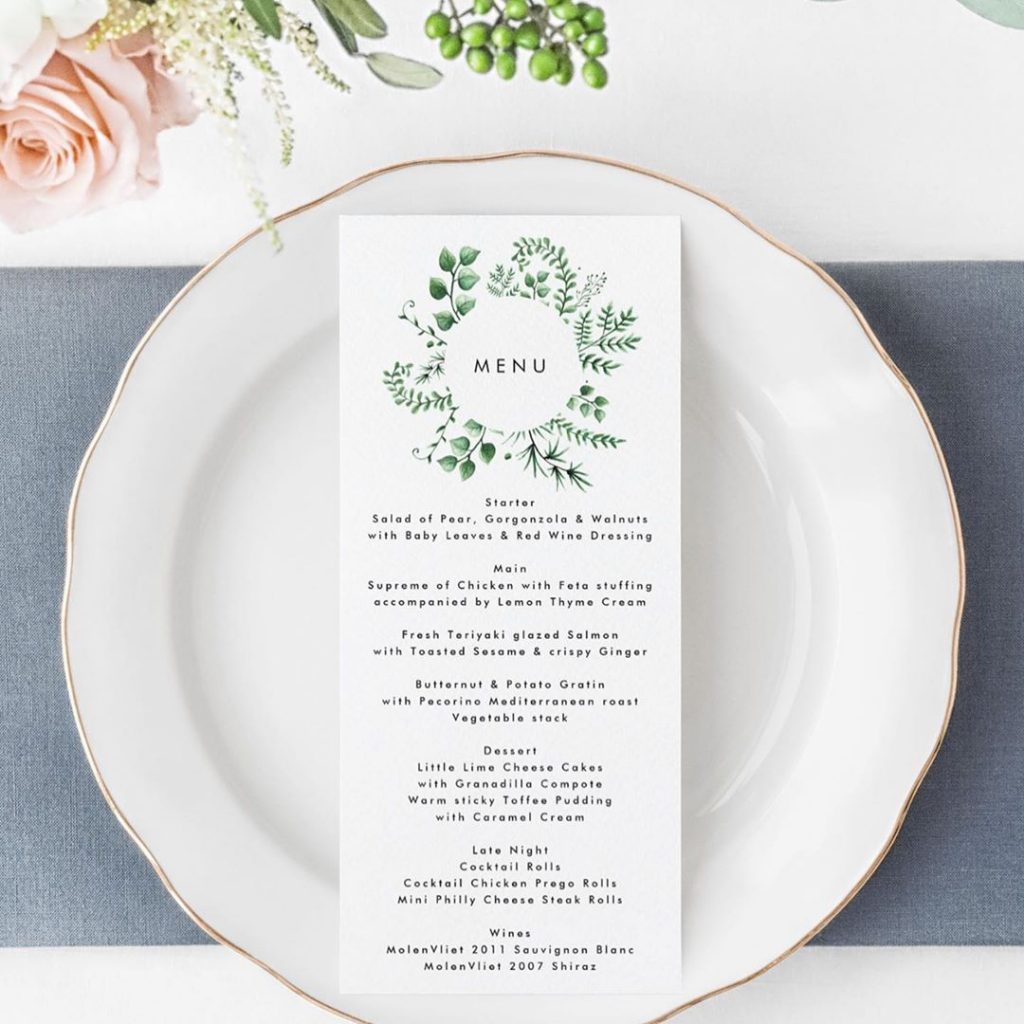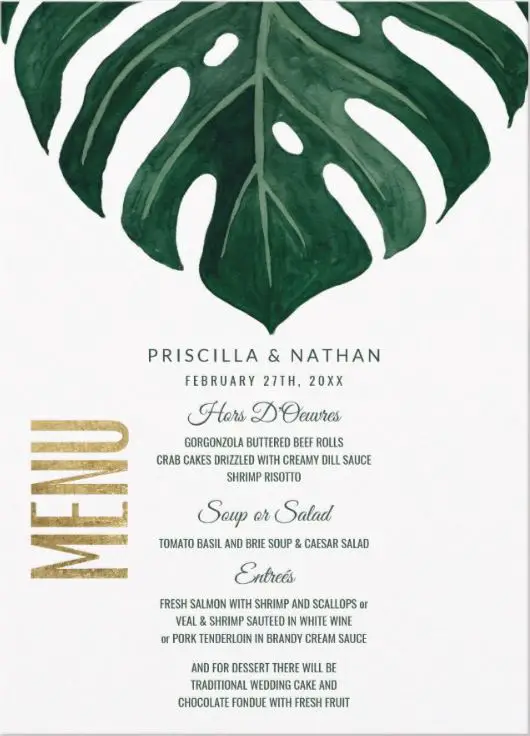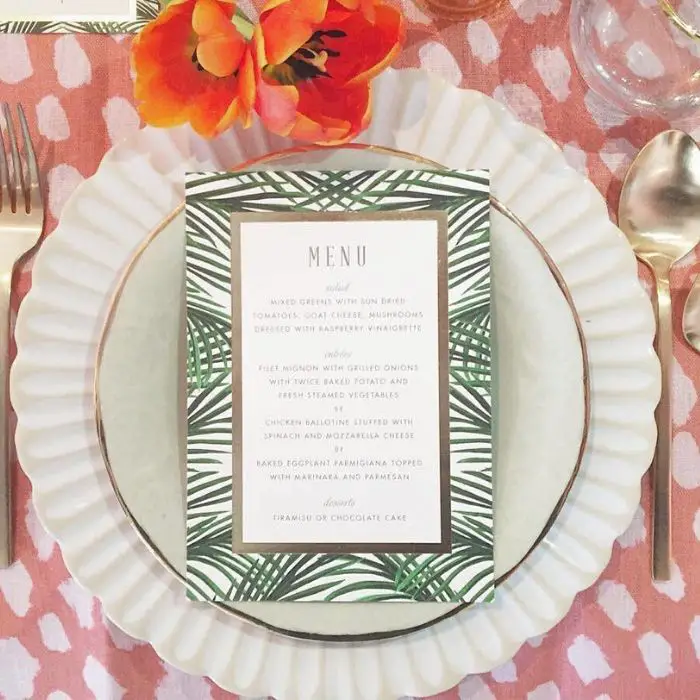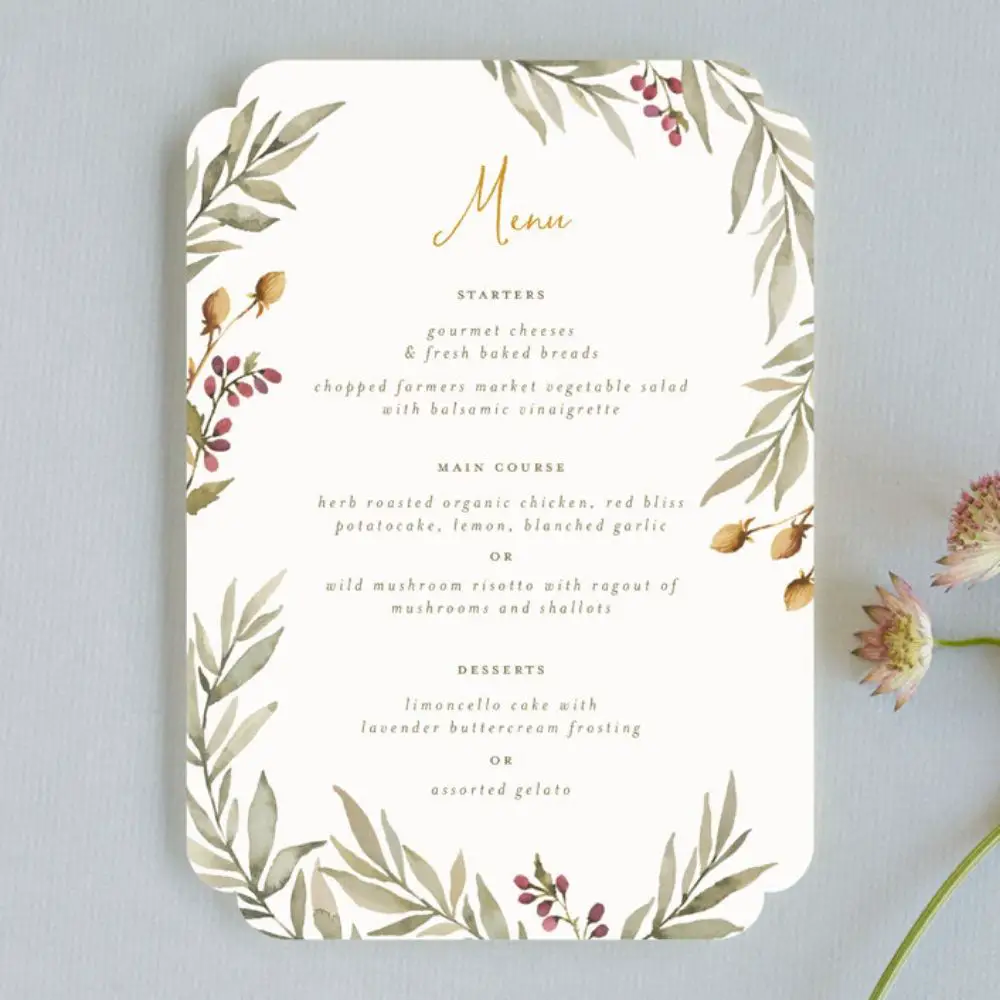 * Hey you Brides! keep in mind, this post contains affiliate links. If you purchase a product or service with the links that I provide I may receive a small commission. There is no additional charge to you! Thank you for supporting my blog so I can continue to provide you with helpful wedding stuff (:
You may also like:
For More Inspiration on Wedding Menus – Click Here
For More Inspiration on Elegant Wedding Invitations – Click Here
For More Inspiration on Minimalist, Simple Black White Wedding Invitation – Click Here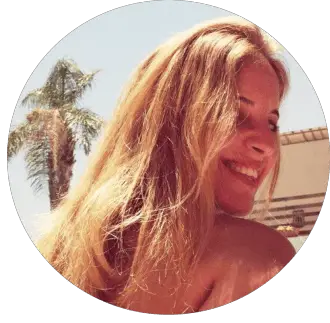 Kaden is an interior designer in her education who fell in love in designing weddings. Along with her husband, the wedding planner, Kaden specializes in creating content for weddings aim to fulfill brides dreams.