Last Updated on May 31, 2021 by Kaden
Have you chosen romantic blush pink wedding bridesmaid dresses or blush pink flowers for your wedding? Set the whole mood for your big day with pink wedding invitations!
Make the first impression for your big day with this romantic color that makes everything look beautiful and pleasant.
Romantic Blush Pink Wedding Invitations – Ideas and Inspirations
A blush pink wedding invitations are easy to coordinate with other colors or shades and make the wedding invitation more delicate and elegant, or more modern. Depending on the colors we combine it with, we can achieve the perfect look for a romantic, glam, boho, modern elegant, rustic, or vintage blush wedding invitation.
Check out this post on: How to Incorporate Pink in Spring Wedding for a Romantic Vibe
---
More Posts You'll Love:
I hope you like these products! Just so you know, i may receive commissions on purchases made from the links on this page. Thank you if you use our links, i really appreciate it!
Get inspired by these pretty ideas for Romantic blush wedding invitations.
Floral and Watercolor and Blush Pink
Blush Pink and Gold Wedding Invitations

Blush Pink, Greenery Wedding Invitations
Simple and Elegant Blush Pink Wedding Invitations
Beautiful One of a Kind Minimal Pink Blush Delicate Fine Art Floral Wedding Invitation
Blue and Navy Blush Pink Wedding Invitations
Beautiful, Modern and Elegant Watercolor Botanical Floral Wedding Invitation
Burgundy Blush Pink Wedding Invitations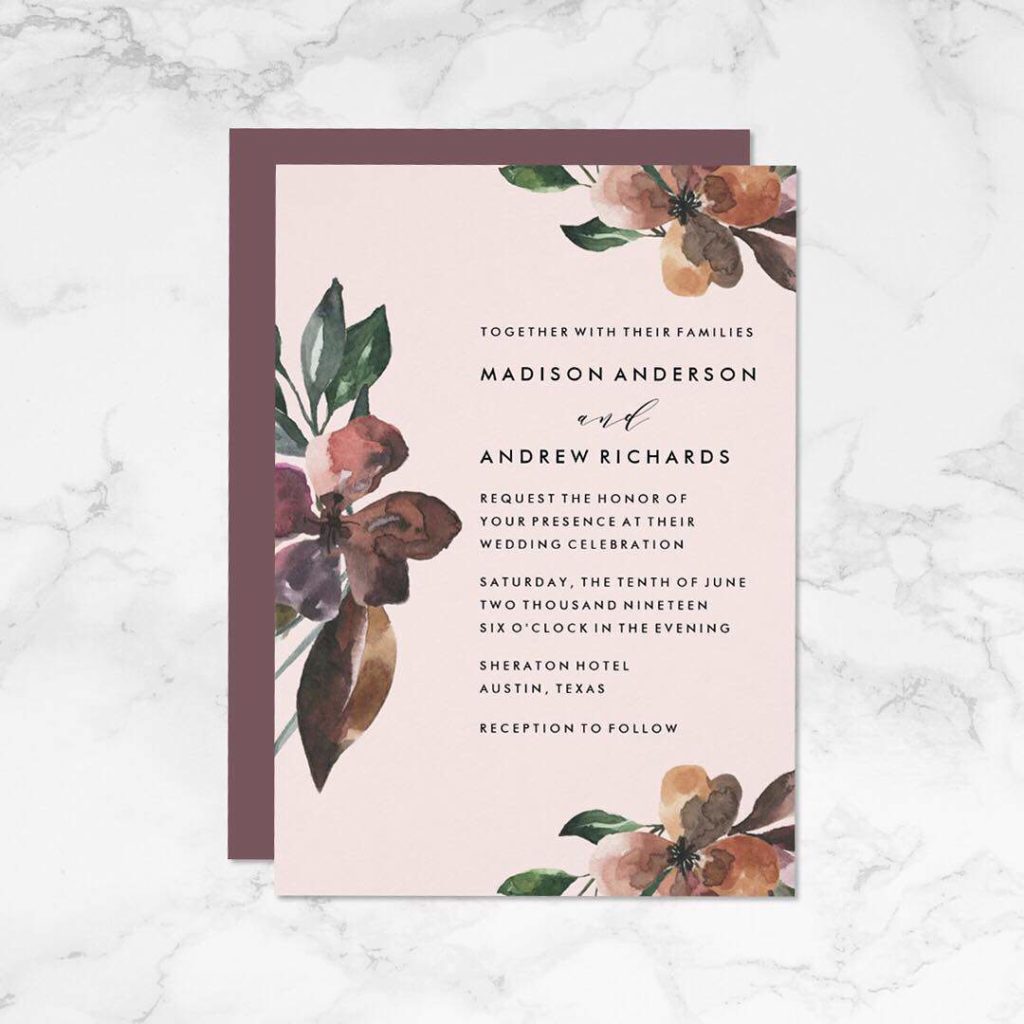 For more inspiration on Romantic Blush Pink Wedding – Click Here
For more inspiration on Wedding Invitations – Click Here
* Hey you Brides! keep in mind, this post contains affiliate links. If you purchase a product or service with the links that I provide I may receive a small commission. There is no additional charge to you! Thank you for supporting my blog so I can continue to provide you with helpful wedding stuff (: