Last Updated on June 14, 2021 by Kaden
I personally in love with the Wedding Guest book alternatives. It's such a fun and romantic way to cherish the greetings and personal dedication of our wedding guests. It is also Heartwarming souvenir from your special day.
So, how do you create a wonderful guest book? that no guest will give up taking part in, one that will be longing for even after years of marriage, and bring back wonderful memories from your wedding day.
From Traditional to Creative Trends
Writing greetings in a guest book is a common practice at weddings. The guestbook provides a welcome infrastructure for writing personal wishes and warm greetings to the bride and groom. Also, It is the record of the wedding day and includes the details of the event such as the wedding venue, date, names of invitees and more.
Invitees will register their greetings mainly at reception times. Therefore, it is advisable to place someone next to the book in order to provide the best response to the visitors who come and are interested in the book, especially to guests who have not previously encountered this type of activity.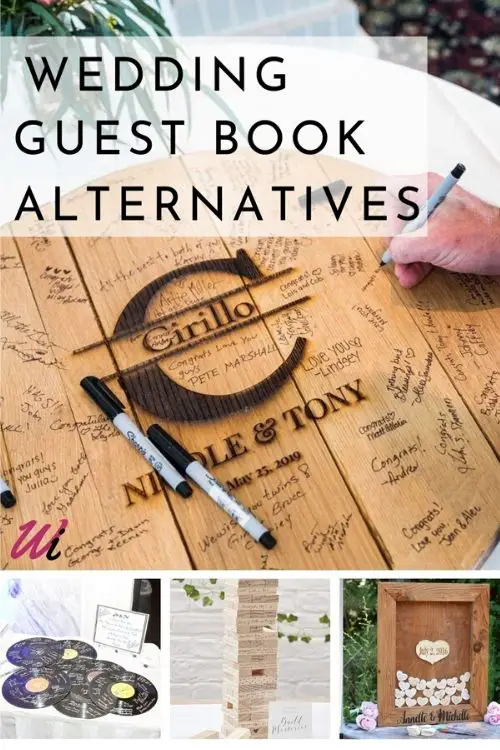 I hope you like these products! Just so you know, i may receive commissions on purchases made from the links on this page. Thank you if you use our links, i really appreciate it!
You might also like:
Where is the Guest Book Placed at the Wedding?
Hereby, like many things at a wedding, and in life, location is everything.
I always place the guest book in a particularly see-accessible and accessible area. Of course, it depends on the type of place you are getting married in and the surface you have to work with.
My advice is to place the wedding guest book alternatives in the wedding reception area. Do everything to have this unique table or design stand unique to just that. This will help guests understand that there is an interesting happening.
If this is a theme wedding, design the stand or table accordingly and incorporate similar characteristics. In any case, it is advisable to use the same color palette.
Wedding Guest Book Alternatives – How to Choose a Guestbook? 
Before thinking about the exciting alternatives to wedding guests, I must emphasize the most important thing, you guys, the bride & groom.
Find an attractive guest book that guests were happy to take part in that can be successful with your creativity. Show your inner self!
There are many ideas for wedding guest books that are not really books. A large portion of guest books can serve not only as a souvenir for the couple but also as a home decor item. For example, a puzzle created by guests that combine greetings or tips for your marriage, a jar filled with pebbles with loving greetings, or even a souvenir that combines a traditional guestbook with photos taken in real-time using a Polaroid camera – to boost the nonsense.
10 Wedding Guest book Alternatives Ideas Your Guests will Love
Wedding Selfies Polaroid Guest Book
This fun idea is so cute and joyful. Beyond the day-to-day activities, we all love to do – taking selfies this retro Poloride camera photo encourages your guests to go in a nonsense mood as a cool and fun activity.
You can set this wedding Polaroid photo station in many ways, few ideas are to place the pictures in a bowl, for later on to hang in your living room, or to place a Scrapbook Photo Album so your guests can write next to their picture.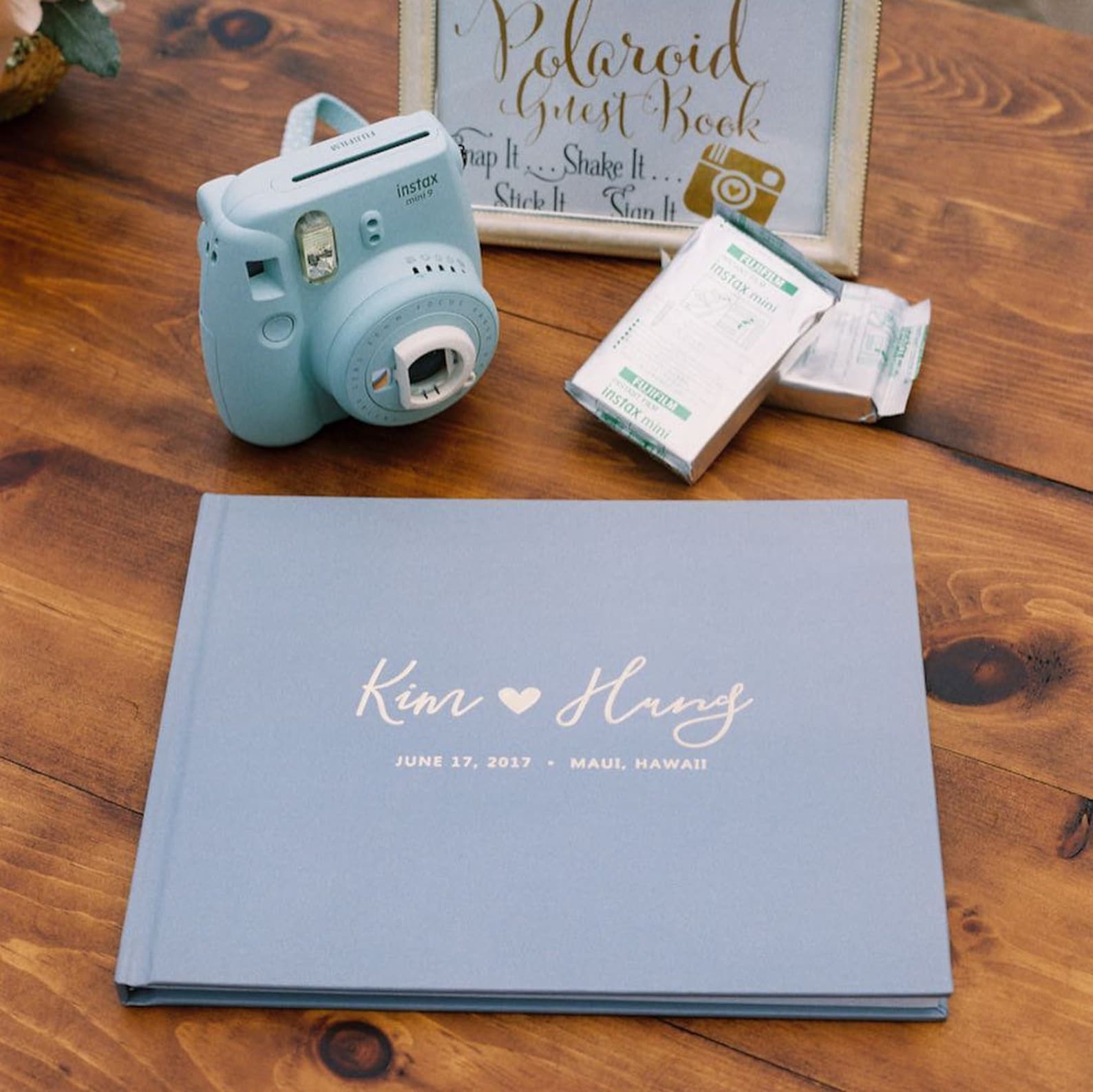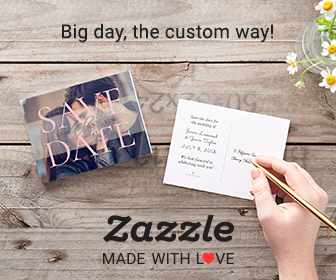 Please Sign Our Bench
This is one of the most unique guest books I have ever seen. It reminds me of the time when I was a teenage girl, first love, we carved a heart with acronyms of our name on a high school bench. Let your guests write dedications that will forever remind you of your love.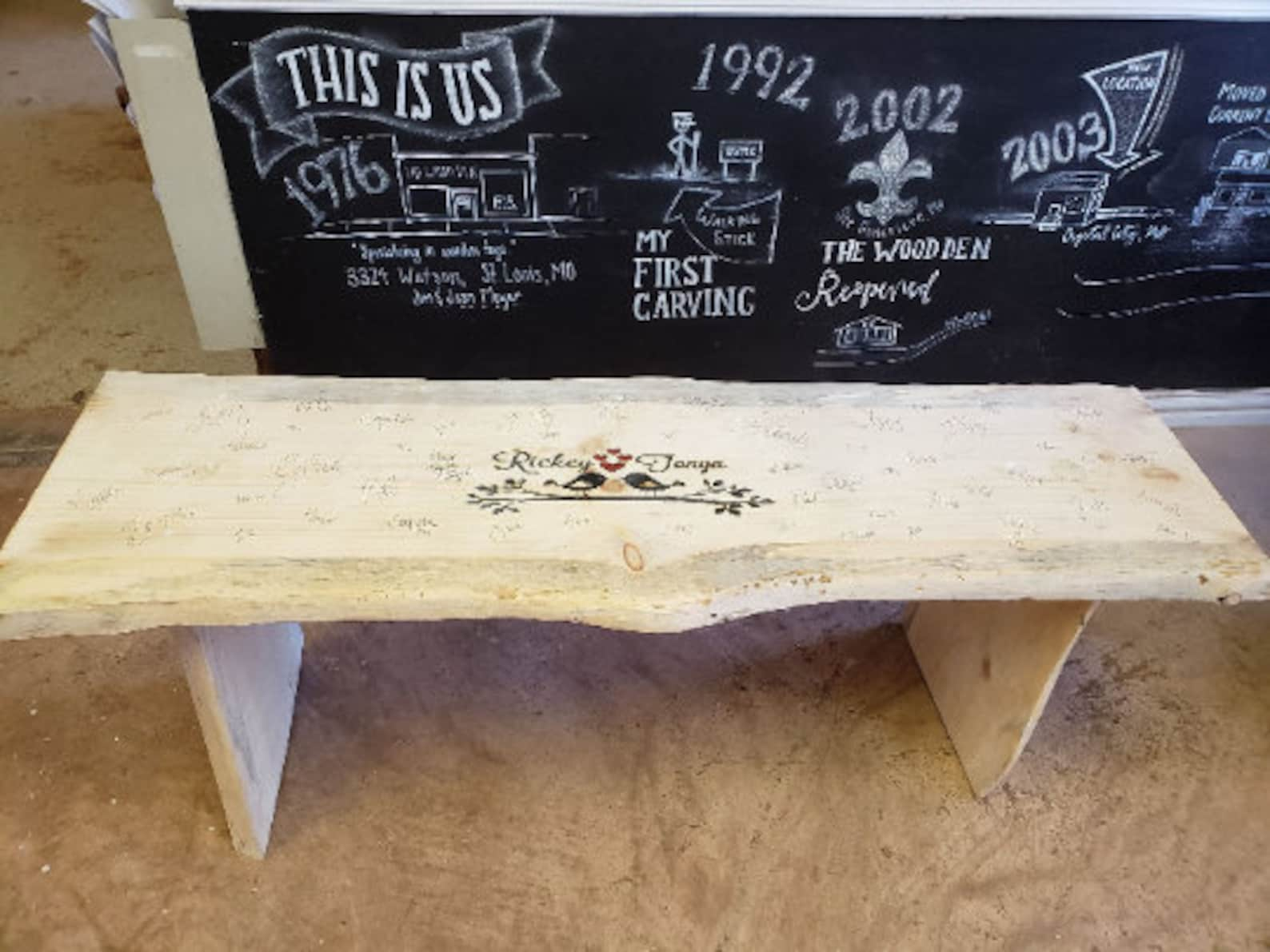 Guitar Guest Book for Musical Couples
For the musical couples among you, this beautiful guitar is a simple and useful decorative idea.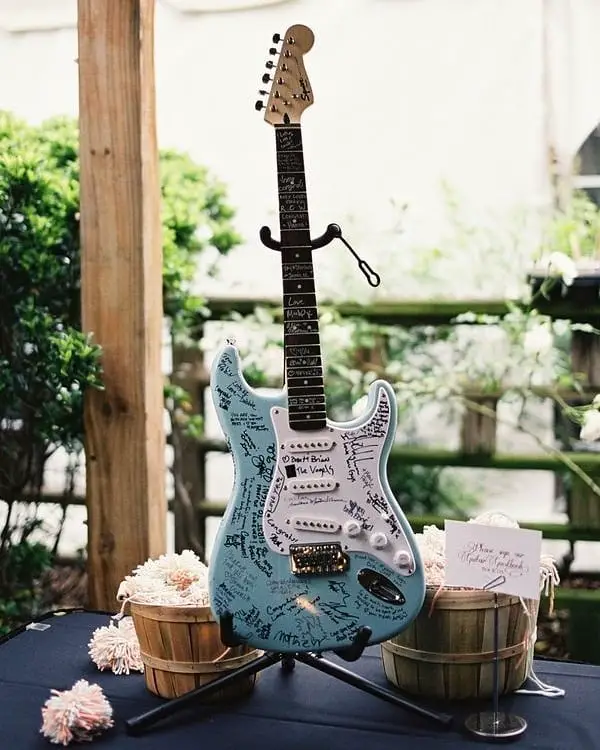 irishbridaldiary via Instagram

Quilt Guest Book Idea
A quilt is a cozy way to remember your wedding. You can snuggle with it or frame and hang as a decorative item.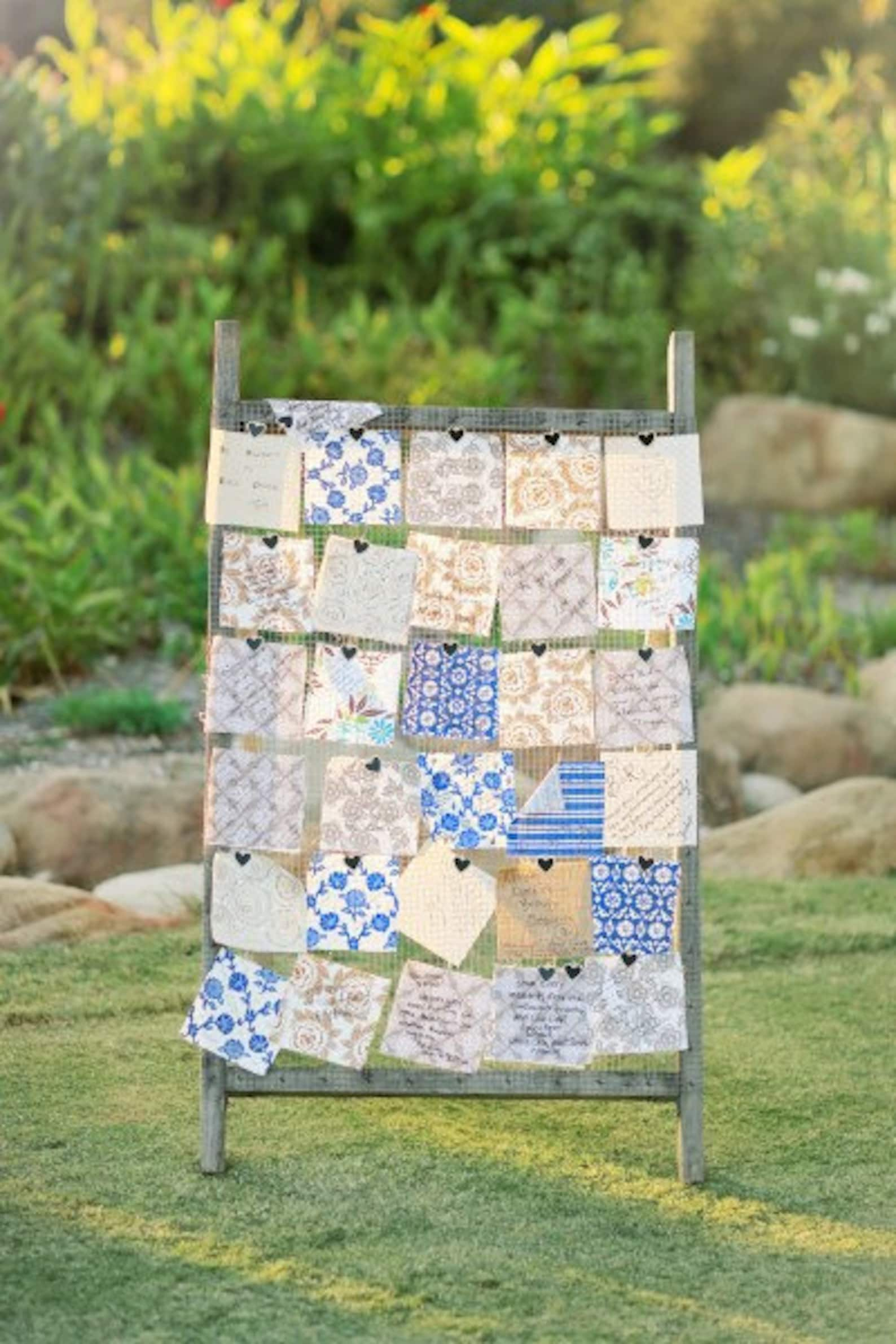 Wine Bottles Guest Book
Drink it on your anniversary! Or at your silver wedding, can you resist the temptation? you can also use decorative black Wine Bottles from amazom, and use them as Vases to decorate your house.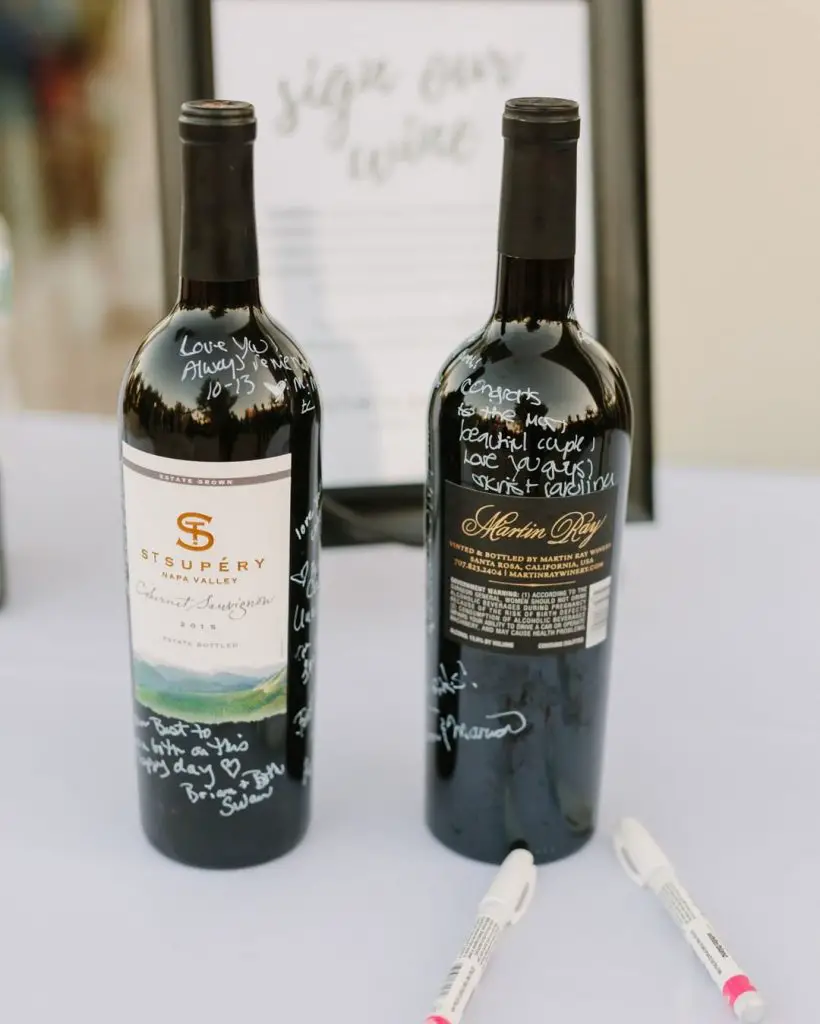 59andbluebellevents via Instagram

Vintage Records Guest Book
This vintage guest book idea for the music lovers couple. A wonderful way to show everyone who you really are and share them with your love for the joy of life in music.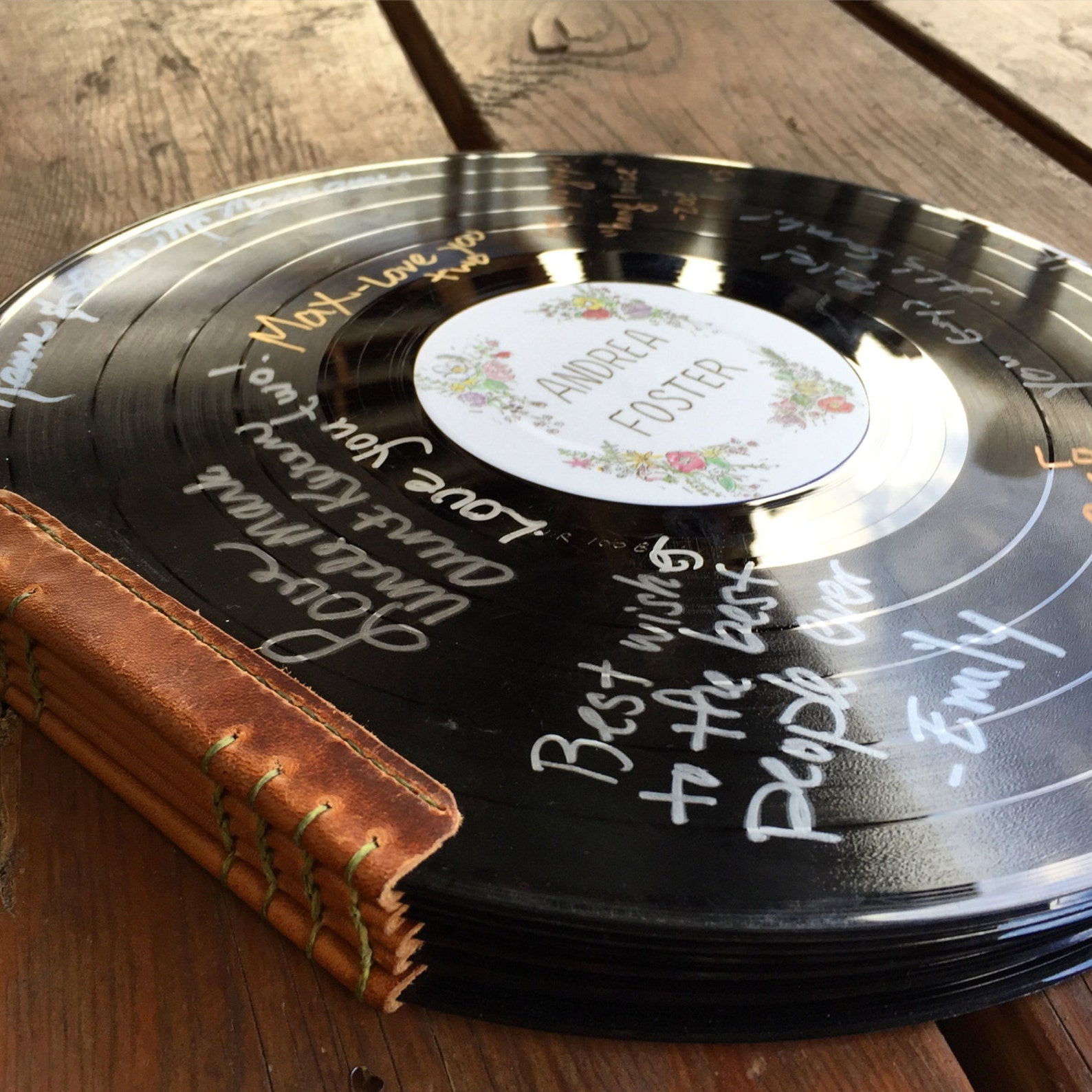 Wine Corks Guest Book Alternatives
Have guests sign on these wine corks. You can frame your engagement photo in a shadow box with this sign wooden hearts, or fill a large clear glass jar with your guest's wishes.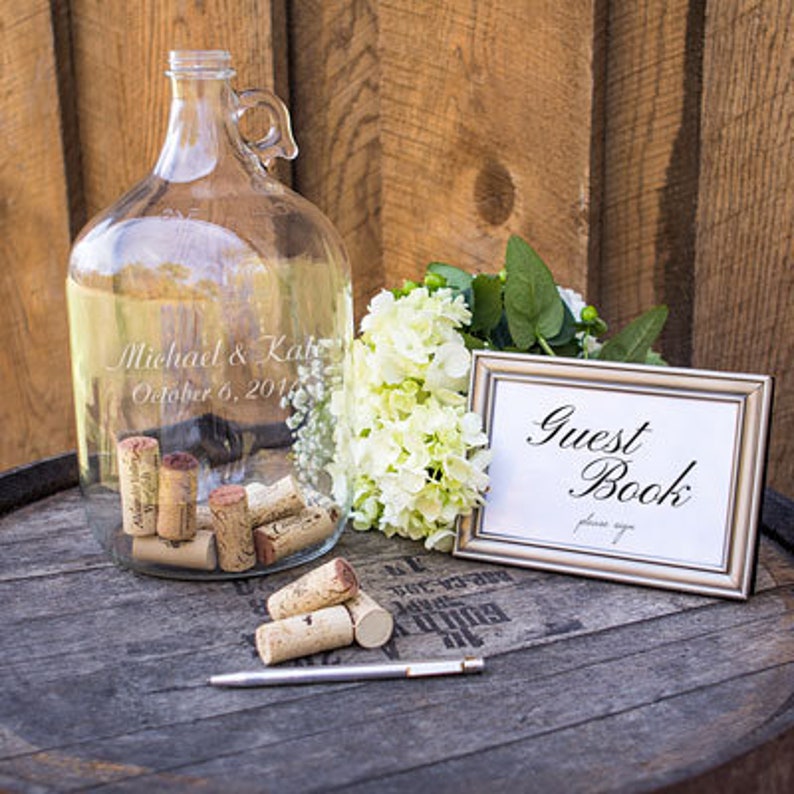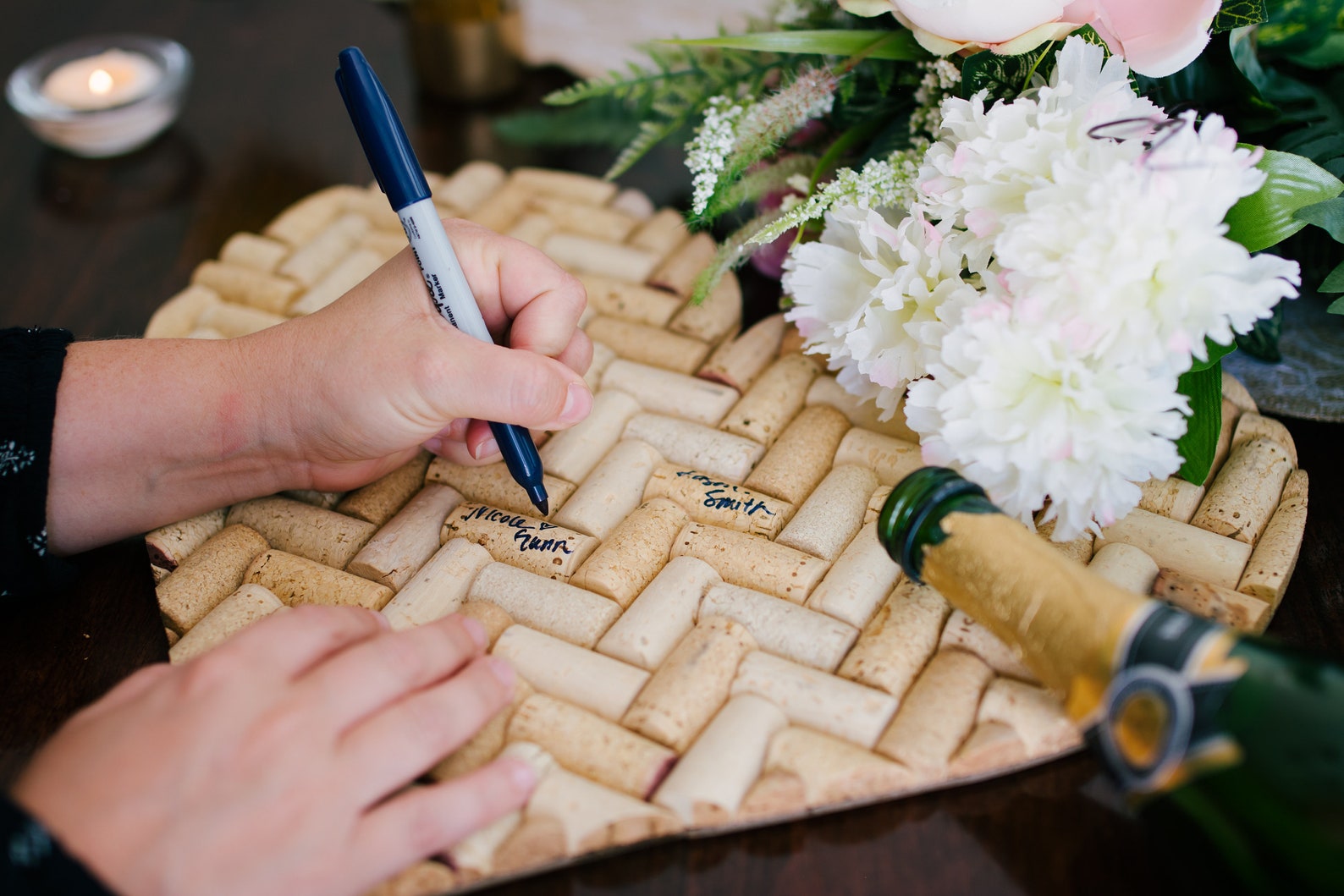 Wedding Rustic Guest Book Sign
A perfect rustic-themed wedding guest book sign. This Personalized wedding guest book alternative made from barrel Head Solid Wood.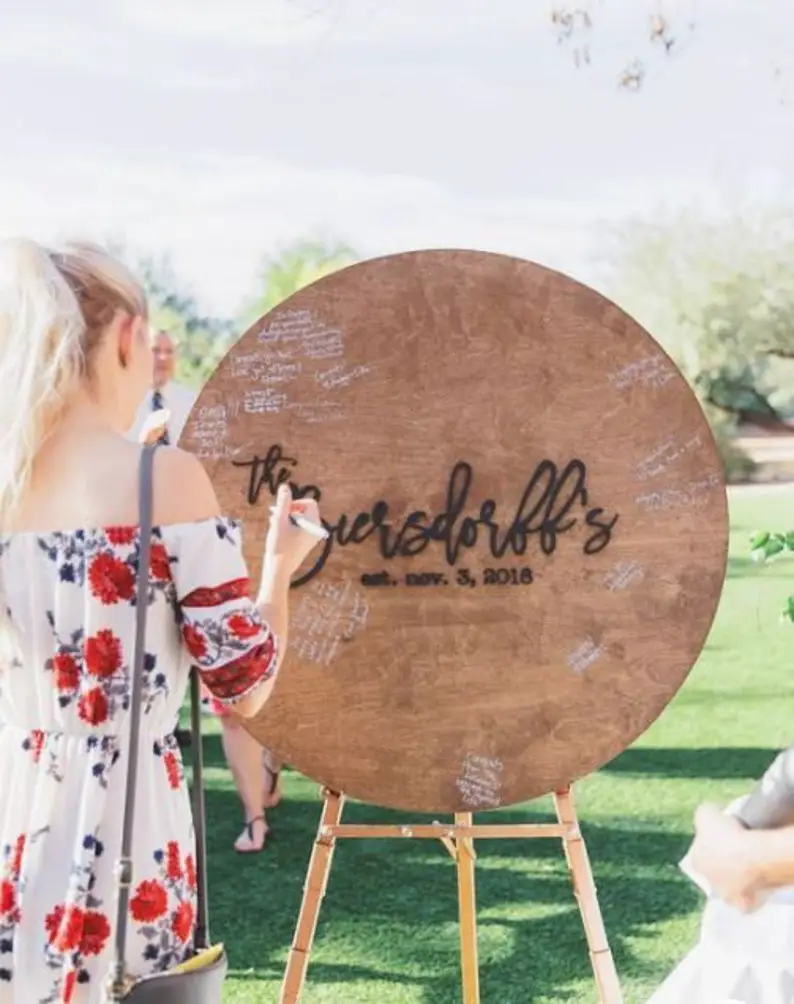 Another personalize alternative and a wonderful way to decorate your wedding and to attract guests to contribute their greetings. This wooden sign has the couple's last name and wedding date custom cut with a wide frame for guests to sign on.
Tumble Tower Guest Book Alternatives
It's one of the most elegant ways to remember and keep all the heartfelt greetings from Your Guests, You can play this tumbling tower with friends even years after the wedding.
On Amazon
Heart Drop Guest Book
This unique customized Heart Drop guest book features beautiful laser engraving with a slot on top, for guests to drop their wishes hearts into.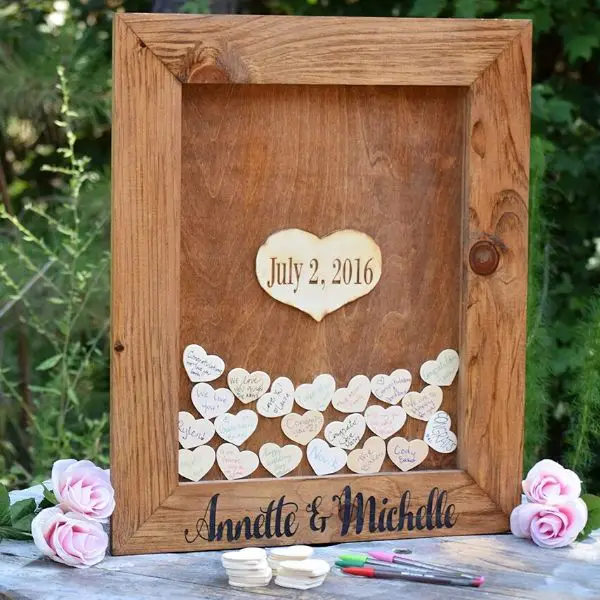 On Amazon

* Hey you Brides! keep in mind, this post contains affiliate links. If you purchase a product or service with the links that I provide I may receive a small commission. There is no additional charge to you! Thank you for supporting my blog so I can continue to provide you with helpful wedding stuff (:
You may also like:
For more Inspiration on Wedding Guest Books – Click Here
For more Inspiration on Wedding Decorations – Click Here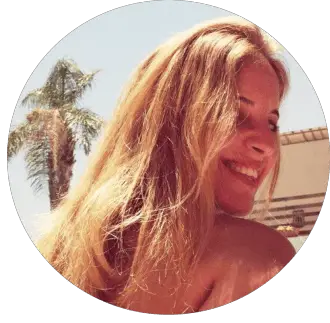 Kaden is an interior designer in her education who fell in love in designing weddings. Along with her husband, the wedding planner, Kaden specializes in creating content for weddings aim to fulfill brides dreams.