Last Updated on October 11, 2021 by Kaden
A wedding decorations design is one of the most exciting, important, and creative tasks in the wedding planning process. In fact, wedding decorations allow the guests to see your personality, as a couple.
It is important for guests to experience your wedding through your eyes and allows them to unite around your important and special day.
Wedding table decorations are one of the most challenging aspects of wedding design. And to make it easier and more fun, here are some tips which are key to designing wedding table decorations.
How to Decorate Tables for Your Wedding – Step by Step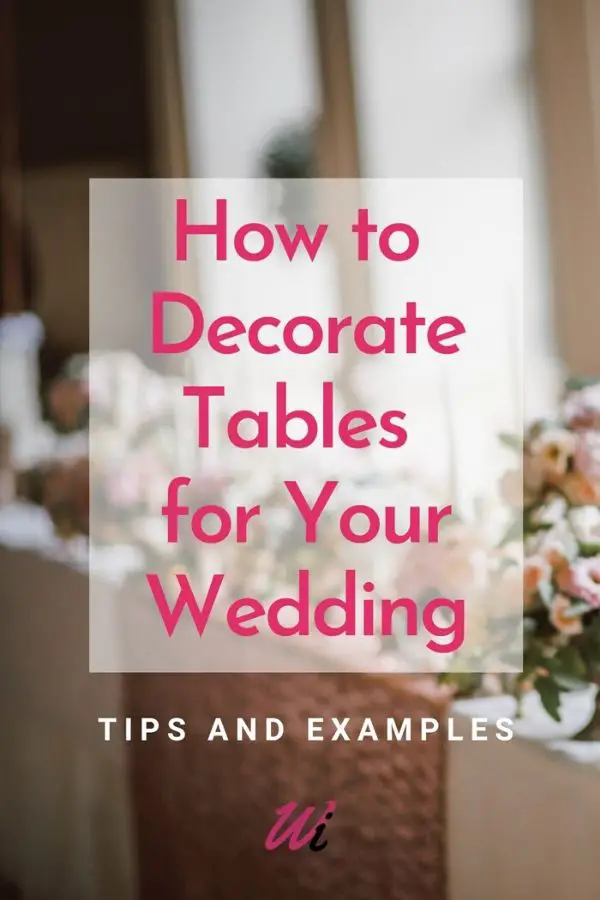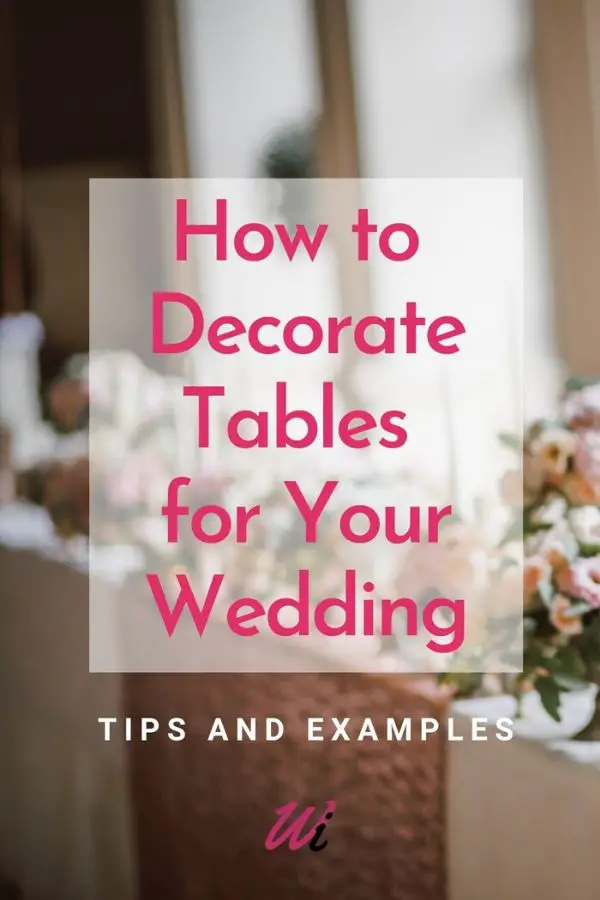 I hope you like these products! Just so you know, i may receive commissions on purchases made from the links on this page. Thank you if you use our links, i really appreciate it!
Choose Wedding Color Scheme
Colors are without a doubt the foundation of everything. Depending on the theme and your wedding colors scheme, decide which colors to incorporate in your guests' dining tables. It is advisable to use no more than 2 colors, maintain a relatively clean design style. 
Simple Rustic Wedding Table Decorations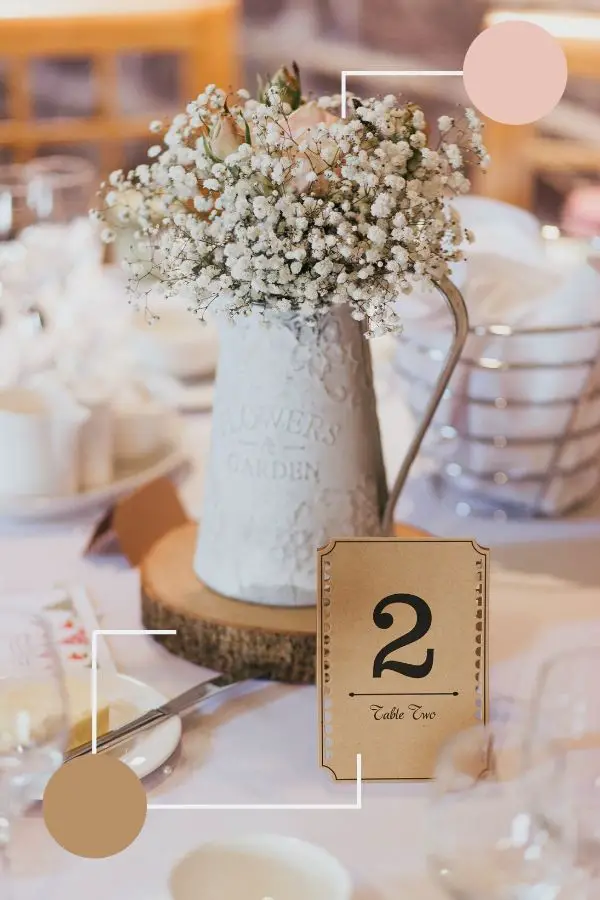 Photo by Wedding Photography on Unsplash
For example, these beautiful and simple rustic wedding table decorations. A chic white metal Jug, natural wood slabs, and vintage kraft table number are fine statements with only 2 colors for a clean design style.
You can also choose: black and gold, blush pink and green, lavender and lemon, the options are endless.
In addition, use 2 colors that blend in harmony together. If you are not sure you have an eye for these things, one of the ways to make a safe choice is to pick opposites colors using the color wheel method. Also, You might want to consider consulting with a professional designer.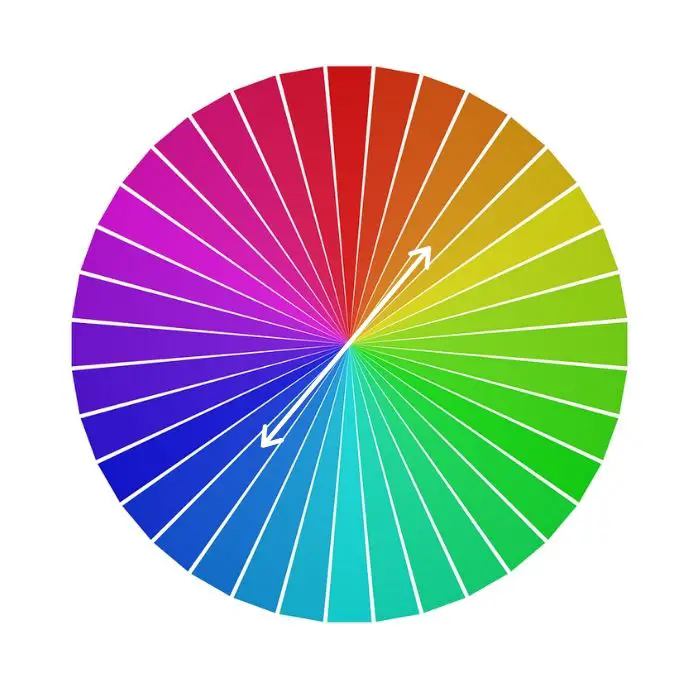 COLOR SCHEME IDEAS YOU MAY ALSO BE INTERESTED IN:
Wedding Table Centerpieces
The next step for design wedding tables is to decide which decorative items you want to combine with each table. Will there be flower vases and centerpieces and how they will be placed on the tables.
If this is an evening wedding, will there be candles, and in what form? Consider using a pillar candleholder, glass hanging tealight lantern, or use a wooden branch pillar candle holder as a centerpiece, there are endless possibilities.

Here are some examples of different ways to achieve spectacular results, with easily obtainable and inexpensive items you can DIY.
Vintage and Festive Outdoor Wedding Table Decoration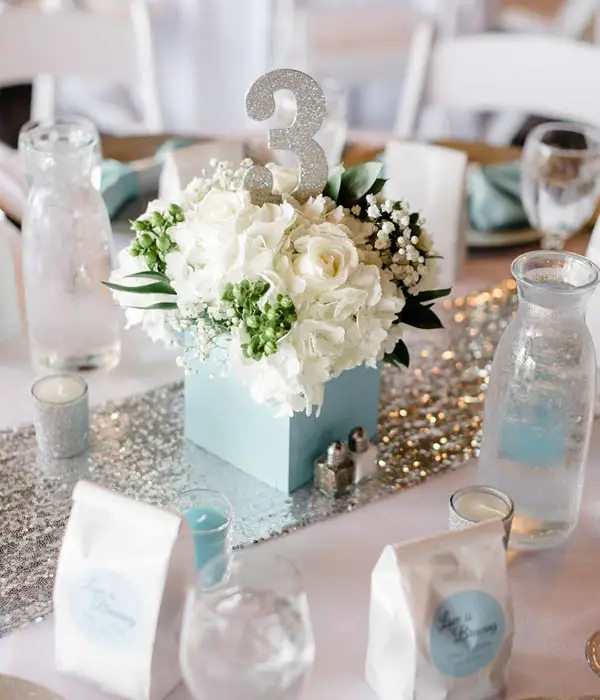 pieceofcake.planning via Instagram
Light blue and sparkle silver with a classic white flower arrangement.
Light Blue – The centerpiece is a simple wood planter box colored in light blue, light blue candles, and matching napkins.
Sparkle silver – Elegant sparkly silver sequin table runner, glitter votive candle holder and thicken wood with the glitter table number on top of the centerpieces.
Tip: you can lower your costs by DIY the glitter candle holder and table number by using Glitter Dust Powder.
Greek-Inspired Wedding Table Arrangement in Blue, White, and Yellow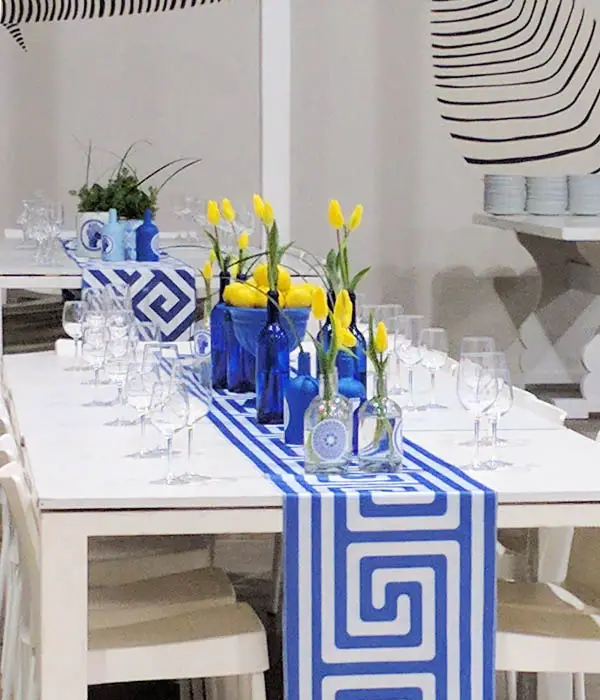 Greek theme wedding with cobalt blue centerpieces, lemons, and yellow tulips.
Blue and white table runner in Greek Key Single Row Border geometric design. Elegant Decorative clear Glass bottles with Classic Round greek pattern labeled Sticker, mix with cobalt blue glass bottles, and a ceramic blue Vase.
Tip: Simple and cheap DIY to get the ceramic blue vase look – just paint on this metal bowl compote vases And you will get wonderful results.

Greenery and Antique Gold Wedding Table Setting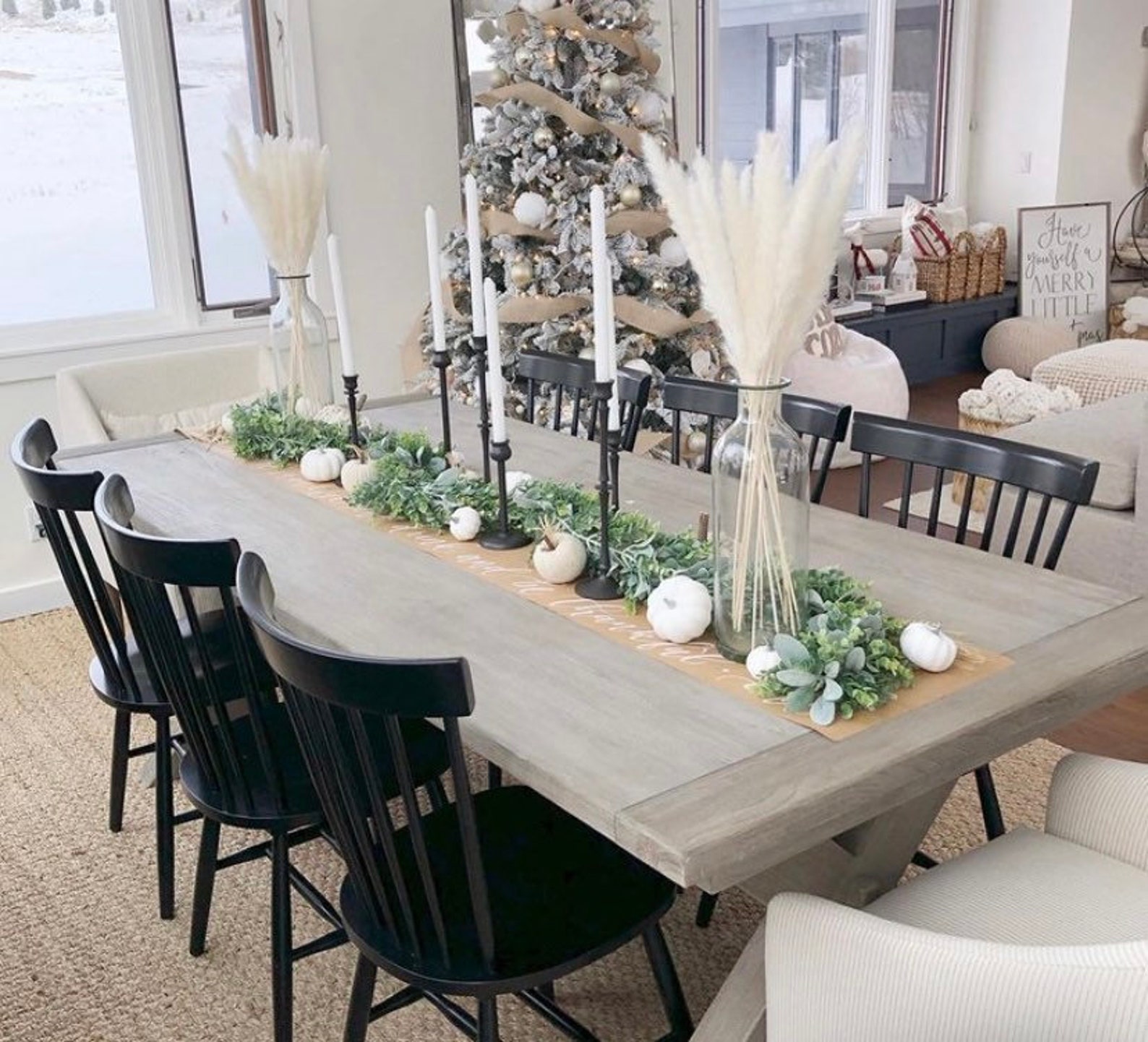 Greenery garland in a rustic look, combined eucalyptus and abundant leaves in The color spectrum of dark green, light green, and grey-green. The classic antique gold brushed metal candlesticks, carry long white candles that rise above the greenery centerpiece design.

Throughout the central greenery table arrangement, Scattered randomly, small clear glass filled candles mixed with rustic silver textured Candles, For a great complement to the wedding table design.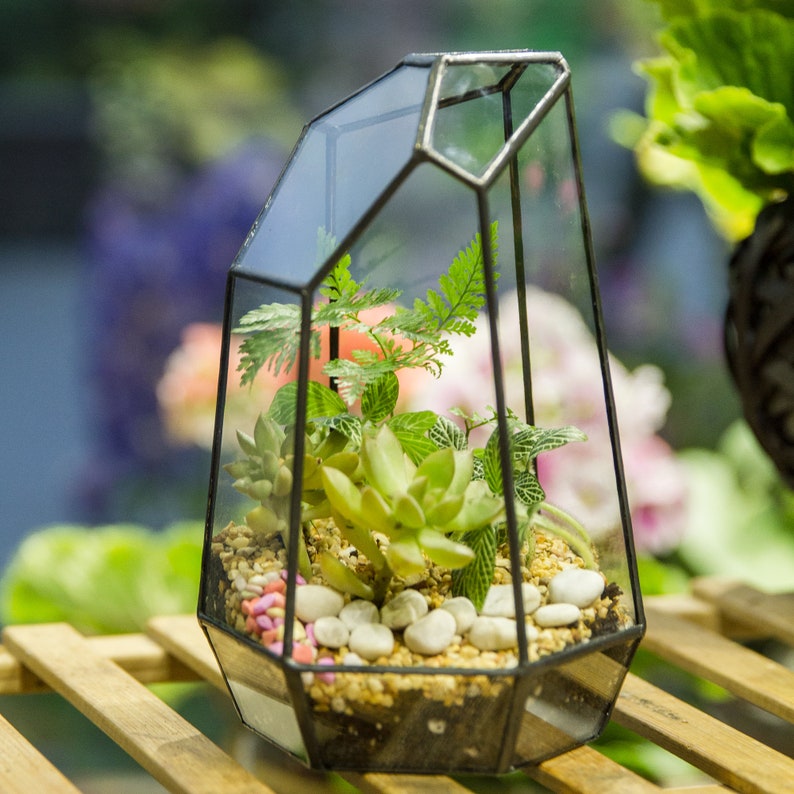 Another great inspiration for using greenery as a table decoration is the integration of Leafy Garland with Geometric Glass pot for succulents. I found these two options for you to combine – a 9.8″ glass terrarium, 4″ mini glass geometric terrarium. It upgrades the design and shows a modern look.
Tip: There is a number of plants with seasonal herbs that you can purchase at any gardening shop in your city. The price is very convenient and all you have to do is pack the pots in small jute bags. And the thing I love most about incorporating herbs in the table arrangements is that guests are always invited to take them with them as a wedding favor.
RELATED: DIY Backyard Wedding Decorations On a Budget
Wedding Table Lighting Ideas
Lighting is an integral part of wedding decor. It determines the mode and serves as a sign associated with changes in occurrences during the wedding. Moreover, the Lighting set up the mood.
Centerpiece as a Lightning Source
A wonderful idea for wedding table lighting is the use of the table centerpiece as a decorative item Incorporating lighting fixtures.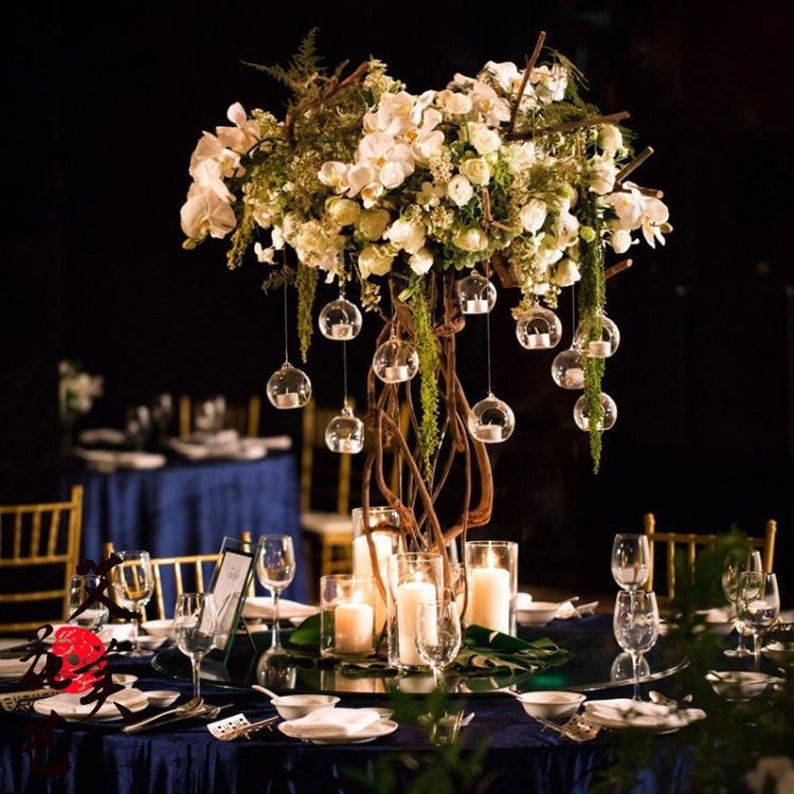 An example of such design is a centerpiece made of a tree trunk base and branches on which, randomly hung several small glass tealight Holders terrariums, each of them carries a tea light candle. Together they create a stunning look for a rustic wedding decoration.
This table decoration can be completed with jars or other small candle containers scattered around the base of the centerpiece.
Another example of using the centerpiece as a light source for the wedding table.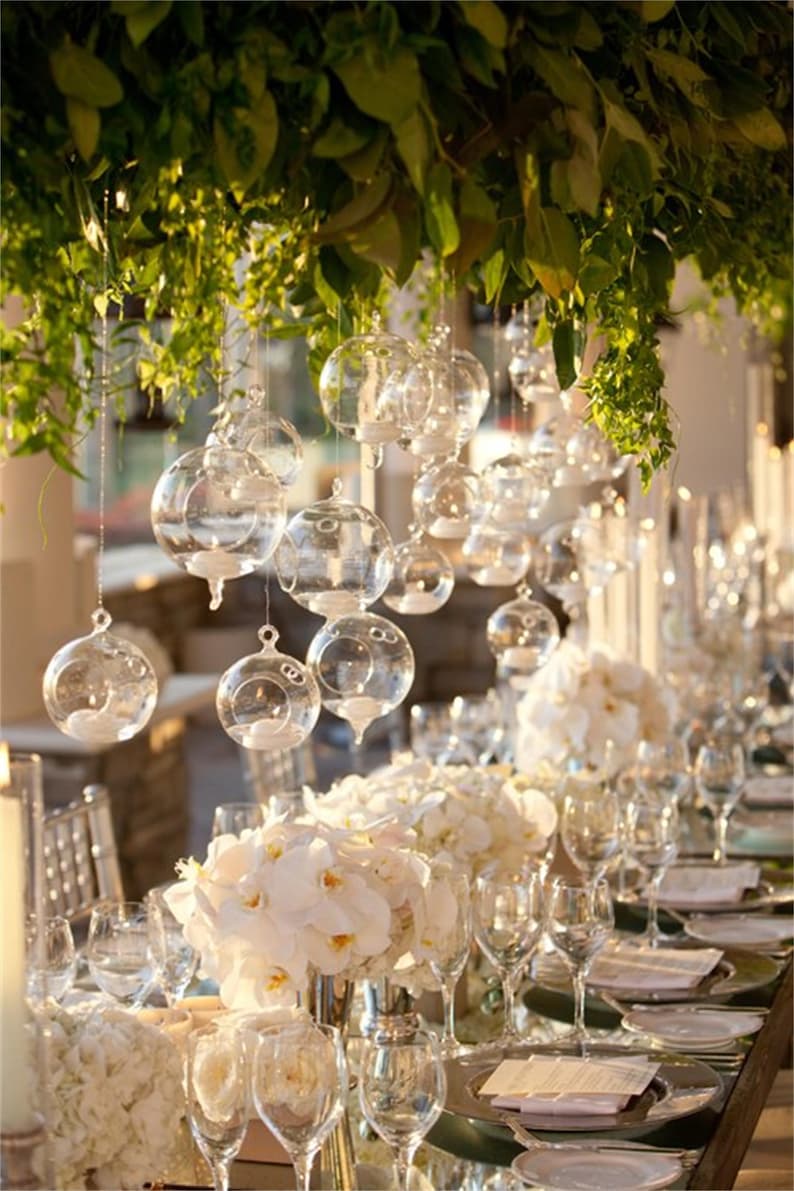 An equally amazing substitute for outdoor weddings is the replacement of candles with LED lighting (Amazon).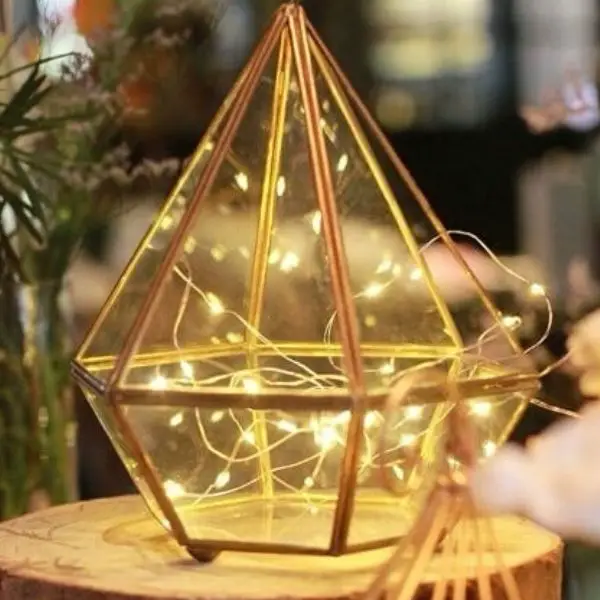 The wonderful idea of using mason jars as a means of lighting wedding tables is so simple and amazing. Who thought Stacking Fairy lights led rope into a jar could provide such a stunning decoration.
To create a more rustic design, you can use the same method with a metal lantern with vintage distressed details, and for an elegant look like in the picture – geometric glass terrarium.
Napkins for Wedding Table Settings
The napkins are scattered on the table setting as if by chance, and in general, they seem to be there for a single practical purpose. 
Although, they are a very important factor that is usually ignored by mistake. A lot can be achieved with designed table napkins, such as adding personal dedications to them. Another decorative way is adding wedding napkin rings, it can be designed or personalized, essentially matching your wedding theme and color palette.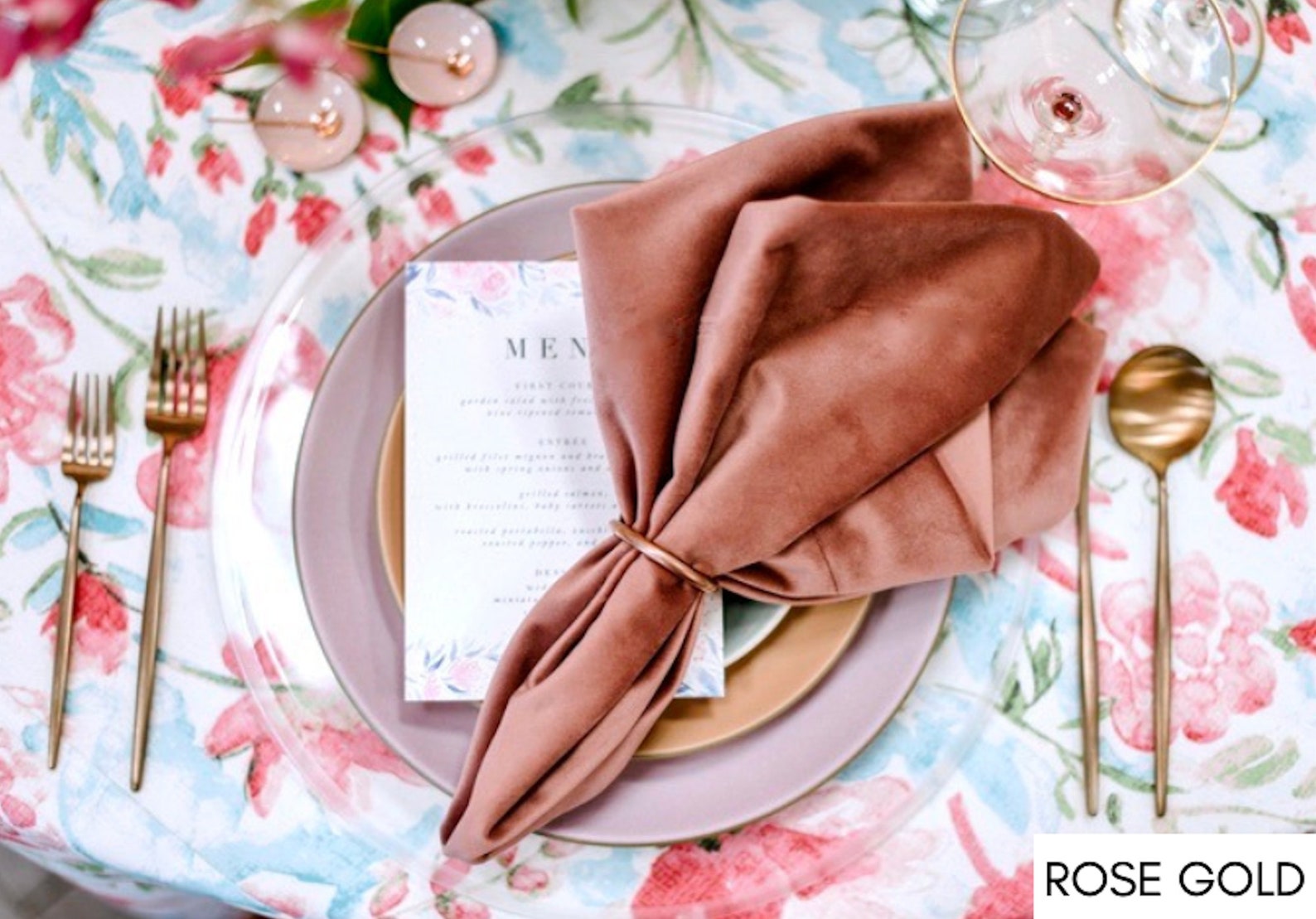 RELATED: Stunning Beach Wedding Table Setting
Trust Your Instincts
This is an important tip and should not be ignored. If you somehow feel that something is missing from your wedding table – you're probably missing something out. Try to add small details, such as petals, ribbons, and even pieces of jewelry, It might help you solve the problem.
Don't Overdo It
Whatever you do – It is important that you do it with elegance. Many couples make the mistake of exaggerating various elements on their wedding table, which may turn the table into a pseudo-table and, in other words, a joke. Express a degree of restraint. Your guests will appreciate it more than you think.
* Hey you Brides! keep in mind, this post contains affiliate links. If you purchase a product or service with the links that I provide I may receive a small commission. There is no additional charge to you! Thank you for supporting my blog so I can continue to provide you with helpful wedding stuff (:
You may also like:
For more Inspiration on Wedding Decorations – Click Here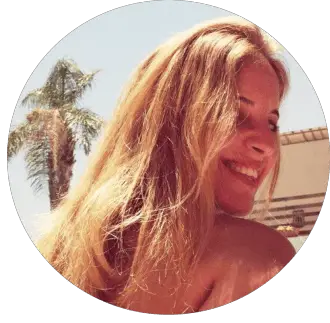 Kaden is an interior designer in her education who fell in love in designing weddings. Along with her husband, the wedding planner, Kaden specializes in creating content for weddings aim to fulfill brides dreams.