Last Updated on September 9, 2021 by Kaden
Many couples dream of a picturesque and romantic dream wedding. After all, few things are quite as magical as sandy beaches, salty air, and crashing waves. Whether you're looking for a chic white look, breezy bohemian style, or a wedding theme that fully captures everything there is to love about the sea, your décor is important for capturing the feel of your special day. And what better way to capture a memorable beach wedding than with a stunning table setting?
You might also like:
I hope you like these products! Just so you know, I may receive commissions on purchases made from the links on this page. Thank you if you use our links, I really appreciate it!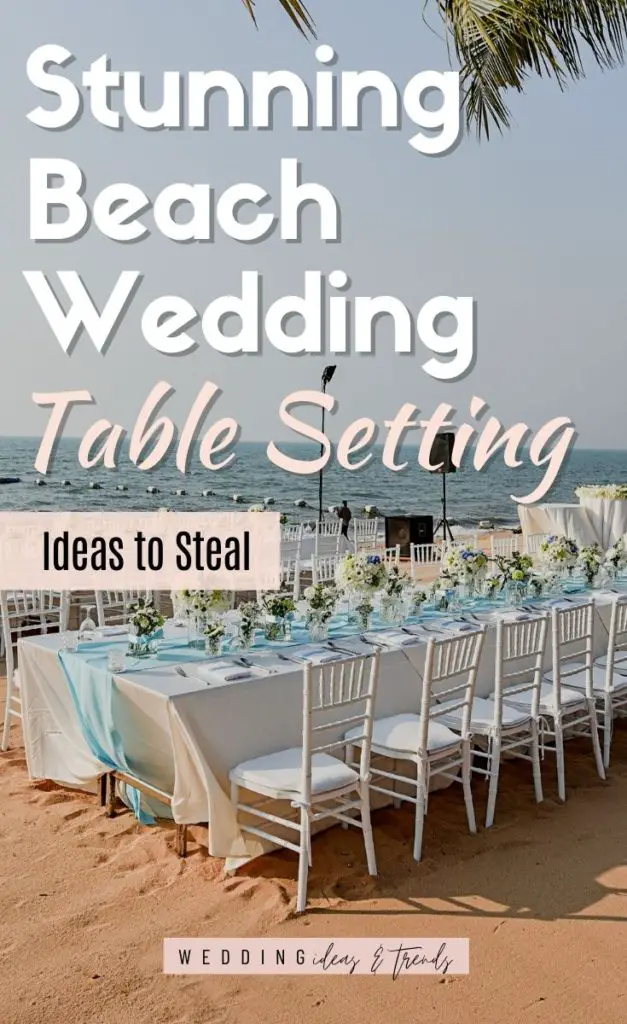 5 Stunning Beach Wedding Table Setting Ideas to Steal!
We'll be going over some table setting themes that will steal the show at your reception and maybe even inspire some of your other wedding details.
1} Tropical Paradise
For a wedding theme that captures that bright-colored island paradise feeling, a bold tropical table setting is the way to go. You can take this style down a more sophisticated and minimal route, or go all-out eclectic with contrasting colors and motifs. Mix and match colors and textures with vibrant flowers and plants to bring this fresh and fun style to life.
Color palette: Green, cyan, oranges, gold, coral, and tan.

Make this look:
1- Fresh tropical flowers (you can DIY this flower arrangement at fiftyflowers).
2- Tropical leaves.
3- Rattan placemats (check it on Etsy).
4 – Vintage beach wedding menu
---
Color palette: Green, light pink, oranges, gold, and white.

Make this look:
1- Monstera Leaves (check them on fiftyflowers or on Etsy).
2- Light pink napkins (on Amazon).
3- Pineapple.
4- Tropical pattern place card (check it on Minted)
2} Elegant White
Nothing says "chic" like a sophisticated white tablescape. This décor theme pops against the blue ocean and sandy beach and creates a look of pure elegance. The best part of this style is that you can add in any accent colors you'd like for a unique show-stopping look that your guests will love.
Color palette: White, cream, steel gold, and light blue-gray.

Make this look:
1- Gauze table runner (on Etsy)
2- Ceramic Plate with a touch of blue-gray color.
3- Steel gold silverware (on Amazon)
4- Oyster shell place cards (on Etsy)
3} Nautical Chic
Just like the tropical style, a nautical theme fully embraces that easygoing feel of the beach and ocean and offers many ways to get creative. Using elements and colors from the sea is a great way to tie everything together into the perfect seaside wedding vibe. This style is especially perfect for New England and lakeside weddings as well.
Color palette: Navy, cobalt, white, and gold.

Make this look:
1- Navy blue and white striped table runner (on Etsy)
2- Navy blue and white striped napkins (on Etsy)
3- Rope napkin rings (on Etsy)
4- Shell cookie favors (similar option on Etsy)
4} Seaside Bohemian
With bohemian wedding styles being so popular lately, going for a bohemian-themed beach wedding seems only natural. Thankfully, the easy-going and breezy boho style works incredibly well for a beachside wedding and makes for a stylish and cozy reception for guests. Combining warm, comforting colors with whimsical touches is the key to making the most of this rustic-style theme.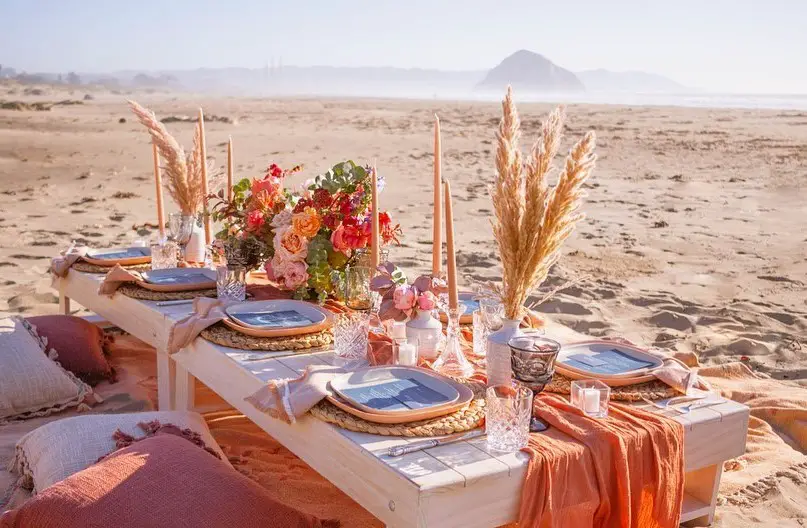 Color palette: Blush pink, ivory, taupe, rust orange, mauve, and wheat yellow.

Make this look:
1- Rust orange gauze table runner (on Etsy).
2- Rattan placemats (on Amazon).
3- Blush napkins with fringe.
4- Square ivory plates.
5- Simple blue-gray menu (on Zazzle)
6- Pampas Grass (on Etsy)
7- Orange Tall Candles (on Amazon)
---
Color palette: Pale pink, pale peach, ivory, cream, burnt orange, silver, and bone.

Make this look:
1- Pale peach gauze table runner (on Etsy).
2- Pale pink cotton Napkins (on Etsy).
3- Rattan placemats with shells (on Etsy).
4- Pampas grass mini bouquet (on Etsy).
5- Clear acrylic place cards (on Amazon).
6- Minimalist wedding menu (similar option on Minted)
5} Under the Sea
If you're after a theme with a more playful and eccentric style, why not go all-out with an "under the sea" table setting? This style uses playful touches and vibrant blues to create a look straight from an underwater paradise.
Color palette: Sea blue, ivory, pale peach, white, and bahaman sea blue.

Make this look:
1- Stationery from pretapapierdesign.com
2- Sea blue gauze napkins (on Etsy).
3- Aqua, deep blue, and white candles.
4- Pale peach and white flowers.
5- Sea Shell (on Etsy).
6- Coral
Just Remember, It's All in the Details
Once you've decided on a theme for your beach wedding reception and table settings, remember that a lot of the beauty of a well-decorated table is in the finer details. Incorporating some of the elements we talked about above will go a long way in creating a look that seems straight off the pages of a magazine.
For example:
Try wrapping your napkins or silverware with pieces of rope or twine for that rustic beachy feel.
A piece of coral or a cleaned-out oyster shell makes for a unique and beautiful place card holder.
Get creative with these small, special touches and you'll be on your way to making an unforgettable reception experience for you and your guests.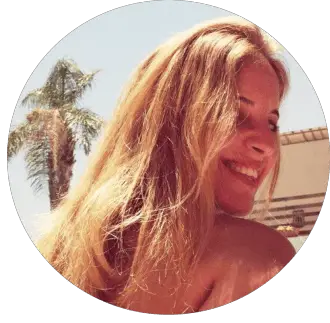 Kaden is an interior designer in her education who fell in love in designing weddings. Along with her husband, the wedding planner, Kaden specializes in creating content for weddings aim to fulfill brides dreams.