Last Updated on September 9, 2021 by Kaden
All of the sudden, you're engaged! Congratulations! Then, as every bride knows, the thing that hits you right after the excitement is the fact that you're going to have to plan this wedding. As fun as that can be, there are pieces that are stressful. One of the biggest stressors: money and wedding expenses. Therefore, If you're planning a wedding on a budget, you may be considering doing everything you can by yourself. However, before you start planning, you need to ask yourself: Is a DIY wedding actually cheaper?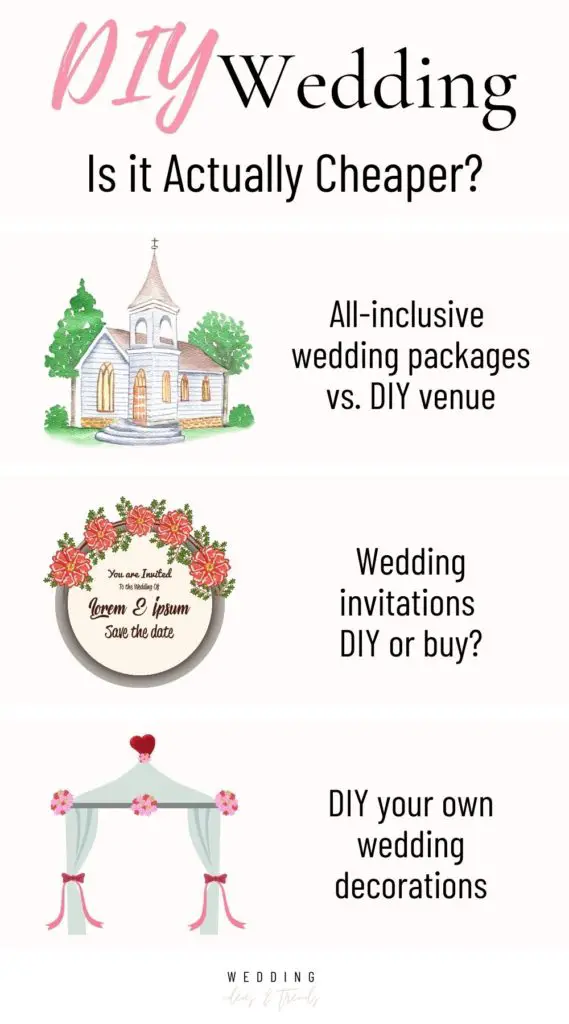 I hope you like these products! Just so you know, i may receive commissions on purchases made from the links on this page. Thank you if you use our links, i really appreciate it!
DIY Wedding – Is it Cheaper Or A Time-Wasting Effort
A lot of new brides will look at their wedding budget and determine whether or whether not to get a venue package, use a wedding planner and go through bridal services, or if to do the whole thing DIY under the guise of saving money. A DIY wedding may or may not actually be cheaper, and in this post, we will go by category to determine if the true most inexpensive way to plan and celebrate your wedding is DIY or not.
DIY and Budget Wedding Related Posts:
All Inclusive Wedding Packages Vs. DIY Venue
Venues tend to be a case-by-case basis and start to close in on other categories like flowers, and catering. It seems that venues that are all-inclusive and venues that are DIY end up being pretty similar in cost, depending of course, on what your individual needs are.

Venues will typically come with options for catering, flowers, rentals, DJ, and staff. This package is often well-worked out and down to a science for the venue at this point. They have deals already ironed out with the vendors in order to actually provide you with a very good deal. Usually, the math works out so that if you were to rent the venue and book everyone yourself, it would, in fact, be more expensive than the venue inclusive deal.
Conclusion: DIY in this case might cost you more than using the package.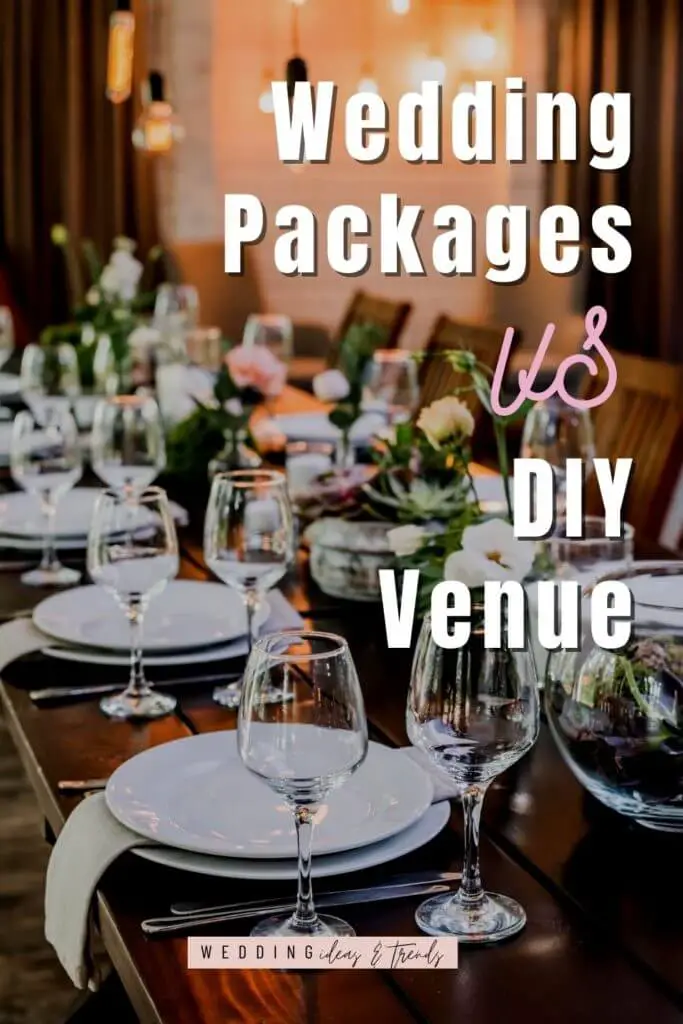 Another Option To Consider: Semi-Inclusive A light DIY Option
You decide which pieces of the package you want to use, it's a really great combination if you want affordable but still individually selected. In this situation, getting some of your vendors and rentals included in the package is great. Then, getting things like your own DJ and florist are great ways to personalize and control the environment.
You can pick which things you'd like to spend your money on. DIY can be extremely affordable, but only less than the package deal if you really do grassroots with it.
For example, the comparison isn't really finding your own contacts to book, it is instead organizing a homemade version. For instance, it's not booking your own caterer, it is potluck style through family or friends. Which is beautiful in its own way but is a decision towards the feel and stress level of your wedding.
Wedding Invitations DIY Or Buy?
Items like invites can easily be DIY'd. They are one of those items that can be done really inexpensively and really nicely by doing them yourself. If you're looking to have something to put your personal touch on, this might be the perfect thing. However, invites are also very easily ordered and automatically sent off, which, if not too much more expensive than the DIY wedding version. Most importantly it is a time-saver. 
Conclusion: The discrepancies between the prices are something to evaluate, but actually might even out once you factor in supplies and shipping costs of doing it yourself. As we've seen with venues, it seems that the trend with DIY vs. paid price-wise almost evens out.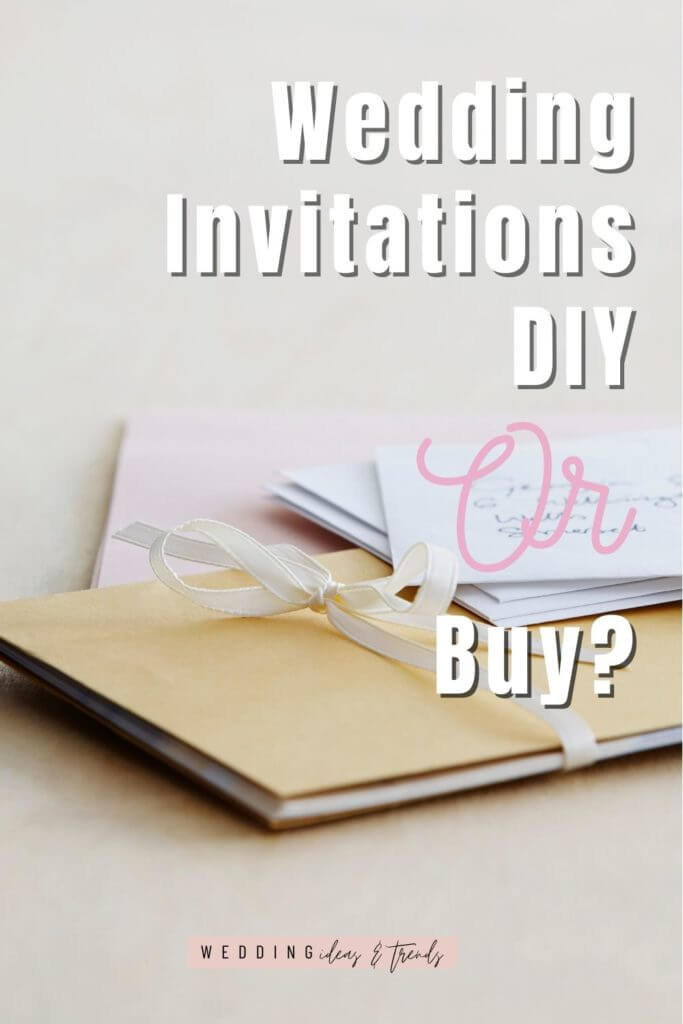 Examples and Options:
1- Online Invitations- Greenvelope.com Is the most accurate and cost-effective combination in my opinion. Along with their environmental approach, they offer effortless online invitations including RSVP tracking and advanced guest list management, which will surely save you time and frustration. Editing and customization options are convenient and easy to implement as expected.
2- Customize- (1) Zazzle allows you to choose from a wide variety of designers and designs, customize invitations and even create your own on their convenient design platform.
(2) At Minted you will find thousands of wedding invitation designs in a variety of styles.
3- Free Templates- With Canva you can make your own printable wedding invites Thanks to their free design and editing tools, and the wide variety of templates that makes the design task fairly simple.
4- Printable– Creative Market and Etsy have a wide collection of printable wedding invitations.
DIY Your Own Wedding Decorations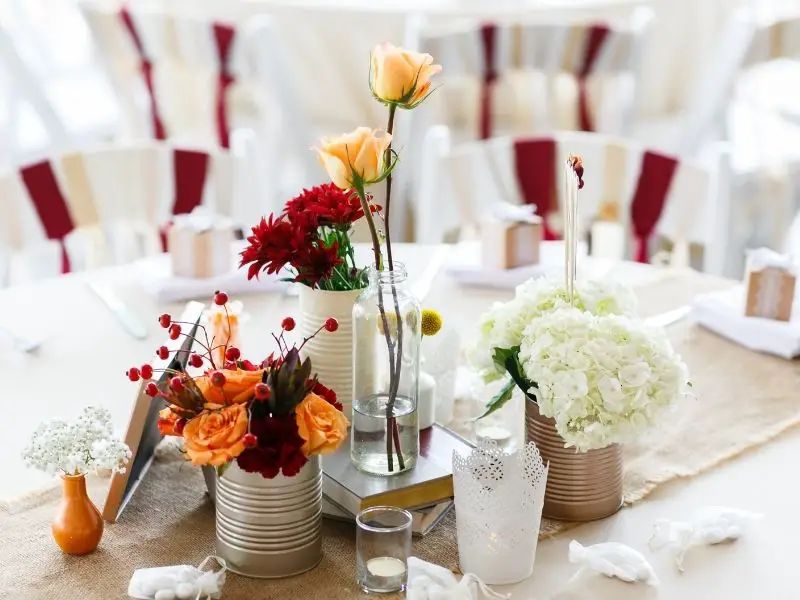 Things like decorations can also easily be DIY'd. This is maybe the most money-saving option for DIY-ing. Different resources like Pinterest and even simple google searches can provide tons of inspiration and ideas to come up with items like centerpieces and other easy crafty items. Beautiful simple touches can really raise the intricacy level of your wedding and reception. 
Related: DIY Backyard Wedding Decorations On a Budget
There are also options for weddings on a budget, like buying small things on sites like Etsy. Sometimes, buying supplies and spending the time and effort on making things is not worth the output, so a great option that is another happy medium between doing it yourself and buying the items or paying a planner is going on craft or creation websites and doing your shopping there. Not to mention, supporting small vendors and small business is a really great way to go. You can find great options in this post: Best Wedding Online Shopping Websites.
Consider Your Time
Something that is absolutely necessary to consider is if your time input is worth the money you could potentially save. Sure, you may be using a coupon, but is the time you're spending worth the amount you're saving? The answer very well could be yes, but you just have to use this as part of the equation to decide what path you're going to take.
A great bonus for making a DIY wedding cheaper is by finding people that are willing to help you out. It can lower the price a whole lot, and in turn, be the cheaper option. If you don't feel like spending this time and researching alternatives to buying packages, honestly the price you put on your own time spent could be worth just looking at the all-inclusive options, or even going as far as getting a planner. If you're asking yourself, Does hiring a wedding planner save money? The answer is detailed in the post Wedding Planner or Day-of Coordinator What is Their Role. 
The Decision
Ultimately, DIY or package deal, the price comes out to be very similar depending on aspects like where you live and what you want involved with your big day. Think about the factors above to determine what is actually best for you. At a certain budget, the decisions come down to how involved in the process you want to be. 
Planning a wedding can be so stressful. Especially when it comes to budget, planning, and taking on projects yourself. Even if the price evens out, there will be a clear decision for what's best for you and your fiancé's day. The trick is delegating tasks, asking for help, and deciding which parts you value most. If you'd like a hand in your centerpieces, go ahead and do that, hire the rest out. Determinations like that will make you less stressed and overall happier with the time spent and the price you pay for the things you care most about, DIY or not!
*Planning a wedding on a budget? Check out the 'On A Budget' articles series for more ideas and inspirations.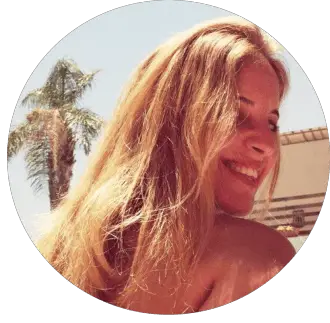 Kaden is an interior designer in her education who fell in love in designing weddings. Along with her husband, the wedding planner, Kaden specializes in creating content for weddings aim to fulfill brides dreams.