Last Updated on September 9, 2021 by Kaden
If you've chosen to have a beach wedding, you probably have a sense of whimsy and beach flair, and nothing says whimsical beach like a pretty hair accessory. It photographs beautifully, it feels like something that you normally wouldn't get the opportunity to wear in your normal life, making it the perfect piece for your beach wedding.

A great hairpiece for a wedding needs to be easy to wear and have the staying power in the style you chose so that you can place it and never worry about it again until the night is over. Here is a list of the top 10 beach wedding hair accessories for brides for your special day.
The rules are simple, express yourself, and do this thru your summer bridal style.
Match your hair accessories or headpiece with your wedding theme – gladly for you, it's a beach wedding and there is a huge variety of beautiful wedding hair accessories ideas for beach brides to fit any hairstyle you have been chosen.
Related posts for beach brides: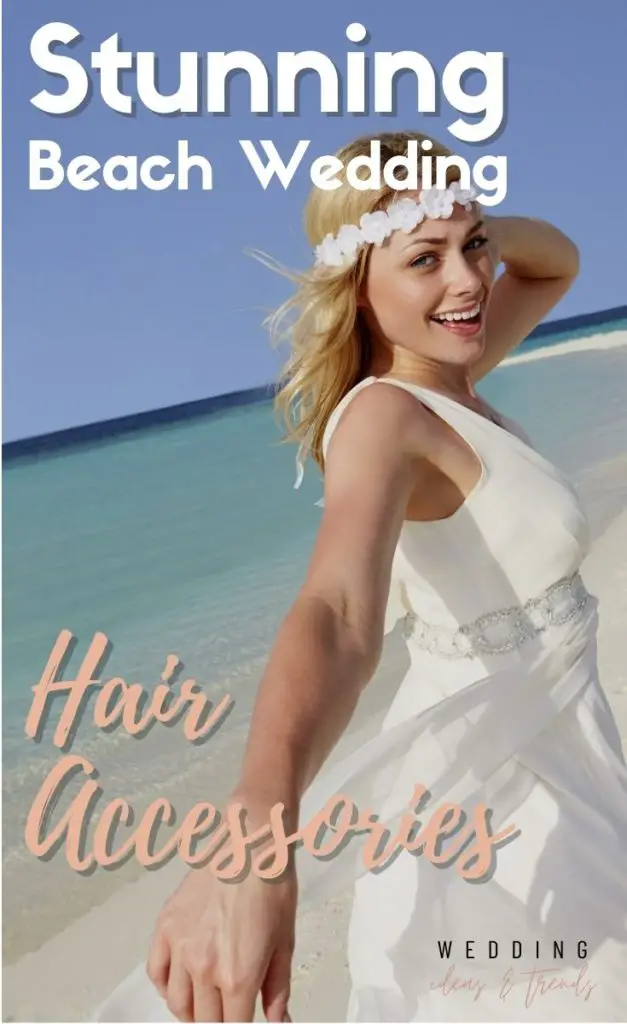 I hope you like these products! Just so you know, I may receive commissions on purchases made from the links on this page. Thank you if you use our links, I really appreciate it!
10 Stunning Wedding Headpieces and Hair Accessories Ideas For Beach Brides
Beach brides have their own style, non-binding, free-spirited, and magical. One that pays homage to the sea, whether with gorgeous shades of turquoise or sea life items such as Seashells and Starfishes embedded in bridal crowns and Bobby Pins, tropical flowers hair clip or a charming mermaid hair piece Below are 10 amazing accessories to complete your beach bridal look.
Related: Wedding Hair Accessories and Headpieces for Bride
The first one is a beautiful Blue Orchid hair clip. Tropical enough to be great for any version of beach you're holding your ceremony by, but also incredibly classic and traditional. It leans a little bit Hawaiian Tropical because of the beautiful Plumeria elements and is a stunning statement for any "something blue" you might be missing.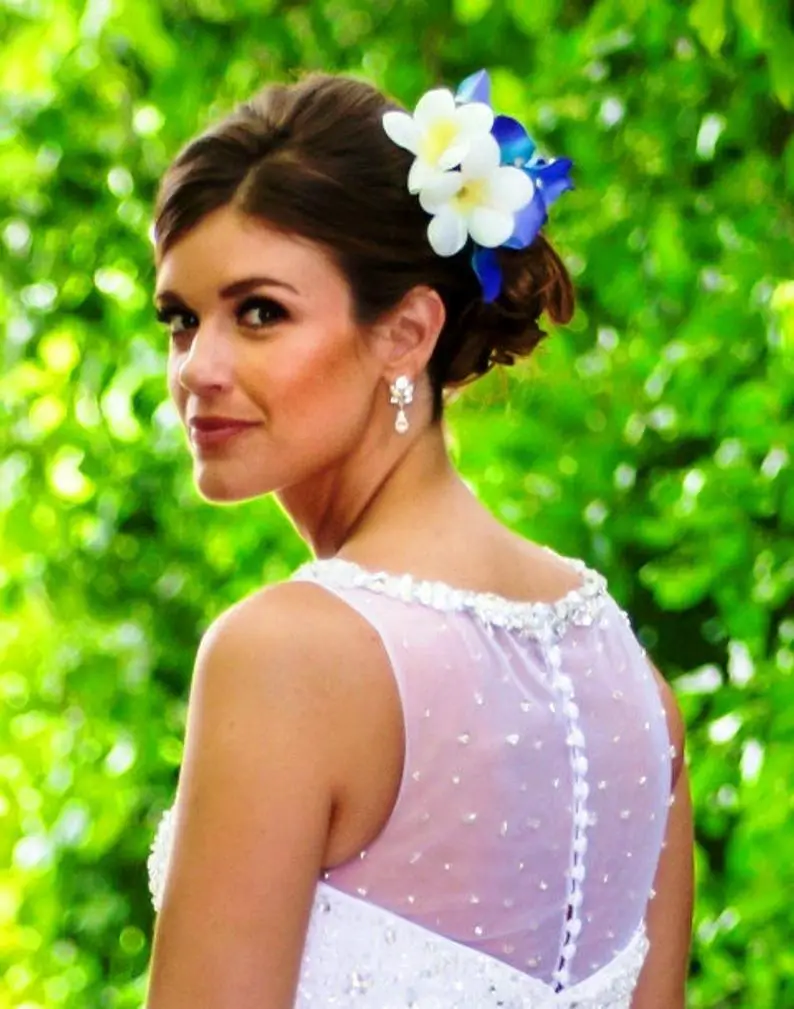 By: MalamaPuaBridal
Shop on: Etsy
This stunning clustered piece is called the Starfish Beach Wedding Headpiece and is such a gorgeous statement piece, specifically for an updo. It looks stunning on the top of a low chignon bun or to the side of a more vertical sweeping bun. It can be a great subtle way to incorporate the theme of your wedding into your hairpiece without being over the top or too colorful.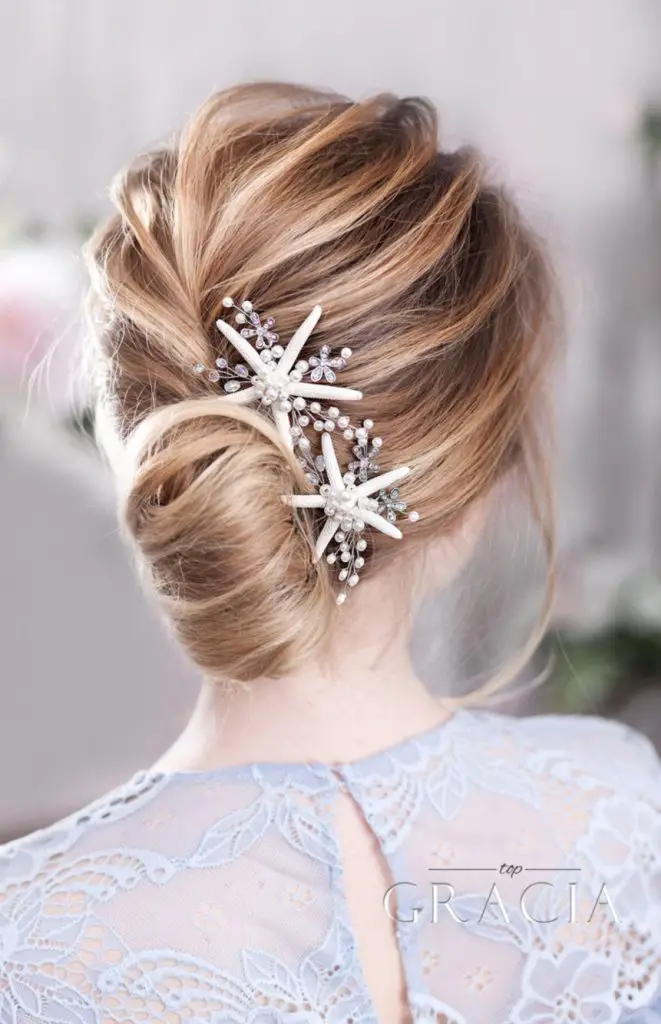 By: TopGracia
Shop on: Etsy
A subtle way to create the playful beauty of a hair accessory is to use a soft vine-inspired piece. There are a few different colors, and you can wear it in any fashion, across the head like a headband or woven through the back of the bun or style of your choice so that people can see it when you turn around.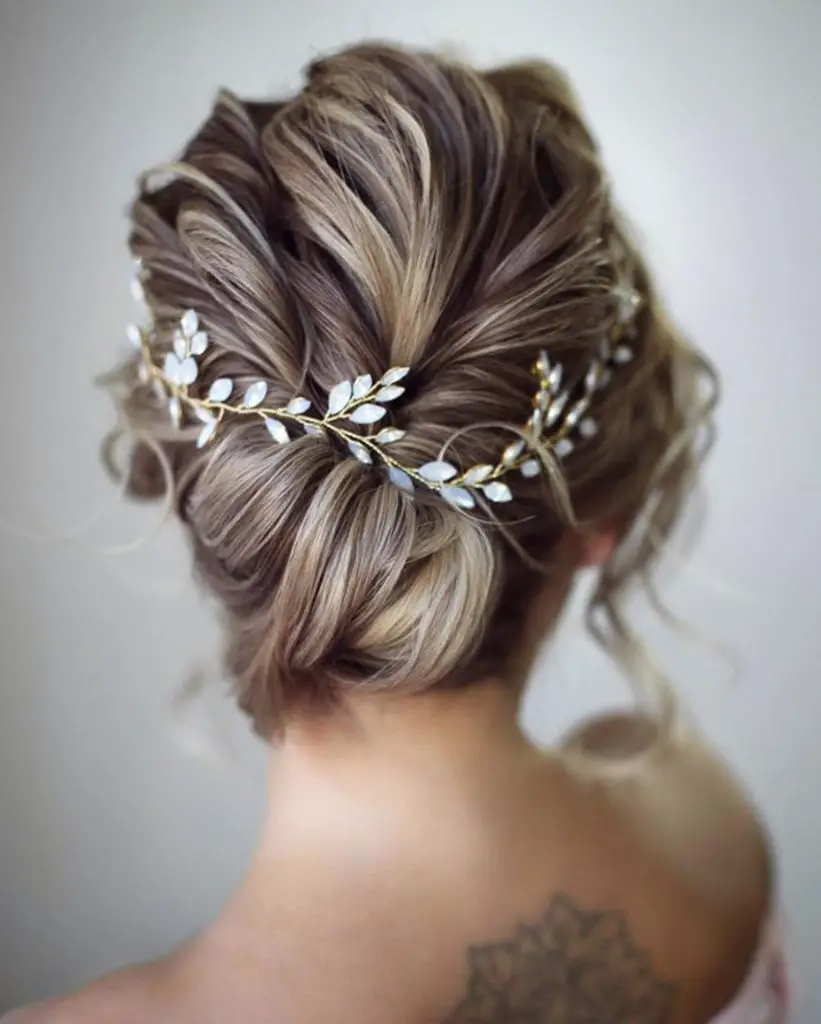 By: BelleMichelleUSA
Shop on: Etsy
Bobby pins made of silver starfish are a beautiful way to incorporate the beach wedding theme. This works great whether it's half-up do, a full up-do or even a light braid. Bobby pins are nice because they are so easy to switch up when the night is winding down or when you switch to reception attire.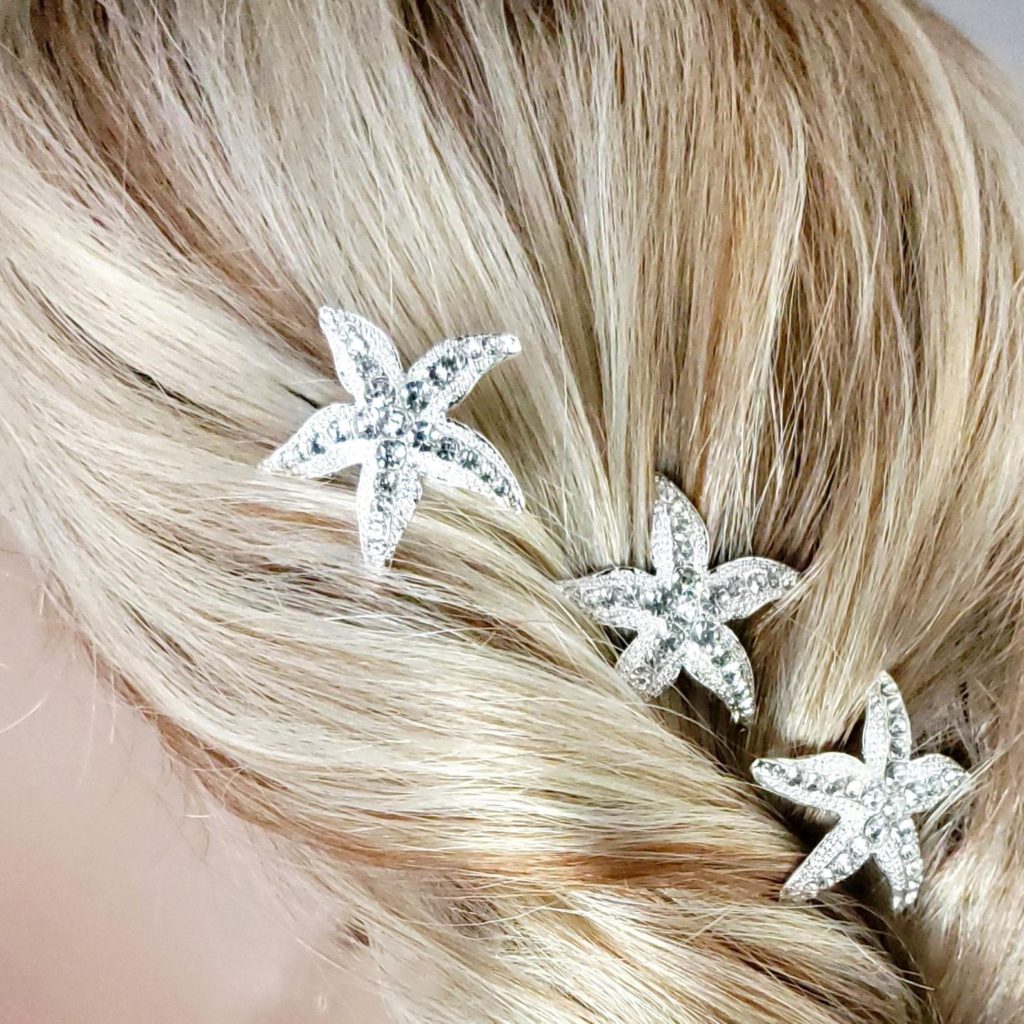 By: DandelionBySabra
Shop on: Etsy
If you're more into brooch looking clips, this might be the one for you. The mermaid inspired aqua-marine piece is a beautiful addition to any hairstyle, and really pulls the beach theme through.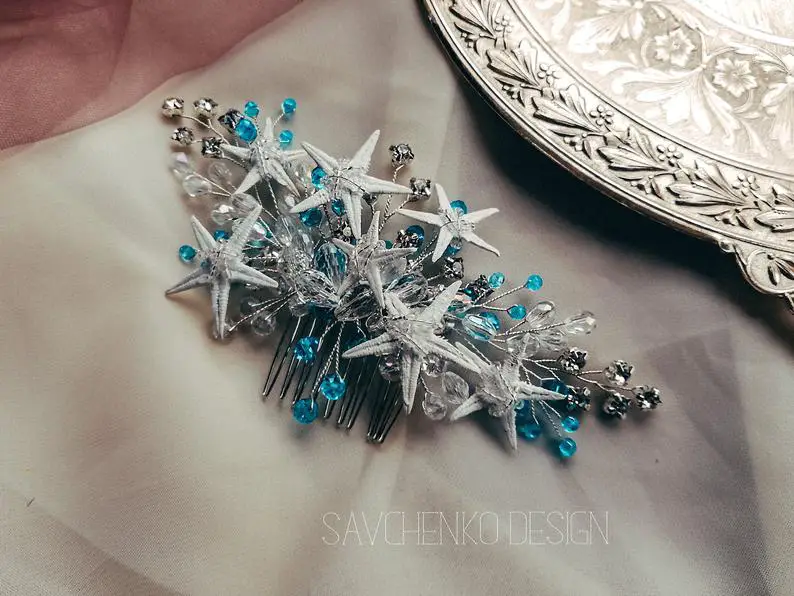 By: SavchenkoDesign
Shop on: Etsy
If you're into a flower-child-beach vibe, you can go for this beautiful shell boho headband. With a beautiful mix of flowers and shells, it really is the embodiment of beach and weddings.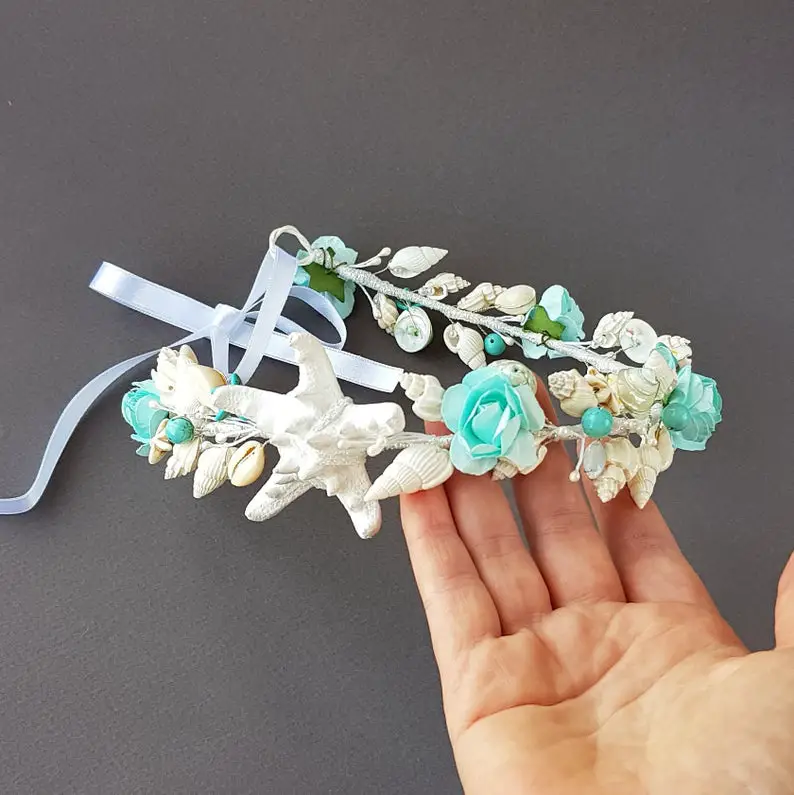 By: PrettyNatali
Shop on: Etsy
This stunner comb-style hair clip is not only gorgeous but so versatile. It can be stuck in crown-style or used as an accent to a bun. It's a nice nod to the theme without going overboard.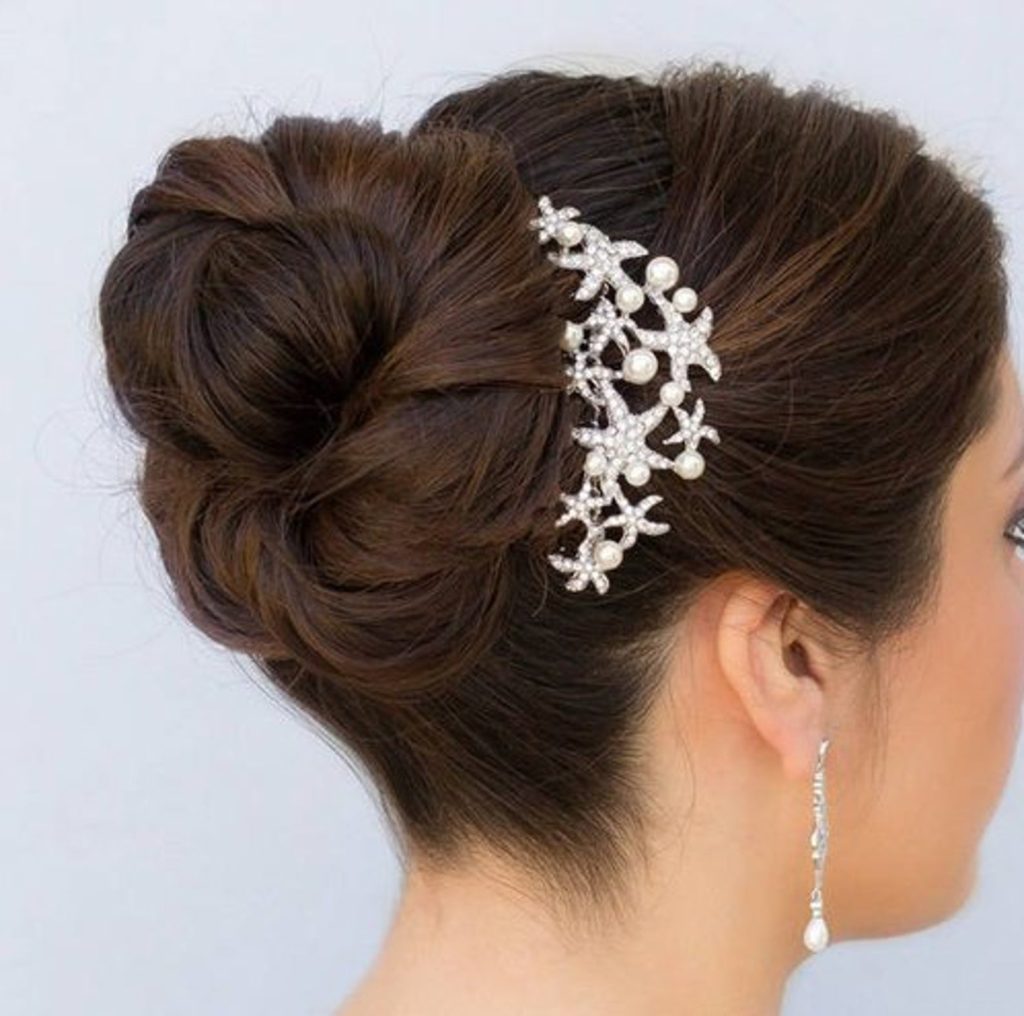 By: SeagullSmithJewelry
Shop on: Etsy
If you're a more is more kind of bride, look at this flower crown tiara. It has delicate flowers but still leans into the look of an ocean blue accent color. Coordinate it with your bridal party or just let the piece speak for itself, either way, it'll be simply beautiful.
By: AllinBloomStudioEOOD
Shop on: Etsy
An understated way to show off the beach theme of your beach wedding is to use tiny, precious, bobby pins. The detail on these is so cute and they can be included in almost any style you choose.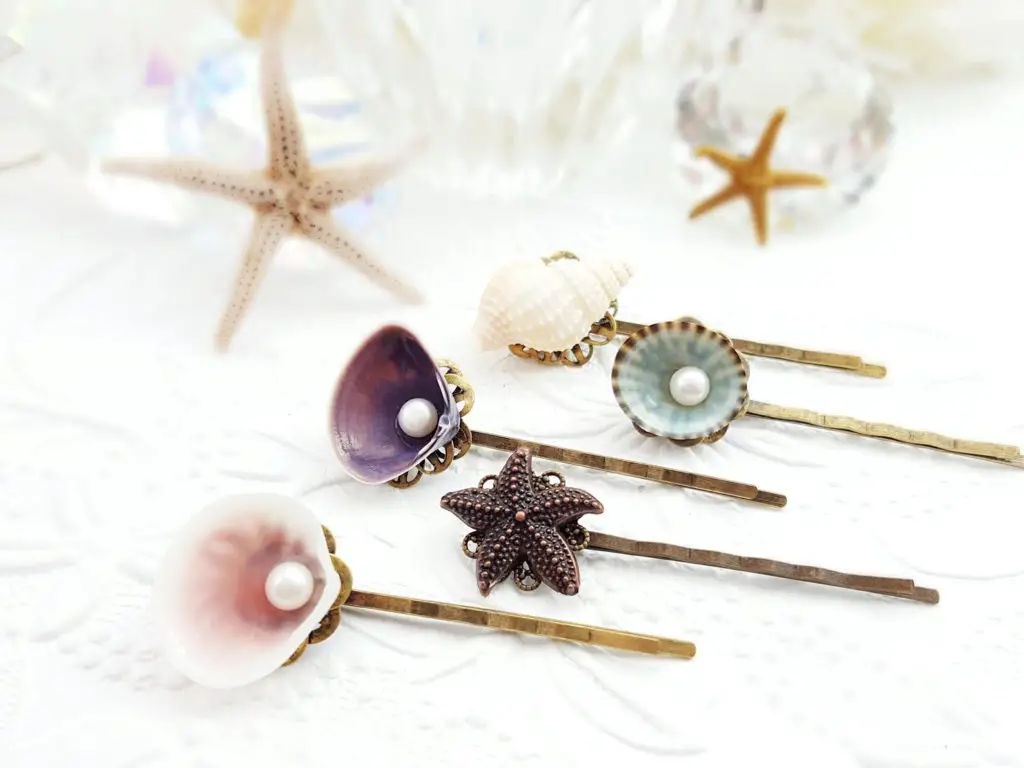 By: Gemsicles
Shop on: Etsy
For a warm tone version of the ocean flower accent, take a look at this delicate string of sunset-hued flowers. They're miniature plumerias and are so perfect for a pop of pink on your beach wedding day.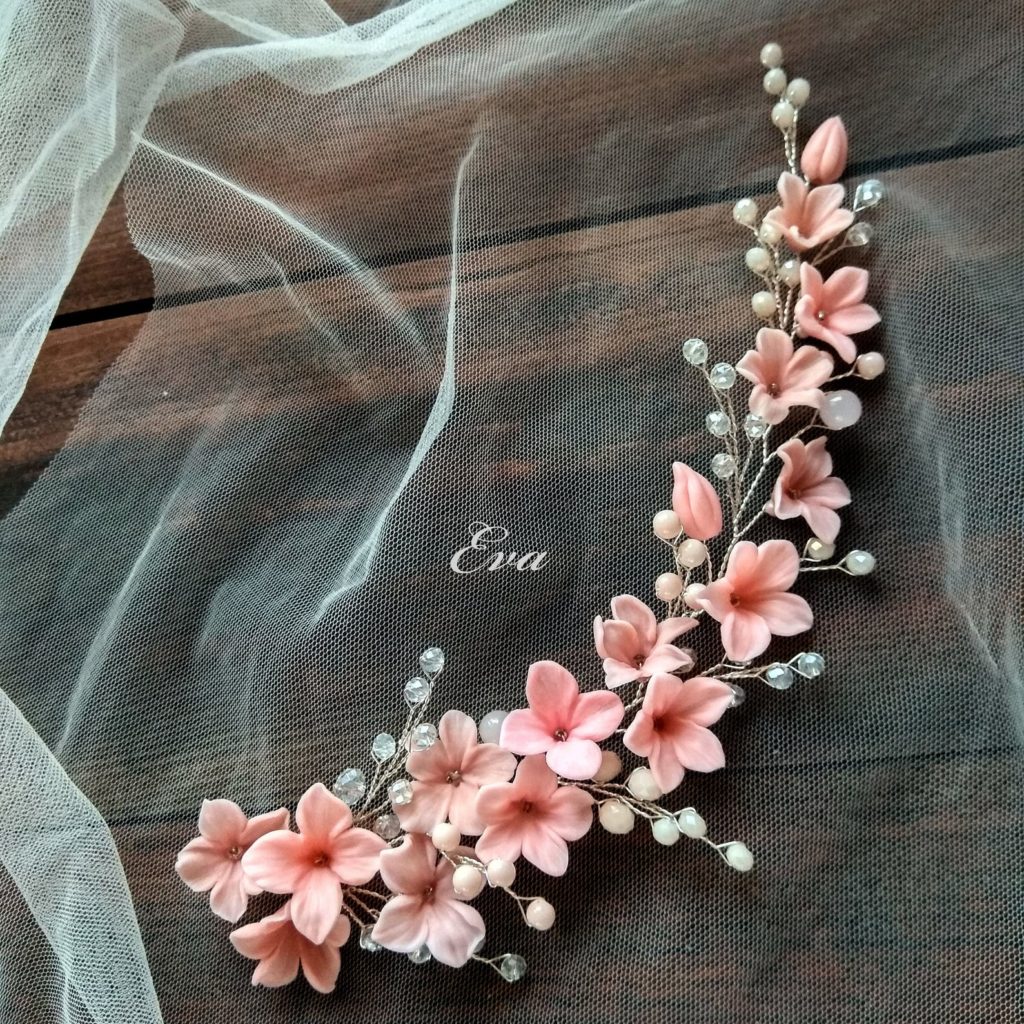 By: EvaAccessory
Shop on: Etsy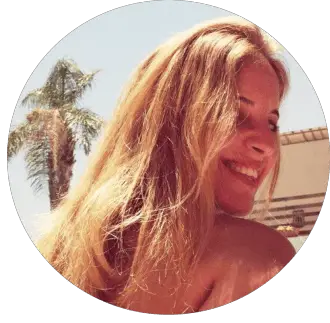 Kaden is an interior designer in her education who fell in love in designing weddings. Along with her husband, the wedding planner, Kaden specializes in creating content for weddings aim to fulfill brides dreams.