Last Updated on November 10, 2021 by Kaden
Down to every detail, This is the motif of a well-planned wedding. And for your, dockside, sailboat, seaside, or destination wedding, when everything is accurate, navy blue is the go-to color to enhance the nautical wedding theme, one that stays with your guests and goes home with them as memorable favors.
Wedding Favors Related Posts: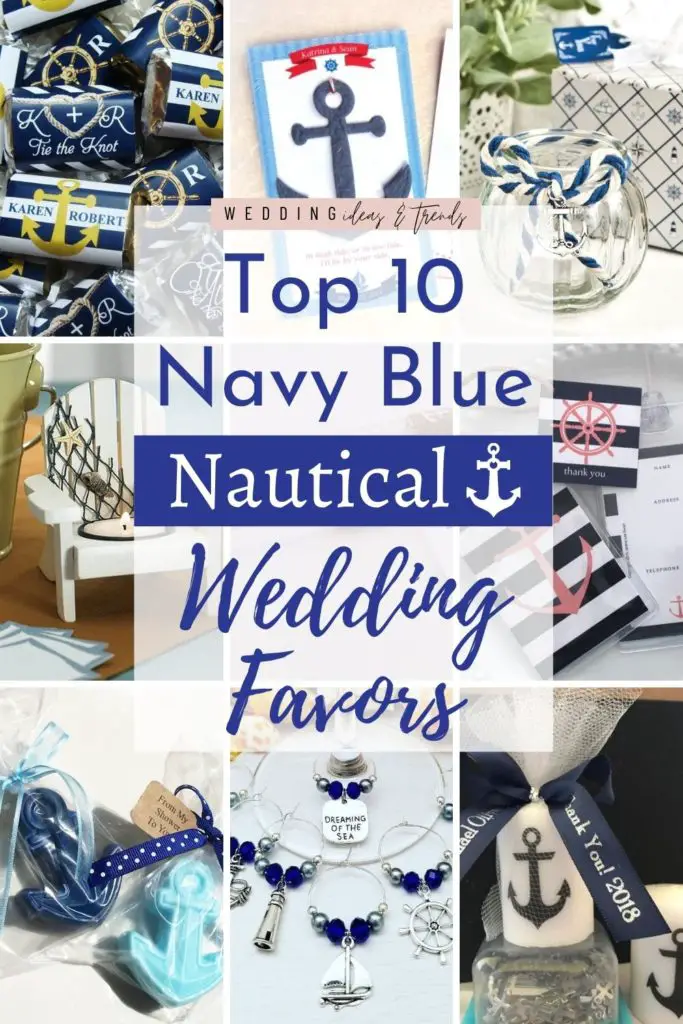 10 Navy Blue Favors for Nautical Wedding Theme
Nautical themed elements such as anchors, ship's wheel, and lighthouse along with the timeless navy blue stripes will be in the center of those designs. Here are my top picks for navy blue nautical themed wedding favors that your guests will be thrilled for.
These beautiful souvenirs come in an anchor shape, perfect for your theme, and they have seeds within them that blossom when you plant them. What a great way to remind your guests of the experience for the months to come. Every time they look at their blooms, they will be reminded of you.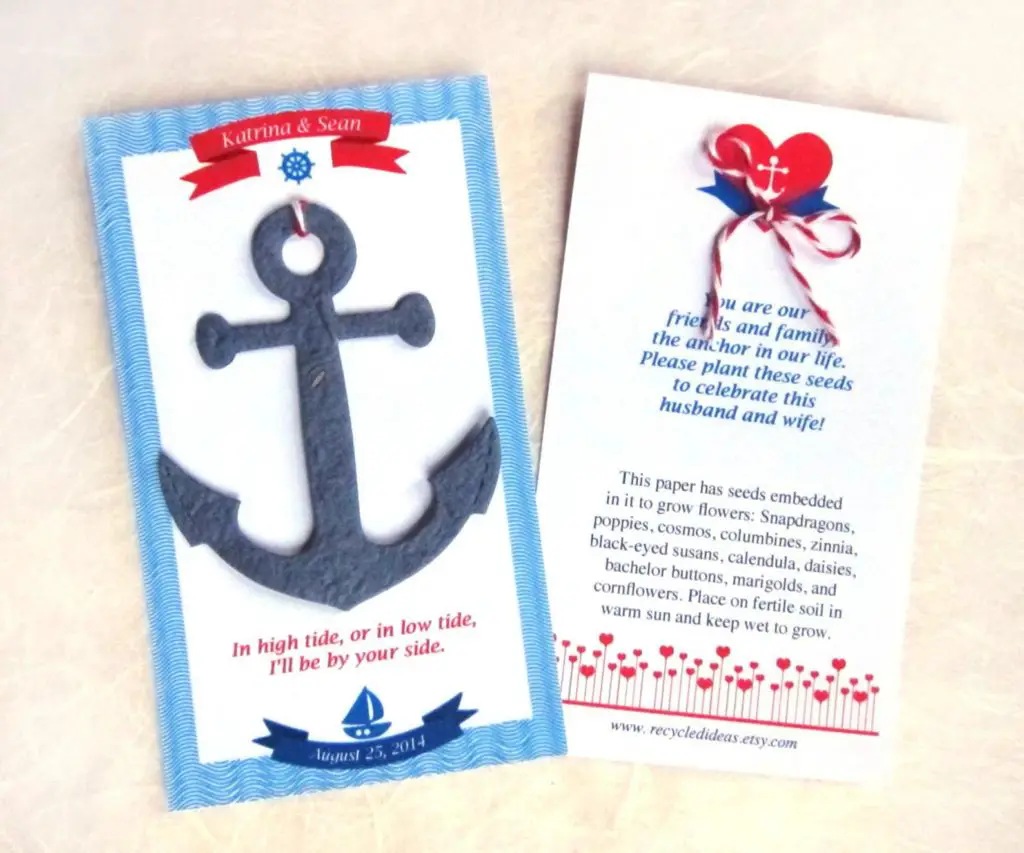 By: recycledideas
Shop on: Etsy
If your guests have to travel for your Nautical wedding, you might think of getting them luggage tags with the notion of a special thank you. These are really cute and come in a variety of colors for your selection.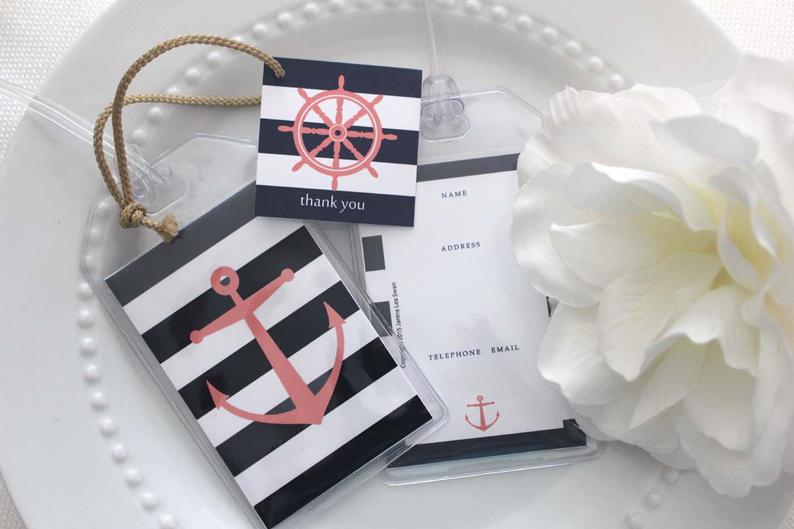 By: JanineLeaSwan
Shop on: Etsy
RELATED: 15 Best Adorable Wedding Favors Under $1
These are the sweetest additions to any tablescape that can double-duty as a take-home gift for the guests. A cute blue And white boating ribbon and a silver anchor make for the most perfect little candle holder.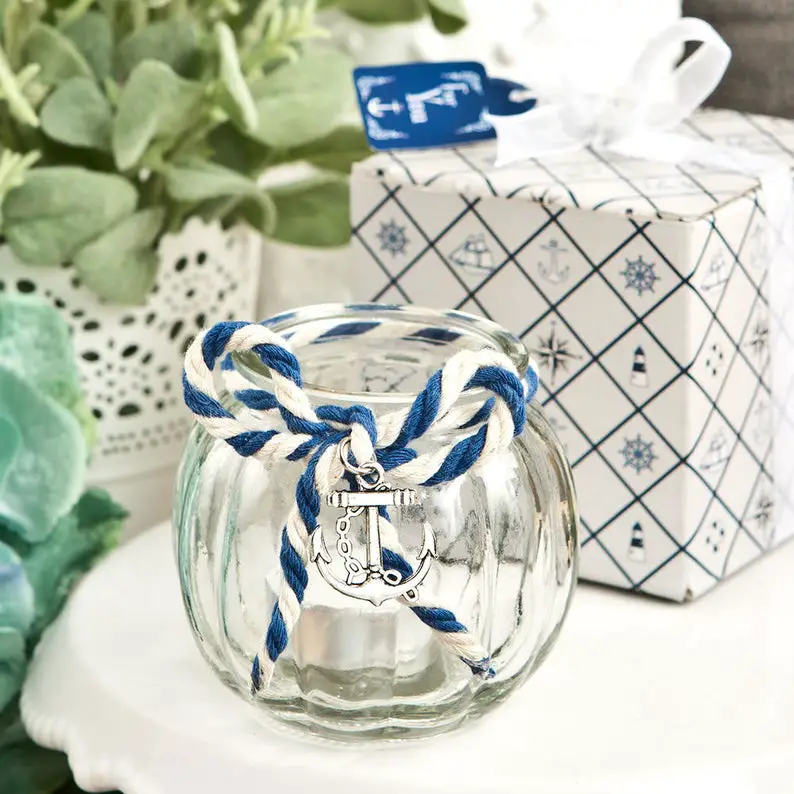 By: pbpaperie
Shop on: Etsy
This nautical soap is a really great addition to any thank-you kit or basket for your wedding favors. They are beautifully packaged individually, making for a luxe end product. They're gentle on the skin and allergen-free, so they'll be a good option for everyone!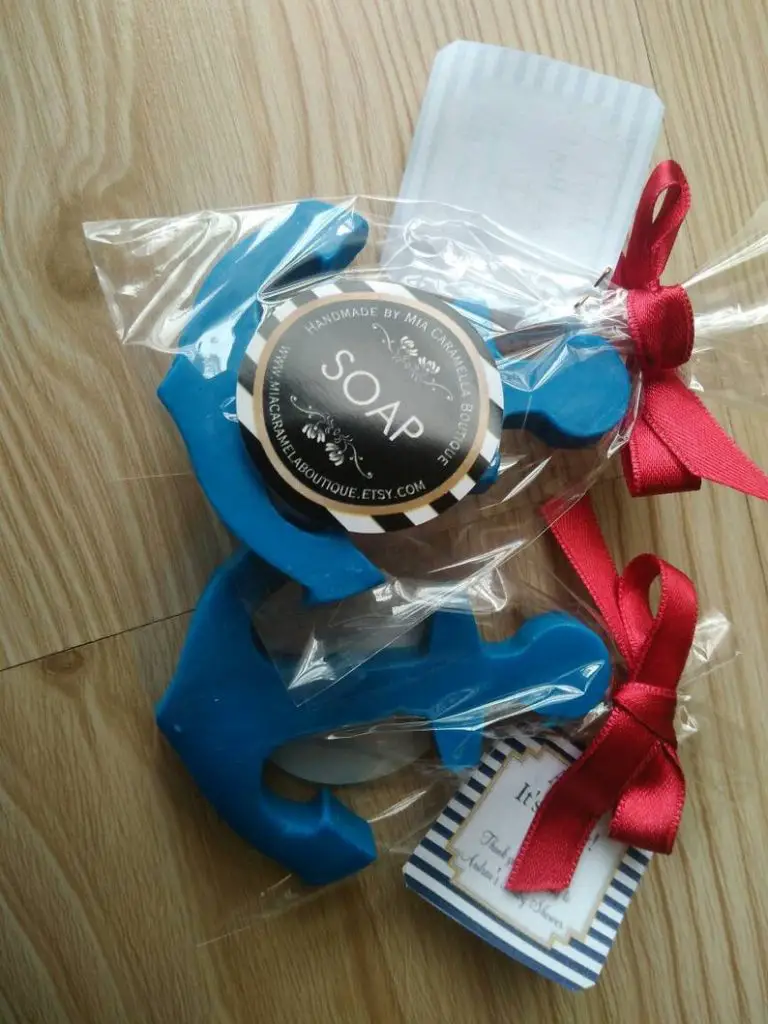 By: theslipperypearl
Shop on: Etsy
A cute white driftwood deck chairs with starfish net are an amazing addition to your nautical themed wedding. These little tealight holders are not only great wedding favors that your guest will be thrilled to get, but it is also can be used as place card holders.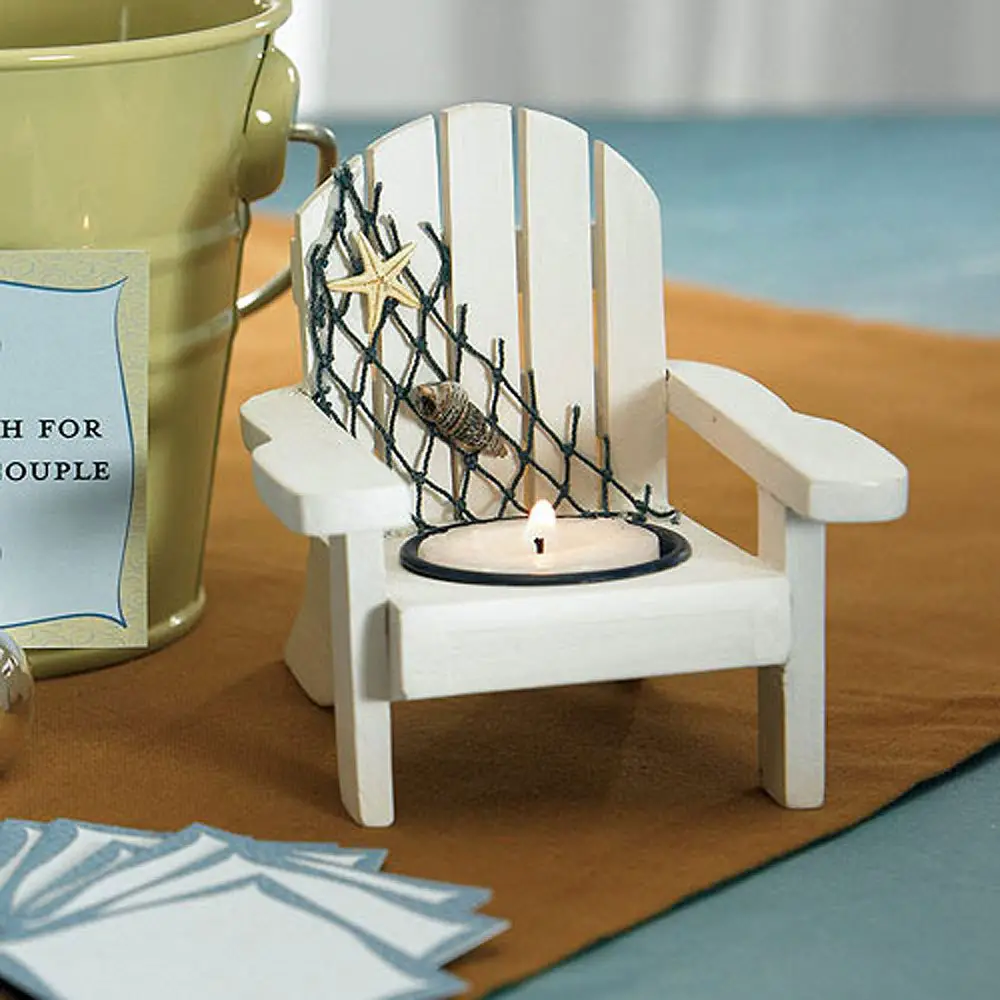 Shop on: weddingstar.com
These votive candles are absolutely adorable and serve as a great reminder and thank you for coming to your guests. People love to receive something they can actually use, and a candle is just perfect for that.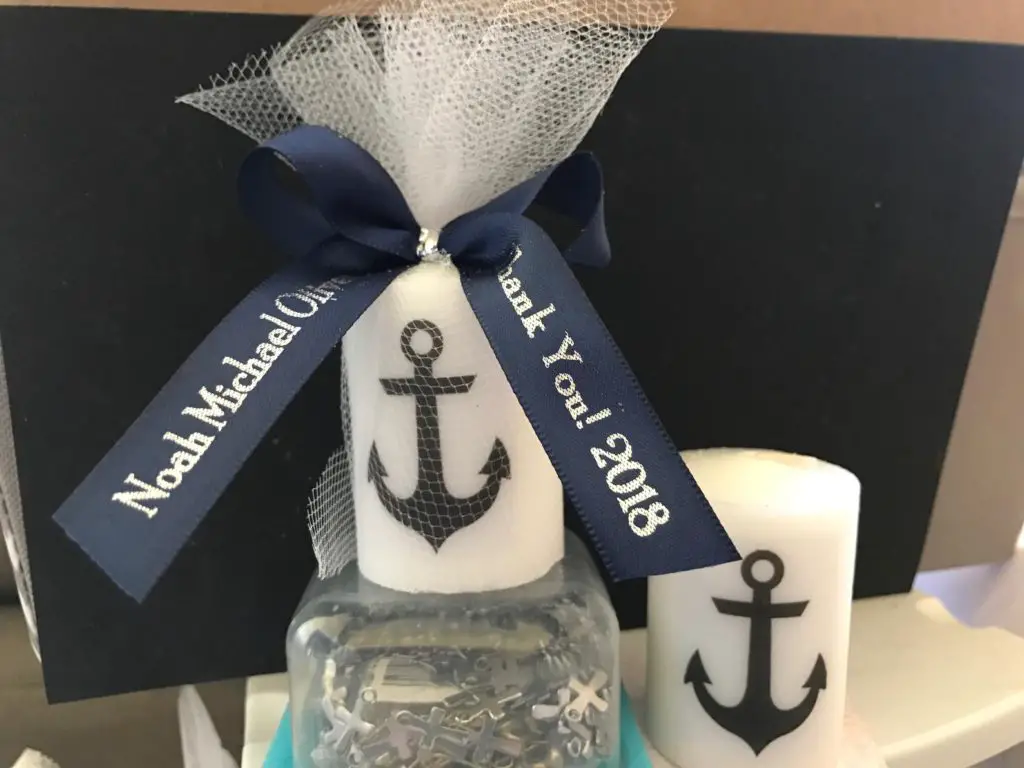 By: RibbonPersonalized
Shop on: Etsy
Nautical wine charms are the perfect way to bring life to your wedding. This beautiful navy blue will add a special touch to the nautical decoration. Above all, it is a great small gift to give your guests to remember your special day.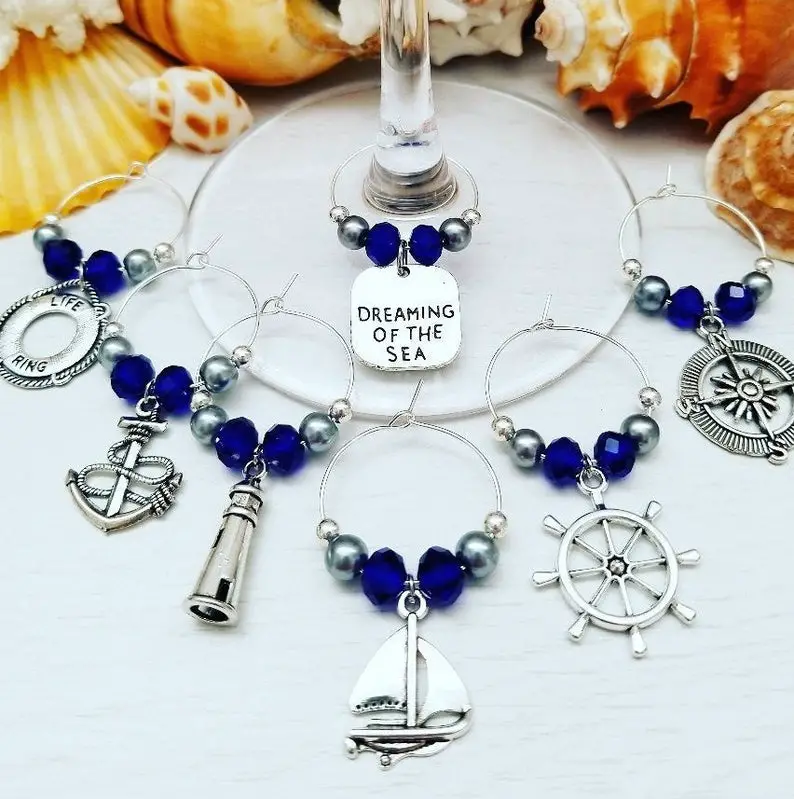 By: Lasmas-Creations
Shop on: Etsy
These adorable bubble wand favors are perfect for the end of the wedding evening exit. A combination of rustic chic and a nautical theme thanks to natural jute ribbon and a small white, blue, and red anchor.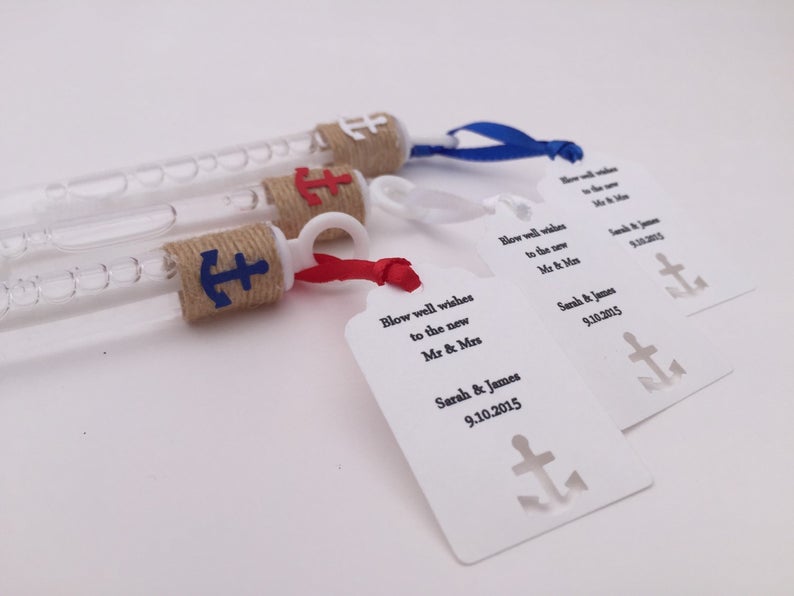 By: Mad-Hatter-Party-Box
Shop on: Etsy
Ideal design for a nautical or beach themed wedding. Most importantly it is a beautiful and useful gift that your guests will cherish.
Shop on: Amazon
What better way to show your guests your appreciation and love than chocolate bars. These simple favors will look wonderful as decor finishing touches for nautical wedding tables.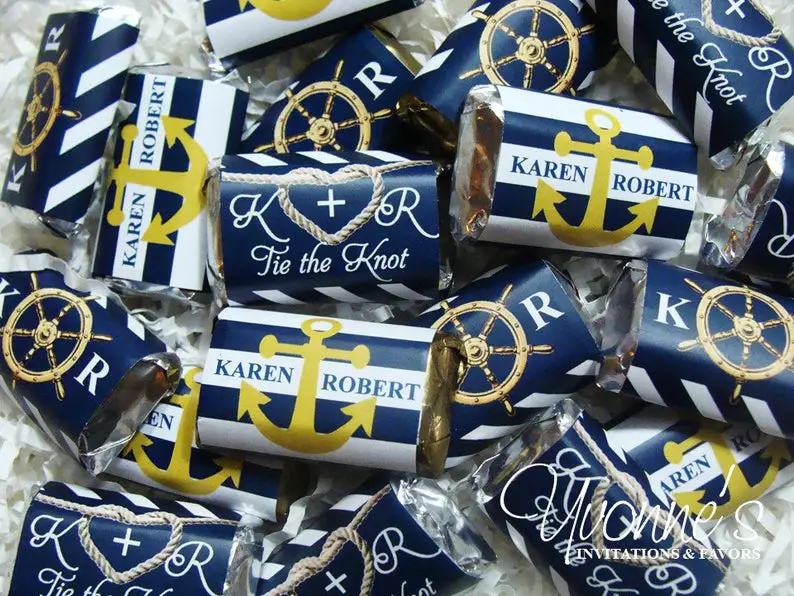 By: Candy-Bar-Boutique
Shop on: Etsy
NEXT UP: 10 Affordable & Tasty Edible Wedding Favors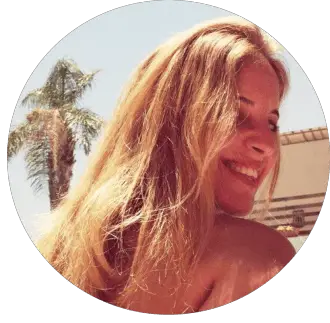 Kaden is an interior designer in her education who fell in love in designing weddings. Along with her husband, the wedding planner, Kaden specializes in creating content for weddings aim to fulfill brides dreams.