Last Updated on November 26, 2022 by Kaden
All of the planning, effort, and (let's be honest) panic, goes into the big day of the wedding. But what about the bridal shower? It's an important day to celebrate future nuptials with the people who care about you and your happiness. Bachelorettes are one thing, but bridal showers are the demure twin of a bachelorette. Something soothing, like a spa day, might be in order for you and the girls. After a day of pampering and fun, send them home with something they'll remember long after the day is over. Give them something both useful and fun. Here are some ideas for pampering spa themed bridal shower favors.
Related Posts:
 I may receive commissions on purchases made from the links on this page at no cost to you.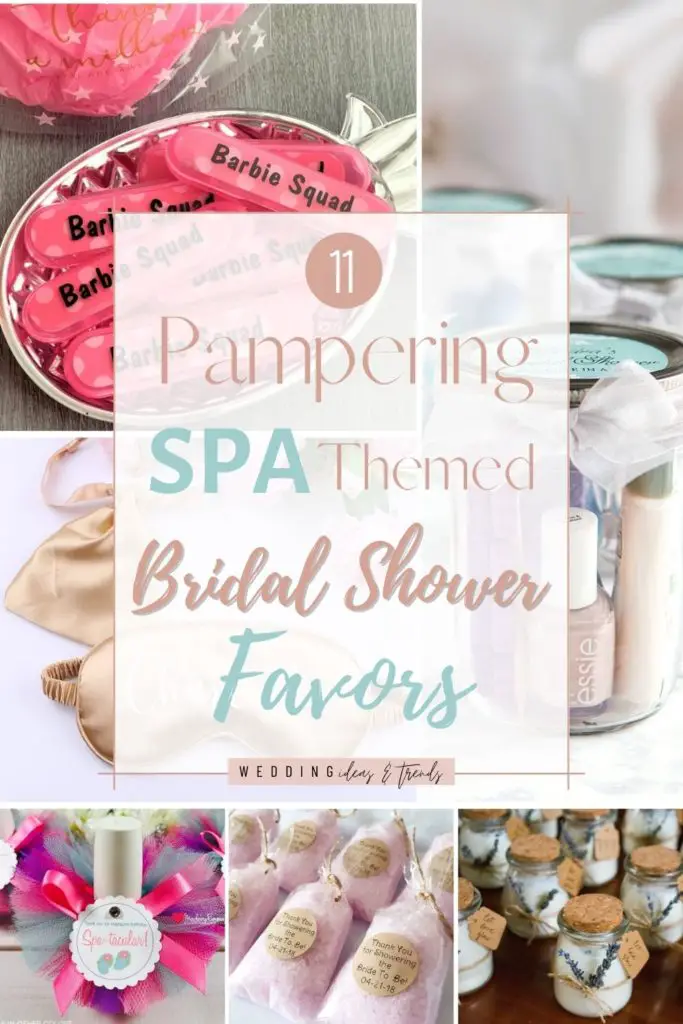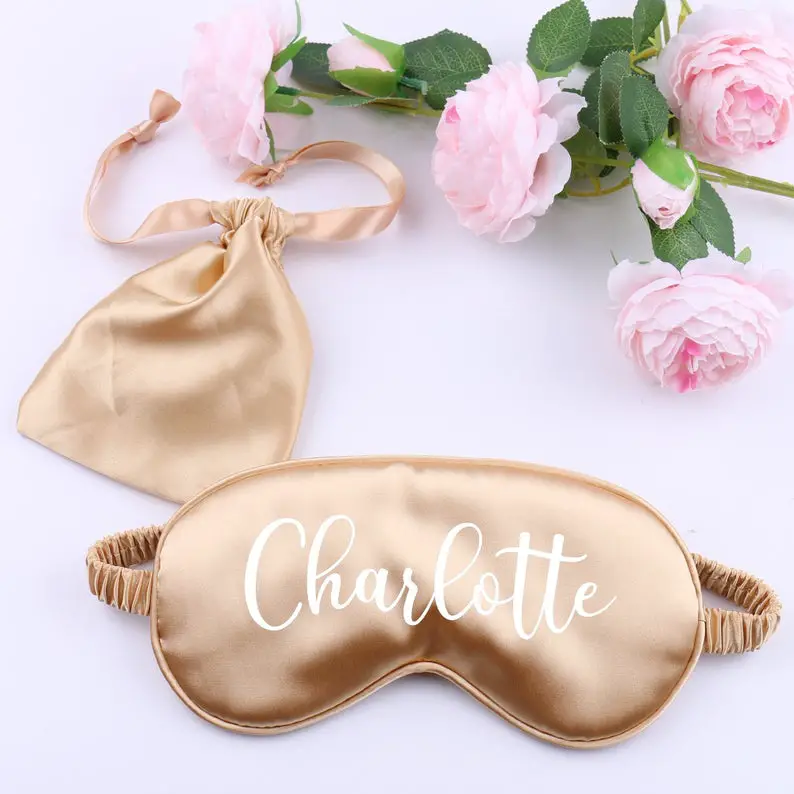 SHOP ON: Etsy
This customizable option will be sure to impress your guests. Not to mention, it'll make them feel very special that they have their own mask and that you thought of them ahead of time. Nothing says "I care" like ordering your girlfriends something off of Etsy and thinking of them!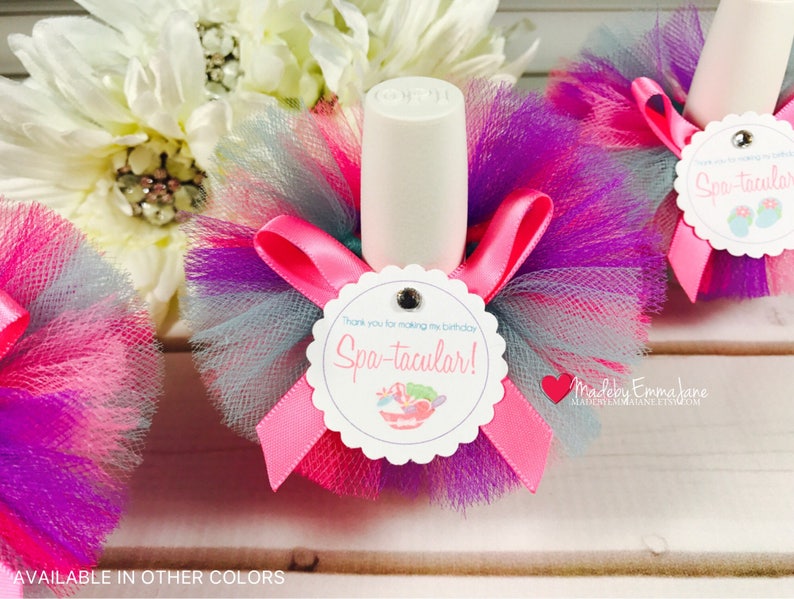 SHOP ON: Etsy
These tiny tutus for your nail polish favors are so cute! Perfect for saving or gifting the colors from your get-together. It's a small touch that really makes the whole thing feel like a theme and when your friends put on their nail polish in the future, they'll remember that special day. A cute idea can even be to gift them the color they should all match and wear for the wedding!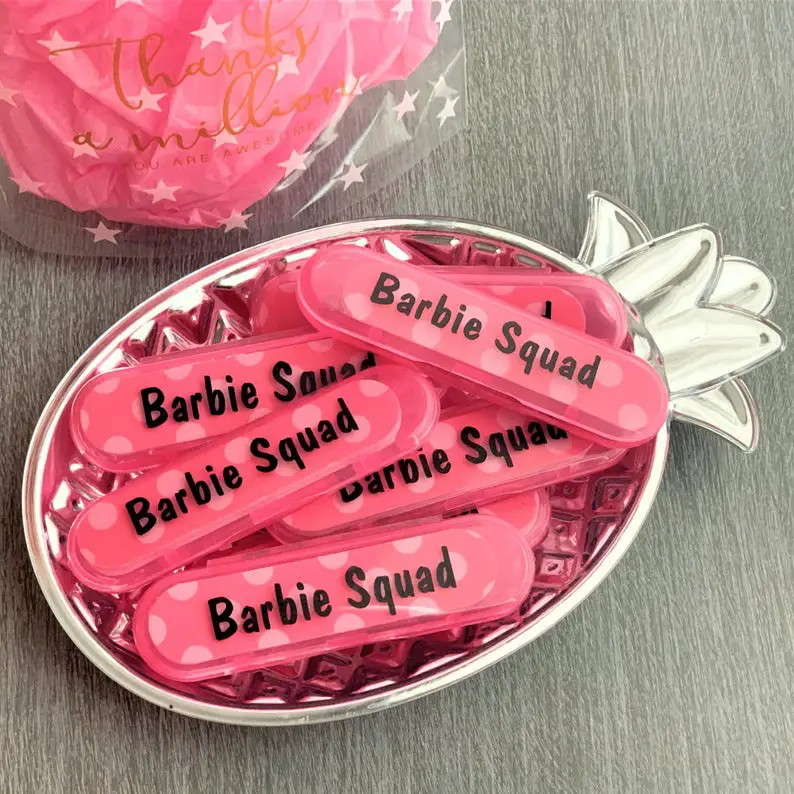 SHOP ON: Etsy
Another personalized little gift for the gift basket! Personalization is truly such a nice way to show how much you care and how much thought you put into the whole day, which never goes unnoticed and unappreciated.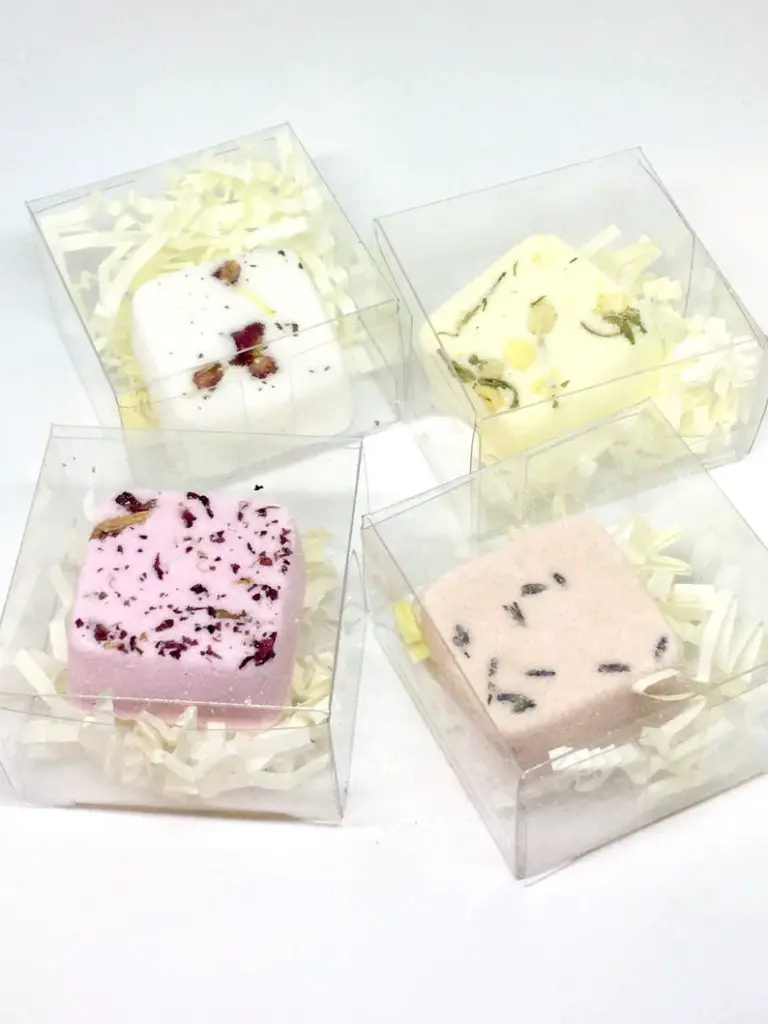 SHOP ON: Etsy
These are the cutest favors to make sure your guests continue the pampering when they go home. Bath bombs are such a luxurious experience that often people won't buy for themselves. Give them the spa-like luxe experience by gifting these Bridal Shower Personalized Bath Bombs.
SHOP ON: Amazon
These cute headbands are the absolute best start for any spa day. Cute, functional, what more could you and your guests need? They're microfiber, so they'll absorb any runaway facial products or anything of the sort. It'll keep water out of your eyes and ears in the rinsing process and is super cute at the same time. Additionally, they're so cute to send home with your guest list because it's something that may become part of their daily routine, reminding them of that day for years to come.
SHOP ON: Amazon
This mask is a perfect bridal shower favor to gift your partygoers! Give them something they can truly use. It goes perfectly with the spa theme and is so cute and fun to look at, ready to use, and glow!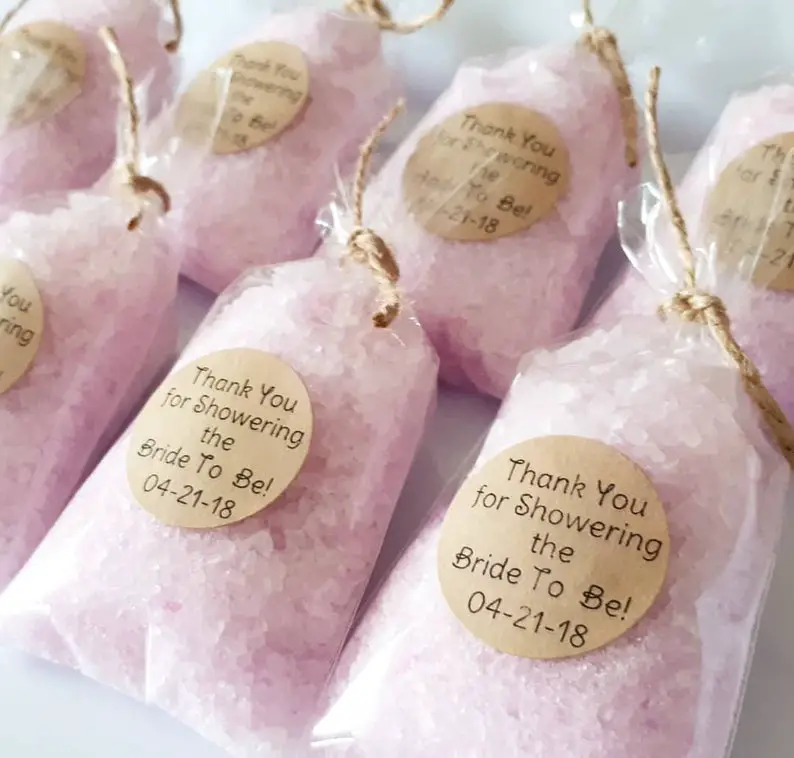 SHOP ON: Etsy
The one thing your guests will think about when they see this beautiful favor is how much they want to go home and try it! Pamper blend of sea salts and Epsom salts with essential oils of your choice.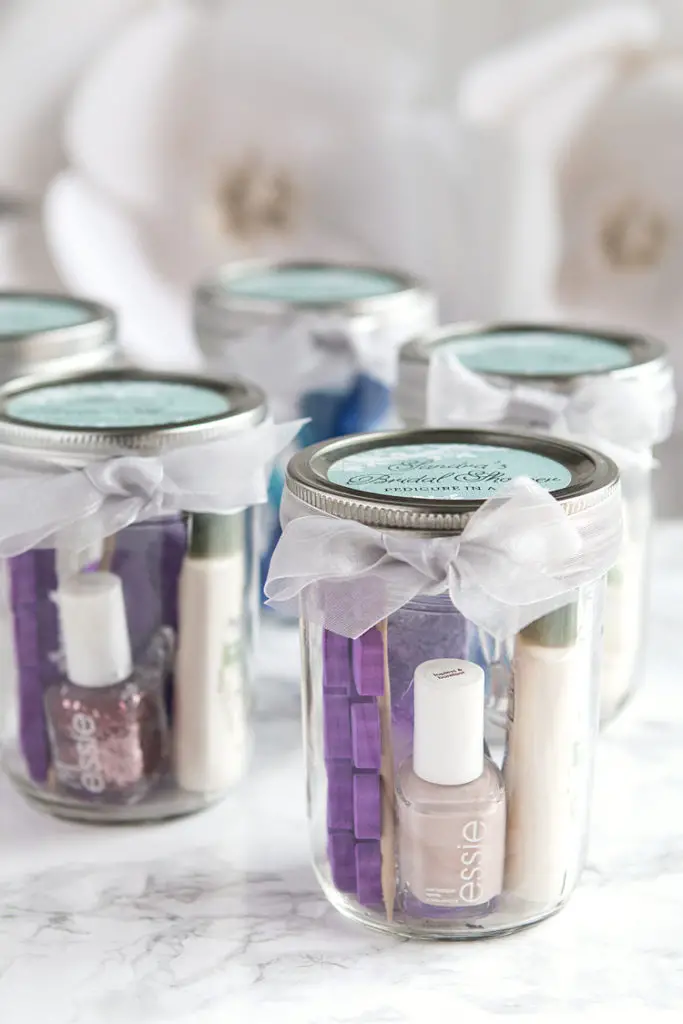 ADAPTED FROM: Evermine
Are you ready to get creative? The perfect shower favors your guests will love and it is super easy to make.
Supplies (from Amazon and Evermine):
SHOP ON: myweddingfavors.com
Spread the love with this adorable "Hugs & Kisses" soap favors. The soaps smell good and come in cute black and white boxes. This gift is so elegant I'm sure it's going to be a hit at your bridal shower.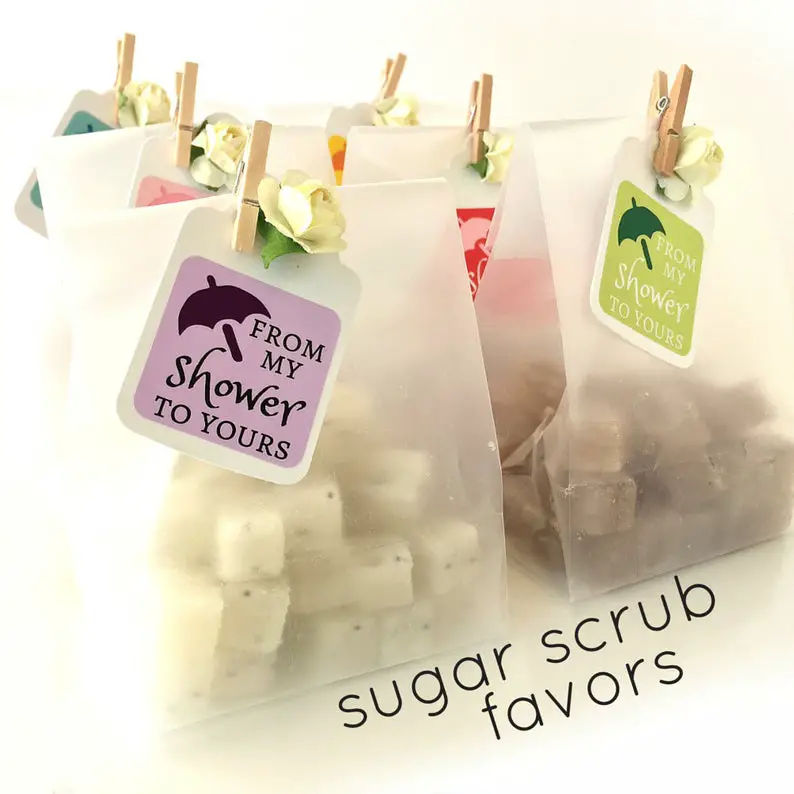 SHOP ON: Etsy
Ideal spa favors for your bridal shower. A perfect blend of natural oils mini sugar scrub cubes that will leave your skin feeling soft and smooth. Come with beautiful frosted bags and "from my shower to yours" tags.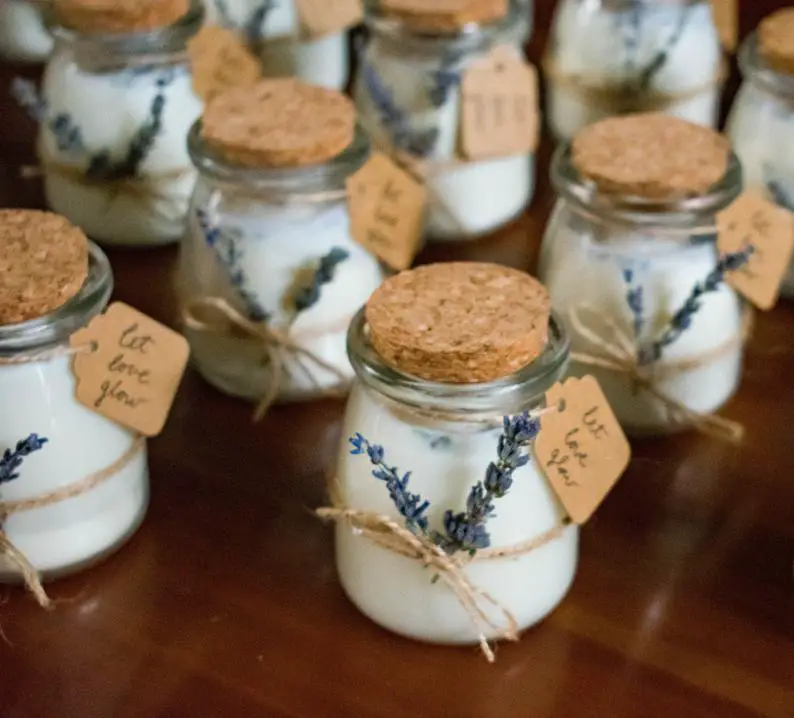 SHOP ON: Etsy
Just by looking at this amazing present, you feel more relaxed. This beautifully wrapped candle is handmade with 100% organic soy wax, and essential oils. It will be a fantastic addition to every bathroom for a relaxed at-home spa day, which makes it the perfect favors at a spa-themed bridal shower.
Keep Planning With Us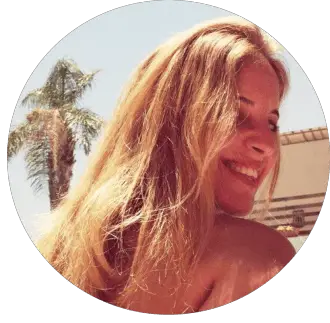 Kaden is an interior designer in her education who fell in love in designing weddings. Along with her husband, the wedding planner, Kaden specializes in creating content for weddings aim to fulfill brides dreams.