Last Updated on November 12, 2022 by Kaden
When they say "man's best friend" they're not kidding. If your little pooch is a part of your family, you might consider making them a part of your bridal party! They don't have to come to the bachelorette party, but they definitely do need a dress for the whole ordeal. You might be surprised at how many bridesmaids dresses for dogs there are online and available in many sizes for your precious pup, there's no reason not to have them dressed to the nines.
No matter your bridal party color or design, there's an outfit for your four-legged friend. We're going to look at the ten most adorable bridesmaids' dresses for your dog to be included in the festivities.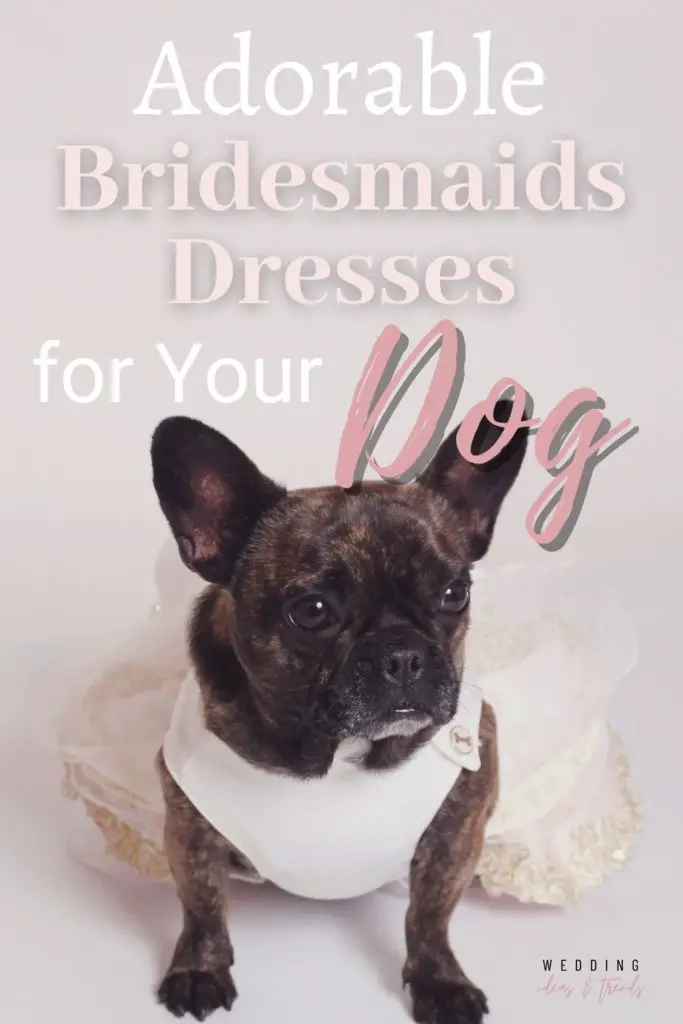 You might also like: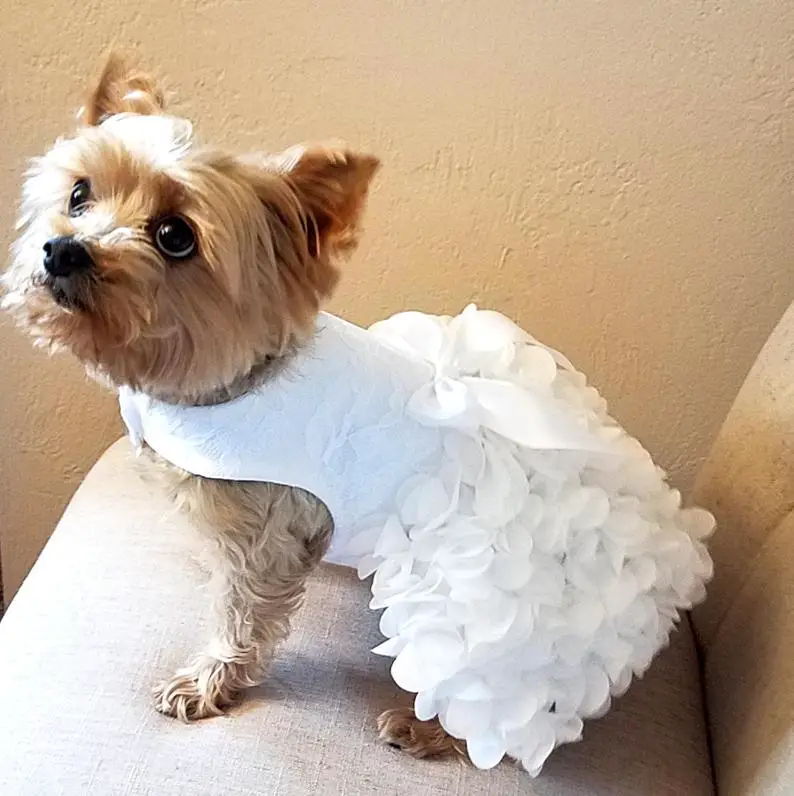 SHOP ON: Etsy
This precious layered dress is so cute for your puppy! Between the satin and the beautiful ruffles, your dog will look out of a magazine on this special day. This dress is most especially geared towards smaller dogs, so be sure to check the size chart.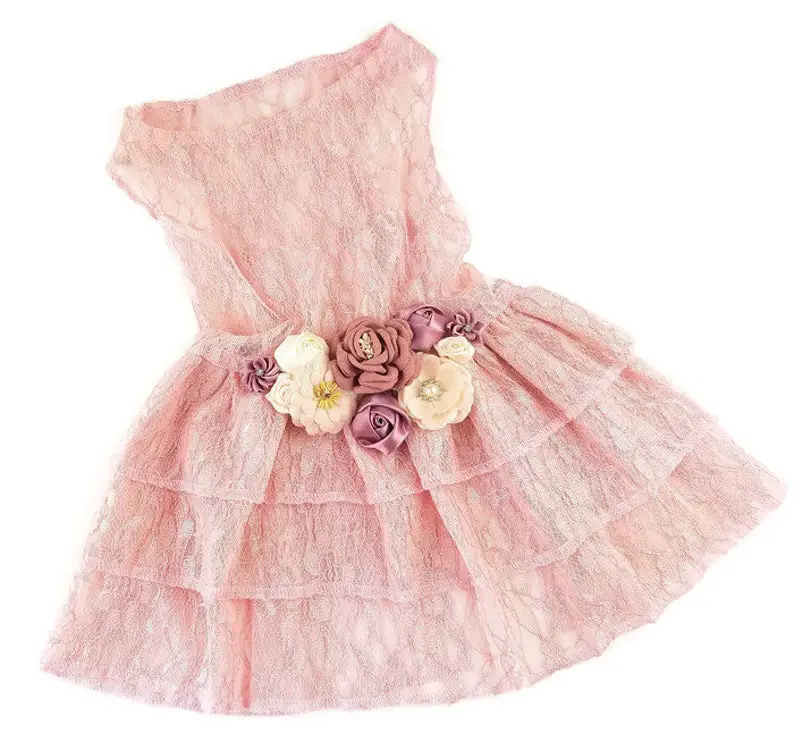 SHOP ON: Etsy
This lacey frock is so blushy and sweet on your dog! It even has a sweet little belt accent for special flair. Your Wedding dog outfit will be so detailed it might even look better than the human version.
SHOP ON: Amazon
This sweet look is for the fashionable dog. It has a sparkly tweed look and comes in an array of sizes; it also is great for the last-minute decision because it ships Amazon Prime! Comes in a beautiful light pink.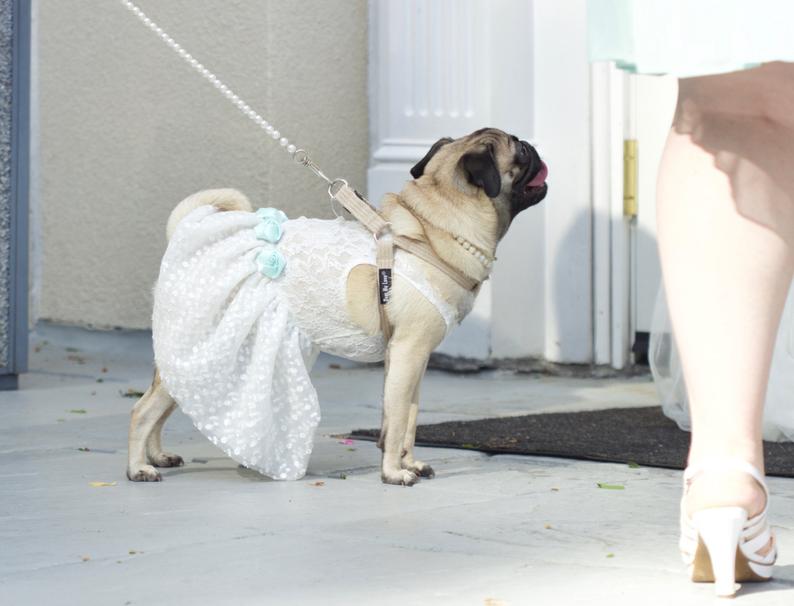 SHOP ON: Etsy
A beautiful lace dress with light blue accents. Perfect for any size dog due to its availability. It even has the special touch of a collar if you so choose, explaining that your doggie says "I do too." So sweet!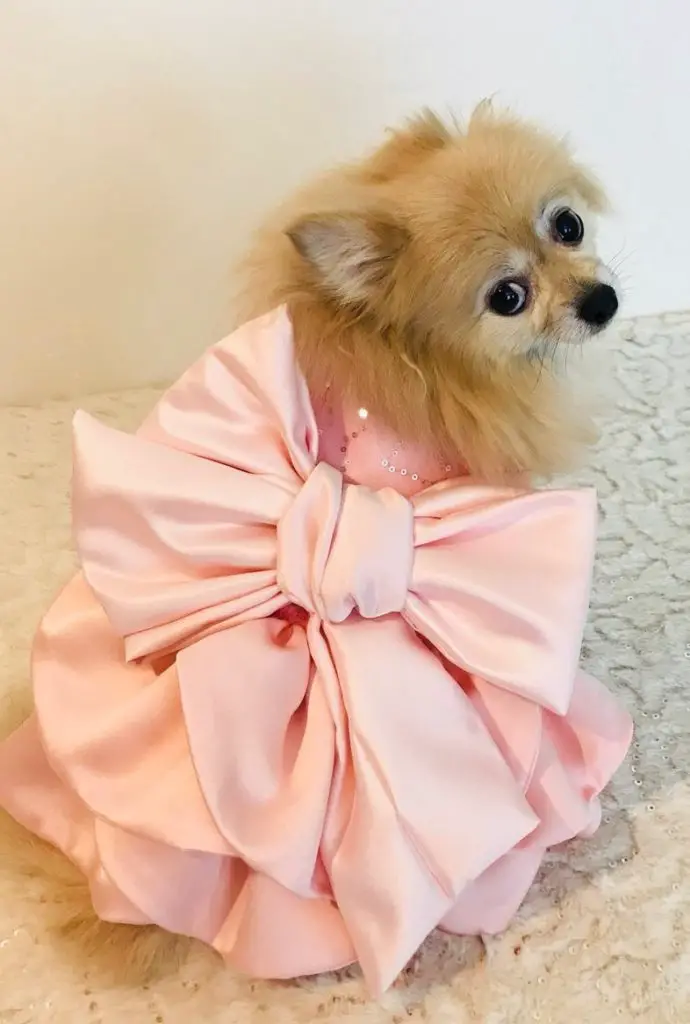 SHOP ON: Etsy
This adorable outfit is for the true fashionista! With an in-style bow, your dog will stand out as a leader of trends. The rhinestone accents are absolutely precious and detailed.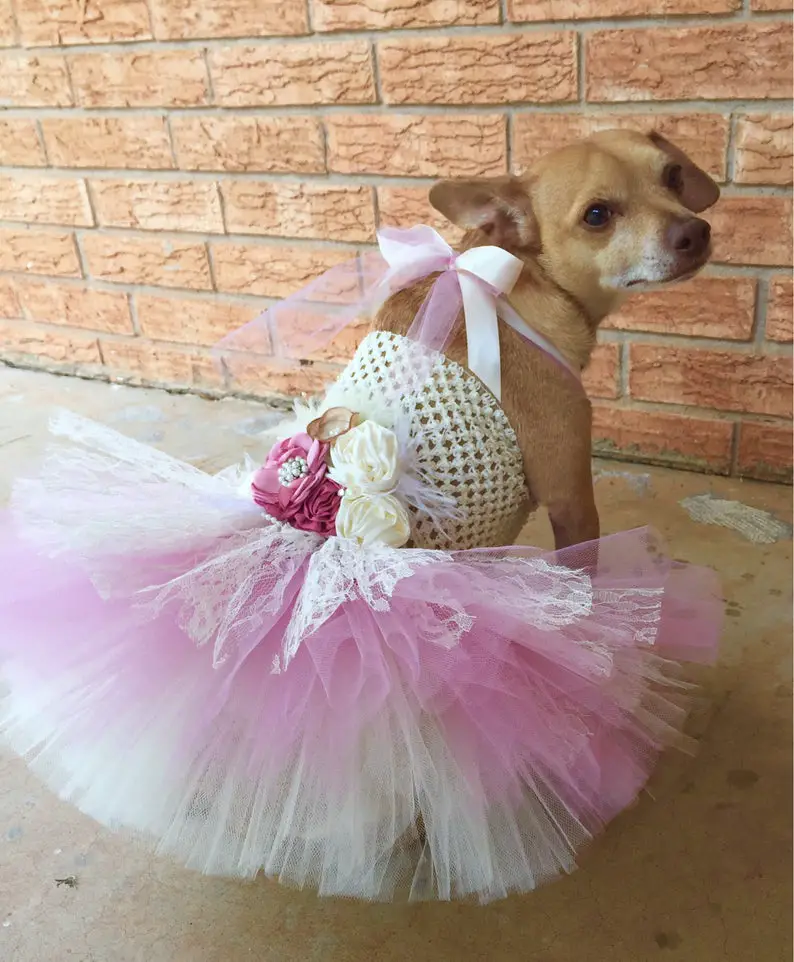 SHOP ON: Etsy
This Southern Belle Tutu style dress is the perfect thing for your angel to wear for your wedding. This style has a large bottom but is actually incredibly comfortable up top because of its freeing bodice design. The sizing is very versatile considering you choose a bodice length. Calling all dachshunds!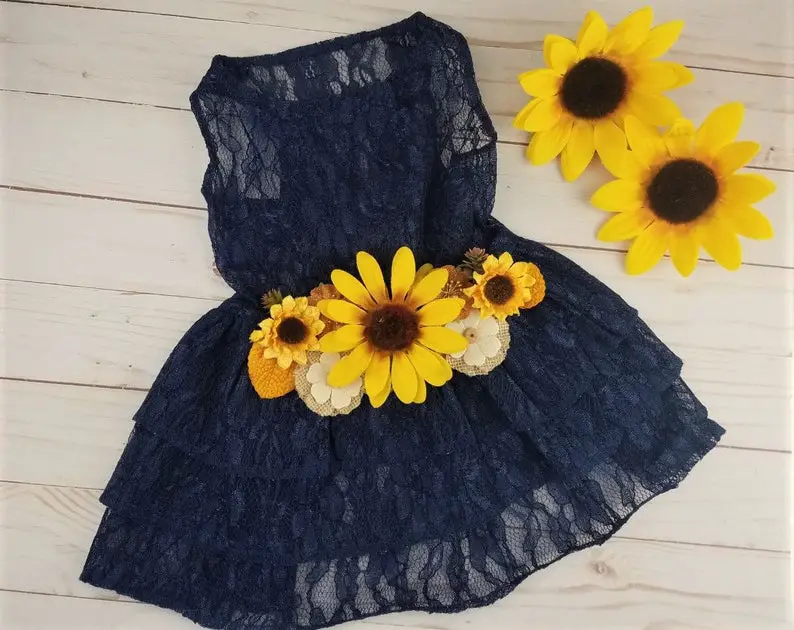 SHOP ON: Etsy
This summery outfit is perfect for a summer wedding! Your dog can serve as a pretty accent piece to your bridal color pallet, especially if it involves yellow and navy blue.
Related post: Best 4 Navy Blue Wedding Color Schemes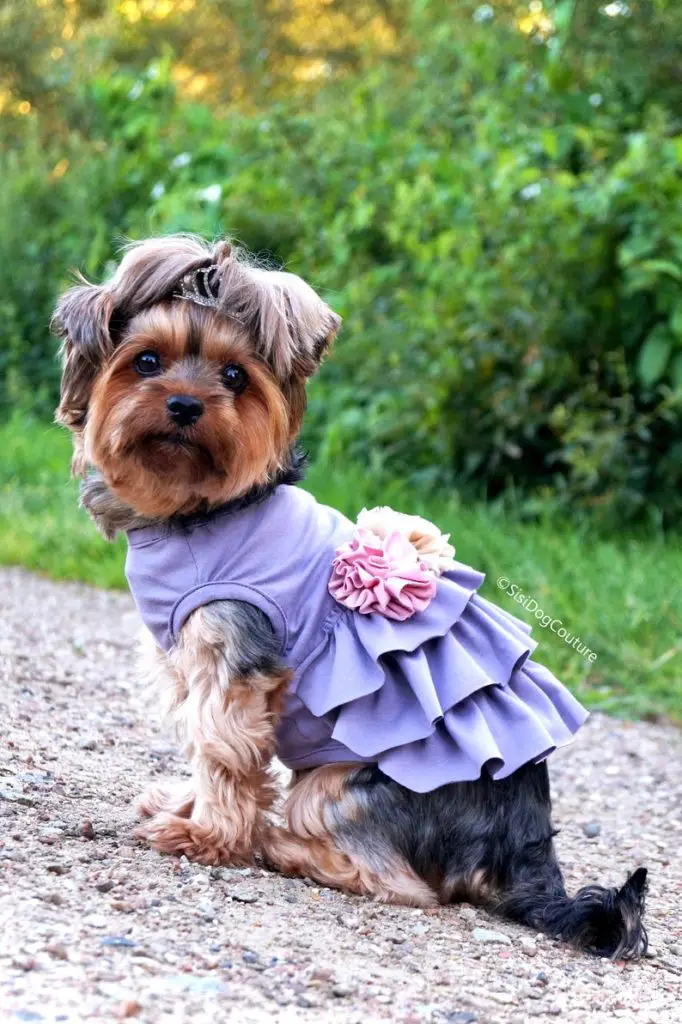 SHOP ON: Etsy
For the comfort-oriented dog! This frock is a cotton material, breathable, comfortable and adorable periwinkle color! Coming in a range of sizes, it'll be precious on and won't bother even the most sensitive of dogs.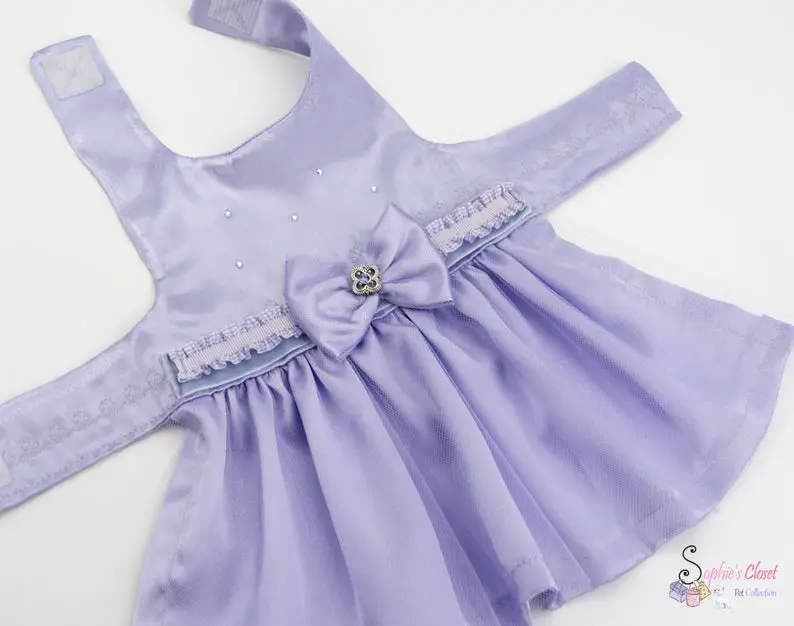 SHOP ON: Etsy
This baby purple bridesmaid dress for your pup is absolutely adorable. Belted and bowed, this is the perfect option for your purple-hued wedding. It matches quite a few common lavender colors used in the human-sized dresses too!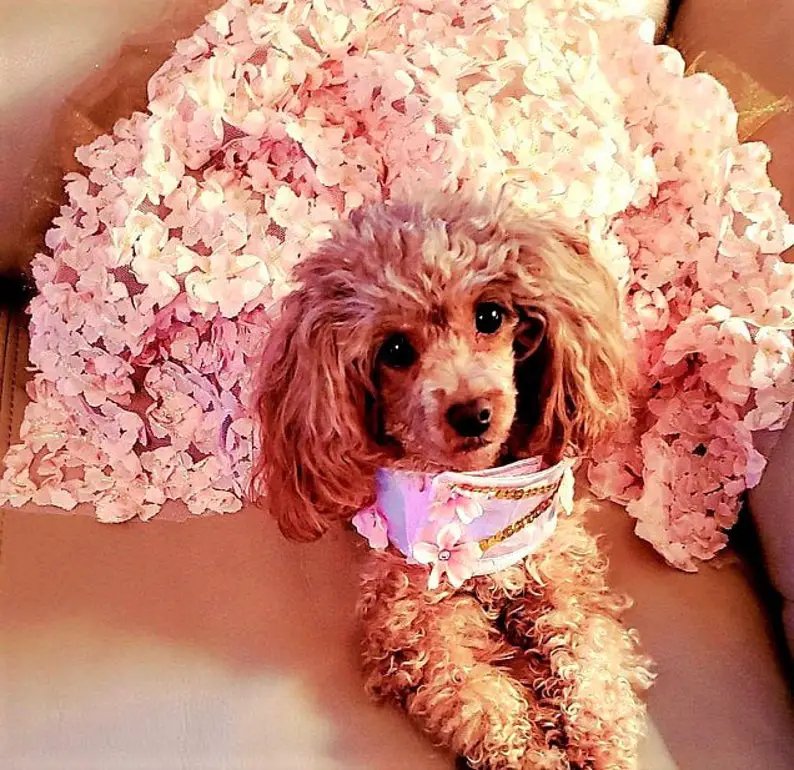 SHOP ON: Etsy
This precious outfit is all about the drama! For your most dramatic pup, the pink flowers on golden vines are absolutely adorable.
Keep Planning With Us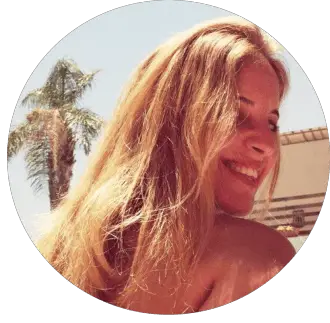 Kaden is an interior designer in her education who fell in love in designing weddings. Along with her husband, the wedding planner, Kaden specializes in creating content for weddings aim to fulfill brides dreams.