Last Updated on October 14, 2021 by Kaden
Summer is one of the loveliest times of the year to have an outdoor wedding. You're almost guaranteed sunshine, warmth, the lushness of greenery, and flowers in full bloom. It can make the outdoors feel magical.  And while there's no denying we all love an outdoor summer wedding, there is one factor that can put some people off the bright – hot sun. When you're trying to look your best, the last thing you need is sweat marks on your formal wear!
Depending on the time of day of your wedding, and where the sun is in the sky, your guests could be squinting as they watch you walk down the aisle. To remedy this, there are many creative ways to create shade at your outdoor or backyard wedding using parasols, so that you and your guests can feel more comfortable in the summer heat. 
In this article, we're sharing four ideas for creating shade at your outdoor wedding using parasols.
You might also like:
What Are Parasols Used For?
Parasols have a similar shape to umbrellas but are usually flatter when opened. Most commonly, they're carried to block the sun when walking. They come in many varieties of beautiful designs and colors and they can easily blend in with your wedding décor or even be the centerpiece of it.
4 Creative Ways to Use Parasols to Provide Shade at Your Outdoor Wedding
1. Paper Parasol Umbrella Wedding Favor
Paper parasol umbrella is a great idea to give your guests as a useful wedding favor: If you're having a garden wedding, a parasol can be a thoughtful welcome gift for your guests. Place them on each guest's seat or in a basket at the back of the aisle for your guests to pick up on the way to their seat. This way, they are free to carry and use their parasol throughout the day.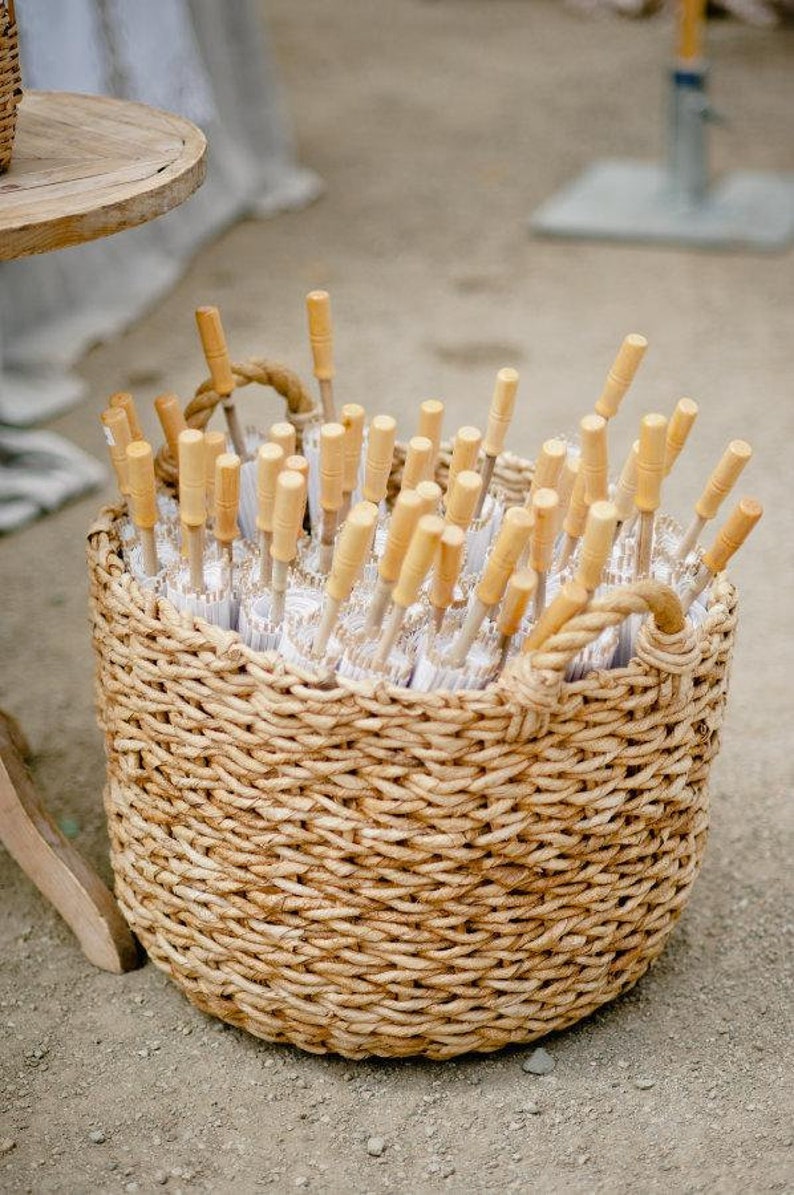 By Paper-Lanterns-USA on Etsy

2. Parasol Sky Ceiling
Create your own art installation by incorporating a magical floating parasol ceiling. Look at your space and find walls, tree trunks, or install posts so that you can tie string or rope going across and above the area you'd like to shade with parasols. Once you have a solid web of string, you can hang and secure the parasols to create a floating ceiling effect.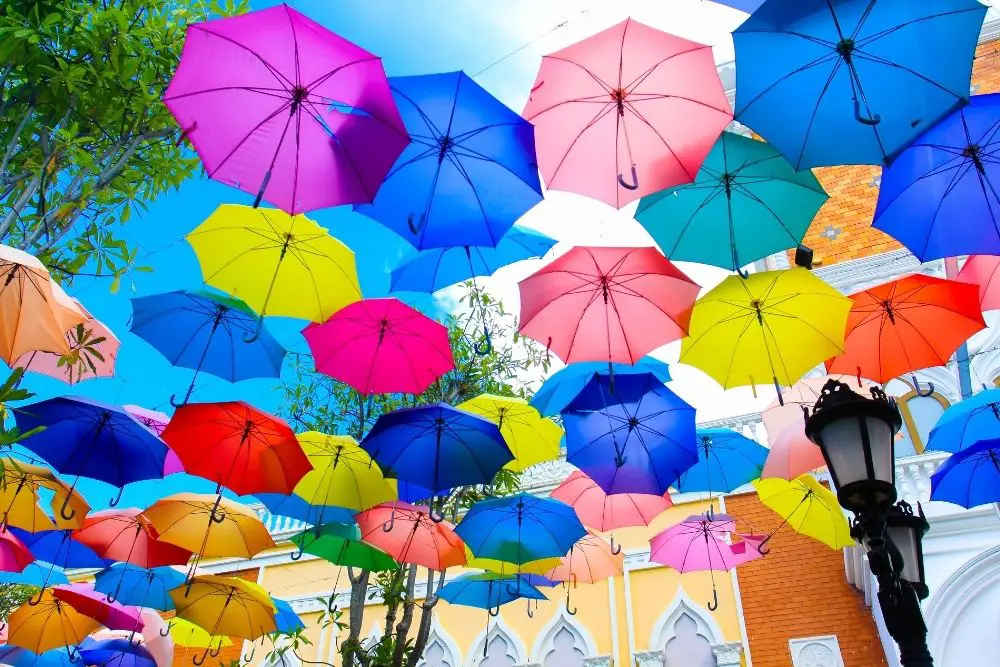 RELATED: DIY Backyard Wedding Decorations On a Budget
3. Parasols Wedding Props
Use parasols as props for your outdoor wedding couples and bridal party photoshoot. Your guests can get creative posing with them and they can be used to block out some of those harsh rays while also creating interesting shadow-filled photos!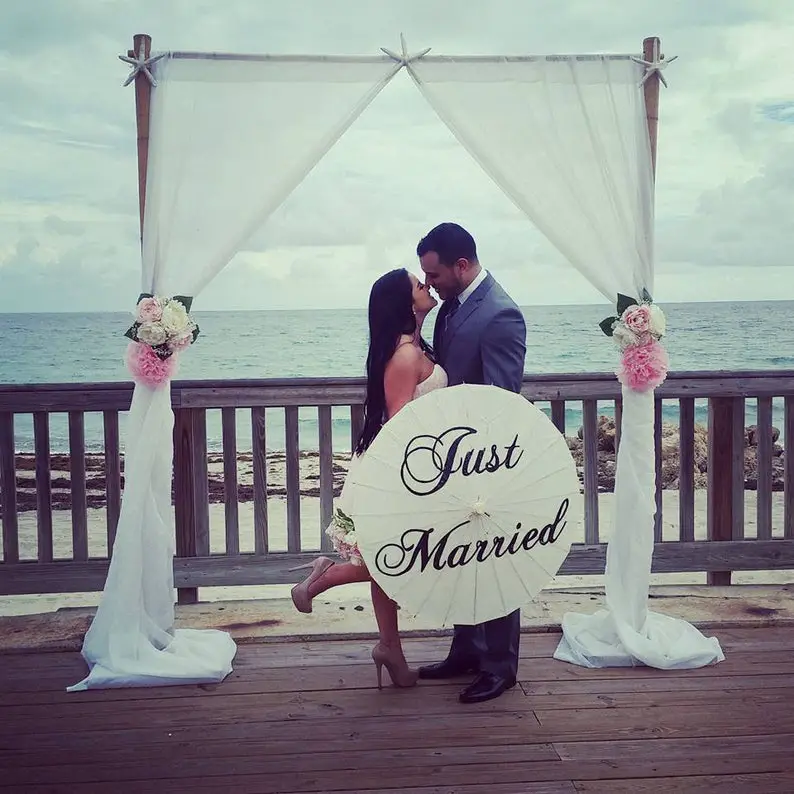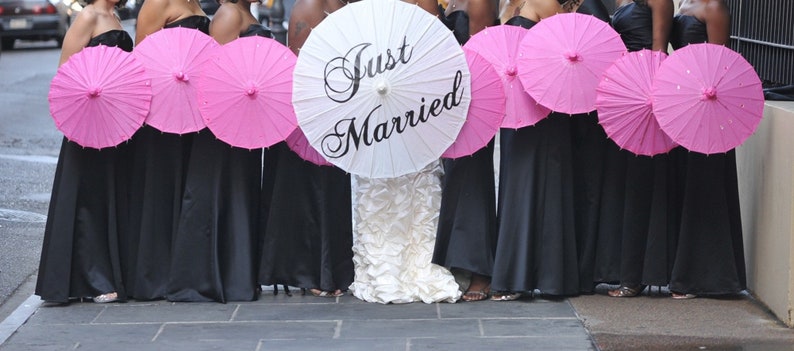 By exclusive-elements on Etsy
Use them for your bridal party photos. Create an unforgettable (and shady) photoshoot with your bridal party by incorporating parasols into the photos.
1- Have each groomsman hold one over each bridesmaid, gentleman style.
2- Have your wedding party stand in a straight line, alternate with one person holding the parasol out in front of themselves, the next one over their own head, and so forth. Get creative with it!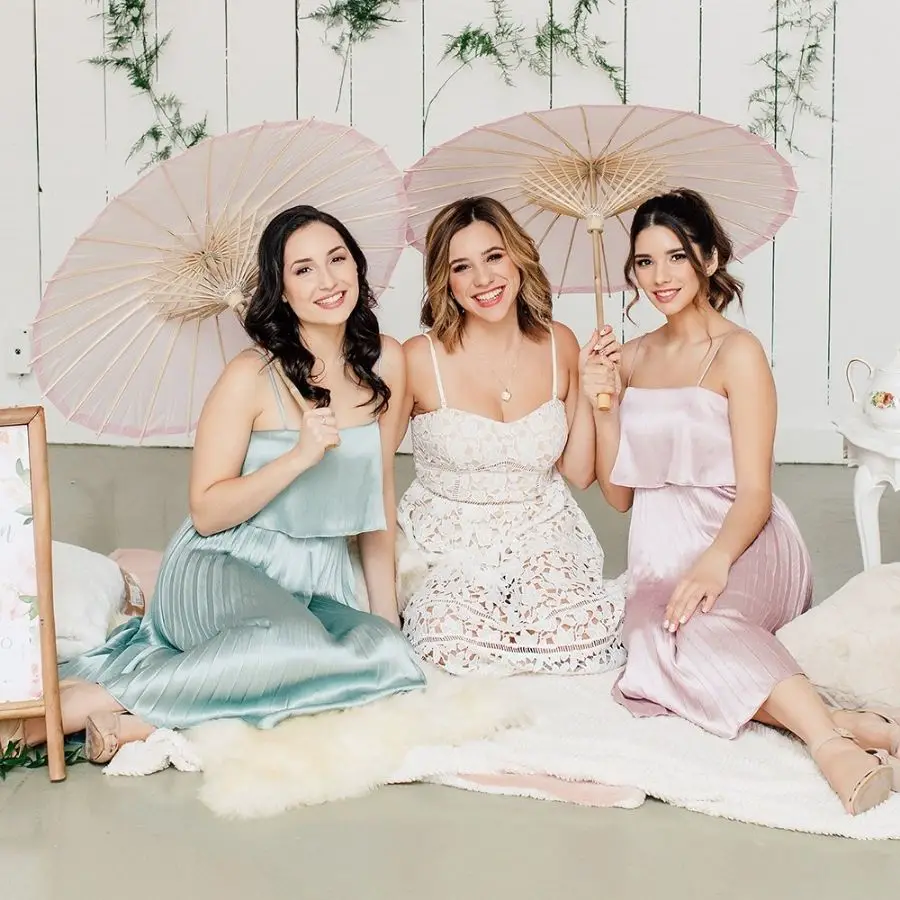 Found on weddingstar.com
4. Use Patio Parasols
Decorate your outdoor reception tables. Provide shade for your guests while they enjoy the wedding feast by incorporating patio parasols at each table. Choose a design that fits in with the décor of your wedding or simply white ones for a classic look.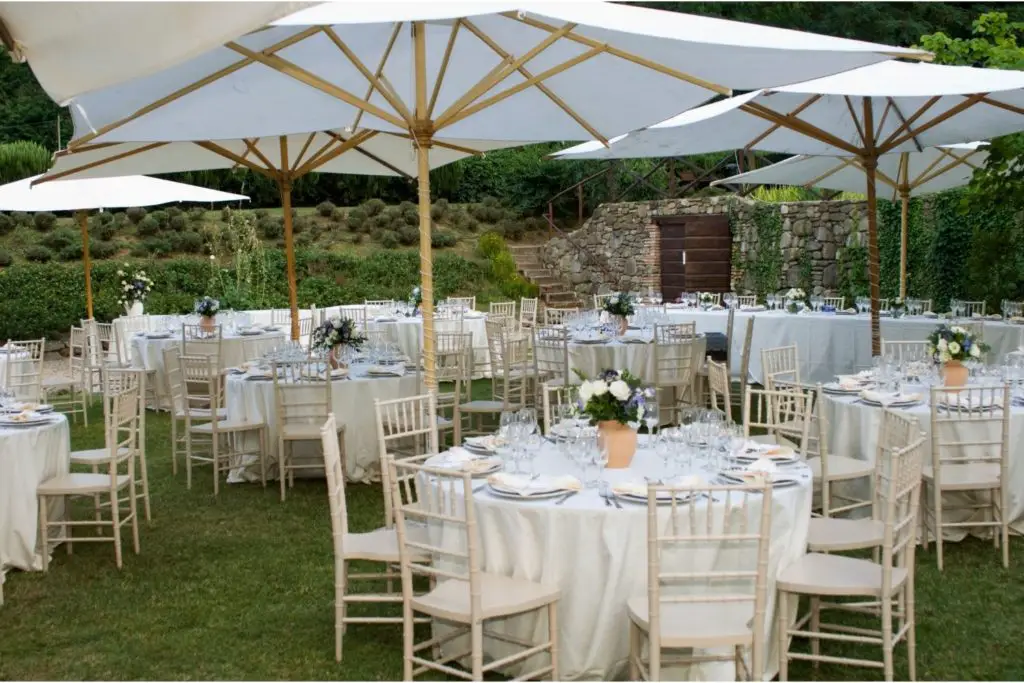 You can buy it on Amazon
RELATED: 10 of the Hottest Summer Wedding Trends of 2021
To Conclude
These are just some of the creative ways you can incorporate parasols to add a touch of whimsy, and shade, to your outdoor or backyard wedding. I hope you've enjoyed these tips and that you've found some inspiration for your upcoming wedding!
Keep Planning With Us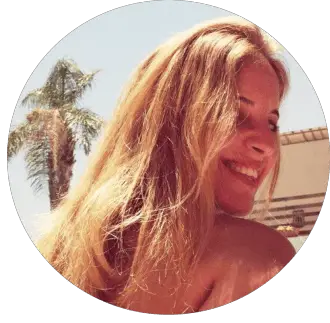 Kaden is an interior designer in her education who fell in love in designing weddings. Along with her husband, the wedding planner, Kaden specializes in creating content for weddings aim to fulfill brides dreams.