Last Updated on February 1, 2023 by Kaden
SAY WHAT YOU MEAN!!! And greet your guests with wedding welcome signs, this is the first thing your guests will see right at the entrance of your wedding place, to make it more than just a sign or a piece of decoration.
Wedding signs like everything at your wedding, need to be clear. All must be part of the wedding theme you have chosen, and most of all match the same design language and, color palette.
You might also like: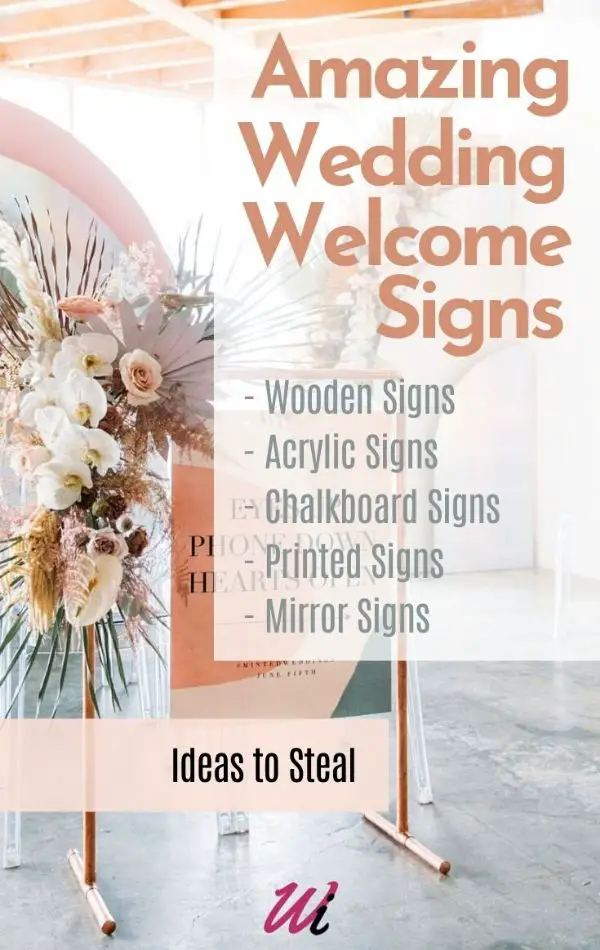 I hope you like these products! Just so you know, i may receive commissions on purchases made from the links on this page. Thank you if you use our links, i really appreciate it!
In this post:
– Wooden Rustic Welcome Signs
– Creative Elegant Acrylic Signs
– Chick Chalkboard Wedding Signs
– Printed Personalized Wedding Signs
– Stunning Mirror Signs
Top 15 Wedding Welcome Signs Ideas to Steal
Wooden Rustic Welcome Signs
---
1} This beautiful Weathered Oak Stain Wood Welcome Sign makes a perfect decorative item that fits great to an elegant rustic country chic wedding theme.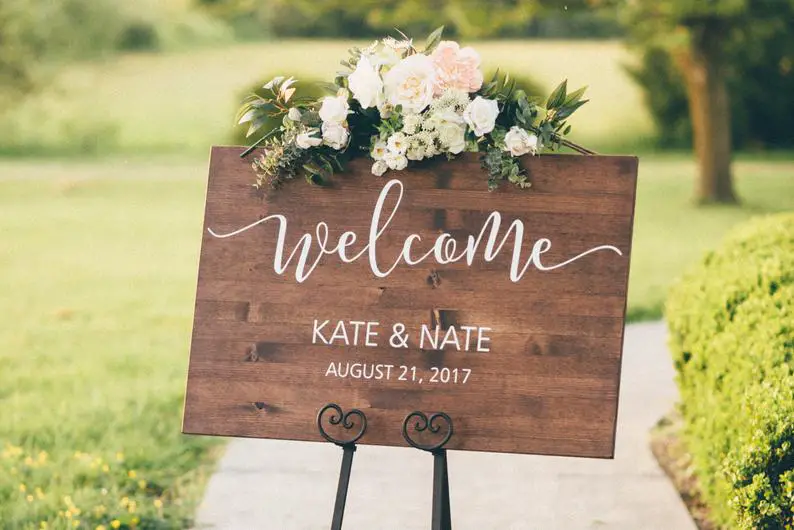 2} An elegant hand-painted white acrylic letters on Weathered Oak Stain Wood wedding sign for the entrance of your wedding ceremony or reception. 
3} It is simply beautiful! And can be your next DIY project for the wedding. You can write it on your own or just order some white personalized decal stickers (From Amazon) for a cleaner look.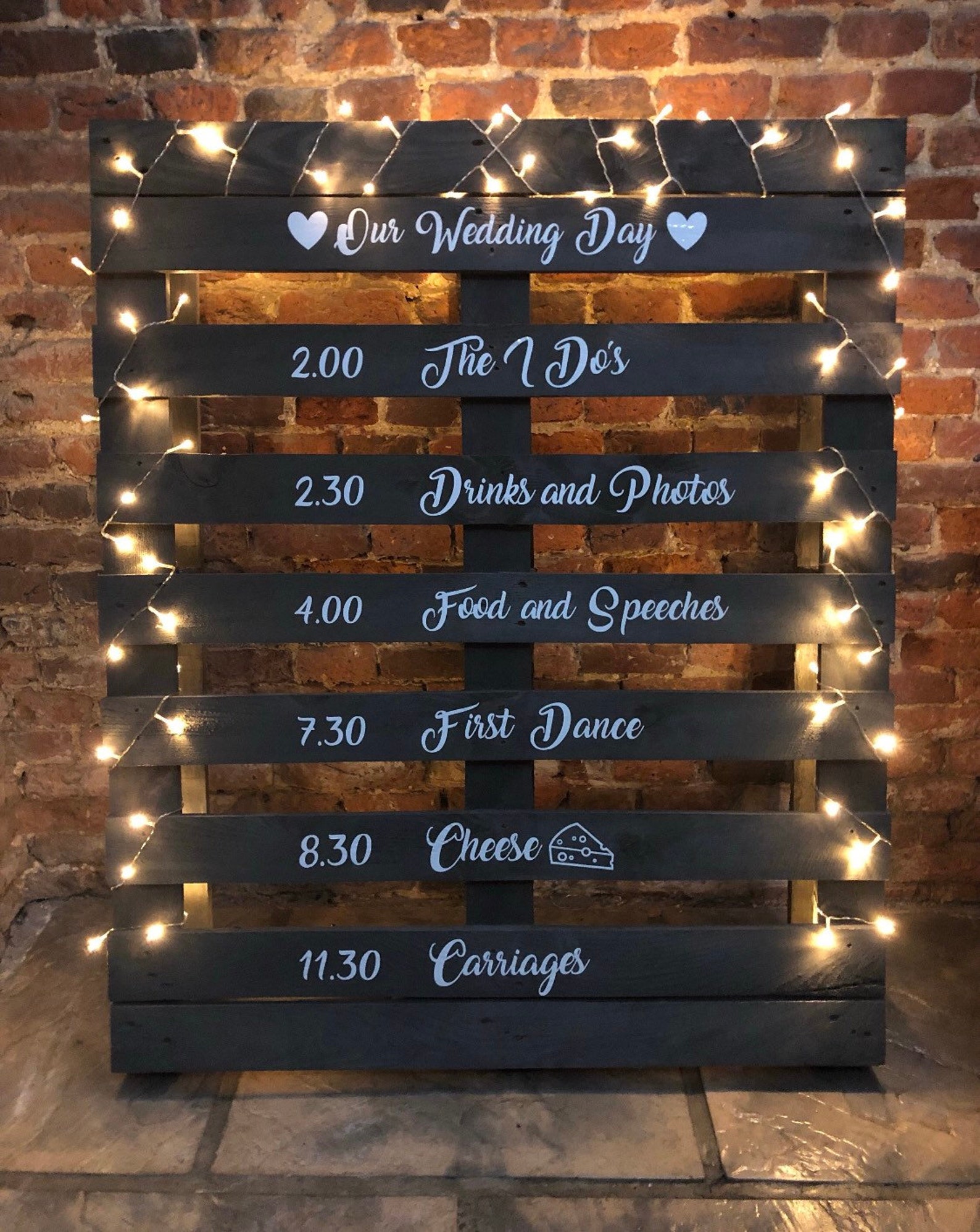 * Looking for more rustic-themed wedding ideas? visit my post on Rustic Country Wedding Favors for Guests
Creative Elegant Acrylic Wedding Welcome Signs
---
4} Amazing welcome signs! Picture rustic frame with greenery, white flowers, and white lettering stickers pasted on top of transparent acrylic.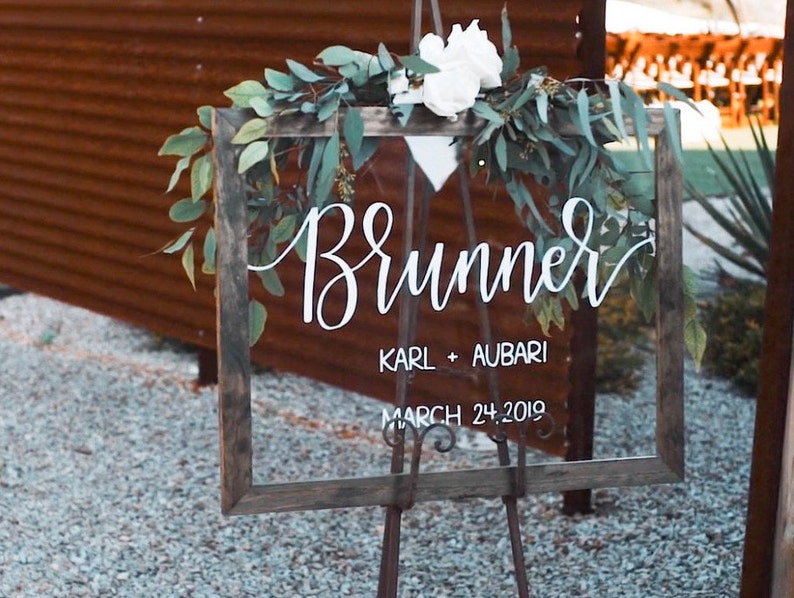 RELATED: 10 Stunning Clear Acrylic Wedding Welcome Signs
5} A unique welcome showstopper welcome decoration – an acrylic box full of flower greenery and white vinyl decal pasted on.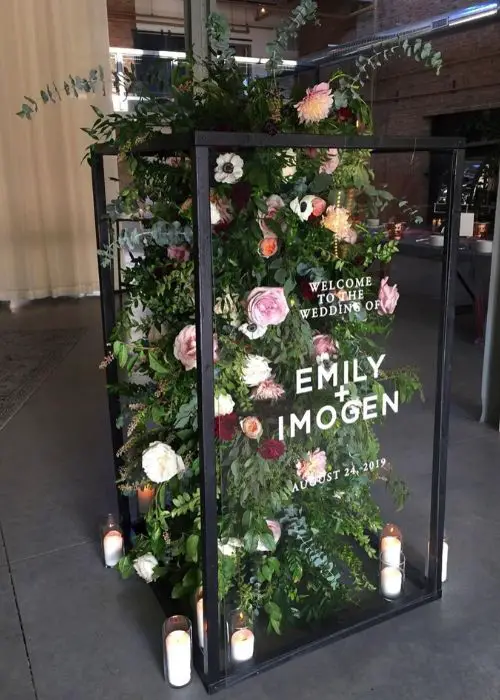 6} Classic modern and elegant frosted acrylic welcome sign with gold mirror acrylic lettering and floor wood easel.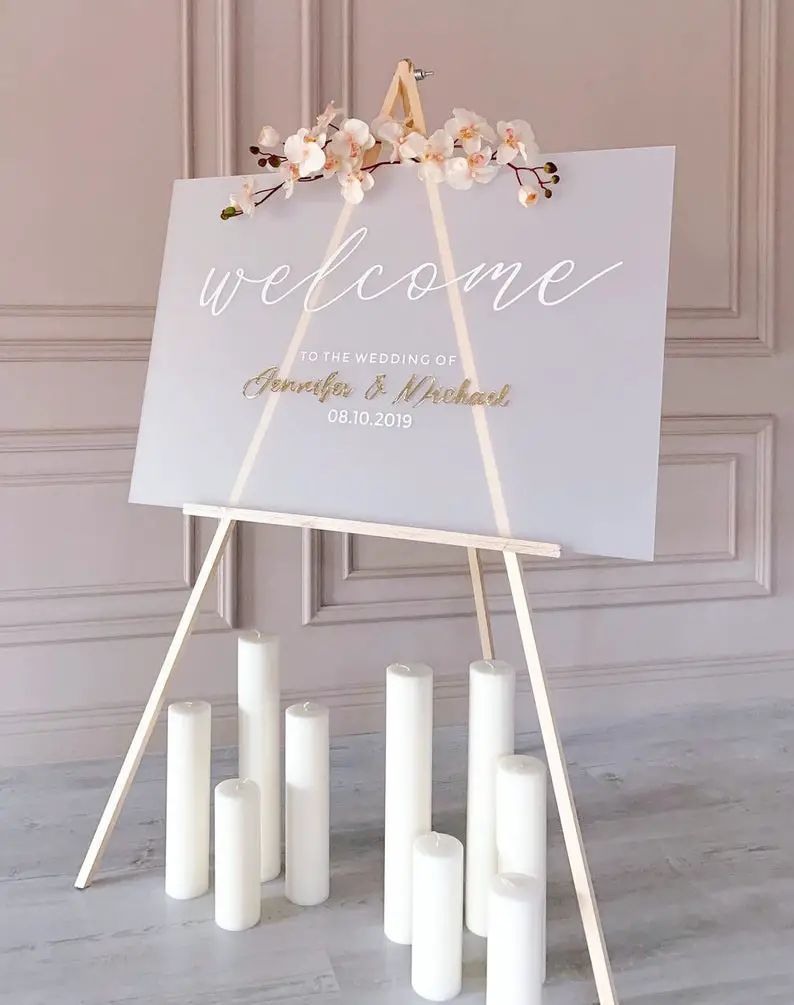 7} DIY with clear acrylic and painted it in white color (or any color you like). handwritten calligraphy, decorated easel and you got a beautiful elegant welcome sign.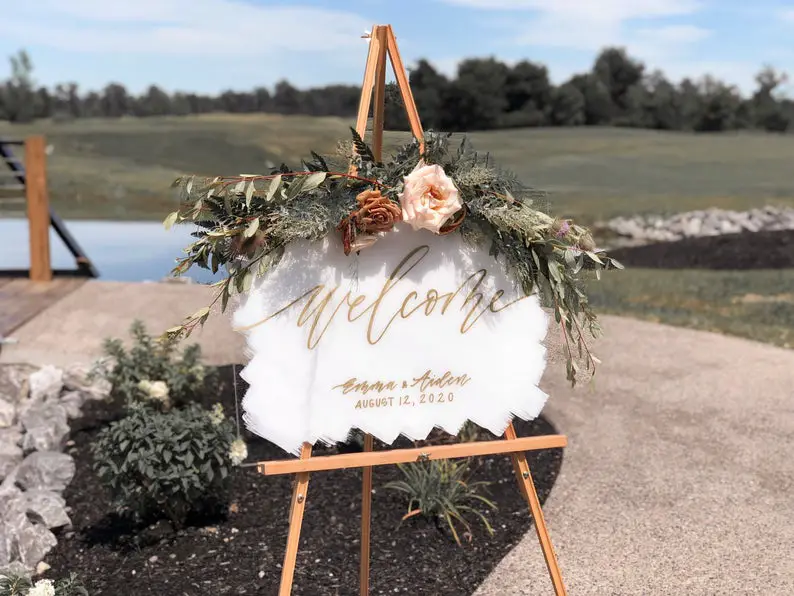 Chick Chalkboard Wedding Signs
---
8} A great wedding DIY Chalkboard wedding welcome sign
Add your character to the sign, make it special, and write a personal message to the guests.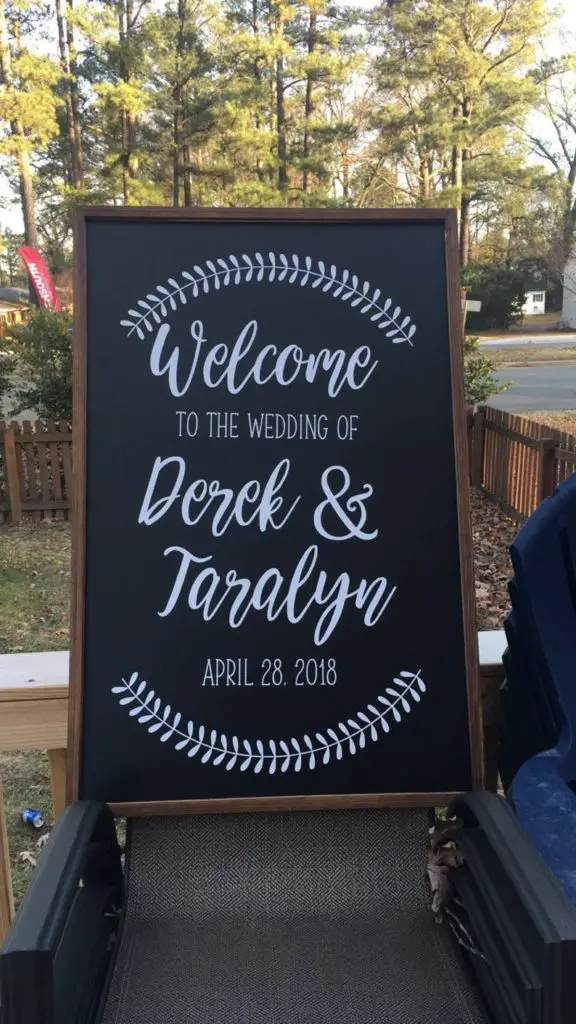 9} Instead of writing yourself with chalk, you can easily add decal lettering and achieve these beautiful results.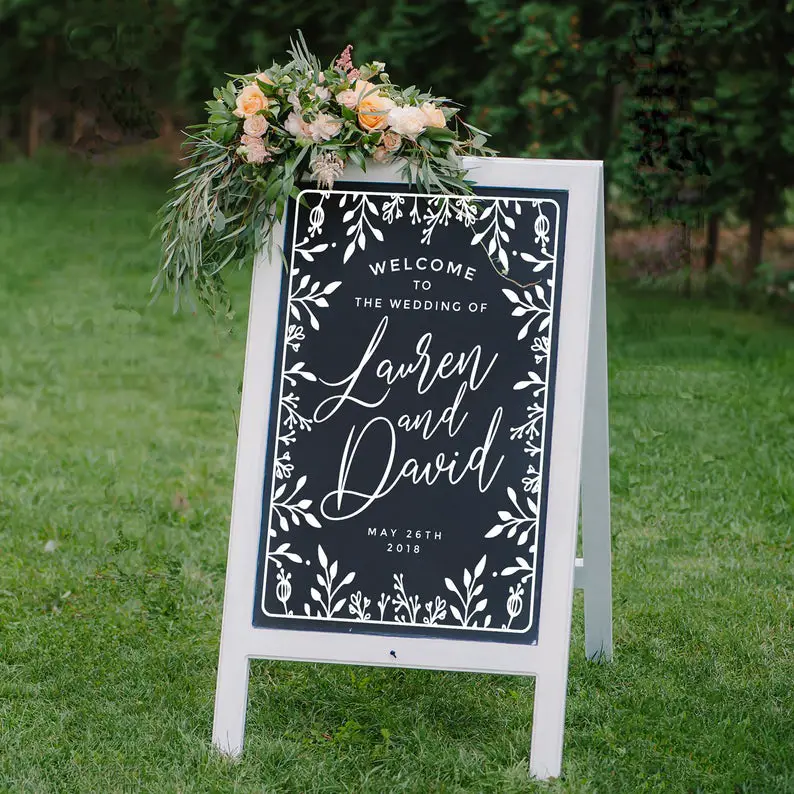 Printed Personalized Wedding Signs
---
10} Watercolor colorful handpainted abstract design. Gorgeous printed wedding welcome sign, look so beautiful with boho-chic flowers. perfect for summer and outdoor wedding ceremonies.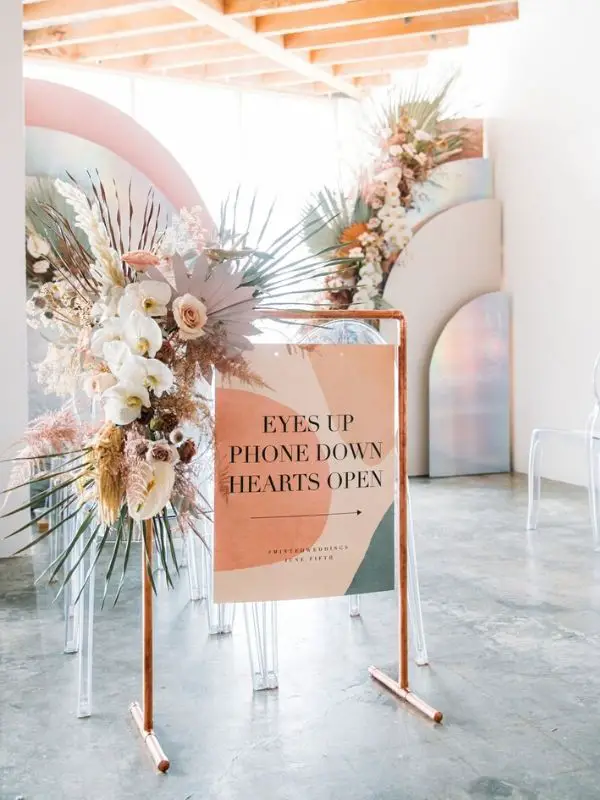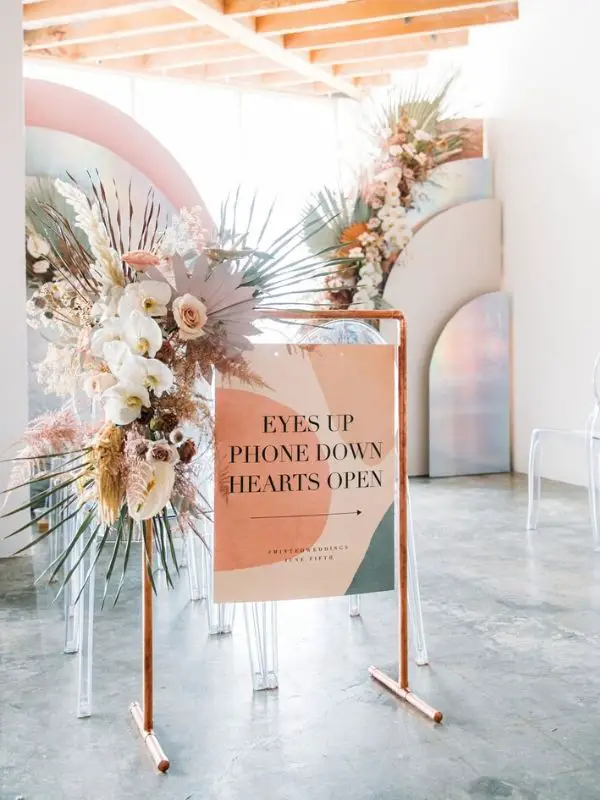 11} If you want a chalkboard wedding sign, you might consider this absolutely stunning personalized welcome poster with a chalkboard background.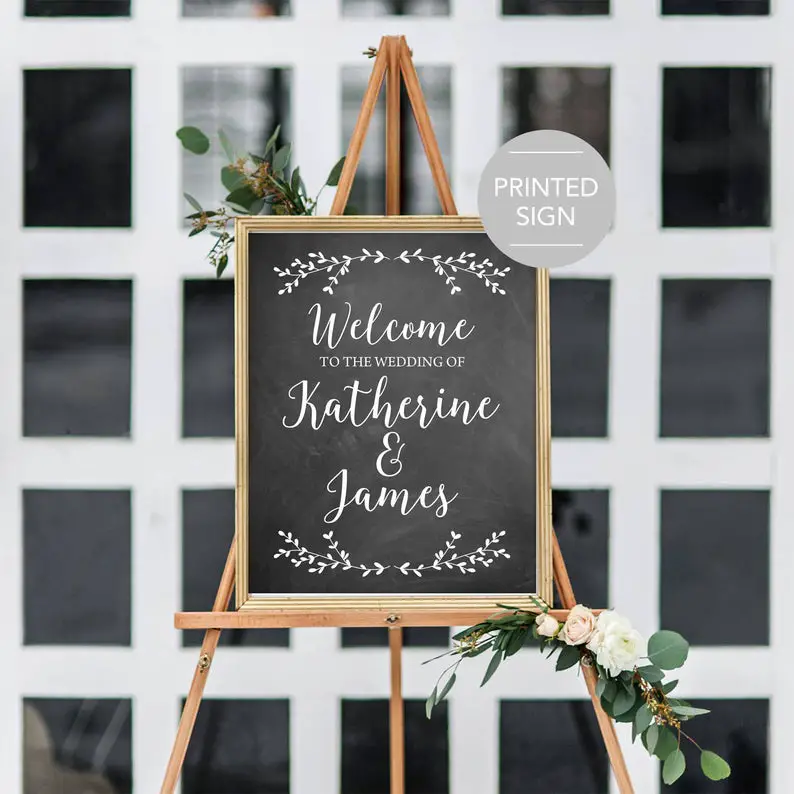 12} A beautiful painted watercolor eucalyptus and green leaves wedding welcome sign placed on a floral decorated wooden easel. It is so lovely that you can easily design and decorate the easel.
I encourage you not to forget this important item and add greenery and florals to match your chosen welcome sign. That's how you get the perfect result!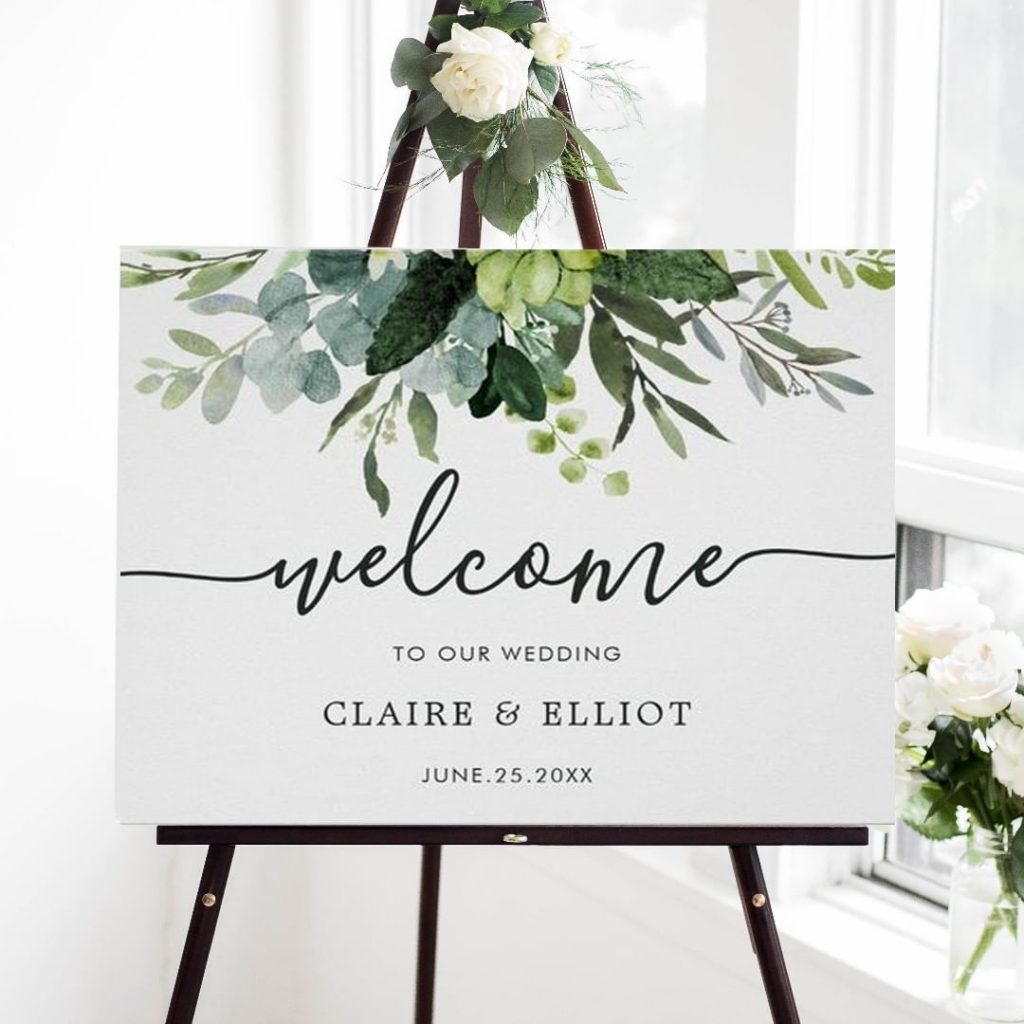 13} Vintage Wedding Poster featuring a colorful floral pattern over a cream background. This one of the most colorful and unique signs I have seen, adds a lot of joy to the wedding decoration and puts a big smile on your guest's faces. 
Stunning Mirror Signs
---
14} An elegant vertical layout vinyl decal over this beautiful gold mirror frame. for a luxurious and elegant wedding. The important part about mirror signs is the location. Place the mirror against a beautiful area with Greenery, flowers, or a sky view.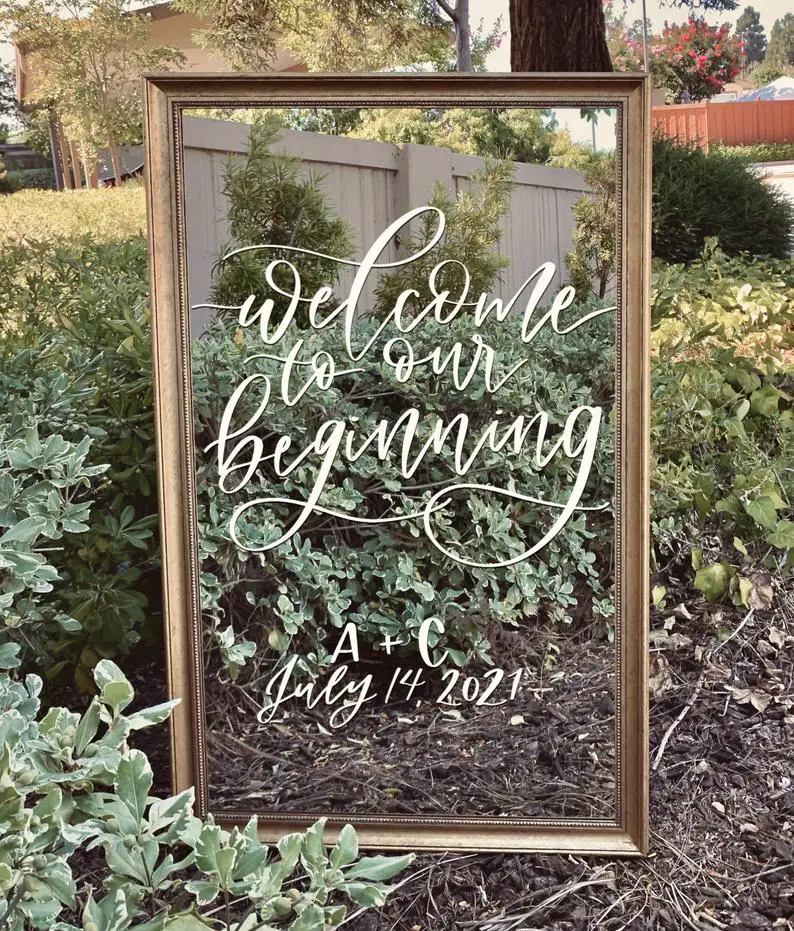 15) Go to the flea market and purchase a beautiful, rustic antique frame and add this clean vinyl handwritten Art Decal lettering. Don't forget to decorate the frame itself as well. For me, it's these little details that make the whole picture really perfect and in this lovely sine, all you need to add is blush pink roses.
* Hey you Brides! keep in mind, this post contains affiliate links. If you purchase a product or service with the links that I provide I may receive a small commission. There is no additional charge to you! Thank you for supporting my blog so I can continue to provide you with helpful wedding stuff (:
You may also like:
For More Inspiration on Wedding Signs – Check out my Pinterest page
For More Inspiration on Wedding Decorations – Check out my Pinterest page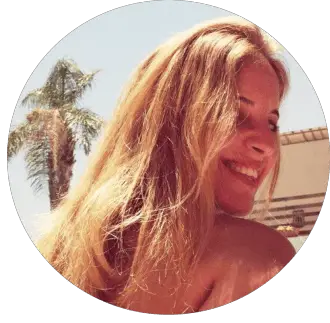 Kaden is an interior designer in her education who fell in love in designing weddings. Along with her husband, the wedding planner, Kaden specializes in creating content for weddings aim to fulfill brides dreams.