Last Updated on October 13, 2021 by Kaden
A question that is asked by many couples is whether to use the services of a
Wedding Planner or 'Day-Of Wedding Coordinator'
I'm glad to contribute from my many years of experience, in which I have served in each of these roles and will clarify the terms so you can know who is doing and responsible for what.
Think you have what it takes to do it yourself? Check Out my post on DIY Backyard Wedding Decorations On a Budget
Wedding Planner vs Wedding Coordinator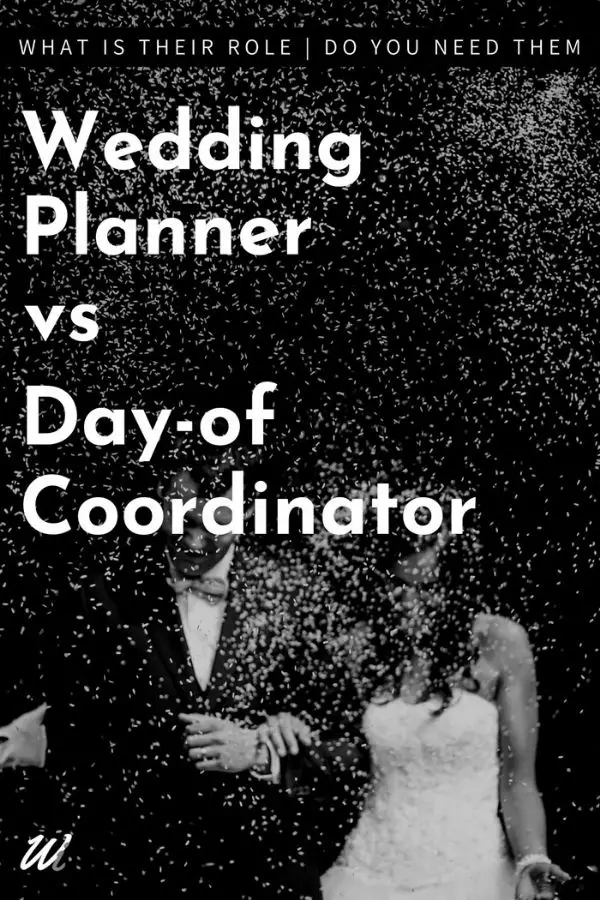 I hope you like these products! Just so you know, i may receive commissions on purchases made from the links on this page. Thank you if you use our links, i really appreciate it!
You might also like:
What Does A Wedding Planner Do?
A wedding planner (sometimes also called a wedding coordinator, which is why all the confusion) is the one that incorporates the entire wedding production process, I'll start by clarifying that role first.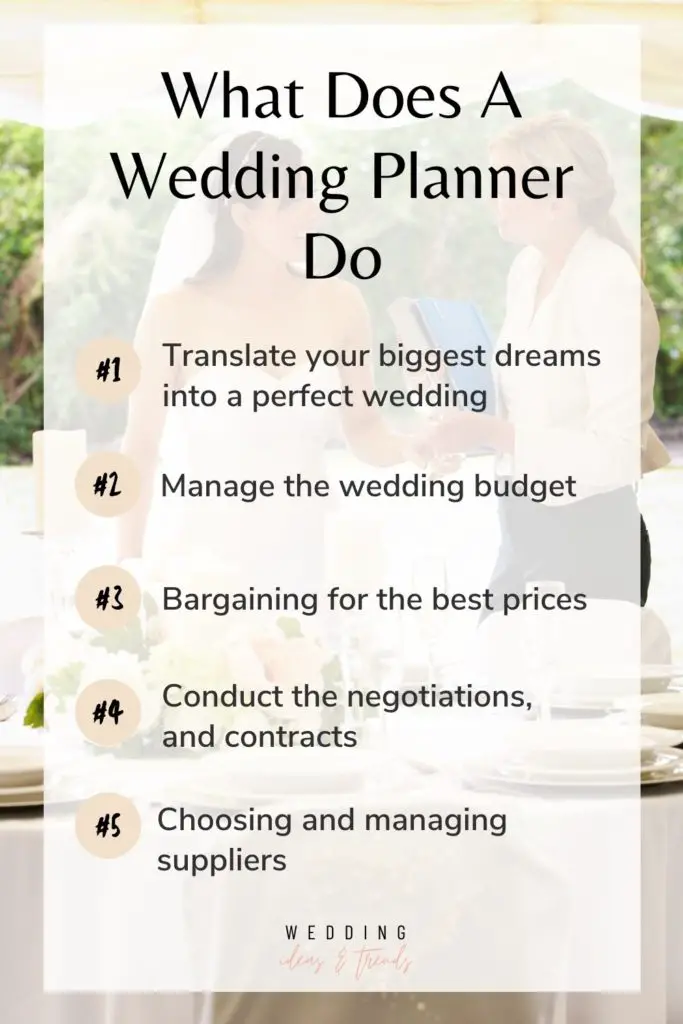 Wedding Planner for Your Dream Wedding
You must have quite a few dreams about your wedding. This is where the work of your wedding planner starts. Creating the right concept for your wedding, translate your biggest dreams into a perfect wedding.
It is important to note that the wedding planner only works for you.
You are the customer and much more, you're going to be friends.
You provide her or him with dreams and a budget, they sew everything to size as tailor-made. stars with finding the right venue, one that can fit your concept, guests, and budget.
Wedding Planner Cares about Your Money
Your wedding planner choosing pleasant, comfortable, and professional suppliers, bargaining for the best prices to fit your budget, and deals with contracts.
They will make sure that each of the vendors you choose is ready for you and able to perform their duties perfectly.
Coordinates the needs of the venue and its rules, monitor vendors logistically, and that they meet safety and insurance requirements.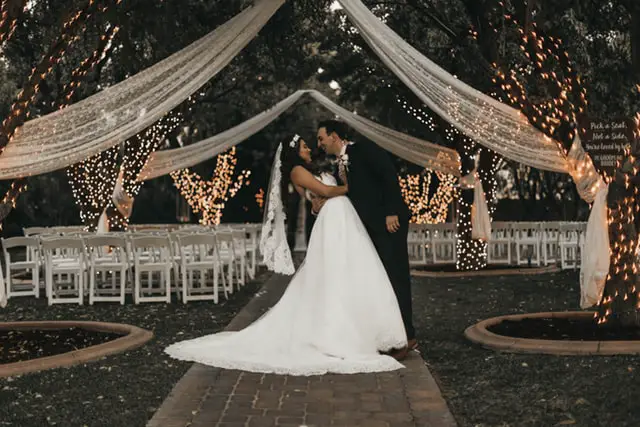 Manage the budget requires creativity and skills, to make sure everything goes in, including your dreams. Beyond that, the wedding planner will conduct the negotiations, bargain for you, and manage contracts on your behalf.
Wait, there's more. the wedding planner's strength is in this long acquaintance with various wedding vendors and venues. Vendors are interested in the wedding planner as a customer, and it comes with great value. they will treat your wedding accordingly.
Conclusion- Is Wedding Planner the Right Choice?
For those who are looking for a professional and experienced figure who can manage in a very organized way and take responsibility for everything from A to Z and enable you to be a guest at your wedding, a wedding planner can be the right choice.
What Does A Venue Wedding Coordinator Do? 
When discussing wedding planner vs wedding Coordinator I must mention the role of A Venue Wedding Coordinator.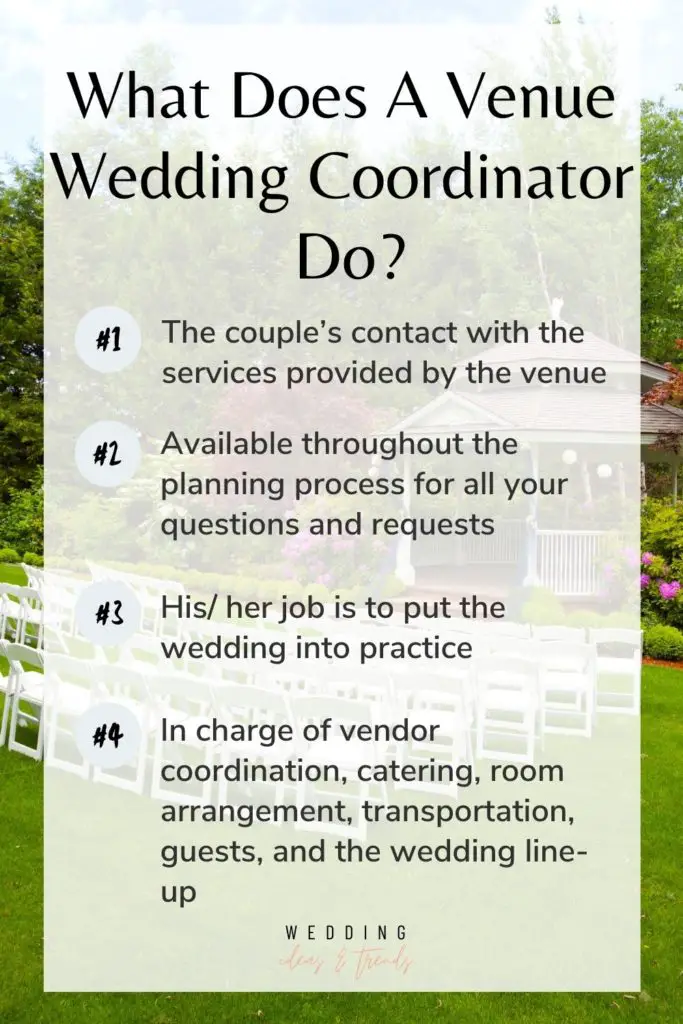 For most or even the vast majority of cases, this role is part of the sales team or the executive team of the venue or the catering. And for you, this person's main function is to be the couple's contact with the services provided by the venue.
Venue Wedding Coordinator Only Works for the Venue
Take into account that your wedding coordinator might be oriented towards the catering, for some venues, it seems reasonable.
For me, that indicates that the person in charge will be lacking in understanding of other issues related to your wedding coordination.
Because his point of view of events is towards food & drinks services and has no time to turn to comprehensive from a superior perspective to coordinate your wedding.
Luckily, good venus, act differently. So this will be a warning light for you. And a good point to mark the dos and don'ts in choosing a wedding venue.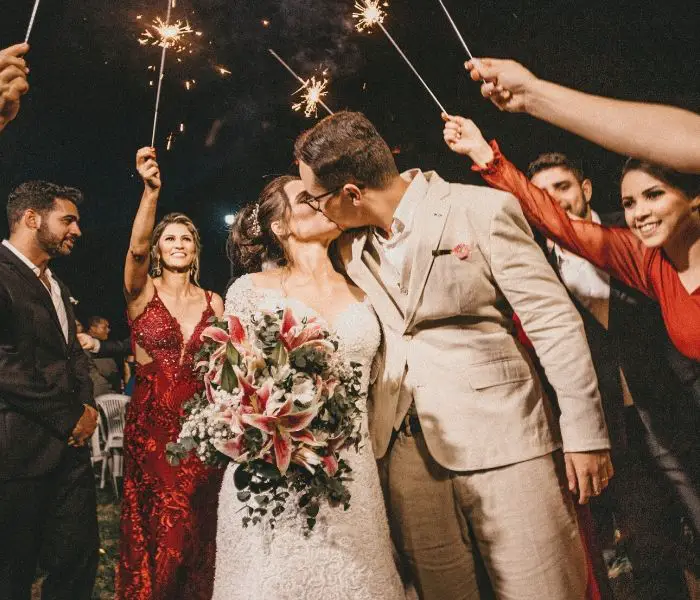 Wedding Coordinator Will Answer any Questions
And now, let's go back to the pros. The venue manager or wedding coordinator works on behalf of the venue.
It is a difficult job that requires capabilities in all aspects of your wedding. Vendors coordination, catering, room arrangement, transportation, guests, and the wedding line-up, of course.
Their role starts with the first meeting when you come to see or choose the venue. Or at least about a month before your wedding day. Once you've closed all the details with the venue and your other vendors, the manager collects all these details and his job is to put the wedding into practice.
The wedding coordinator is your address, will be available throughout the planning process for all your questions and requests, and believe me you will. For those of you who want quiet and prefer to use an All-Inclusive wedding venue that provides you with most of your wedding needs, and can be tailored to suit your needs.
Make sure you trust the venus wedding coordinator has the ability to be in charge of the wedding complex and manage matters on the wedding day. Remember that, unlike a wedding planner, the wedding coordinator represents the venue and this leads us to another role that may be just right for your needs.
What Does A Wedding Day-of Coordinator Do?
After understanding the role of a wedding planner and clarifying the responsibility of the venue's wedding coordinator, the next role is indispensable for every wedding.
If you had a good friend, Best Man, or Bridesmaid, someone you trust with your eyes closed but also a wedding expert, it's that person!
Why You Need a Day-of Coordinator for Your Wedding?
So, after you've already found a place for a wedding, a DJ, or a wedding band, you've decided on the food and beverage menu, the design has already been chosen and the flowers too. Take a breath.
You've worked hard and put a lot of effort into organizing guest transport and seating has been restored. Everything is already ready, but what about the wedding day?
Hiring the services of a wedding coordinator for the wedding day lowers the stress and responsibility. Allowing you to celebrate this special day with your families and your loved ones.

I suggest you meet about a month before the wedding day.
get to know each other and understand what you are expecting and what you are worried about. The wedding coordinator collects all the supplier's contracts and knows what you have agreed with them and their obligation.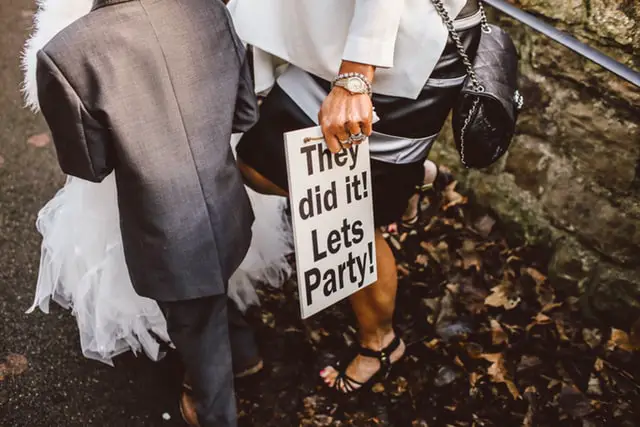 Day-of Coordinator for Clear mind on the Special Day
The coordinator is your representative in front of the vendors and the venue. He will make sure they have everything they need logistically to meet your venue requirements.
During the event, running the line-up and collaborate with all the vendors. Most importantly, he will be there to handle any requests by you, your families, and other guests.
In summary, it is important to know that the event day-of coordinator replaces you in communication with the vendors. It is in his best interest that you will be calm, happy and will get exactly what you promised.
I believe that in these few lines I was able to clarify and explain each of the roles of those who will make your wedding perfect❤️️.
NEXT UP: 10 Affordable & Tasty Edible Wedding Favors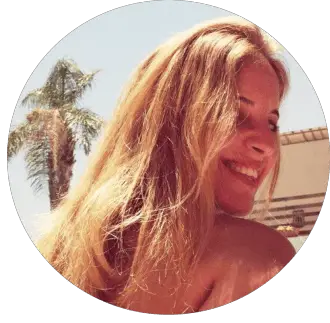 Kaden is an interior designer in her education who fell in love in designing weddings. Along with her husband, the wedding planner, Kaden specializes in creating content for weddings aim to fulfill brides dreams.