Last Updated on September 9, 2021 by Kaden
The late July heatwave is the perfect time to move from spring bouquets to summer flowers. From Lilies to orchids, this July wedding bouquet ideas guide will help you create the perfect bridal look from seasonal flowers for the hottest season of the year.
When picking out wedding flowers it's a good idea to take into consideration the time of year and what feelings you want to see from the bouquet. June weddings tend to be more nostalgic and intimate while July weddings are more about fun and celebrations. Whatever the case may be, July weddings tend to bring out more vivid memories, making for an ideal time for giving your bouquet some playful color.
You might also like: 10 of the Hottest Summer Wedding Trends of 2021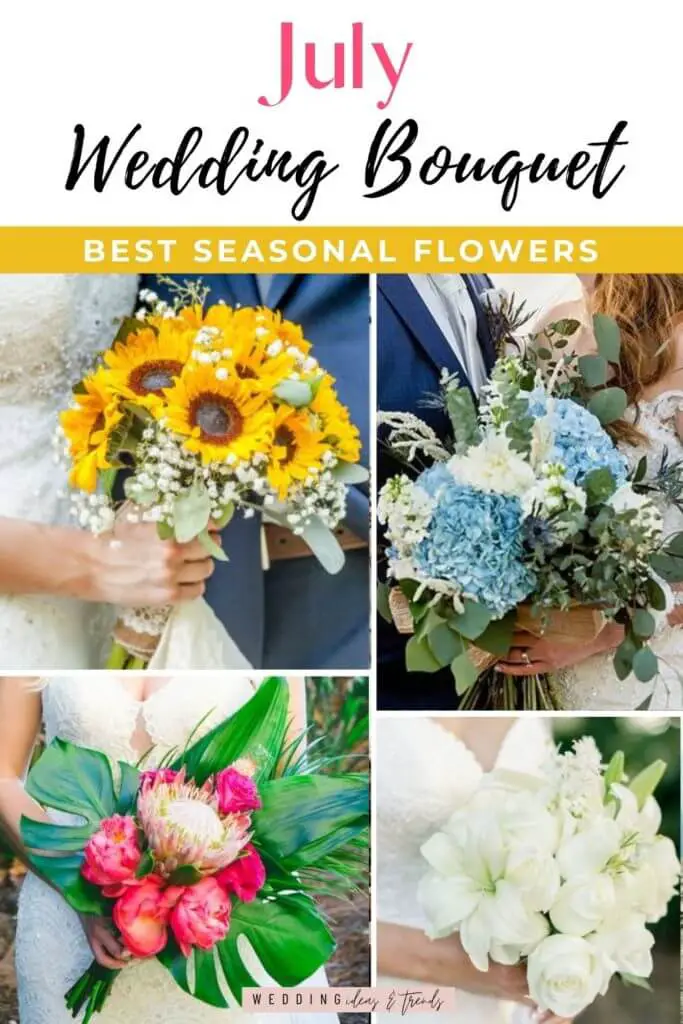 I hope you like these products! Just so you know, I may receive commissions on purchases made from the links on this page. Thank you if you use our links, I really appreciate it!
Why it's best to choose seasonal flowers for your wedding?
When you choose a bouquet using flowers that are in season and accessible locally, you will save money. Out-of-season flowers have to be shipped from other parts of the world and you will pay a lot more for them.
RELATED: Crucial Tips for Planning a Wedding on a Budget
In order to choose the right July wedding bouquet, all you need to know is what flowers are in season during this time of the year and what colors suit your skin tone best. By choosing the flowers that will look their most amazing in July, you can create the perfect bouquet for your wedding.
RELATED: How to Choose Wedding Flowers – Top Wedding Flowers Tips
Let's take a look at 7 stunning July wedding bouquet Ideas with seasonal flowers:
1} Orchids
Orchids are a sophisticated and elegant choice for the wedding bouquet. They make the perfect choice for an adventurous bride who wants to show off her sense of self. From vibrant yellow to stunning purple, orchids in all their shapes, sizes, and colors will add a unique romantic flair to your big day.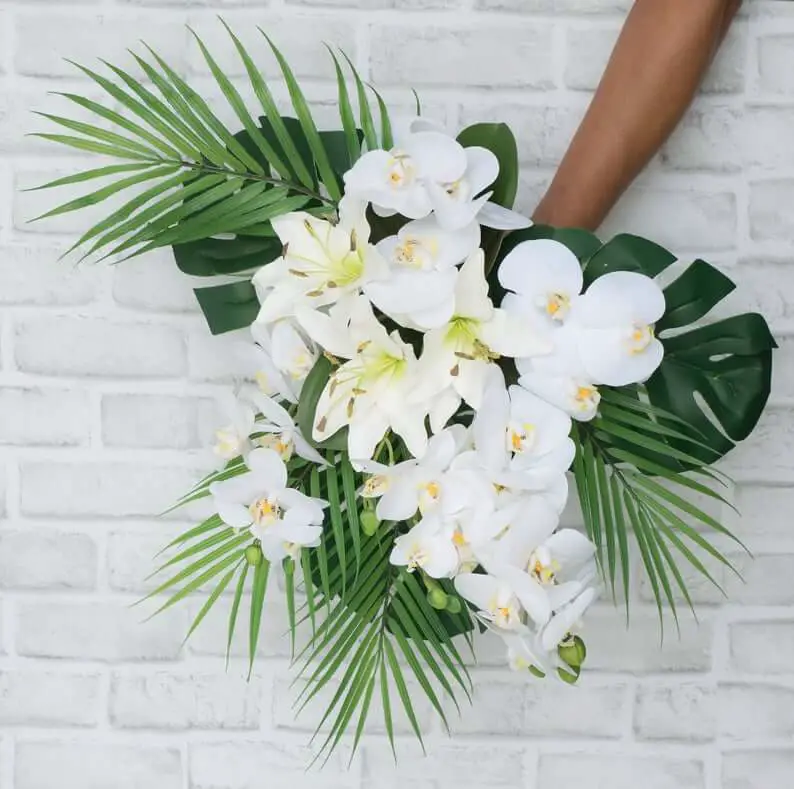 White tropical bouquet designed by Wedideas via Etsy
2} Lilies
Lilies are a popular choice for bouquets at summer weddings. The vibrant, unique look of lilies makes them an eye-catching choice for guests of any July wedding. White lilies typically symbolize purity, red lilies represent love and passion, pink lilies symbolize abundance, yellow lily flowers mean friendship, and orange lilies represent confidence.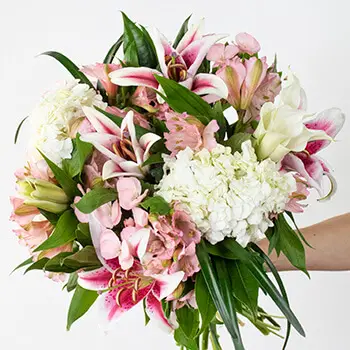 Bubbly pink flower bouquet via FiftyFlowers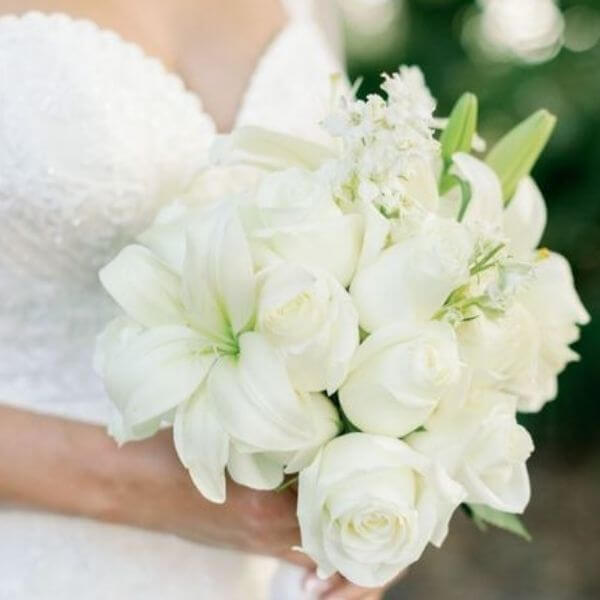 Romantic summertime minimony via FiftyFlowers
3} Dahlias
Dahlias flowers in full bloom and beautiful colors are the perfect bouquet for any bride. Dahlia flowers symbolize a lasting marriage and a strong commitment. Dahlias are considered a classic flower to give during the Victorian era. The dahlia flower color range is from red to pink, orange, yellow, white, purple, blue, and more.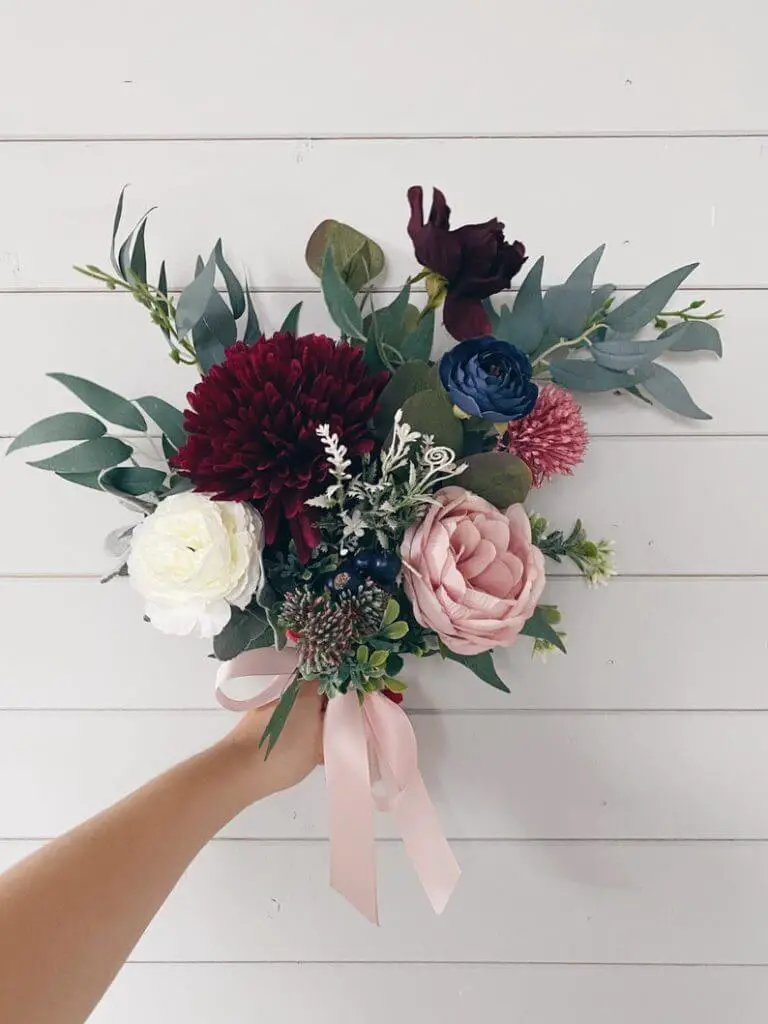 Burgundy dahlias bouquet designed by SERENlTY via Etsy
4} Gerber Daisies
Vivid, cheerful colors such as pink, white, yellow, orange, and red make the Gerbera a perfect choice for an outdoor wedding or reception. These flowers will add the perfect finishing touch whether you have chosen a bold, playful or subtle color scheme. Gerber Daisies symbolize optimism and a bright future.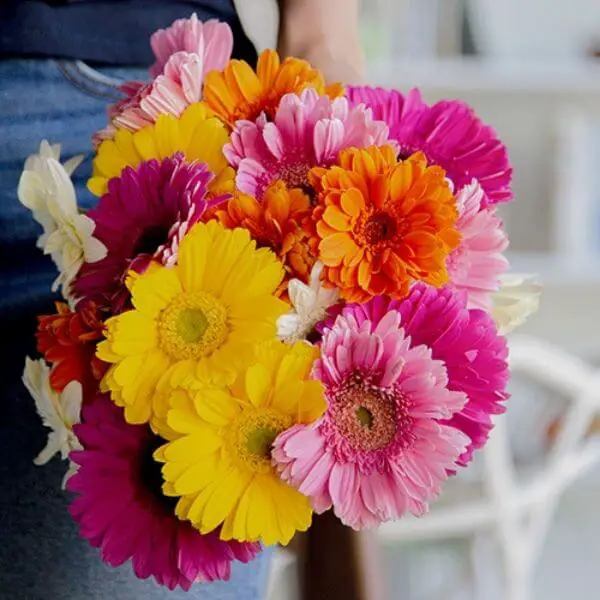 Gerbera daisies mixed colors via FiftyFlowers
5} Hydrangeas 
With soft colors and pom-pom-like blossoms, and a lovely symbol of appreciation and heartfelt emotion Hydrangeas are the perfect flowers for a July beach wedding. If you want to wow your guests, pick some blue hydrangeas. The color fits the occasion and stands out easily from the greenery.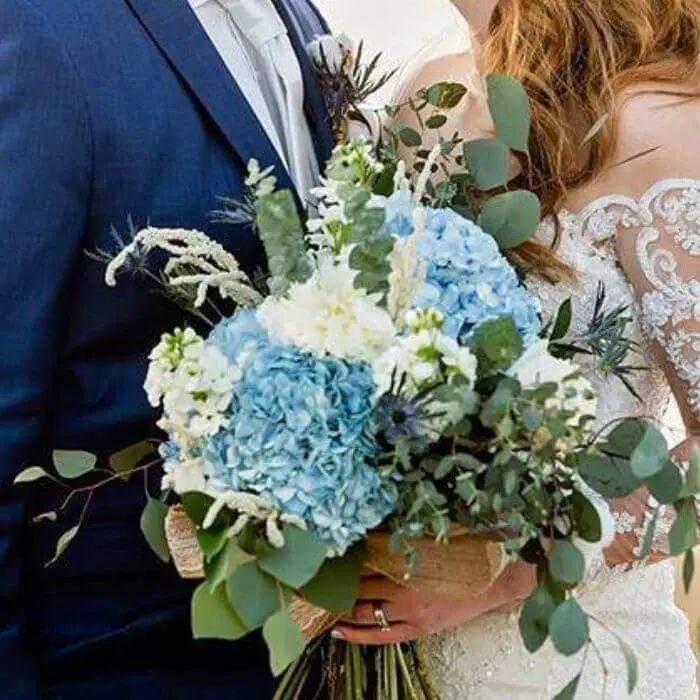 Blue hydrangea bouquet via FiftyFlowers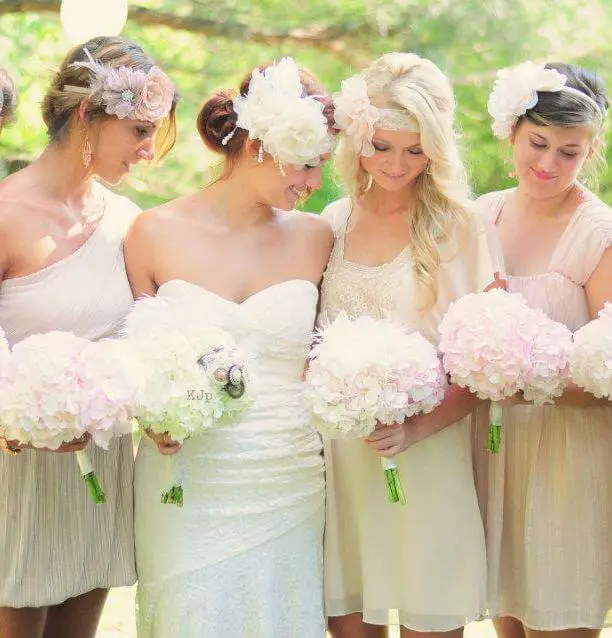 Soft and simple hydrangea bouquets via FiftyFlowers
RELATED: How to Incorporate Pink in Spring Wedding for a Romantic Vibe
6} Sunflowers 
These flowers will stand out at your celebration, and they'll even bring the sun with them! with the symbol of happiness and congratulations there are no flowers that scream "summer" better than the sunflower.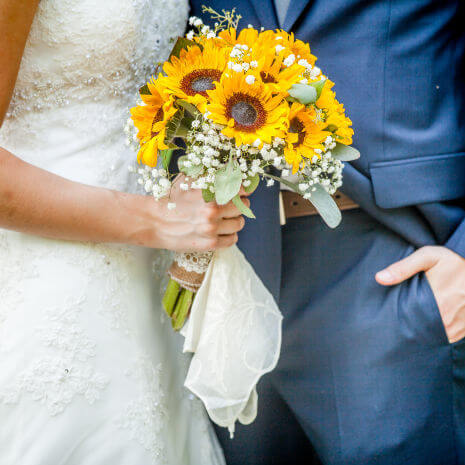 Country summer chic bouquets via FiftyFlowers
RELATED: 4 Best Pastel Yellow Color Schemes For Your Summer Wedding
7} Coral Peony
A glorious bouquet of coral peonies will make an elegant statement for your big day. only available a short period in the early summer and symbolize romance, prosperity, a happy marriage. With romantic colors such as white, pink and red, the coral peonies will look amazing in a bouquet for any wedding theme.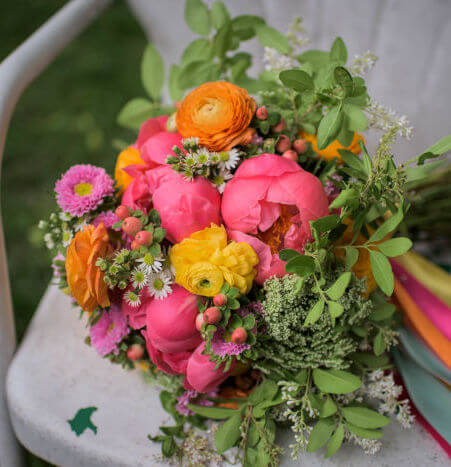 Backyard wedding bouquet via FiftyFlowers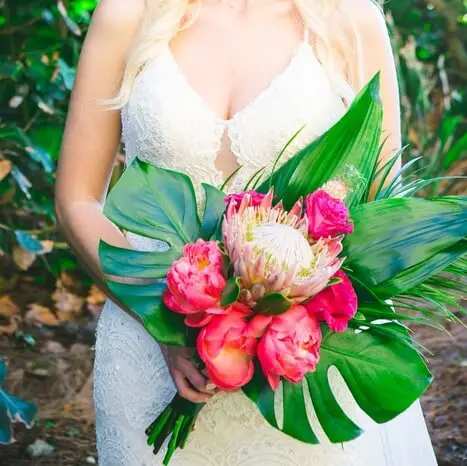 Tropical beach wedding bouquet via FiftyFlowers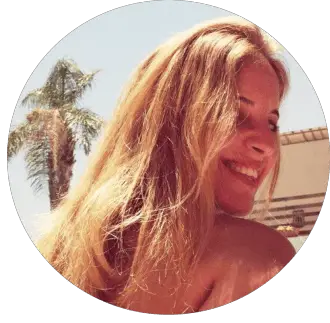 Kaden is an interior designer in her education who fell in love in designing weddings. Along with her husband, the wedding planner, Kaden specializes in creating content for weddings aim to fulfill brides dreams.