Last Updated on October 14, 2021 by Kaden
No matter how you like to celebrate — whether it's a swanky gathering or chill night with friends, everyone needs to be booze-tiful at your bachelor party. And with that in mind, I've curated this list of 13 unique best man and groomsmen alcohol gift boxes. And to make it even easier for you — we've made sure there is something on this list to suit every budget and style!
You might also like: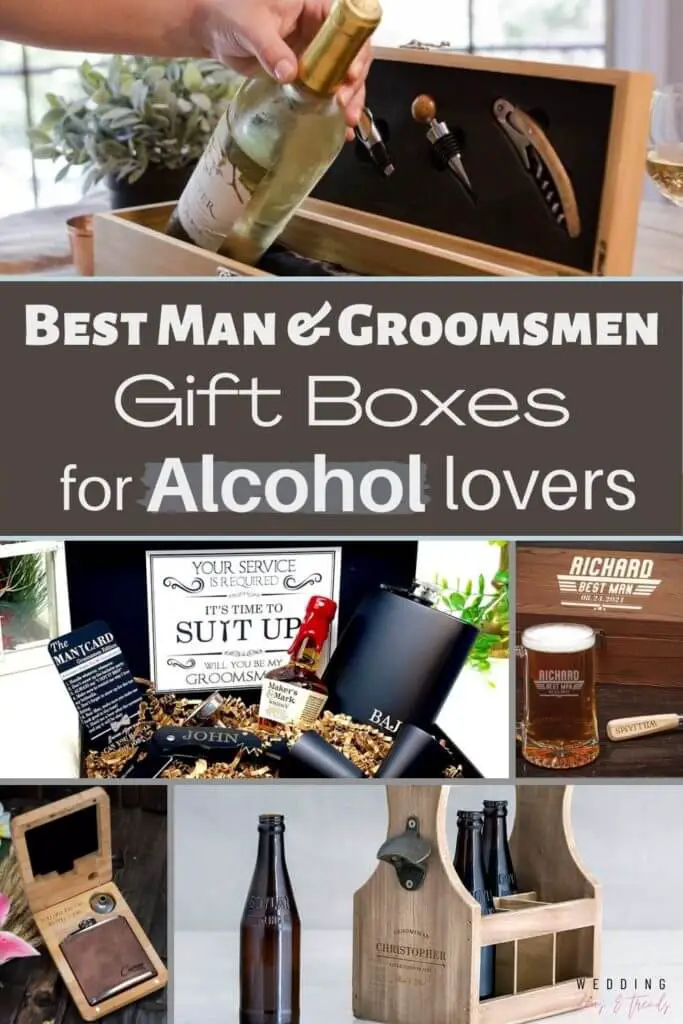 Read on for the top 13 best man and Groomsmen alcohol gift boxes that are going to impress your groomsmen: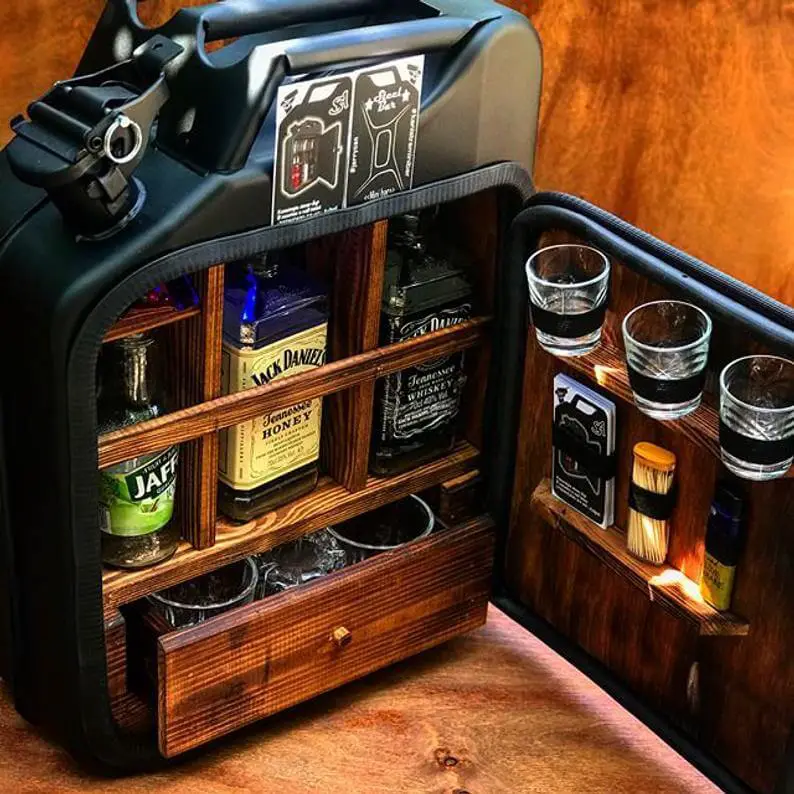 Price: $180
Shop on: Etsy
For your best man man-cave, this classic wooden mini bar is made from an empty jerry can. A unique man cave gift idea with a rustic appeal that any guy will love.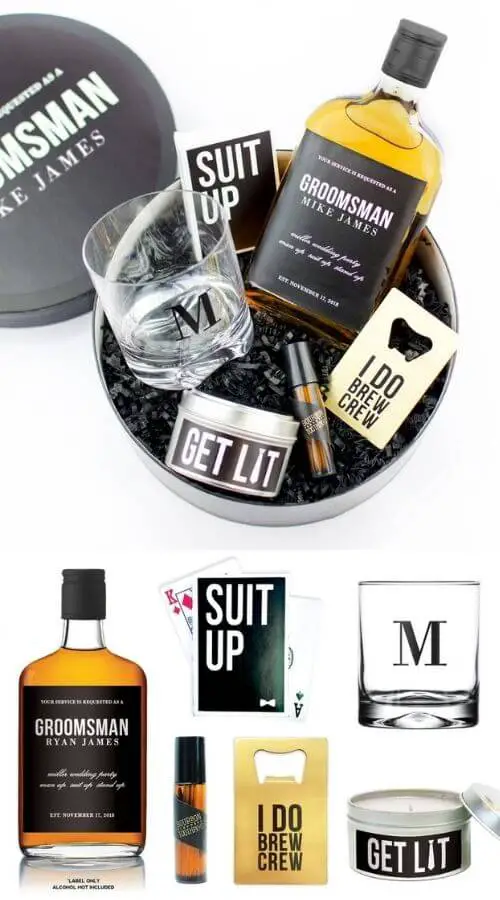 Price: $49.95
Shop on: Etsy
Packed into this modern black gift box are the essentials any man would need for men's night: a low ball glass and a bottle opener, along with playing cards, flavored toothpicks, candle, and custom labels that you can personalize. These handsome boxes make perfect presents for your groomsmen.
Check current price on Amazon
The whiskey stones and whiskey glass gift boxed set make a great gift for the whiskey lover. It includes everything he needs to enjoy chilled whiskey, including 2 glasses and 8 granite chilling rocks. The set is put together in a sleek wooden box, which is easy to store when not in use. This is great for adding some flair to his bar or office.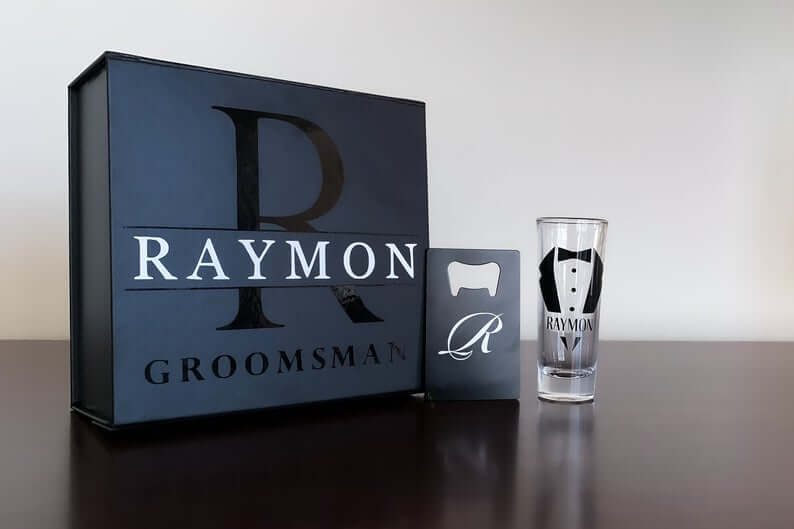 Price: $19.99+
Shop on: Etsy
This custom magnetic box is perfect for your budget-conscious groom-to-be, and will honor the importance of your future groomsmen! Also, this beautiful gift box can be used as a keepsake in addition to the elegant shot glass and bottle opener!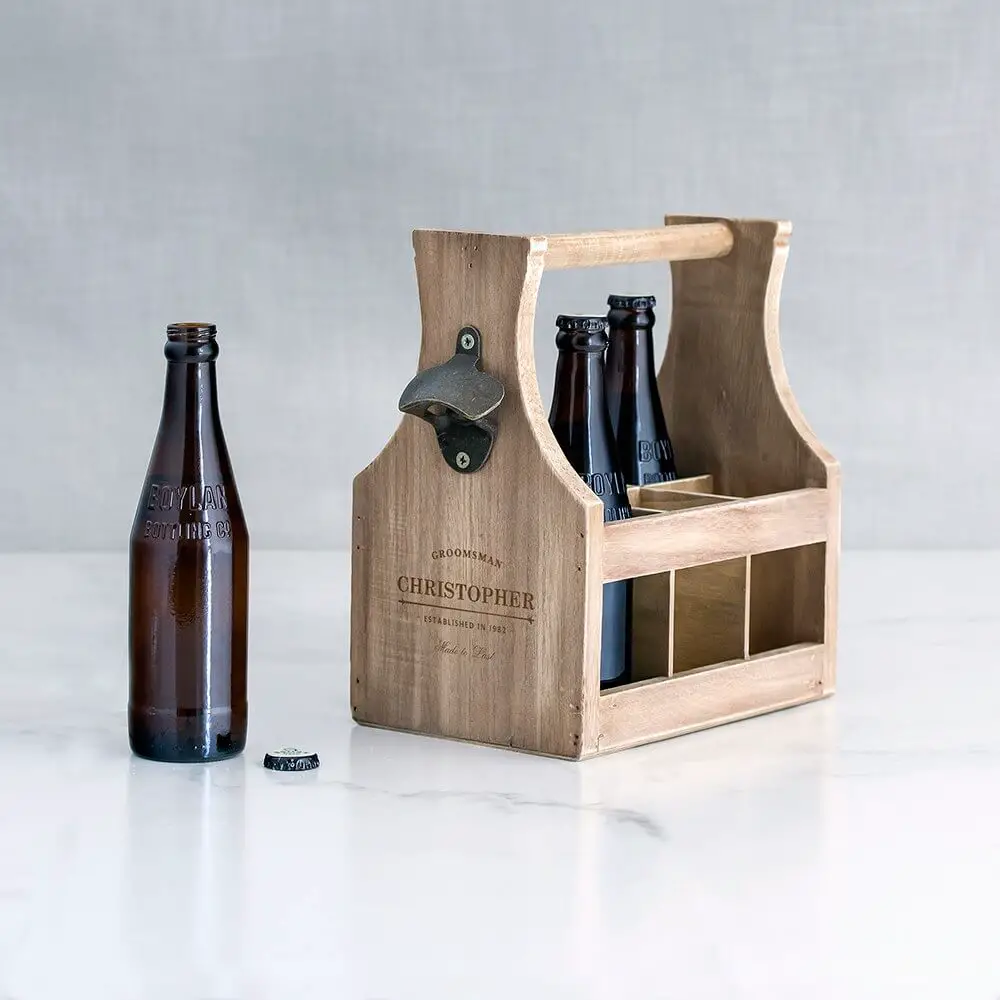 A chilled beer in the sun with friends doesn't get any better. It features a six-pack carrier box with a beer bottle opener attached to the top. This personalized wooden beer bottle caddy is a one-of-a-kind gift for the man who has it all.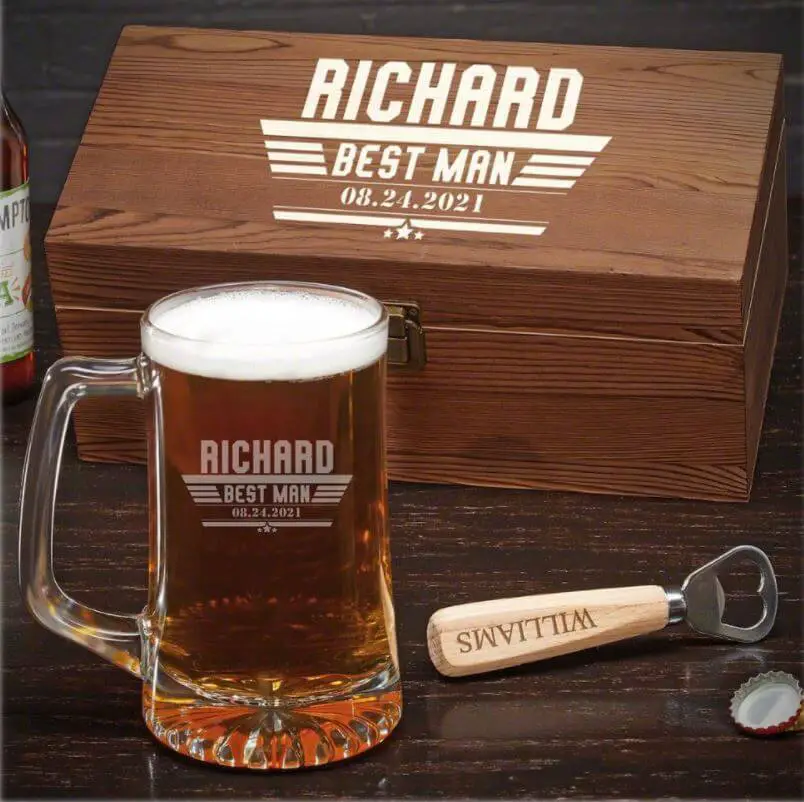 Price: $59.95
Shop on: Zazzle
Invite your groomsmen to the best beer bash ever, and thank them for their support with these awesome engraved boxes they'll always treasure. The box comes stocked with 25 ounces personalized mug, plus a handsome bottle opener.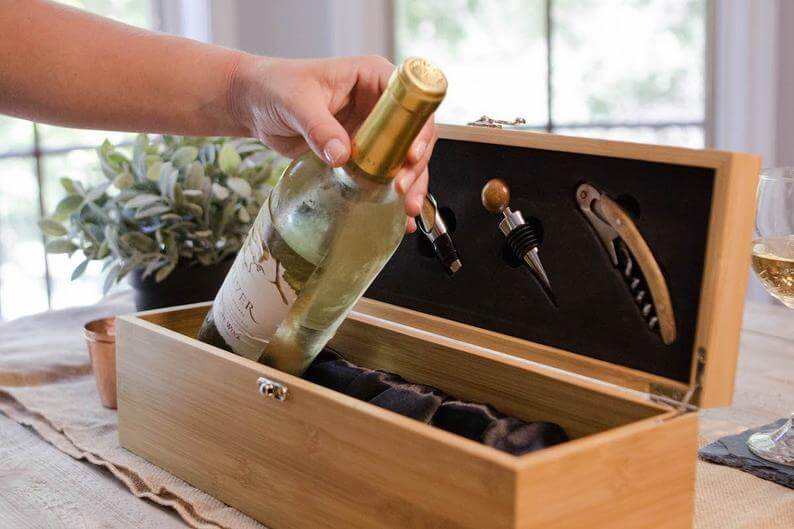 Price: $33.77+
Shop on: Etsy, Amazon
This unique and elegant gift comes with everything you need for the perfect night of wine enjoyment. The set includes a silky bamboo wood box and 4 essential tools a foil cutter, a bottle opener, and two types of bottle stoppers. This classic gift set is just the thing for impressing wine lovers.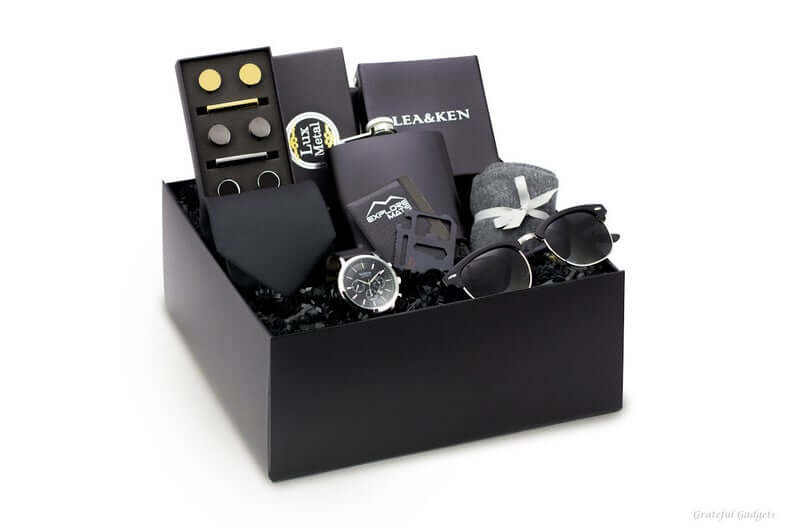 Price: $33.77+
Shop on: Etsy
The luxury gift box is designed for the trendy and classy men in your life. This one-of-a-kind ensemble includes everything he will need for the big day: luxury watch, black sunglasses, black flask, black tie, three tie clips (Gold, Silver, Gunmetal), three cufflink sets (gold, silver, gunmetal), grey dress socks, bottle opener multi-tool and an elegant gift box with signature ribbon.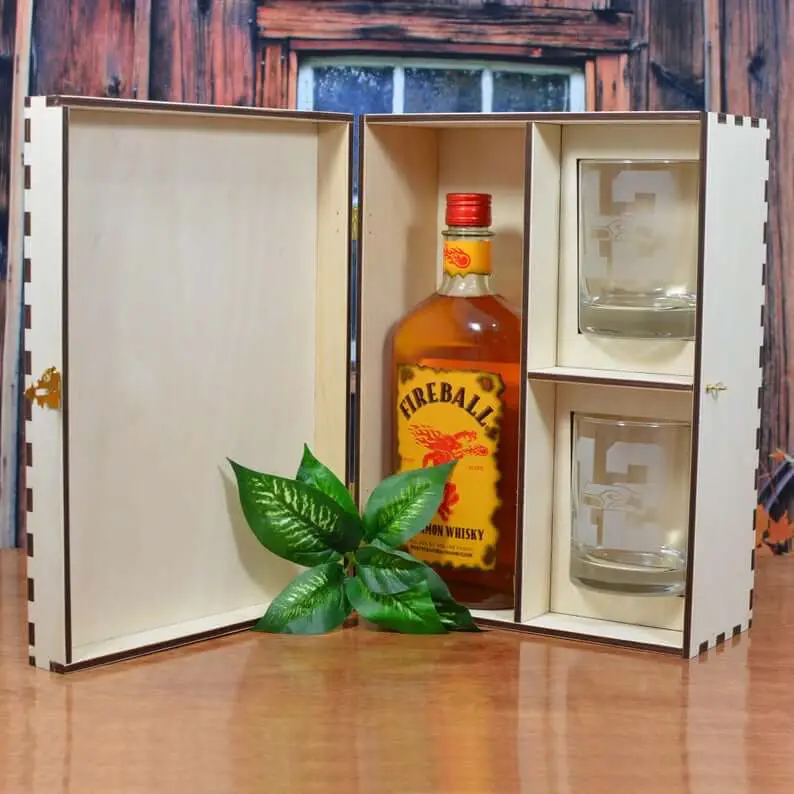 Price: $59.95
Shop on: Etsy
This special groomsmen wooden gift box is absolutely gorgeous. It includes two personalized etched whiskey glasses, your choice of nickel or brass plated, and a custom place for the spirits or liquor bottle.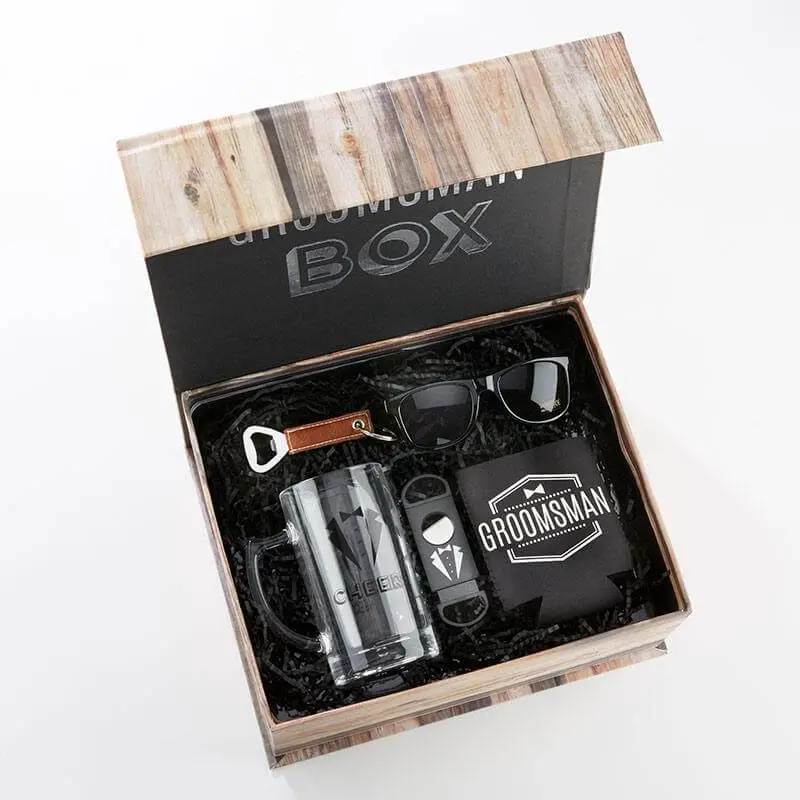 Whether you're looking for a cool way to ask them to be part of your special day, a little brotherly bonding time before the wedding, or just something fun for them to enjoy on the big day itself, this kit is sure to impress! Includes a drink sleeve, beer mug, cigar cutter, keychain bottle opener, and a pair of sunglasses.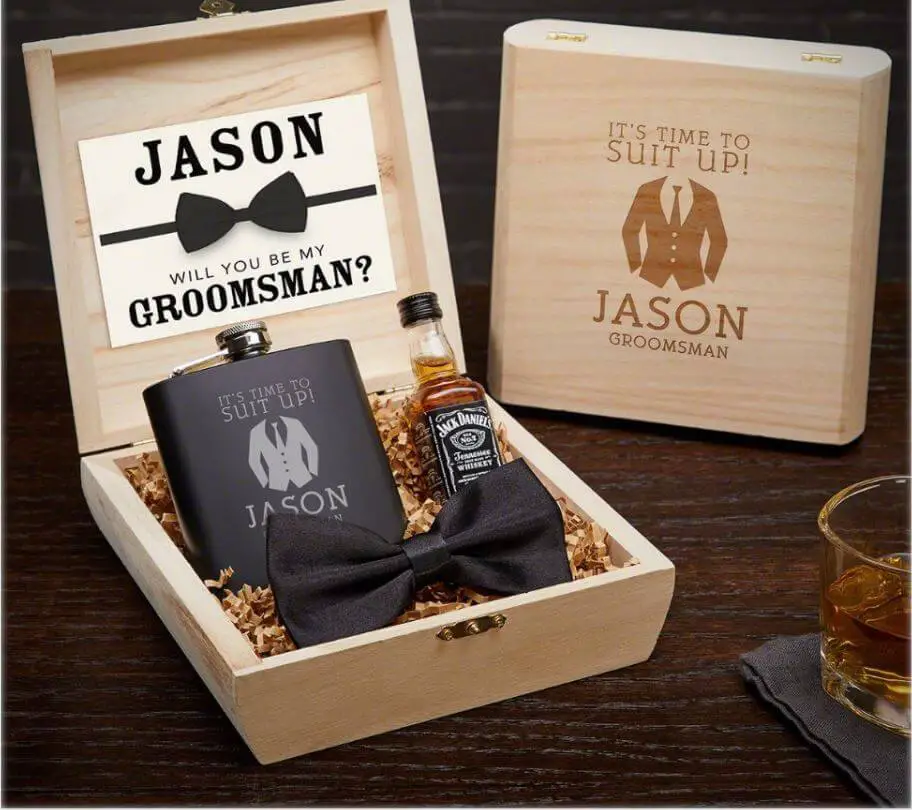 Price: $49.95
Shop on: Zazzle
Handsomely packaged, this groomsman proposal gift set includes everything a well-mannered gentleman could want for the big night, including a personalized flask, bow tie, and a custom greeting card. All of this comes tucked inside a personalized wooden box which can also be used as a keepsake box for years to come.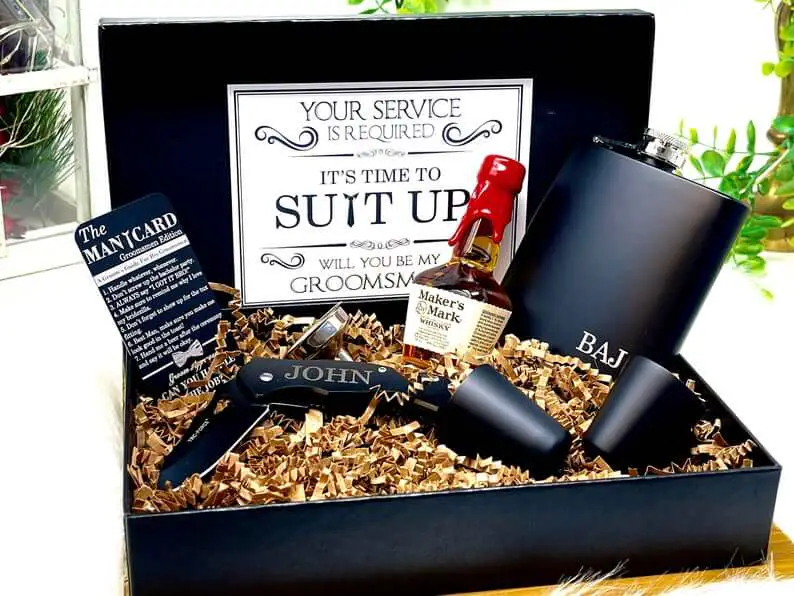 Price: $56.67
Shop on: Etsy
Included is everything your groomsmen need to suit up, from a black pocket knife, two black stainless steel shot glasses, stainless steel flask, and a funnel to a man card with practical advice for the modern gentleman. This gift set comes with your groomsmen's name engraved on the flask and knife.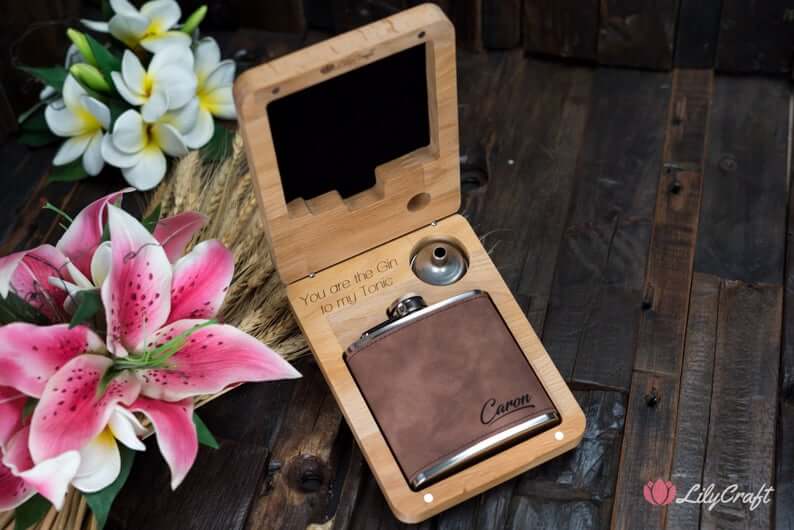 Price: $55.79
Shop on: Etsy
Make the best impression on your groomsmen with this high-quality stylish Leather Hip Flask. Every detail of this luxurious leather case is designed for the man who wants to make a lasting impression. The box alone is a work of art, with an eye-catching personalized engraving of the groomsmen's name.
Keep Planning With Us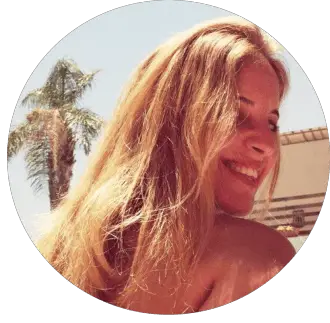 Kaden is an interior designer in her education who fell in love in designing weddings. Along with her husband, the wedding planner, Kaden specializes in creating content for weddings aim to fulfill brides dreams.