Last Updated on October 5, 2021 by Kaden
Who wouldn't want to celebrate their wedding day by adding a touch of the spooky? So to make your guests smile (and freak out a little), here are 15 nightmare-inspired Gothic Halloween wedding decoration ideas you're gonna want to steal!
Whether you like a spooky vibe or Gothic style I got you covered. In the list below you will find ghoulishly good decor ideas. From skull guestbook, gothic floating candles to haunted tree centerpiece that'll wow your guests.
You might also like: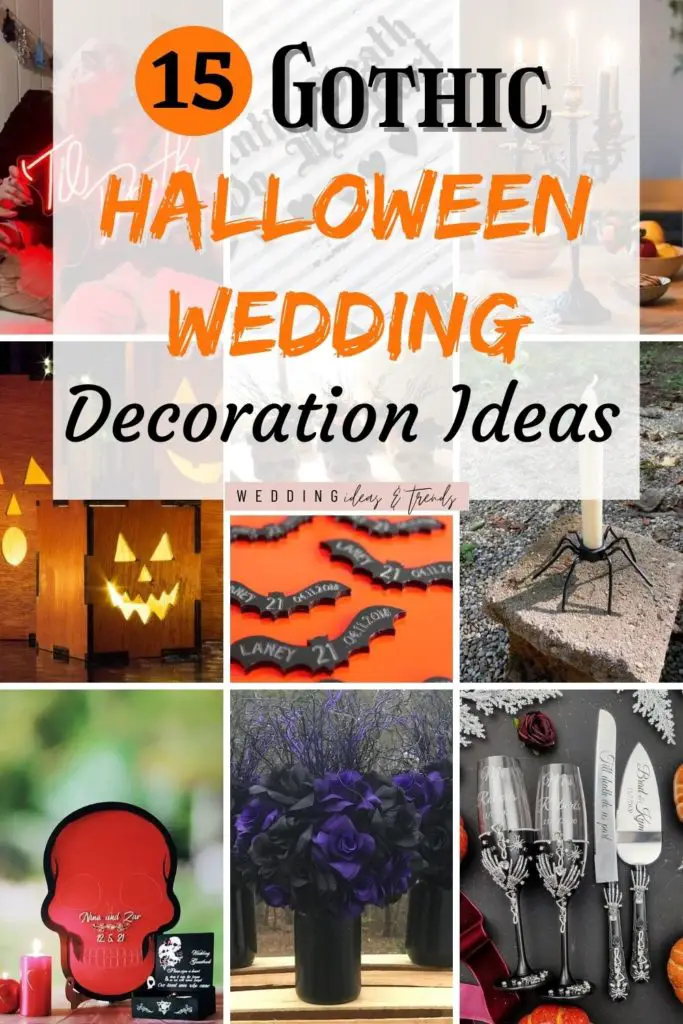 I hope you like these products! Just so you know, I may receive commissions on purchases made from the links on this page at no cost to you. Thank you if you use our links, I really appreciate it!
Read on for the 15 best Gothic Halloween wedding decoration ideas to make your big day truly memorable: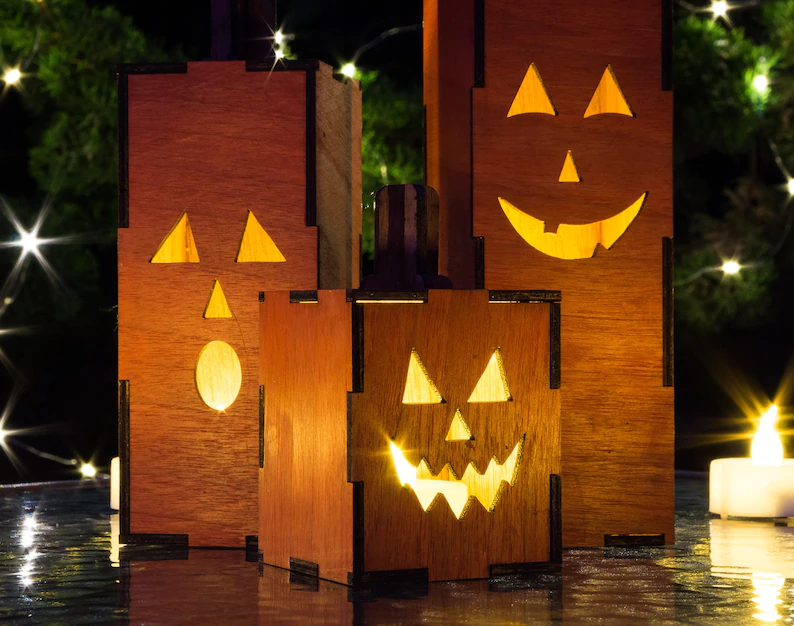 Shop on: Etsy
Designed by ThePersonalizedGift
These stunning pumpkins lanterns will add just the right amount of spookiness to your Halloween wedding. They are easy to assemble, and you can use them again year after year.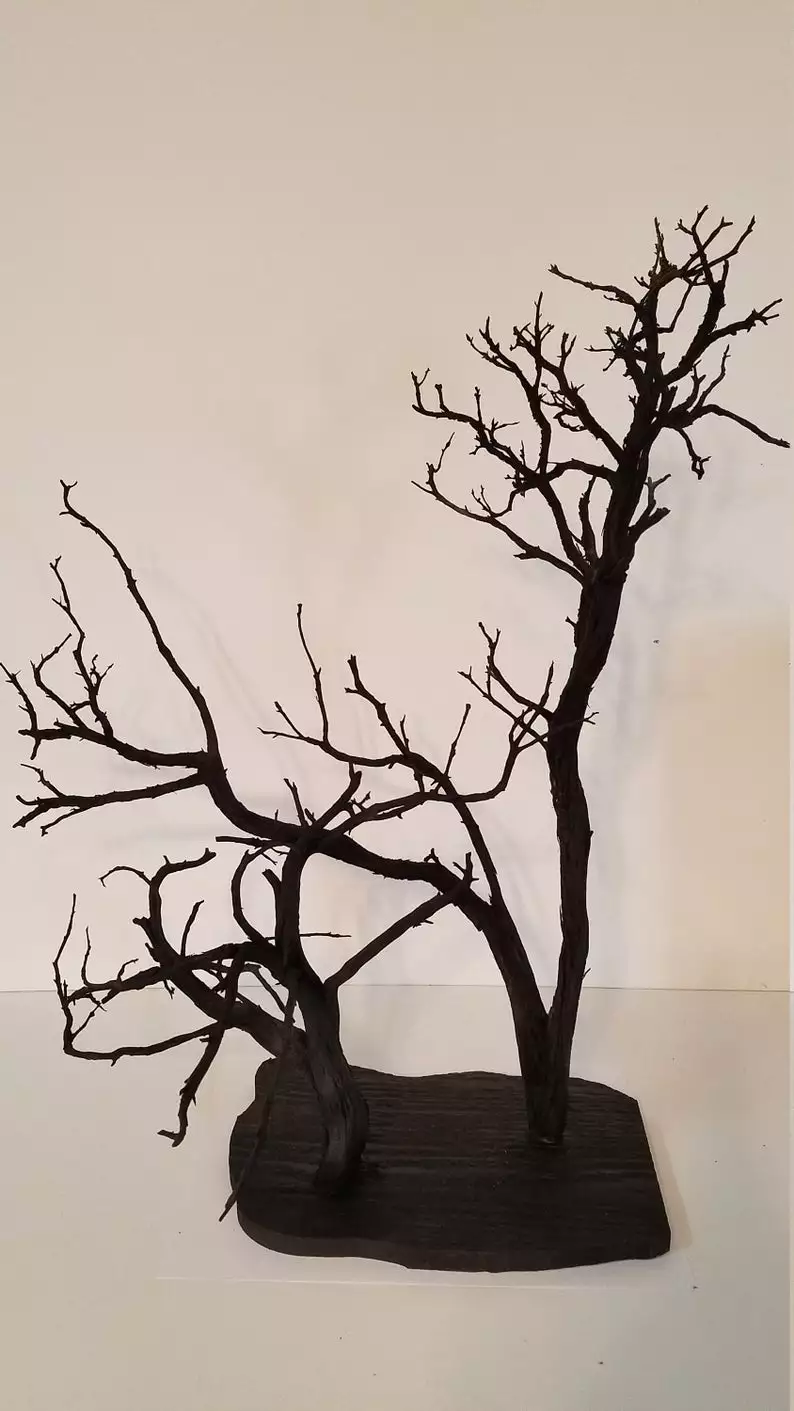 Shop on: Etsy
Designed by WyomingWoodshop
This enchanting artificial haunted tree will look perfect as the Centerpiece table decoration at your Halloween wedding. It's just what you need to create a spooky Halloween ambiance for your special day.
RELATED: 10 Stunning Country Rustic Wedding Centerpieces on a Budget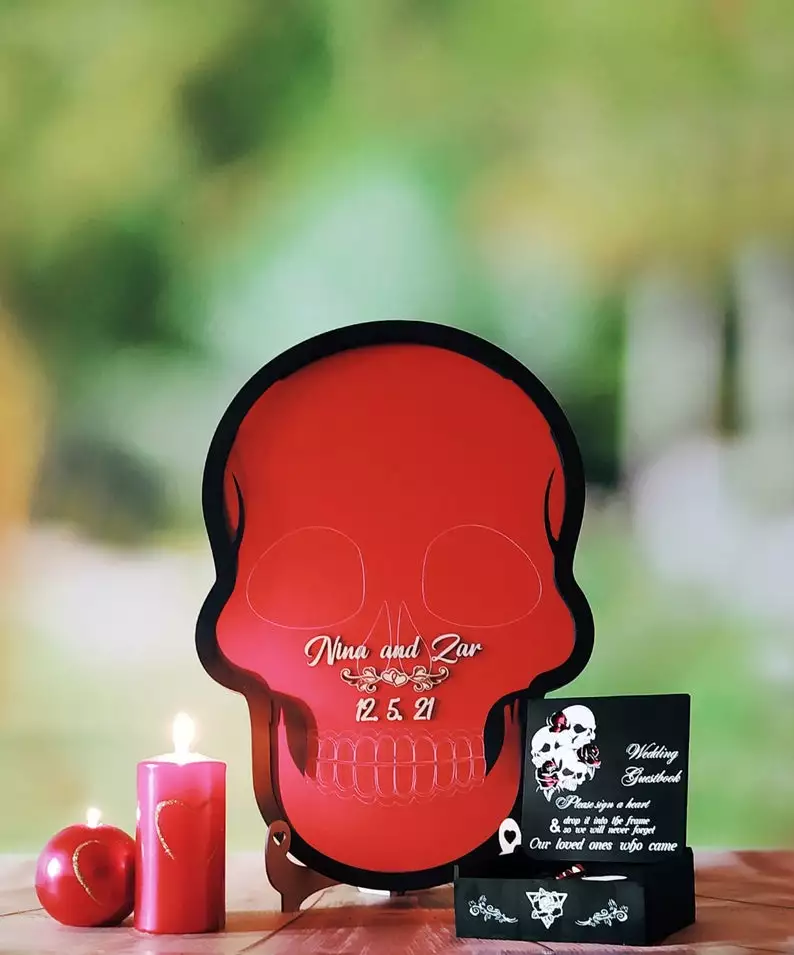 Shop on: Etsy
Designed by BestStoreUA
Are you looking for a unique wedding guestbook alternative that'll stand out? This personalized wood skull guestbook is a beautiful piece of art! and definitely will fit the bill. It features your names and wedding date and comes in different color choices.
RELATED: Wedding Guest Book Alternatives Ideas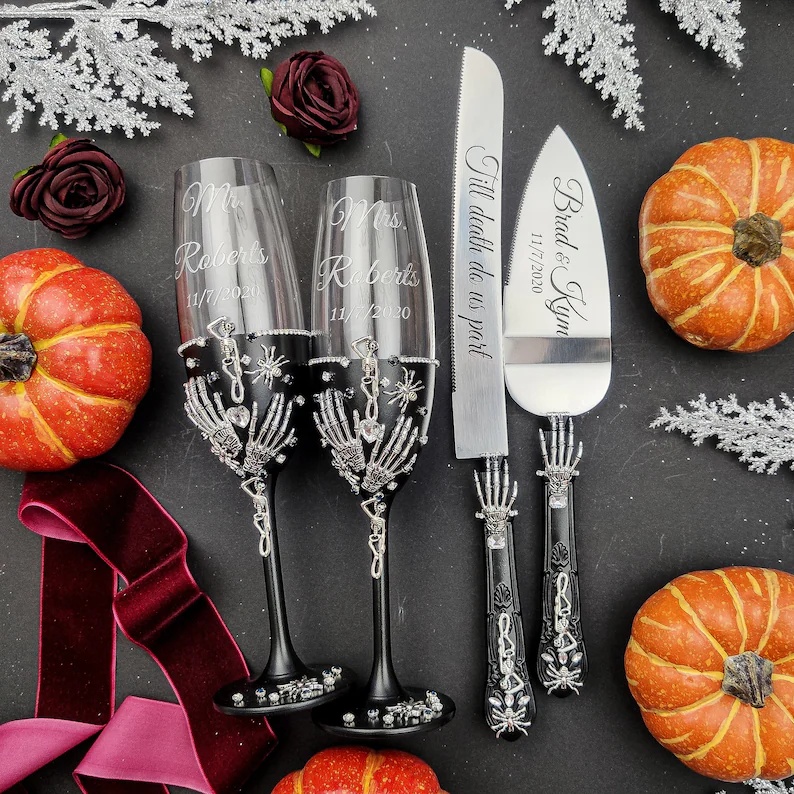 Shop on: Etsy
Designed by Gothicwedding Studio
This beautiful Gothic wedding cake is a perfect addition to your spooky wedding. It comes pre-engraved with your names and wedding date. Make it a keepsake that you'll never forget!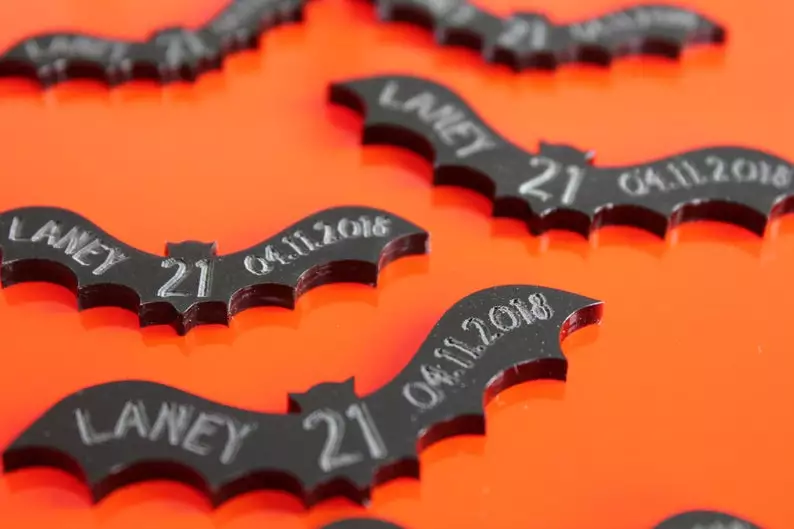 Shop on: Etsy
Designed by Daisy Daisy Special Day
As a finishing touch to your Halloween or Goth wedding, these little individually engraved bats may be the perfect table confetti scatter and a perfect little Halloween wedding favors.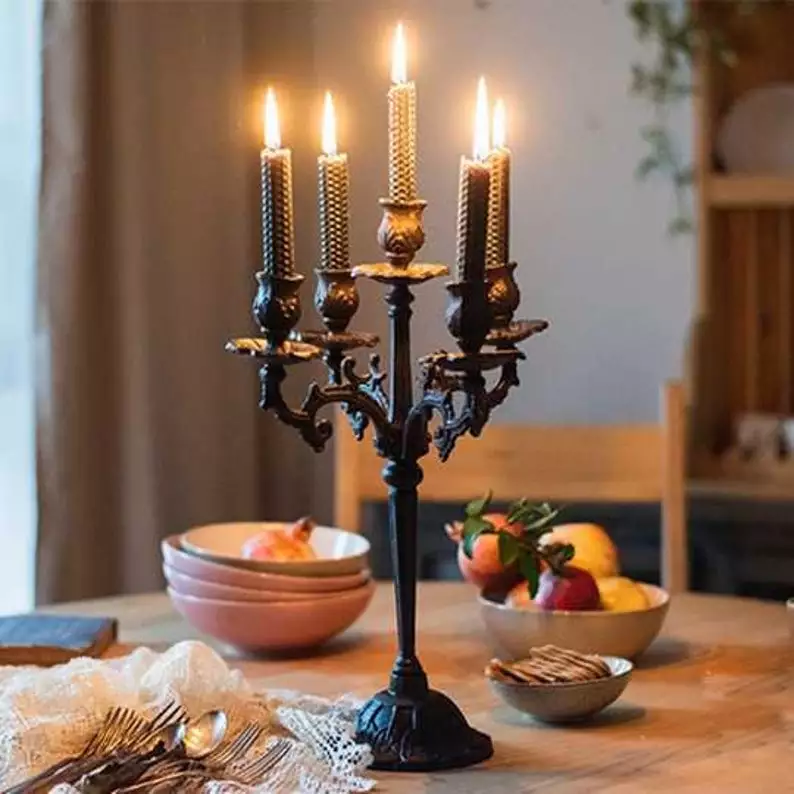 Shop on: Etsy, Amazon
Designed by TreasureIslet
This exquisite antique candle holder will give the perfect Gothic haunted house vibe you were going for.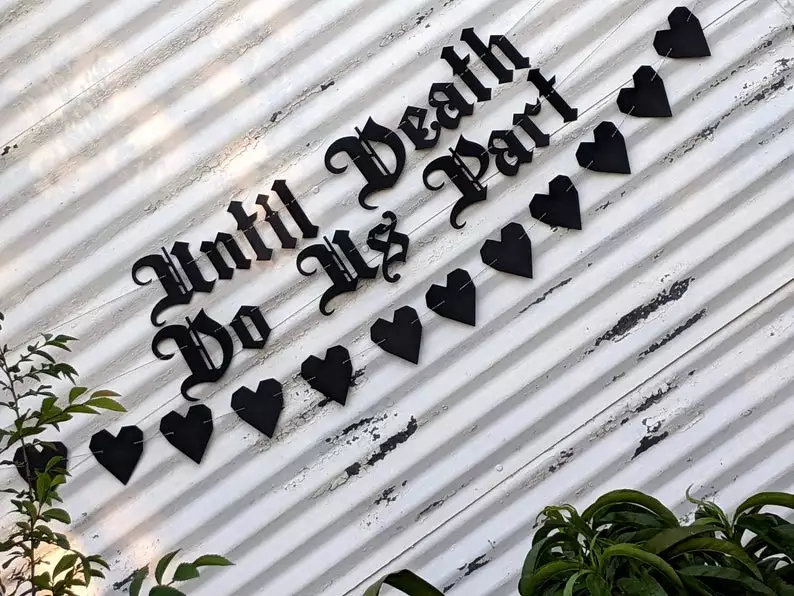 Shop on: Etsy
Designed by BannerCheerJR
This Gothic letter's "Until Death Do Us Part" wedding banner is the perfect way to create your own wedding decoration. Hang the long banner over a doorway or across a wall or fence with the included hanging cord.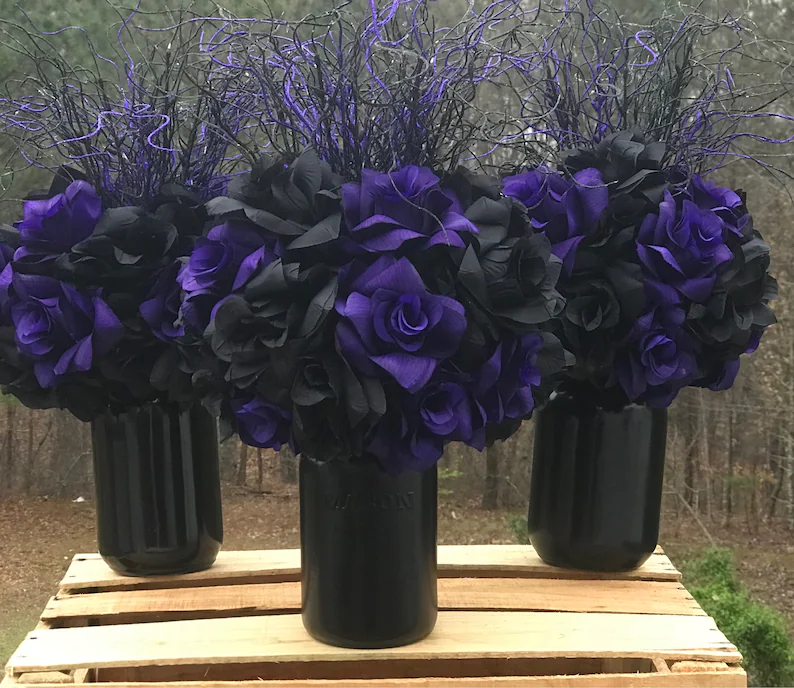 Shop on: Etsy
Designed by AlwaysADORNable
What better way to celebrate Halloween than by using the colors black and purple. Add a hauntingly beautiful touch to your setting with these gothic deep purple and black roses centerpieces.
Shop on: Amazon
Dancing skeletons are the ultimate symbol of eternal romance, and this gorgeous cake topper is ready to dance. Will be that extra touch for the most stand-out 'Day of the Dead' wedding.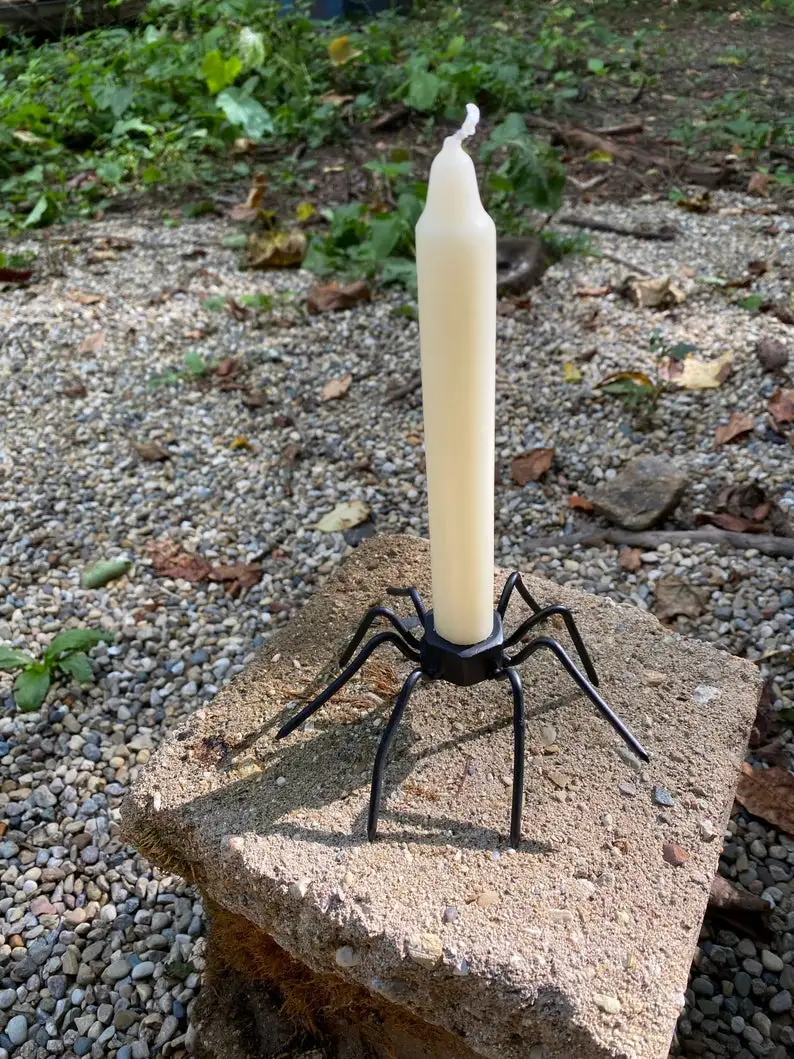 Shop on: Etsy
Designed by Christy Products
Want to give your wedding that extra-special touch? Spiders are everyone's favorite creepy-crawly, and these little guys are adorable. The perfect way to create a warm and cozy Halloween atmosphere and to make a simple table look awesome.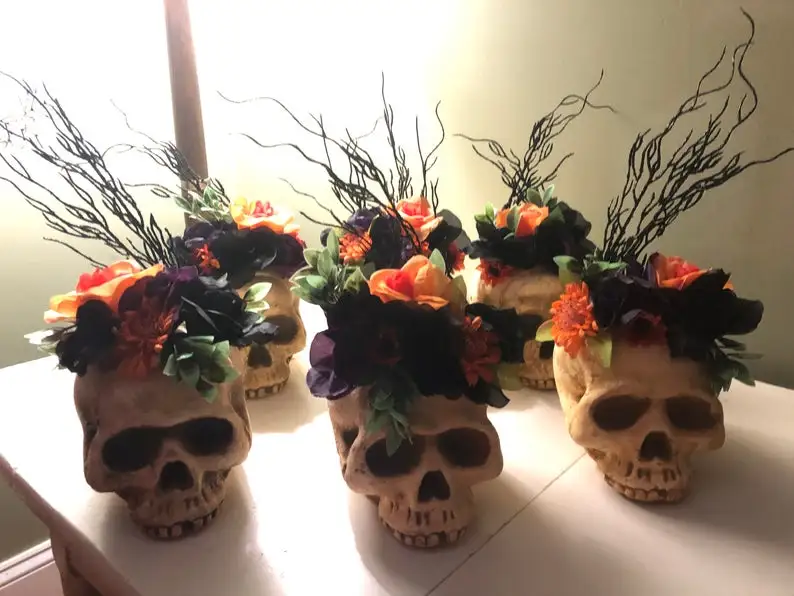 Shop on: Etsy
Designed by Crafts2Much
These floral skulls add a fun and festive element to Halloween or Dia de Los Muertos celebrations. Whether you use them as centerpieces or to serve treats, the possibilities are endless. The skulls can be customized to match your color scheme, so they'll fit perfectly with any Halloween wedding.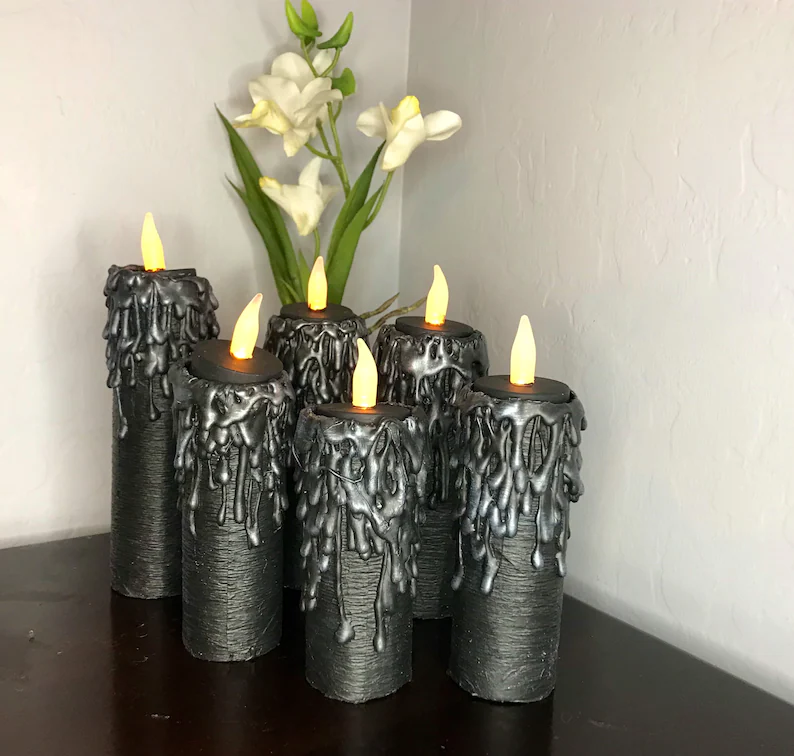 Shop on: Etsy
Designed by AmericanGothicArt
These black gothic floating candles are a fantastic Gothic Halloween wedding decoration for a goth-themed wedding. They add a touch of drama and excitement! They come with clear strings that are easy to hang. Also, you can use them as centerpieces or aisle decorations.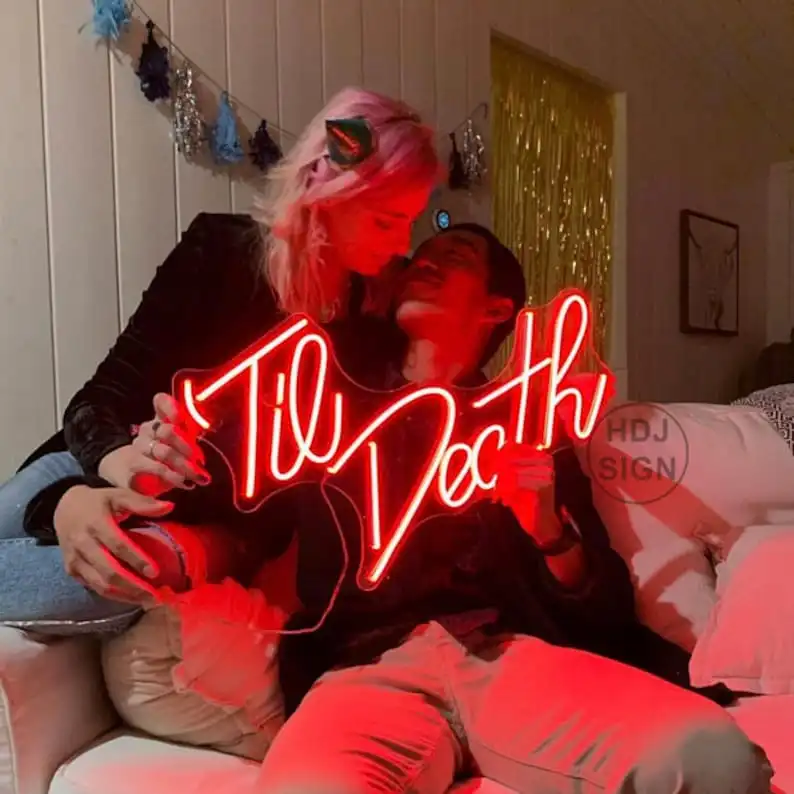 Shop on: Etsy
Designed by HdjLetterSign
This customizes 'Til Death' Neon sign is perfect for the day of the dead wedding. Bright and beautiful, it comes with everything to plug in and hang up. It will set the perfect mood for romance and love but in a spooky way.
Shop on: Amazon
These black roses are made of a soft high-quality latex foam which gives them the look of fresh roses. Amazing for making bouquets, centerpieces, boutonnieres, and cake flowers. You can also get black roses petals for the flower girl or scatter them on the table runner.
Shop on: Amazon
These mini candle lanterns are full of antique style and hauntingly romantic details. Will look great as a table decoration or hang it from the ceiling for a spooky haunted house vibe wedding.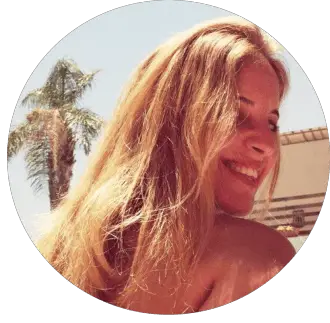 Kaden is an interior designer in her education who fell in love in designing weddings. Along with her husband, the wedding planner, Kaden specializes in creating content for weddings aim to fulfill brides dreams.