Last Updated on September 9, 2021 by Kaden
Have you been looking for the perfect way to invite your guests to your golf-themed wedding? Look no further! Check out our picks for the ten best golf themed wedding invitations that are perfect for the couple who loves taking a walk on the green. From fun and modern to elegant and formal, find the best invitation that your golfing friends and family will get excited about!
RELATED POST: Golf Themed Wedding Ideas & Inspirationations
You might also like:
I hope you like these products! Just so you know, I may receive commissions on purchases made from the links on this page. Thank you if you use our links, I really appreciate it!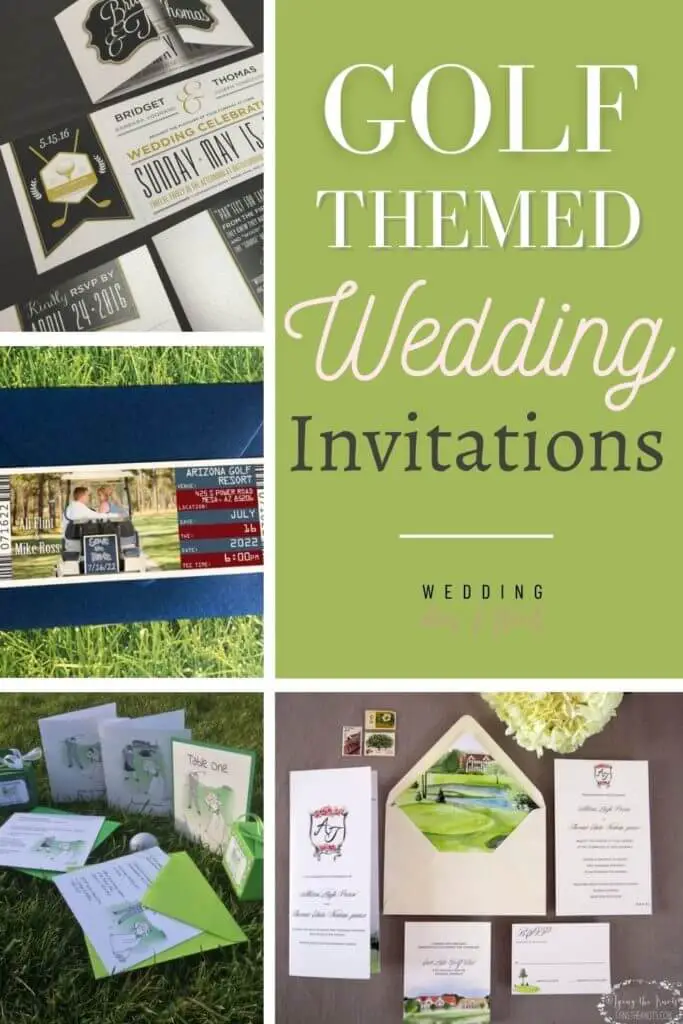 Read on for the 10 best golf themed wedding invitations that will get your guests excited about the big day: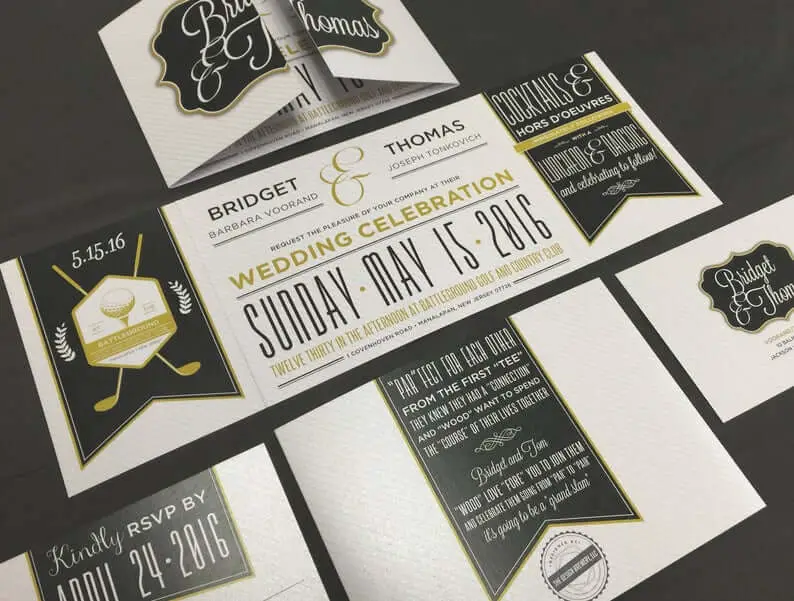 Design By The Design Brewery on Etsy
This modern-themed golf wedding invitation suite is just the thing to make a statement at your upcoming wedding. A simple yet beautiful elegant design, gorgeous script font, and a shimmery metallic white finish that sure to impress your guests.
RELATED: Wedding Elegant Menu Cards Ideas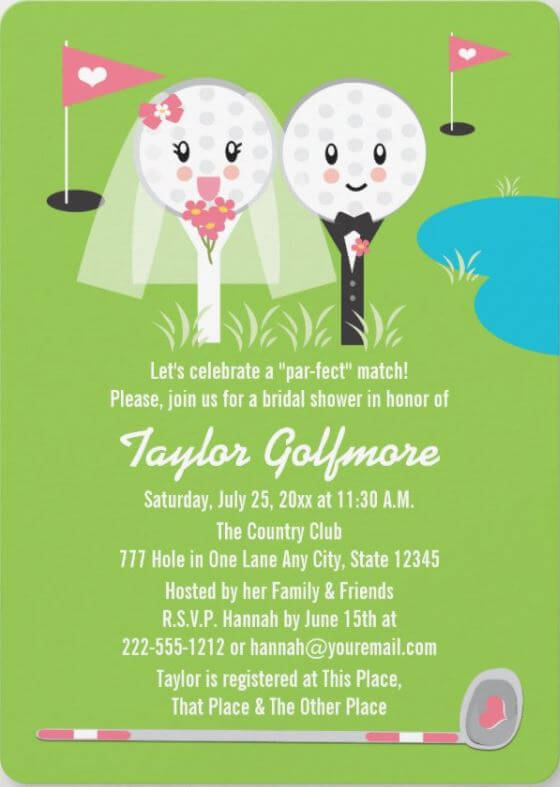 Design By Chrissy H. Studios on Zazzle
An adorable and fun golf-themed wedding invitation. Feature a golf ball bride and groom that are sure to make everyone smile!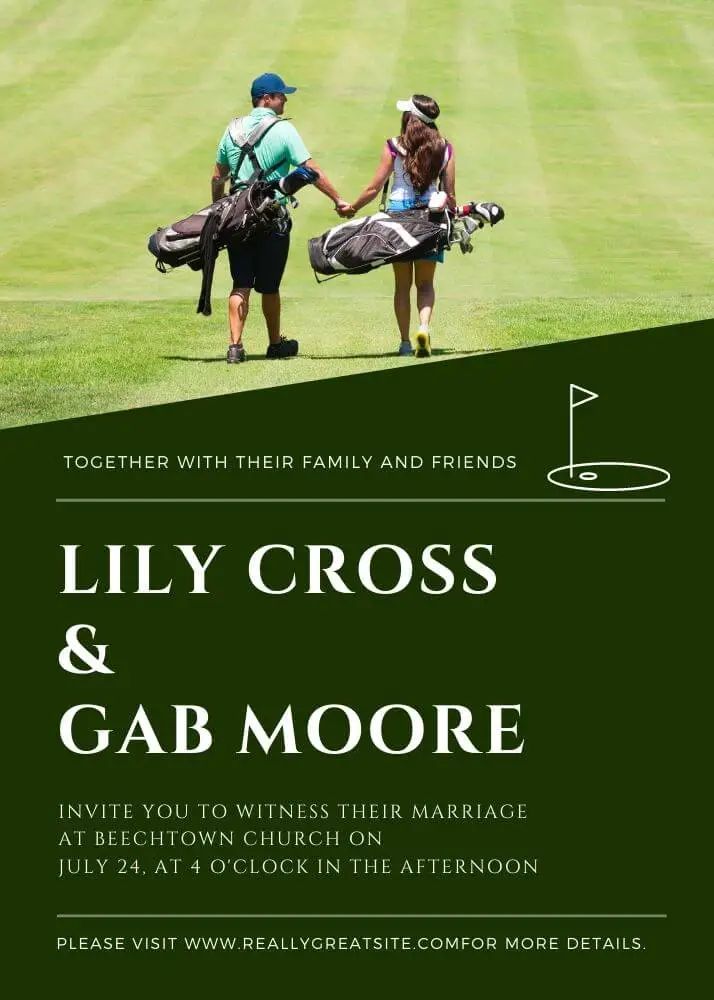 Customize and download for free on Canva
These golf-themed wedding invitations are modern, fresh, and also timeless. You can customize any way you like using Canva's design tool.
RELATED: Affordable DIY Wedding: Is it Actually Cheaper?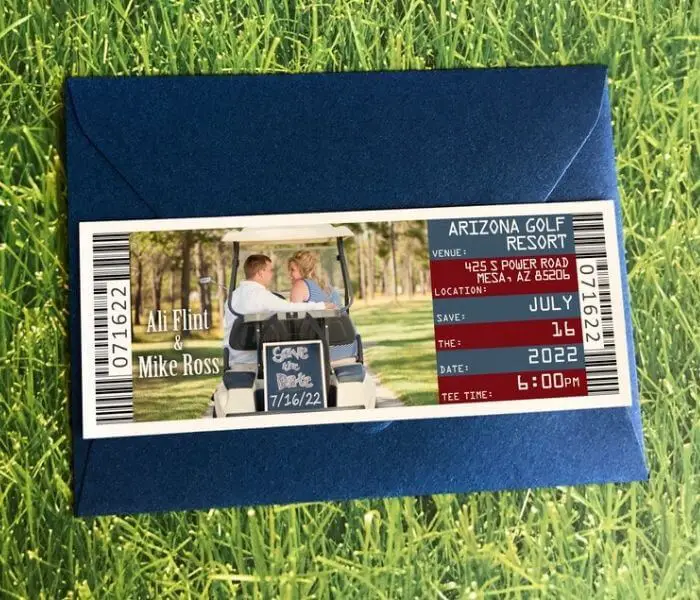 Design By CuttingIt Up on Etsy
No need to stuff the guest list into an envelope. These charming golf-themed invitations fun alternative will do the trick and set a fun tone for your golf-loving nuptials.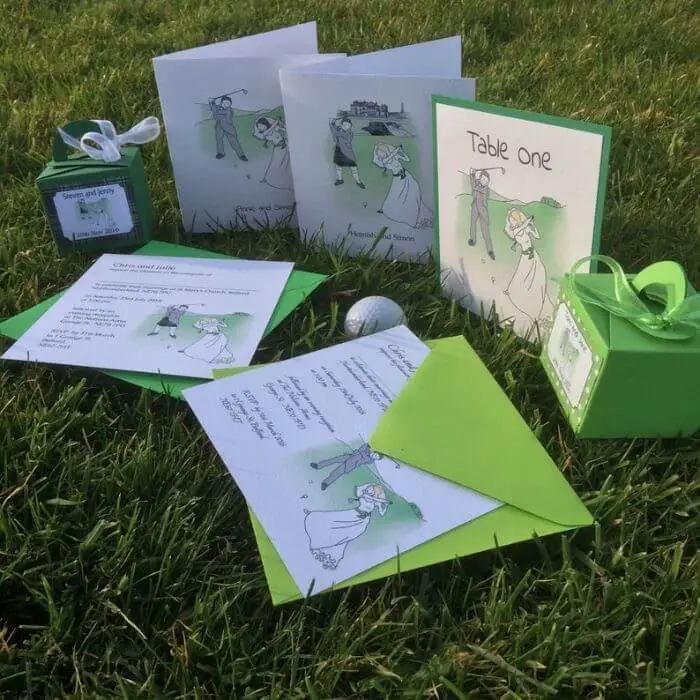 Design By coolweds on Etsy
Cute, and funny invitations made with high-quality cards, you can be sure that your guests will be delighted with these fun and cool golf invitations. A unique design that you will not find anywhere else!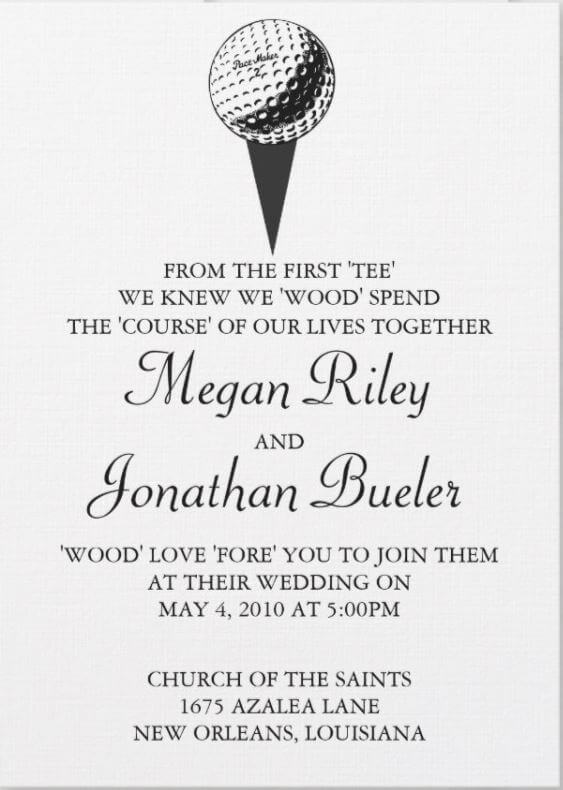 Design By Fancy Designs on Zazzle
This simple and minimalist black and white design are perfect for a modern wedding ceremony. The classic typography combined with elegant font creates a sophisticated look that is ideal for any golfer.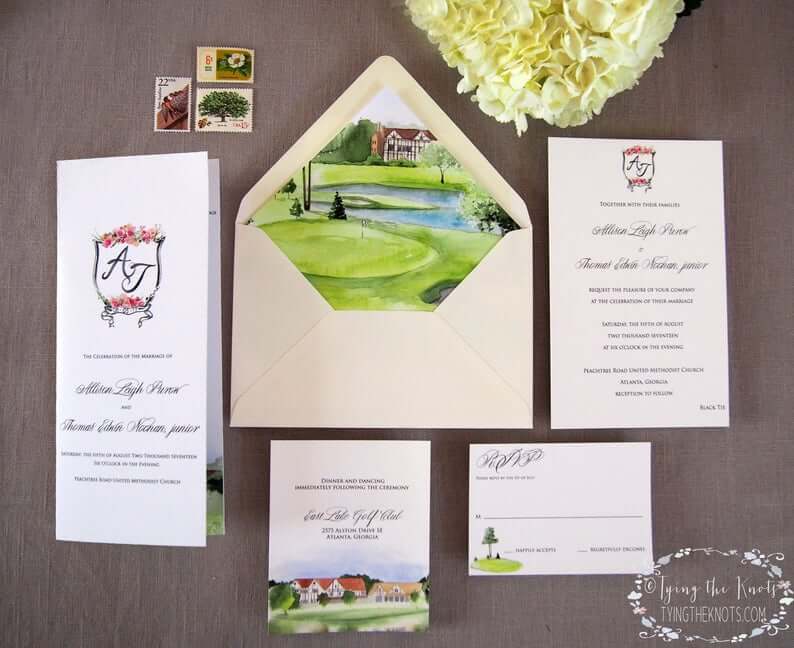 Design By Tying The Knots on Etsy
This beautiful invitation design includes everything you need to create a truly elegant and classic formal wedding. Feature an amazing handmade watercolor painting that is a custom order design for your wedding.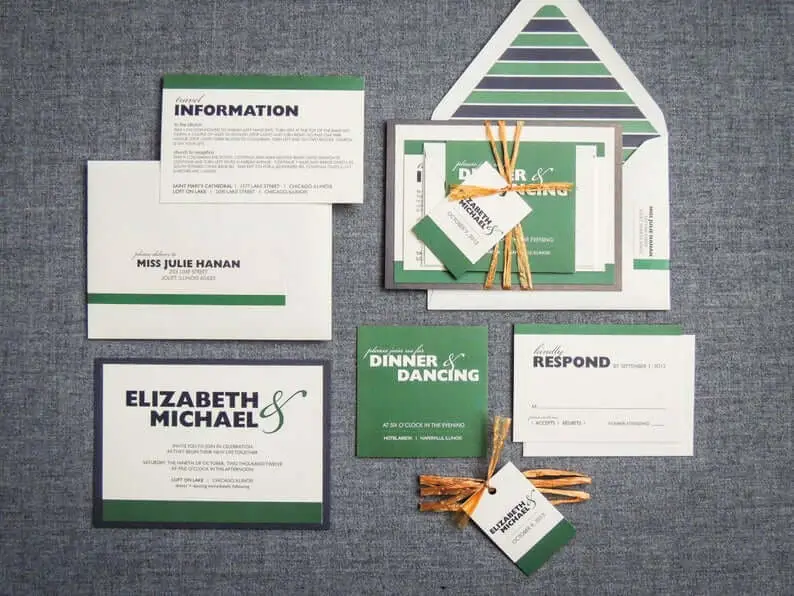 Design By Julie Hanan Design on Etsy
Elegance and a hint of fun come together in this layered wedding invitation. The colorful stripes of golf course green, white, black, and a bit of gold, plus the modern bold font adding a stunning style to your big day.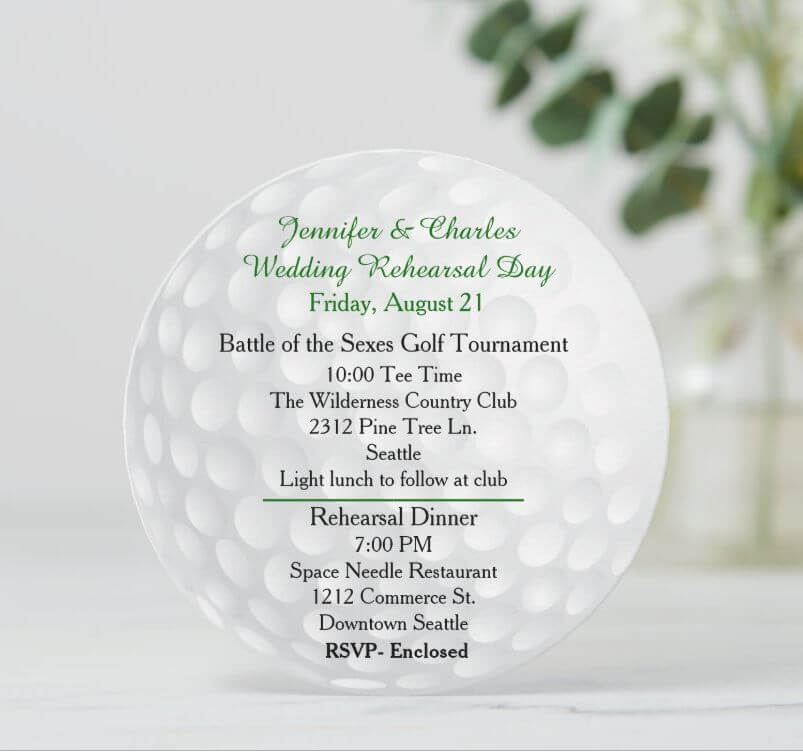 Design By Dizzy Debbie on Zazzle
Your guests will love this unique round Invitation with nostalgic images of the golf ball look. Personalize your message and select the perfect font option that best matches your style.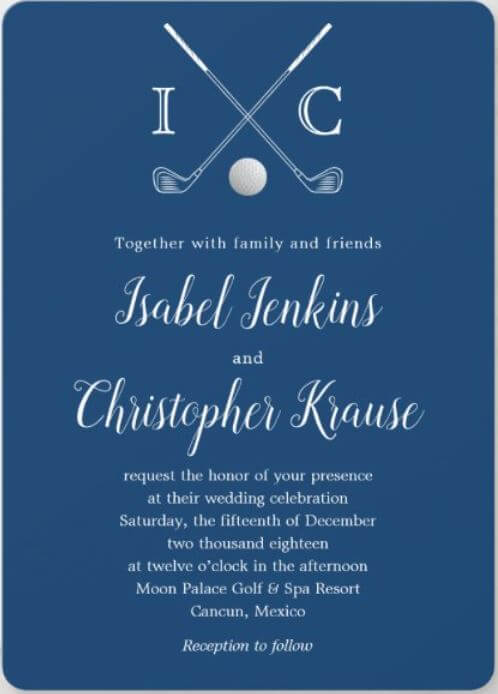 Design By citlalicreativo on Zazzle
This modern wedding invitation is perfect for the couple that loves everything about golf with The contrast navy blue backdrop light blue, and white color sets the stage for your unique design.
Don't forget to check out this post: Golf Themed Wedding Ideas & Inspirationations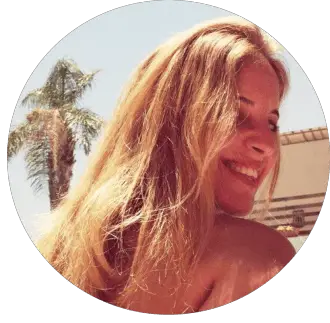 Kaden is an interior designer in her education who fell in love in designing weddings. Along with her husband, the wedding planner, Kaden specializes in creating content for weddings aim to fulfill brides dreams.