Last Updated on October 29, 2022 by Kaden
You'll want something your guests will appreciate while also making them remember your special day. Nothing will make your guests remember your wedding with a smile, more than elegant and classy, personalized gifts. Down below are ten luxury wedding favors for an elegant wedding. Find high-quality favors that come in many different colors, styles, themes, and wedding budgets.
For more wedding favor ideas, visit our wedding favor page.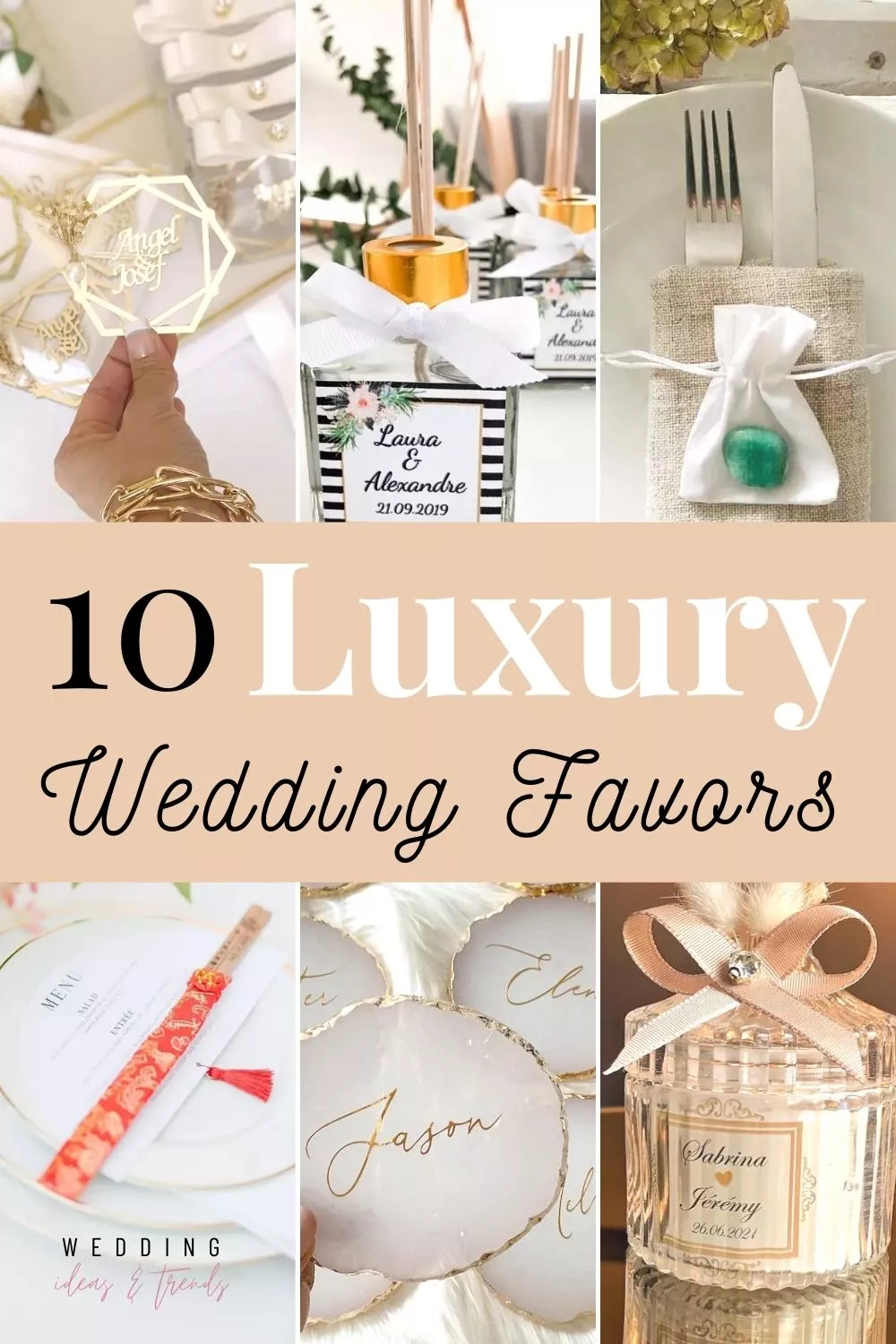 I may receive commissions on purchases made from the links on this page at no cost to you.
It is important to give a gift that both reflects the occasion and also a gift that will be a memorable keepsake for many years to come.
Read on for our classy high end favors ideas to pull off a fabulous elegant wedding. Here are ten luxury wedding favors that will amaze your wedding guests: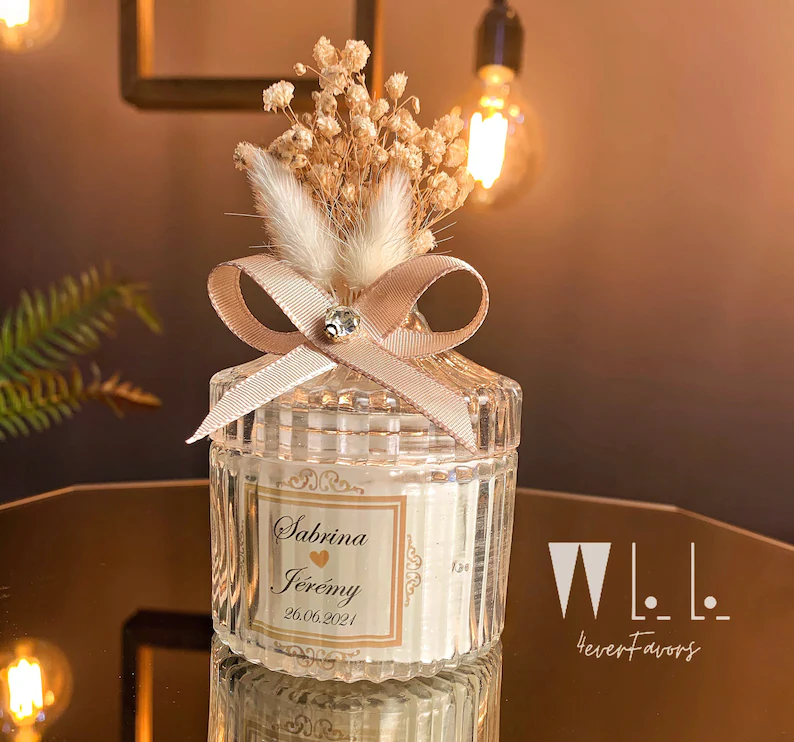 These personalized candle favors are sure to bring a touch of elegance to your big day. They are stunningly beautiful, yet classy. This elegant piece features a candle, glass candle holder with dry flowers, and ribbons in a transparent box.
JJ4ever Favors personalized candle, $10, Etsy.com
RELATED: Best Inexpensive Spring Wedding Favors Under 2$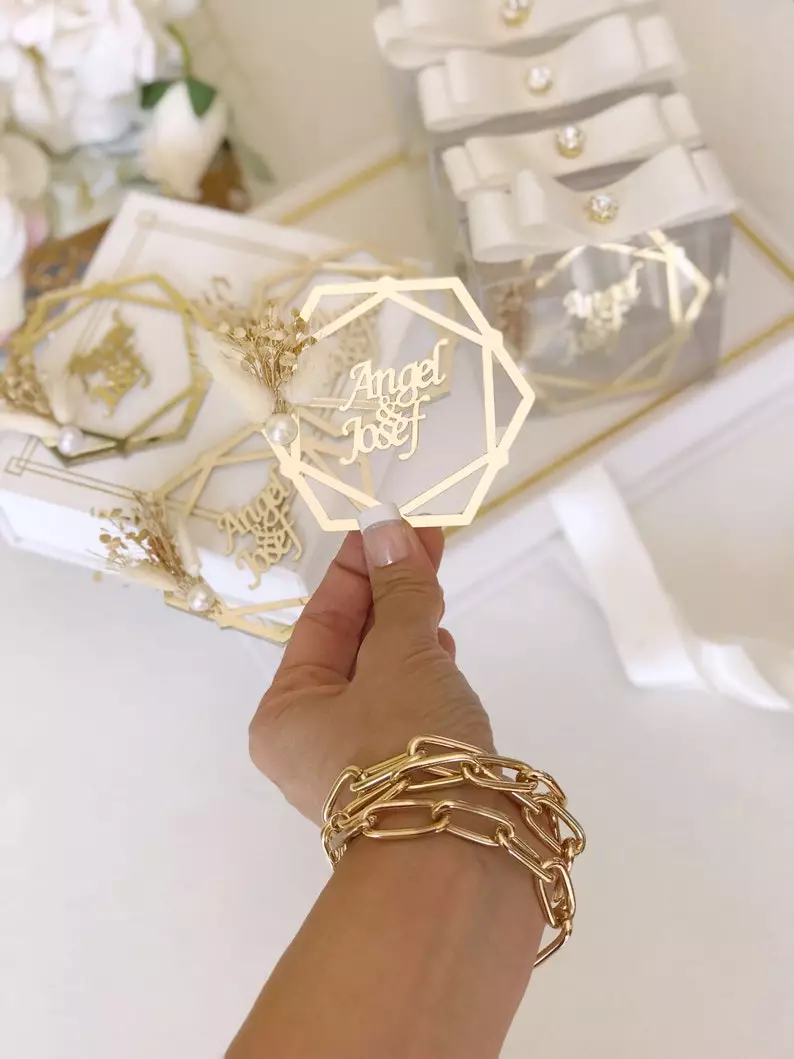 This magnificent piece is absolutely gorgeous. It features a gold luxury design, acrylic magnet, dried flowers, acetate box, ribbon, and crystal stone. They are memorable favors that your friends will proudly display on their refrigerators.
Bonjour Matmazel Gifts personalized magnet, $50.40 for 10, Etsy.com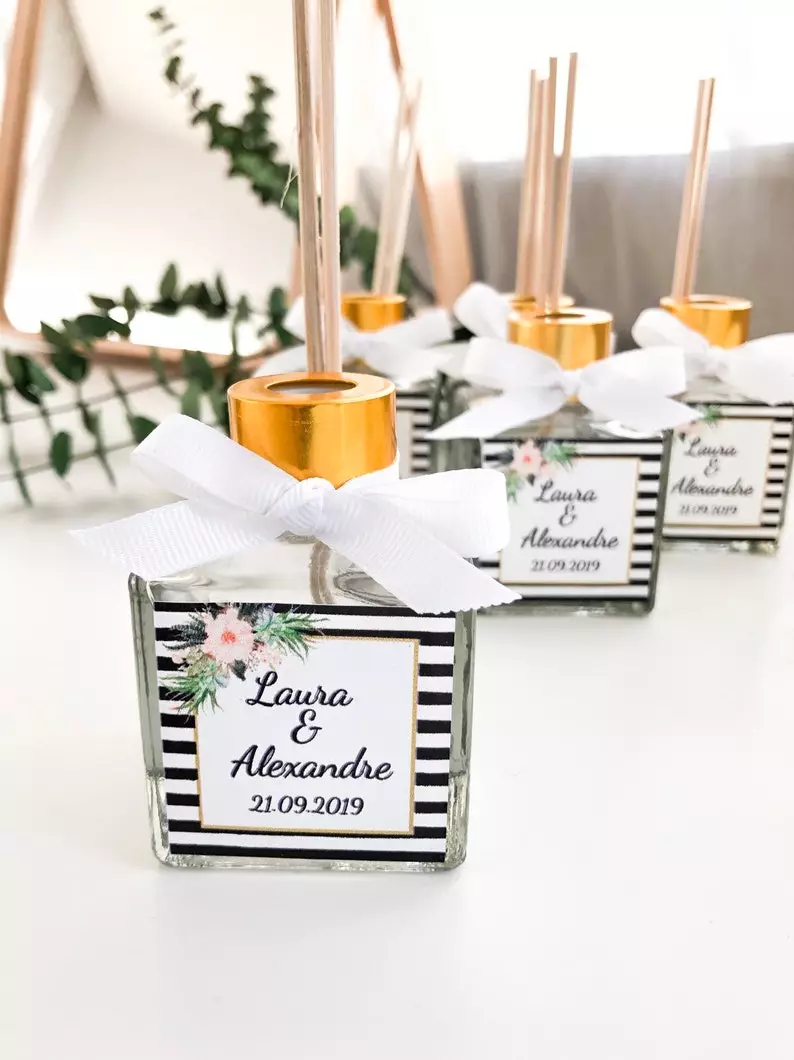 These beautiful design diffuser bottles are an elegant wedding favor without the high price tag. They feature a bamboo stick, a nautical floral label design with your custom text, and a ribbon.
Mesnet diffuser bottles, $2.99, Etsy.com
RELATED: Navy Blue Nautical Themed Wedding Favors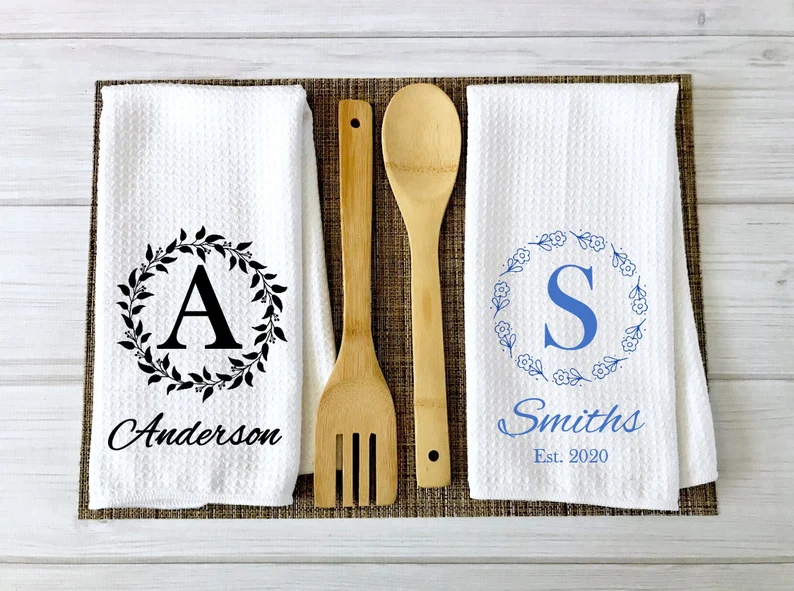 The ideal wedding favor for guests to use at home after your big day. Delight your guests with these personalized tea towels, so they can remember your special day. They'll love them!
Myrick Monograms tea towels, $9.99, Etsy.com
RELATED: Stunning Black and White Wedding Ideas on a Budget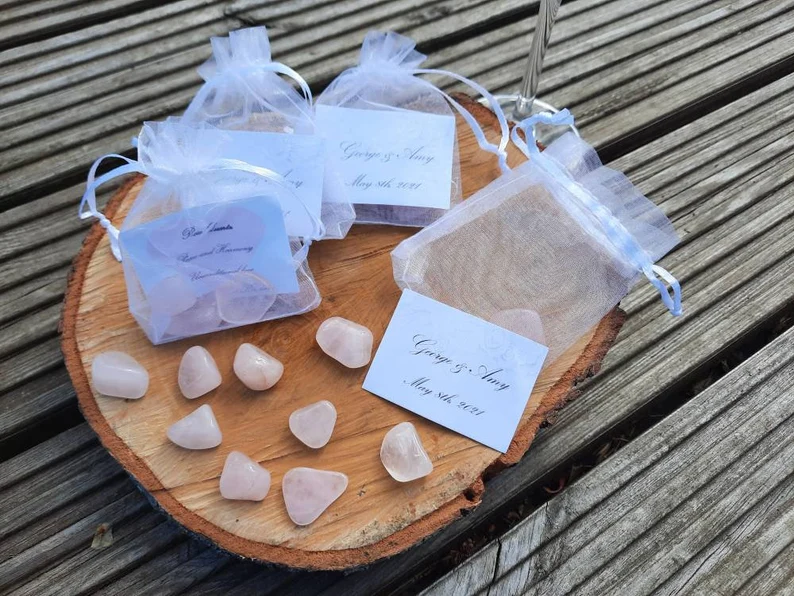 Give your guests something special, the gift of happiness and high vibrations, something they can keep forever and always remind them of your day. They look beautiful on the table setting and each stone is unique to its owner making it an extra special gift.
CrisialShop, starts at $19.47 for 10 sets, Etsy.com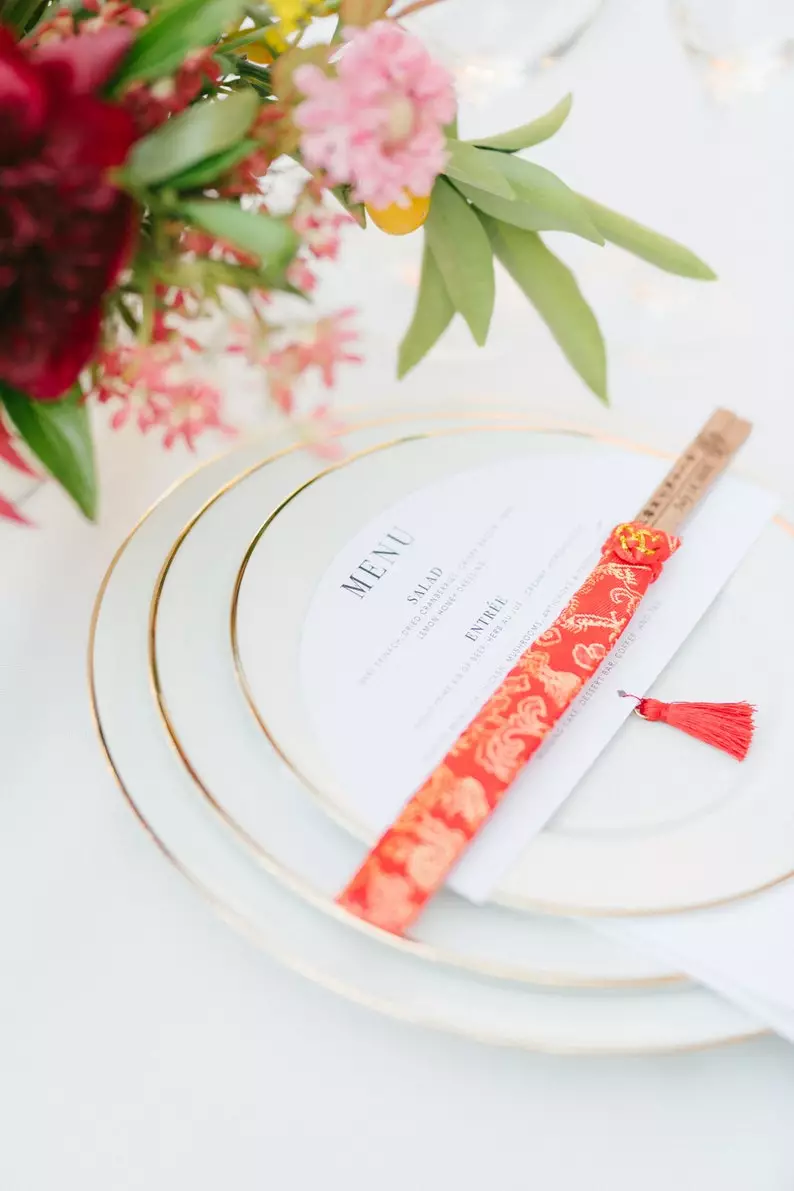 Beautifully and elegantly designed chopsticks with silk pouch that is a classic addition to any table setting. Guests will love using this amazing gift.
East Meets Dress personalized chopsticks, $2-$5, Etsy.com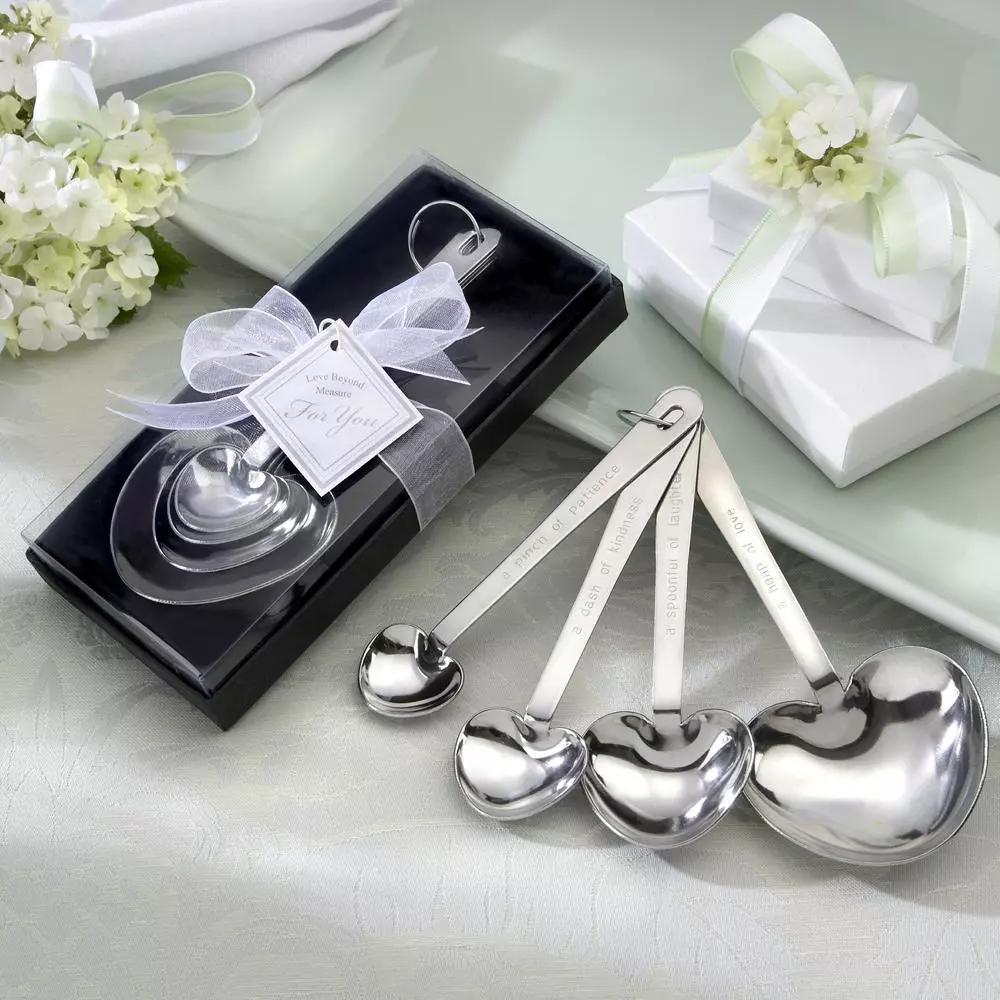 These favors will make a big impression. The adorable heart-shaped measuring spoons come in an elegant box with a white bow and a "thank you" tag to complete the look.
My wedding favors measuring spoons, $22.89 for 4, myweddingfavors.com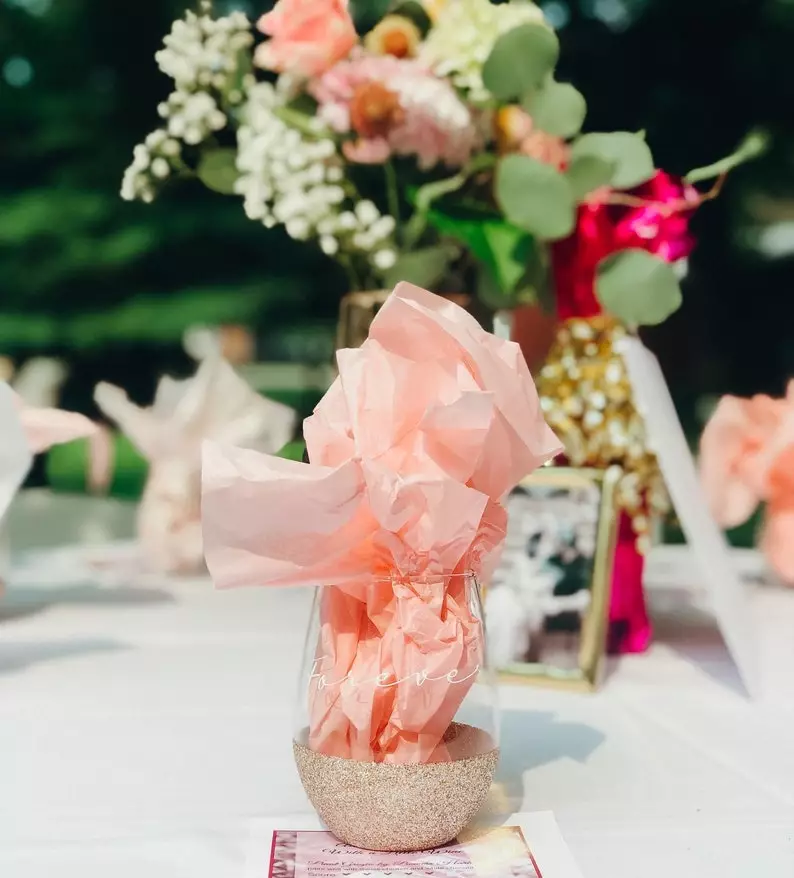 Gorgeous wine glasses with a glitter color of your choice and a personalized message or name. These glasses are an elegant option to match the ambiance and decor of your wedding and also serve as a memorable keepsake.
Embossed Custom wine glasses, starts at $14.00, Etsy.com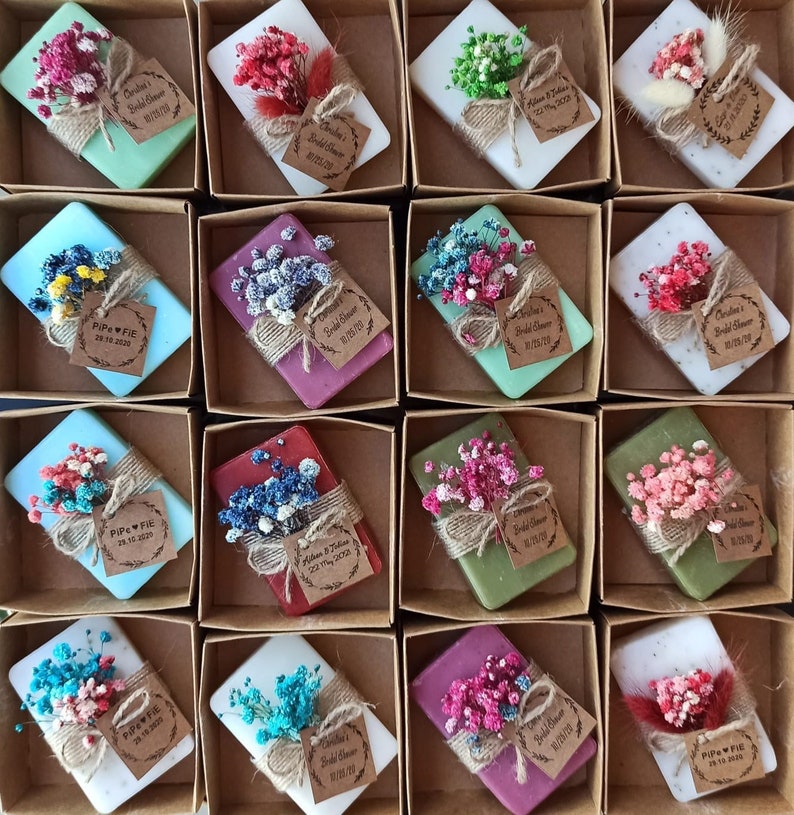 Your friends and family will love these super-luxurious wedding favors. The bar is infused with rich, natural ingredients like pure organic essential oils, and botanical extracts. The result is an incredible product made by hand that smells absolutely amazing!
MydreamSoap oatmeal soap, $1.89, Etsy.com
RELATED: Best Pampering Spa Themed Bridal Shower Favors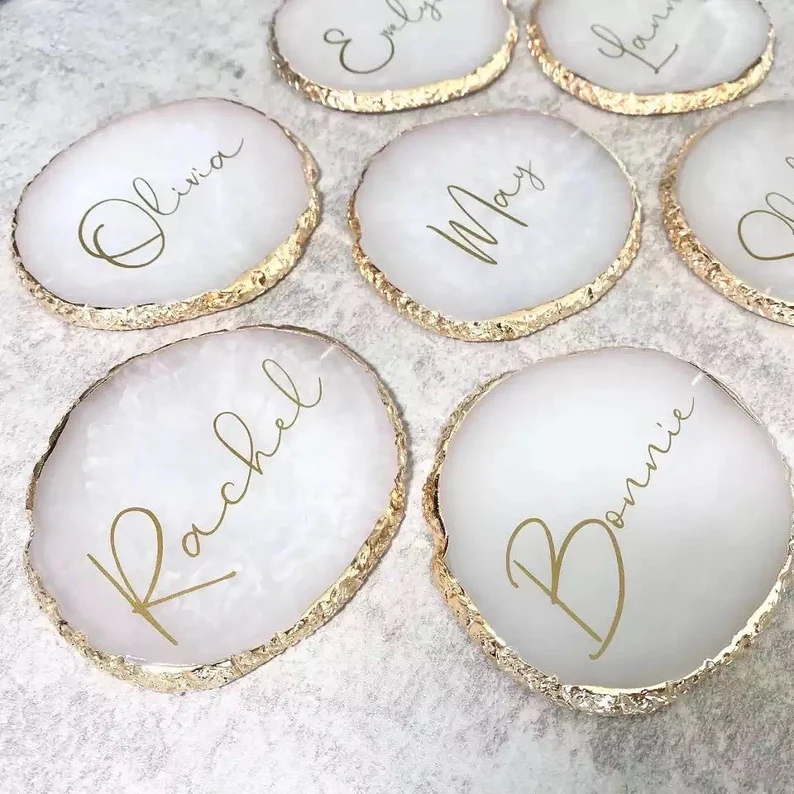 The gold agate look coasters are a timeless piece. Personalized with the guest's name, they make a beautiful thank you gift for your wedding party, and will make your wedding table look amazing as place-cards.
Styled Box coasters, $4.64, Etsy.com
NEXT UP: Navy Blue November Fall Wedding Color Schemes
Keep Planning With Us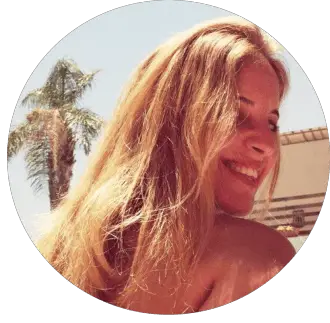 Kaden is an interior designer in her education who fell in love in designing weddings. Along with her husband, the wedding planner, Kaden specializes in creating content for weddings aim to fulfill brides dreams.